Today I am taking you to Roundhay in Leeds for this rather rainy summer wedding that took place this year. Roz and Michael were lucky enough to hold the wedding reception in Roz's parents back garden in a gorgeous clear marquee. They filled it with lots of beautiful green foliage and an abundance of gorgeous flowers. With a colour scheme of blues, greys and silvers the whole look of the wedding was super stylish and full of personal touches. With two wedding bands and a feast of a wedding breakfast, these two really looked after their guests. Louise Barry Photographer was there to capture the day in all it's beauty.
The one phrase that keeps coming to me when people ask this is "we were happy." Our day was really personal and neither of us could stop smiling!
Roz and Michael were married on 27th July 2019 at St. Andrew's URC in Roundhay, Leeds and had our reception in a pole marquee in the back garden of my parents' house, just around the corner! 'The Cruickshank family (who have three girls including me) have long had a joke that one of us would get married in the garden and be boosted over the garden wall into the church car park in our wedding dress. So, when Michael asked me to marry him, I jokingly asked them to use the garden. They said yes! We even had a gate built into the wall so I could walk through rather than hurdling over… But it absolutely bucketed it down on the day and I had to get a lift rather than sinking into the quagmire in my fancy heels. The church is also where I was christened and the reverend has also led my Grandma's funeral the year before so it was a special place to us as a family. We had 92 day guests and 38 evening guests, It took a year and a half to plan, Michael asked me to marry him 1st January 2018.'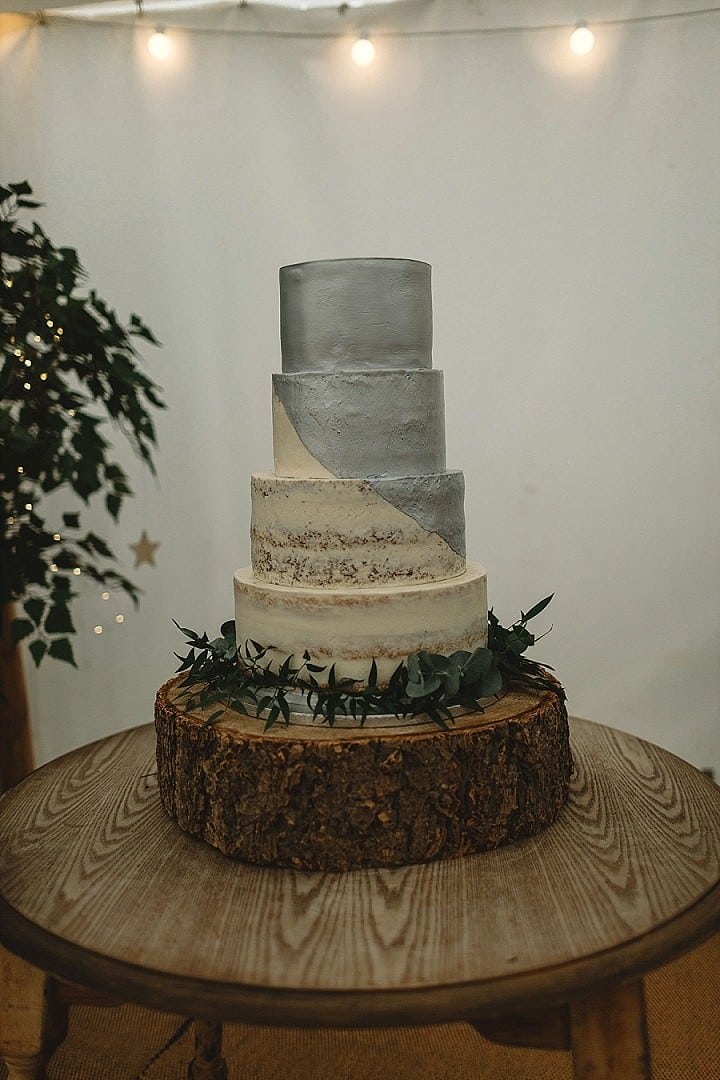 How they met
We met 15 years ago at the hospital that we both worked at. We have been together for nearly 11 years now so we have already done our time!
The proposal
Imagine – New Year's Eve, 2018. Our living room. There I was, sitting in my dressing gown, no make-up, mad witch-like hair, watching the fireworks on TV and singing along (atrociously) to the Ariana Grande track they had chosen. Michael shuffled out of the room and, the next thing I knew, he came back and dropped on to one knee next to me. He asked me to marry him. I said "Are you being serious?!?!" He said "Yes." I said "Yes, you spanner." True romance.
How did you allocate your budget?
Because of the nature of our wedding a lot of the budget had to be reserved for the tent and the resources we needed to hire to make the tent a usable space (generators, fridge units, toilets etc). It was also really important to us that the food and drink be generous, high quality and in keeping with our friendly but fancy theme.
Where did you splurge and where did you save?
We really splurged on two flower arches which really provided a focal point for the guests coming in to the garden. They were lush and filled with herbs and roses, which created a beautiful scent too and linked to the herbal décor inside the tent and my bouquet. We also hired two bands: we hired a steel pan band to greet the guests as they walked around from the church and into the garden for the drinks reception and a soul band for the evening. We think music creates a real atmosphere of celebration so it was really important to us to make sure there was always something going on to sing along to!
How did you choose your photographer?
Louise was recommended to me by a colleague who had used her for her wedding. I looked at her website and really loved the informal and "caught-in-the-moment" style of her photography, as well as the way that she focuses in on the minutiae too. Her photos of people's flowers, dogs and little features of the day seemed like such a lovely way to document a wedding.
The dress 
I bought my dress from Bridal Rogue Gallery in Harrogate (who are amazing, by the way). The dress way by Provonias and I fell in love with the sparkly veil! My shoes were from Rainbow and were really comfortable. I like that you can have them dyed after the wedding too! I wore my two grandmas' wedding rings around my neck on a silver chain too as my something old and something borrowed and in memory of them.
The suit and bridesmaids
Michael's suit was from Next and his son was dressed in navy blue to match with the groom and best man's tie. The bridesmaids wore dressed from JJ's House, a website that sends the dresses from America. I wanted them to be in different colours so we had to have a few tries to make sure that they all went well together!
Theme or colour scheme
The colour scheme for us was blues, greys and silvers, so the ties, bridesmaids' dresses and my Dad's waistcoat all tied in together. Inside the tent I wanted to keep things very simple so we chose just green foliage and white flowers, with grey napkins and silver stars to tie in with our outfits.
Flowers 
We had lots of foliage and herbs (Rosemary especially, because of my name!), accompanied by large roses in a deep pink colour to add a pop of vibrancy. We also had large roses called Early Grey which were a silvery colour, which the florist gave us as a surprise because Michael loves tea and our favours were mini bottles of earl grey tea leaves.
Decoration
Foliage like ruskus and eucalyptus were dangling from the halo stands and the ladder in the ceiling, along with small white flowers just to lighten it up.
Food 
Canapes – Moroccan lamb with flat bread crisp and tsatsiki, Chorizo and sage frittata with pimento chutney. Mini mackerel fillet baguette with lemon and wasabi mayo, Rosemary and olive drop scone with goats cheese, Wild rice and spring onion pancakes with avocado and lime salsa.
Starter – individual antipasti boards, arancini for vegetarians, breads
Main – sharing boards of buttermilk fried chicken, steak and pulled pork, sides of roasted baby potatoes, broccoli with pomegranate, tomato, mozzarella and basil salad and coleslaw, a halloumi kebab or stack, pulled jack fruit and sweetcorn fritters for veggies
Pudding – The Earl of Eton – an Eton mess with earl grey tea cream
Evening – a Yorkshire buffet selection (with a nice range of veggie options) and a cheese board and chutney
Wedding cake
Was from the Flamingo Bakery, Harrogate and was four layers – one was lemon, one was valencian orange, one was lime and coconut and the top one was fruit cake. It was delicious!
Entertainment
We had two bands – Foxwood Pan Yard were the steel pans for the cocktail reception and then Lemon Soul Collective were the 12-piece soul band for the evening. They brought the house down! My mum also hired a lady to come and do glitter face tattoos and face painting for the guests in the evening as a surprise!
Who supplied the stationery?
Papier was used for the invites, place cards and save the dates. I also bought the signs and table markers off Etsy.
Personal touches
The whole wedding was full of them! Mum's choir rehearsed and performed a number of hand-picked songs for us before the ceremony started, we had the church arranged with two aisles so we could enter in as separate people and leave together down a different route symbolically, the steel pan band played our favourite song that my mum had requested, I made a speech as well as the traditional people (you can't shut me up!), my auntie Pat had knitted us a Batman wedding cake in honour of Michael's obsession, we danced to Morecambe and Wise's bring Me Sunshine for our first dance and even went off the stage in their style!
Special moments
One thing that we would really recommend is, instead of having a traditional top table, have a "sweetheart table." This was a small table, just for the two of us to eat our meal from. This meant that we got some time alone that day which was lovely. So many people had warned us that we would hardly see each other but this meant that we got to just have a quiet time to sit and enjoy the day together and not feel like we were on show constantly. I honestly think that I spoke to him most out of everyone all day, which feels really special.
A for other couples
Make sure that you get to spend some quality time together! Fill your day with lovely little personal touches to make it feel yours, like the music or decorations, especially if you are having a wedding somewhere more traditional or where you have less choice about every minor detail (as we did!)
Biggest surprise
Just how much we enjoyed it. We saw everyone we loved and we danced all day! We only had about one drink each all day too! You are just so busy.
Supplier Shout Outs
For more information on Louise Barry Photographer go to
www.louisebarryphotographer.com / FACEBOOK / INSTAGRAM / TWITTER