Today I have a super cute Tipi wedding for you that took place in Sheffield and Derbyshire. Emily and Luke married in Sheffield in the church on the same street as Emily's family home. It was the obvious choice, especially as both of Emily's sisters had married there. Their reception was then a homemade rustic affair that took place in field in Derbyshire inside a collection of beautiful Tipi's. The whole day was a DIY dream, with so many personal projects; Entertainment from the guests, stationery made by the bride and flowers put together by friends and family. A very English country wedding, oozing charm and personality. Big thanks to Stevie Jay Photography  for the lovely images.
Our wedding day was perfect because of the people we had there. Our friends and family threw themselves into having a big party in a windy but beautiful location!
Emily  and Luke were married on 7th September 2019 at St Chad's Church, Sheffield with the reception in a Tipi in a field in Wardlow Derbyshire. 'The church is on the same road as Emily's family home, the bridal party walked to the ceremony. Both Emily's sisters were also married in this church. When we realised how many guests we wanted, it ruled out a lot of venues (especially ones we could afford). After realising how many guests you could fit in a Tipi, we fell in love with idea of a relaxed wedding in the countryside. The guest count was roughly 140 all day, then almost 30 more joined for the evening. We got engaged about 30 minutes into January 1st 2019. So 8 months and 7 days to plan it.'
How they met 
We met at Drama School (like University), where we both trained professionally in Musical Theatre. We were friends for 2 years before anything "relationship" related came along! Then we were together for just over 6 years before we got married.
The proposal
Emily loves Harry Potter (like most people!) and arts and crafts… Luke isn't keen on either of those things. So he decided for the proposal he wanted to surprise Emily, and the fact that we were both performing in shows in different cities meant he had lots of time to refine his craft skills. He cut the pages in "The Half Blood Prince" to look like a trinket box, with the ring hanging on a ribbon on the "Unbreakable Vow" page. There was only 0.5 of a second of disappointment that it wasn't tickets to the Cursed Child play, then I realised what it was, and it was so much better than theatre tickets!
How did you allocate your budget?
We think we did fairly well with budgeting, until the last week; factors out of our control meant we had to change locations, and a few legal issues later, we had to pay for an open bar, to have any bar at our reception. So at this point the budget had to be stretched and we are so lucky to have parents who could help make this happen. In terms of allocating, we estimated with an app called Bridebook, then as we got quotes, we put the real figures into a spreadsheet.
Where did you splurge and where did you save?
We definitely splurged on our venue, hiring a field, toilets, showers (for the campers), generators, heaters, the Tipi. And obviously the free bar! I'd say we saved on stationary and decoration as we did it all ourselves. We saved on entertainment, as we both work in this industry, we just told our friends there would be microphones set up and they'd be helping! We also saved on flowers! We ordered them through a wholesaler and arranged them all ourselves, it was so much fun to do!
How did you choose your photographer?
We spent a lot of time looking through Instagram, there are so many gorgeous photos! It was important for us to have a photographer that would fit with the relaxed style of the wedding, and someone who wouldn't mind popping their wellies on if the weather was bad! Stevie Jay had lovely fun images and was super friendly when we reached out!
The dress 
My dress was a definite "save" in the budget. I went with a dress that was half the price that we had allocated! Which I was quietly proud of as I knew everyone thought I'd go over. I'd wanted to go and try on some different styles and get an idea of what I liked before booking any appointments and one of my bridesmaids suggested going to Wed2B as its very relaxed. Cut to a day later and I rang my mum saying I wanted to buy the first dress I had tried on. It was by Anna Sorrano, my shoes were from Carvela and my flower crown was made by 3 of my beautiful bridesmaids. I totally forgot about jewellery and ended up borrowing some earrings from a bridesmaid on the day!
 The suit and bridesmaids
Suits for the Groom and two best men were from Moss Bros. Ushers were from ASOS. Bridesmaid dresses were from Oasis and the flower girls dresses were from M&S. The flowers girls also had sparkly pink Doc Martens…these were our favourite!
Theme or colour scheme
Rustic, because most of it was homemade! Work with what you've got guys! Colour wise, Emily loves greenery, so we kept it quite simple. Our approach was to just pick things we liked and assume they would all go together, luckily they did!
Flowers 
I can literally list them all! I had to get to know my flowers as we ordered them ourselves. A family friend who had done the flowers for my sisters wedding helped up with quantities which I was totally clueless about. We used Soft Ruscus as table runners, with left over flowers in jam jars. Greenery in the bouquets included: Hard Ruscus, Leather Leaf Fern, and Long Grass. Some of the flowers were Calla Lilies, Veronica, Flox, Larkspur, lots of Gypsophila and a couple of Craspedia which are the ones that look like yellow lollipops, I loved these! The men had Sea Holly (thistles) in their button holes.
Decoration 
Wooden, floral, and greenery. We borrowed rustic watering cans from neighbours, wooden pallets collected from road sides, and lots of jam jars collected by the ladies in Emily's mums book club! Emily's dad spruced up a dressing table for our Eco Glitter Station.
Food
Instead of canapes we kept it real with crisps! Bamboo cones full of hula-hoops, pom bears and more! Then a relaxed three course meal of sharing platters on rustic wooden boards. Starters included baked camembert, homemade bread, cold meats, olives, pate etc. The main course included: lamb kofta, herby chicken and BBQ pulled pork, with a feta and pomegranate side salad, homemade coleslaw and roast potatoes. Dessert was a trio: chocolate brownies, lemon meringue tart and Eaton mess! 'Greens Catering' were amazing in providing also excellent meals for our guests with dietary requirements.
In the evening we had proper wood fired pizza!
Wedding cake
Made by Emily's mum! Her cakes are pretty famous among our friends! We had a naked Victoria Sponge! She also made a gluten free cake AND a vegan cake, she's a baking queen!
Entertainment
Two of our friends sang at the ceremony. Then two other friends performed an acoustic arrangement for our first dance, which was amazing! Our DJ was someone Luke works with, he's a real entertainer and got on the dance floor to sing and dance for everyone. We had 4 microphones, so Luke and his friends from "The Other Guys" (4 part harmony group) got up and sang throughout the night.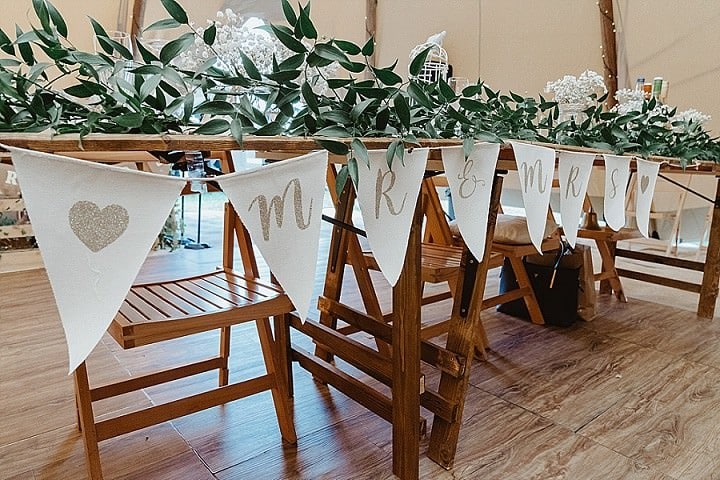 Who supplied the stationery?
We did! Homemade invites, Order of Services, Table Plan, Signs, and even miniature tipi name places which took more hours then I dare admit and a lot of manpower!
Personal touches
Lots of them! The mini tipi name places were something that everyone thought I was crazy for doing but I insisted on doing them. It then became an activity that relaxed me. Luke and Emily's dad built a DJ stand. Emily also sprayed painted her Doc Martens silver for the party.
Special moments 
Our first dance was a really special moment, we had both been enjoying socialising with all our family and friends, but this moment felt like it was just the two of us dancing with nobody watching. Emily's comical highlight was waiting for 30 minutes in her bell tent (naked) to change into her second dress, to find out it never left the house!
Advice for other couples
Use Pintrest and Instagram to help with ideas, but don't plan your wedding to look good for social media. Plan it so you enjoy every minute! And no matter what obstacles you face, just keep remembering; you're doing this to get married, everything else is a bonus.
Biggest surprise 
The temperature dropping to 2 degrees while we camped was definitely a chilly surprise!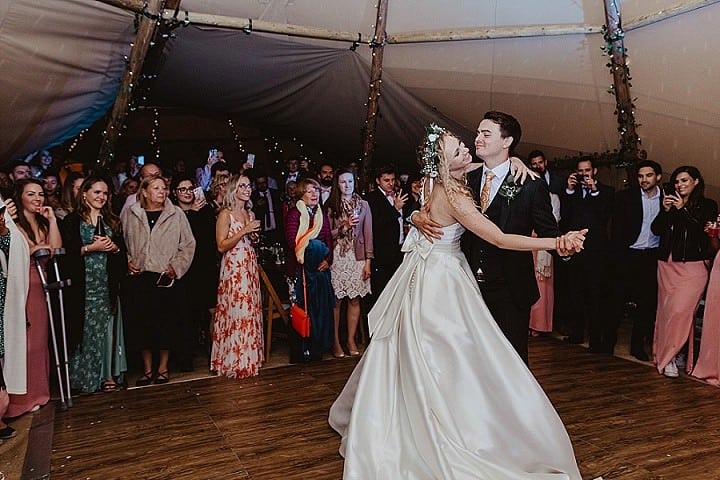 Supplier Shout Outs
FOR MORE INFORMATION ABOUT STEVIE'S WORK GO TO:
www.steviejayphotography.co.uk/ www.steviejayphotography.co.uk/blog / [email protected] / FACEBOOK / INSTAGRAM / TWITTER
Due to an email issue if you have emailed me between the 2nd & 9th of December, please resend it.
X