Today I have the most gorgeous wedding to share with you from the loveliest of couples. Alison and Austin are one of the warmest and friendliest couples I have featured on the blog for quite some time. They just radiate love when they are together, just look at these awesome images from Nikk Nguyen Photo and you will see the love and laughter pour out of them. They wanted a wedding that would celebrate their love and the future ahead of them, so they opted to cut out the frills and the fuss and focus on the bond between them. They were married on 16th June 2018 in San Marcos in Texas, at LaLa Park. This quirky and eclectic wedding venue was perfect for hosting Alison and Austin's intimate and special day, they filled it with their closest friends and family and said their vows under an old oak tree. Pure wedding perfection.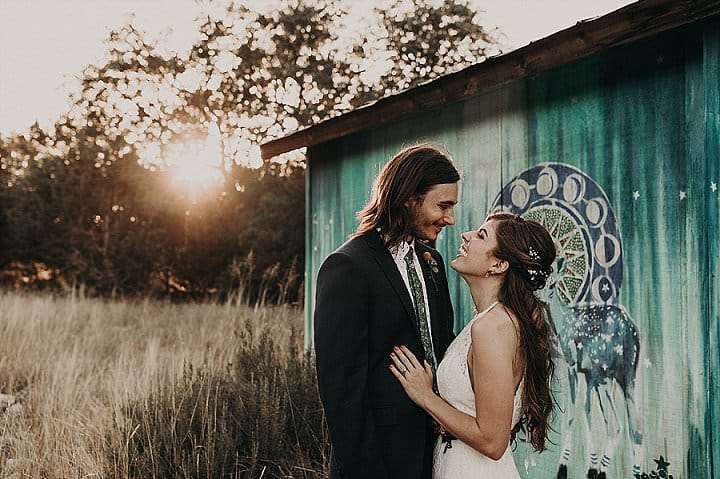 How they met
We are high school sweethearts! We were together for 10 years before we got married. We have grown up and changed a lot along the way, but we've been changing together. We love that we were each other's first and forever loves.
The proposal
We decided to take a trip to Denver in the winter of 2017. Because we both love nature (we both graduated with environmental undergraduate degrees!), Austin decided to propose at the Denver Botanic Gardens. We arrived just before closing, so they let us in for half price. We went back to the Japanese garden, and Austin proposed on a secluded bridge over a frozen pond. It was perfect! Afterward, we were lucky enough to be able to celebrate with family!
Where to you splurge and where did you save?
Most of our ideas for our wedding were conceived around simplicity. We decided we could skip the traditional cake, party favors, and having a wedding party. The closest thing to a splurge would've been our photographer. The one thing we wanted above all else was great photos we could look back on when we're older and remember our wedding day. We certainly made the right choice with Nikk Nguyen Photography. Our photos were everything we could have hoped for and that was one of the most important elements of our wedding.
Outfits 
We both didn't put too much emphasis on what we decided to wear. The groom took the opportunity to get a suit and purchased a blue suit (he had to be able to wear it again!). Along with the suit the groom wore his favorite floral tie and just had to pull the look together with a southwestern shirt (we're in Texas after all) that was dotted with cacti.
Theme or colour scheme
Neither of us had a clear vision of what we wanted for our wedding. We are not picky, we are not great decision makers, and we did not have strong opinions about the wedding. We just wanted it to be full of love and fun. The wedding was not nearly as important to us as the life we were about to start together. Luckily, we have some family members who were able to help us find our vision! We wanted something intimate, simple, and natural, and we wanted to prevent waste wherever possible. And we just wanted to dance and create a fun atmosphere. That's why we chose La La Park, it was a beautiful home in the Texas Hill Country that was on about 10 acres. It offered us a laid back outdoor venue that was a serene natural backdrop for our wedding. It allowed us to be outside, under a beautiful live oak tree, to commit our lives to each other.
Flowers
Our wedding flowers were selected and arranged by my sister-in-law. I just told her what colours I wanted, and she took it from there. They were more beautiful than I could have imagined. She did a great job.
Wedding cake
We decided that we wanted to do something slightly unorthodox and opted to forgo the traditional cake. Instead, we elected to have donuts instead of a wedding cake! We chose to order an assortment of donuts from VooDoo Donuts. We couldn't be happier with that decision! It was simple, it didn't cost one million dollars and who doesn't like donuts?!
Personal Details
It was all DIY! The groom's sister-in-law was indispensable; She showed up early on the day of our wedding and made all of our centerpieces and flower arrangements, and boutonnieres. Our wedding would not have had the look we wanted without her. In addition, we recycled decorations from the bride's brother's wedding a few months prior and had the bride's mother help in putting together table decorations.
Special Moments
With the wedding being VERY DIY, we had a lot of last minute things to tidy up the day of the wedding. It would've been crazy stressful, but luckily we had tons of family and friends around to help get everything in order. One of the groom's fond memories was setting up the tables and linens with two of his best friends in the world (one of which officiated our ceremony). That memory is special, but seeing the bride for the first time was easily the best part of the wedding. Seeing the bride for the first time was breathtaking and is a moment the groom will never forget. We also took about 10 minutes for some personal time directly after the ceremony, that time was incredible to be able to sit and reflect and talk about how crazy the whole day had been! Getting a little alone time prior to stepping back into the craze that is a wedding was huge.
Advice for other couples 
Relax! It isn't about the wedding. Be present. Feel everything that you are experiencing. Do your best to stay in the moment. Everyone says it because it's true, but it'll be over in a flash and you'll be sorry if you don't take the time to enjoy it!
Supplier Shout Outs
[jprel]