As you know here at Boho we are BIG fans of Revelry, I have featured their beautiful bridesmaids and bridal gowns on a number of occasions. Well today I am delighted to introduce you to their brand new offering; the Faux Fur Shrug. These shrugs are perfect for the time of year, as wedding season gets colder, I often have brides and bridesmaids looking for super stylish ways of keeping warm. Well these shrugs are perfect for keeping your look super glam, while super cosy. They come in two different colours and the most ingenious aspect to them is they have a secret hidden zip up pocket, perfect for caring your phone, lipstick or tissues. I just love these fur shrugs, I think they would be a fantastic addition to any Autumn or Winter wedding.
I'LL PASS YOU OVER TO REVELRY WHO WILL TELL YOU MORE.
With fall here and winter right around the corner, we're officially gearing up for the cooler wedding season! From moody hues to holiday "I dos," we're obsessed with those "end of the year" nuptials. We're so obsessed, in fact, that the second we heard that one of our fave e-commerce boutiques, Revelry, was releasing some new must-have accessories, we just had to fill our best babes (that's you) in on all the deets!
This female-founded company recently made it on Inc. Magazine's list of the 500 Fastest-Growing, Privately Held Companies, and for good reason! Revelry knows that the most beautiful and bold looks for your wedding start with a combination of rich fabrics, a plethora of colour options, unique styles, that will compliment every bridesbabe's look.
After lots of dreaming and designing, Revelry has released the newest must-have accessory: Faux Fur Shrugs!
Made from high quality, supremely soft, faux fur material, Revelry's shrugs are the perfect elegant addition to any bridal or bridesmaid look. Plus, each shrug can be worn a variety of ways! Whether it's tucked under your arms for a glamorous, off-the-shoulder look, or you wear it higher up on your arms with one side pulled through the other for a secure, hands-free fit, there's no wrong way to rock it!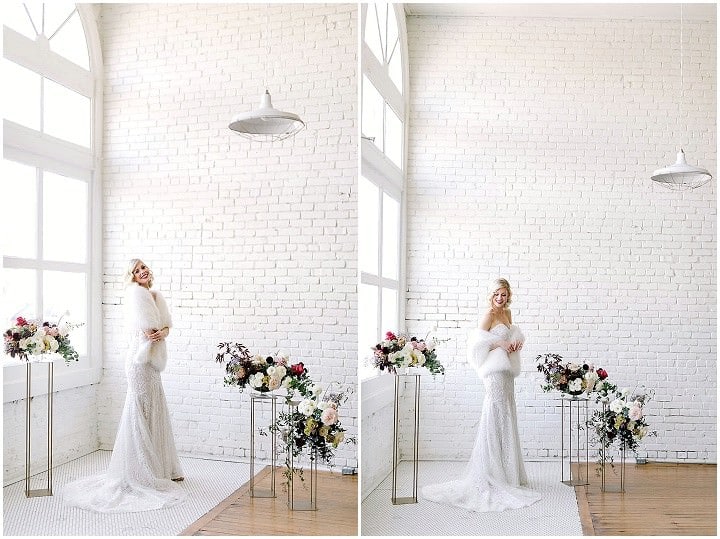 One of the most exciting and unique aspects of these high-quality shrugs? The zippered, 4×6 inch pocket hidden in the soft, matching satin lining. Perfect for holding your phone (just remember to put it on silent!), lipstick, and must-have accessories, this handy pocket lets you be hands, and bag, free all night long!
Whether you sport Revelry's Faux Fur Shrugs in gorgeous Chestnut or elegant ivory-colored White, it's truly the perfect addition to any formal look. Plus, measuring at 62 inches in length and 12 inches in width, one size fits most, making it a superb option for bridesmaids gifts on the big day! Whatever the colour, whatever way you wear it, adding a shrug to your style is an easy, comfortable, and affordable way to up the "wow factor" on your wedding day looks!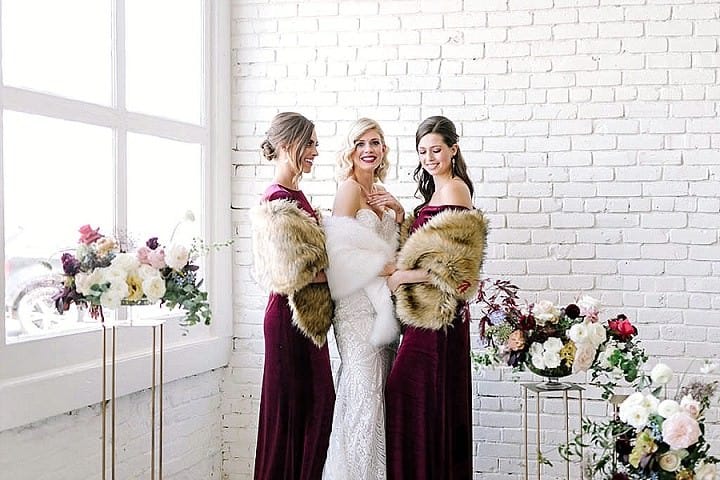 New to Revelry and the idea of an e-commerce boutique? The strictly online dress retailer is headquartered in Austin, Texas and specialises in made-to-order garments that are oh-so-Instagramable! It's not just their sensational styles that have made us fall head-over-heels, however. Revelry has a "try before you buy" option to ensure you find the perfect style and fit for the big day. Their Sample Box system allows you to select the styles and sizes of your choice to try on in the comfort of your home! Say "so long" to small fitting rooms and on-the-spot decisions!
Plus, with five different fabrics, 100+ colours, groomsmen accessories, and styles that will fit everyone's event, Revelry is always the right choice. In addition to their wide variety, the ever-evolving bridesmaid line offers sizes 0-32 as well as both tall and petite length options, and never charges for extended sizes. Because when it comes to the business of making you feel as beautiful as you truly are, both inside and out, Revelry's sensational styles are always the most spectacular choice!
Shoot Credits
FOR MORE INFORMATION ABOUT REVELRY GO TO:
www.shoprevelry.com / FACEBOOK / INSTAGRAM / PINTEREST / TWITTER
THIS IS A SPONSORED POST