This afternoon we welcome our good friend Revelry back to the blog to talk things all things 2020 with us, colour combinations specifically! Revelry have been on the blog a number of times now and for good reason. Their collection of bridesmaids dresses are second to none, with a huge selection of sizes, colours, fabrics, lengths and all at such a reasonable price. More recently they have introduced bridal wear into their collection and these beautiful dresses work so well with their existing bridesmaids dresses. Today they are here to offer you some trend advice, with the hottest colour trends for 2020. So if you are currently planning your wedding, and stuck for ideas or inspiration with colour schemes, then you need to read on! I'll pass you over to Revelry.
Whether your babes look blushing in pinks, perfect in purples, bold in a burgundy mix, or beautiful in blues, when you utilize one of these combos for your big day, you're sure to have a Pinterest-perfect event. Plus, with Revelry's inclusive sizing and Sample Box system, all of the guess work is getting taken out of finding your dream day looks! Cheers to perfect colors and a very happily ever after!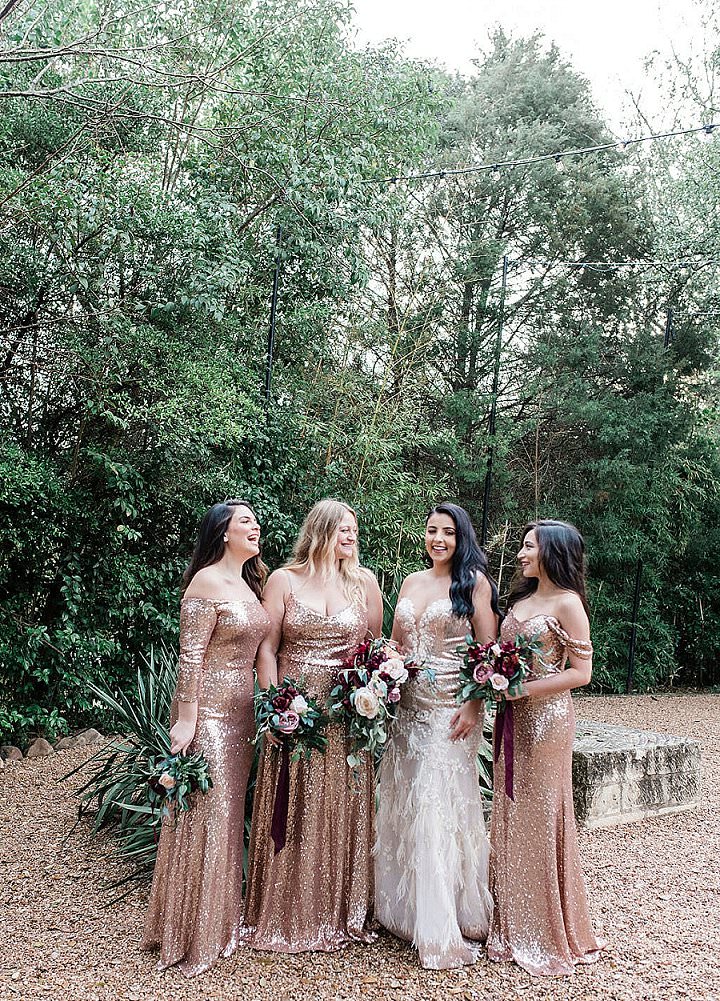 With Spring nuptials right around the corner and Summer events not far off, we've officially entered the swoon-worthy season of warm weather weddings. As more and more just-engaged babes start Pinning and planning for their big days, we're here to help them check off every item on their lists. And one of the biggest question marks for our "just said yes" friends? All. Things. Dresses.
So, with the assistance of one of our favorite e-commerce boutiques, Revelry, we're here to breakdown some of the hottest styles for both brides and their babes for these upcoming seasons. This female-founded company knows that the brightest looks for your wedding starts with a combination of beautiful boho styles, sparkling sequins, and unique looks that will compliment every bride and babes' look. Whether you're dreaming of fall festivities, spring styles, or something in between, there's something for every bride from Revelry's breathtaking collection of both wedding and bridesmaid gowns.
New to Revelry and the idea of an e-commerce boutique?
The strictly online dress retailer is headquartered in Austin, Texas and specializes in made-to-order garments that are oh-so-Instagramable! It's not just the sensational styles that have made us fall head-over-heels, however. Revelry has a "try before you buy" option to ensure you find the perfect style and fit for the big day. Their Sample Box system allows you to select the styles and sizes of your choice (not to mention color for bridal samples) to try on in the comfort of your home! Say "so long" to small fitting rooms and on-the-spot decisions! Whether you're a bride or a bridesbabe, trying on styles you want on your time, in your place, and in your size is truly the new way to shop!
It's not *just* the opportunity to try sensational styles on at home that we love about the revolutionary brand. It's the fact that the founder has made it her mission to make everyone feel included. This ever-evolving line offers sizes 0-32 in bridesmaids and 0-24 in bridal as well as multiple length options. Ready for an extra bonus? They never charges for what the industry calls "plus size" because they feel that that idea is beyond outdated. And the newest aspect to their inclusive mission? Is the 5 different skin tone options offered for all illusion details on its bridal gowns. Because when it comes to the business of making you feel as uniquely beautiful as you truly are, both inside and out, Revelry's show-stopping styles are always the most spectacular choice!
With four different bridesmaid fabrics (and more on the way) and styles that will fit everyone's event, not to mention two different bridal gown colors and samples in every size, Revelry is always the answer. In addition to their wide (and we mean wiiiiiiiide) variety of styles and ever-evolving line, the company has well over 100 colours to choose from and are always adding more. Whether you're dreaming of dusty blues, boho blushes, glittering golds, ethereal Earth tones, or a mix that's uniquely "you," Revelry has just the look you've been lusting over. So, we're breaking down a few of our current faves for brides and babes who are looking for creative color inspo, whenever their wedding dates might be!
As we scroll through our feeds and peruse Pinterest, one trend we've been seeing over and over (and over and over and over) again is bridesbabes in blue. From bold hues to dusty shades, there's no wrong way to rock these cool tones. Pull off an ombre effect with varying tones of light or dark shares (or both!) or pick a few favorite blues for a beautiful boho feel. Whether your girls rock the ever-chic off-the-shoulder Abigail, wear a mix of soft styles, or stand out in terrific tulle separates, putting your babes in blue is one of the most in-style ways to pull of a blue-tiful big day!
Sure, Pretty in Pink got all of the press, but our new fave way to feel positively perfect? Rocking purple hues and jewel tones! Forever one of the most popular shades for a wedding day, pops of purples creates a royal and formal feel for such an important event! Whether you adorn your babes is bold hues, dusty shades, all the same, or a mix of both, there's no wrong way to revel in this rich color on your most romantic of days.
Bold combinations for breathtaking boho results has been one of our fave wedding day trends since before any of us had rings on our fingers or public wedding day boards. Mix and match looks have officially been taken to the next level and we are here. for. it. Don't be afraid to mix not only colors or shades, but styles and fabrics as well! This combination of bold burgundy, beautiful blushes, and glittering rose golds (not to mention the use of tulle, chiffon, and sequin styles) creates a whimsical effect that will compliment not only everyone's personal shapes and styles, but will leave your guests begging for your style secrets!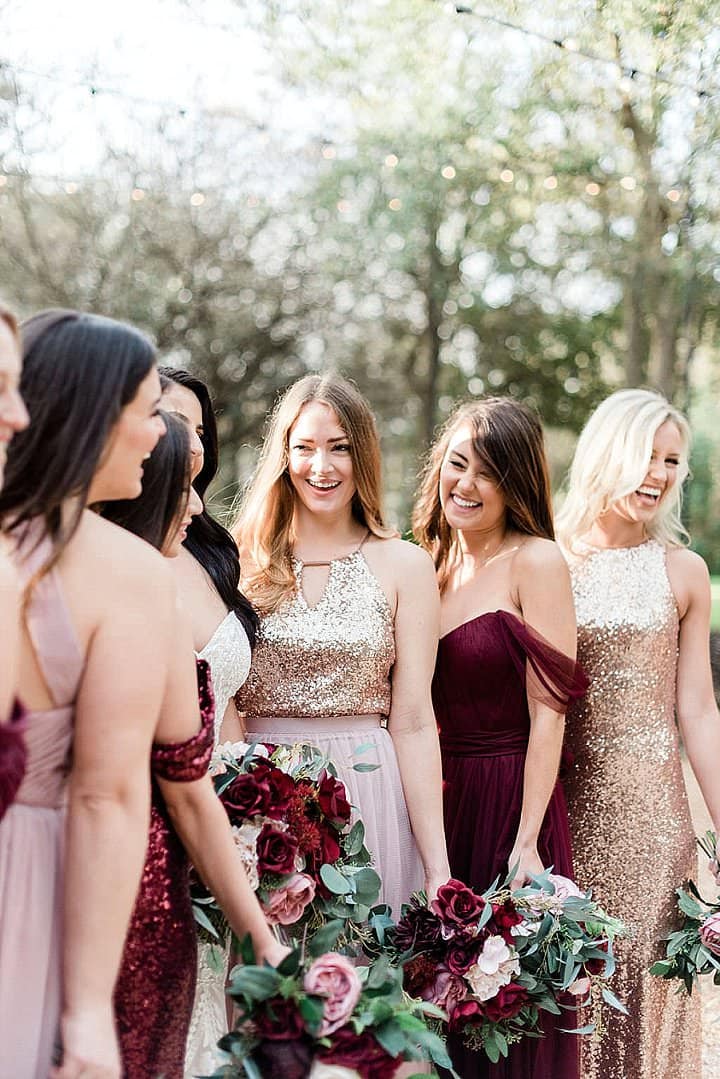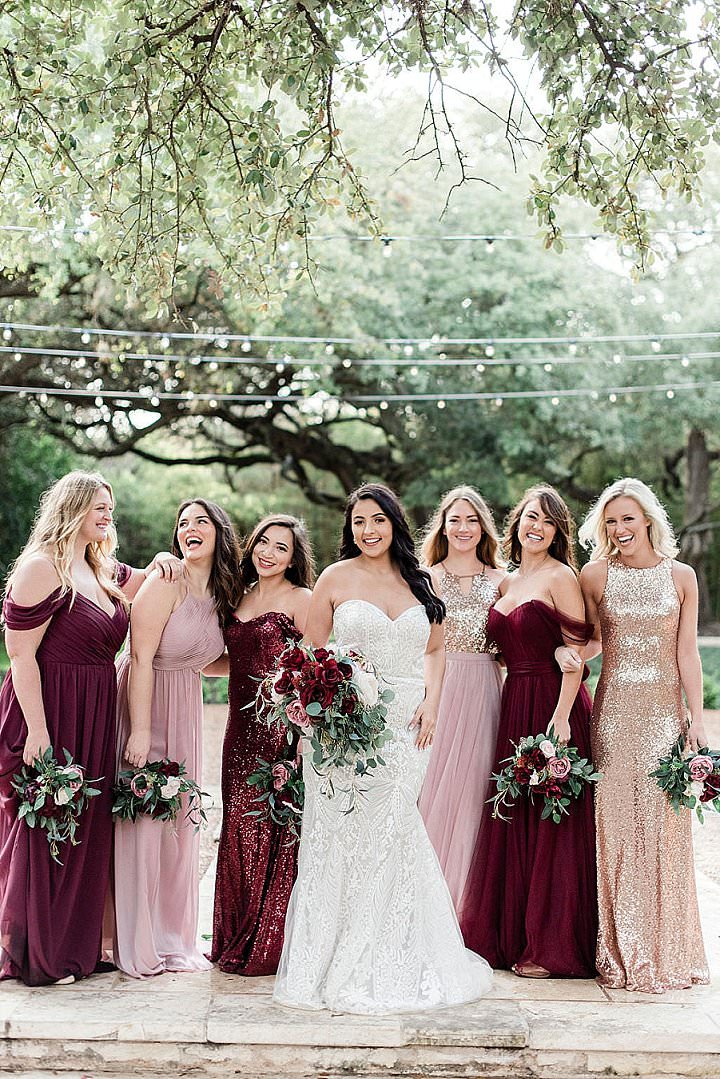 Known for their swoon-worthy separates, Revelry has tons of top and skirt options that are filled with major rewear value. And one of the most popular combinations? Rose Gold Sequin tops with Blush Skylar Tulle Skirts! Whatever season, having a palette of pinks is the perfect feminine addition to your dreamy day. Whether you go with bold or muted hues, pairing blushes with golds is the perfect way to up the wow factor on your perfect bridesbabes looks!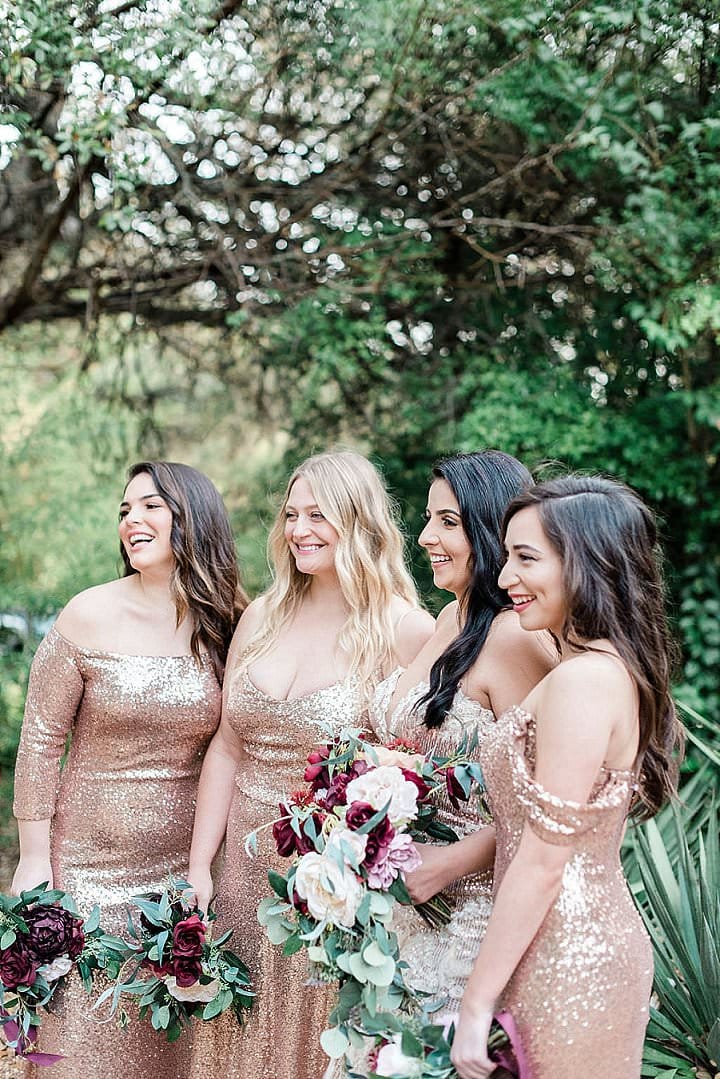 FOR MORE INFORMATION ABOUT REVELRY GO TO:
www.shoprevelry.com / FACEBOOK / INSTAGRAM / PINTEREST / TWITTER
this is a sponsored post