Today I am taking you back to last year, last autumn to be exact, for this sunny fall wedding of Chrissy and Patrick. Chrissy and Patrick were married on 13th October 2018 at The Barn at York Hill in Shenandoah Junction, West Virginia exactly 10 years to the day they had their first kiss. The wedding was full of rich autumn colours, a beautiful palette of yellows, oranges and browns and adorned with so many beautiful Boho touches. From the dream catchers to the handmade macrame, the tasselled wedding dress to the amazing blooms. This wedding is brimming with rustic goodness and a whole lot of love. Big thanks to Alisha Faith Photography for the photos.
How they met
Patrick and Chrissy have known each other since Elementary. They both grew up in the same small town of Hedgesville, WV. They became friends in high school and had a lot of mutual friends. Chrissy said that she always had a BIG crush on Patrick and would even park beside his car in the school parking lot so that he would notice her. They would hang out sometimes at lunch or with mutual friends, but they were both always dating someone else.
After high school, they both went off to different colleges, but they remained in touch on AIM and would chat often. Chrissy still had a big crush and discovered that he was not seeing anyone. And neither was she.
One weekend, they both ended up back home for a Halloween party at a mutual friend's house. They hung out and ended up sharing their first kiss that night. After that, they talked all the time and would visit one another on weekends or during school breaks.
The following Fall, Chrissy transferred to the same school as Patrick and they really got serious about their relationship. Over the last eleven years, they've hit a few rough patches, and in 2015 they even took a short break, but they always felt drawn to one another and ended up getting back together.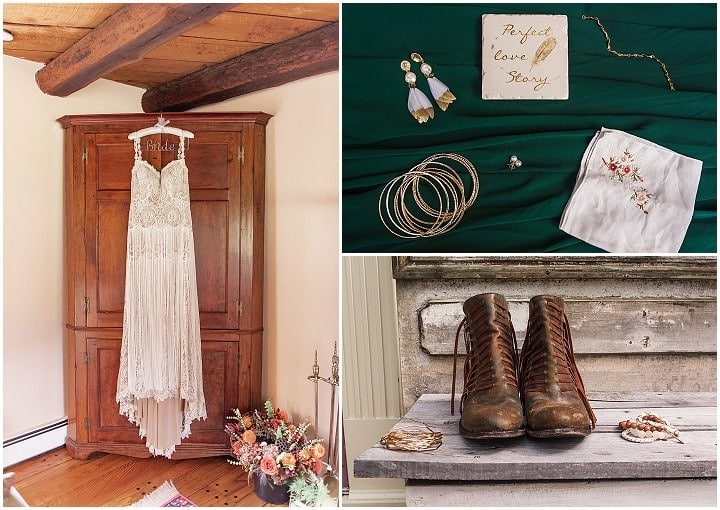 The proposal
In 2016, Patrick was graduating with his Masters in Education and Chrissy attended the ceremony with Pat's family. After the ceremony, they went to dinner and Patrick stood up to say a few words of thankfulness to his family and friends. Towards the end of the speech, he spoke directly to Chrissy and told her, "none of this would mean anything without you, Chrissy… I could not have done it without you." Then he got down on one knee and asked, "Will you marry me?"
Chrissy was totally surprised and excitedly said, "Yes!" Upon inspection, Chrissy realized that Patrick had proposed with his Grandmother's heirloom ring. She had passed away before Chrissy ever had the opportunity to meet her, but was so honored that Patrick and his family would share such a special piece with her. On top of it all, for their wedding day, Patrick had Chrissy's wedding band custom designed so that the ring would fit perfectly into the band.
More about the wedding from Alisha the photographer
They decided to celebrate their wedding on the same day that they had shared their first kiss, exactly 10 years prior. They decided to go with a Boho-inspired wedding theme at the Barn at York Hill. Chrissy wore a Lillian West Venice Lace Gown with a Fringe Skirt, gold bangles, pearl earrings that Patrick gave to her as her gift, suede fringe booties, and a very bohemian braided hairstyle.
The ceremony site and reception area were full of absolutely gorgeous dream catchers that were hand-made macrame by Chrissy's mother.
Chrissy's bridesmaids wore a dark hunter green and Patrick and his groomsmen wore charcoal gray suits with dark green ties. The florals were full of greenery with oranges, yellows, and pops of deep reds.
Patrick and Chrissy not only had a maid of honor and best man, but also a dog of honor! Their beautiful pup, Millie, was such a fun addition to their gorgeous day!
Their wedding day was so much fun and I was so honored to be there to capture it all! I absolutely adored their big day and couldn't be more excited to share it with you!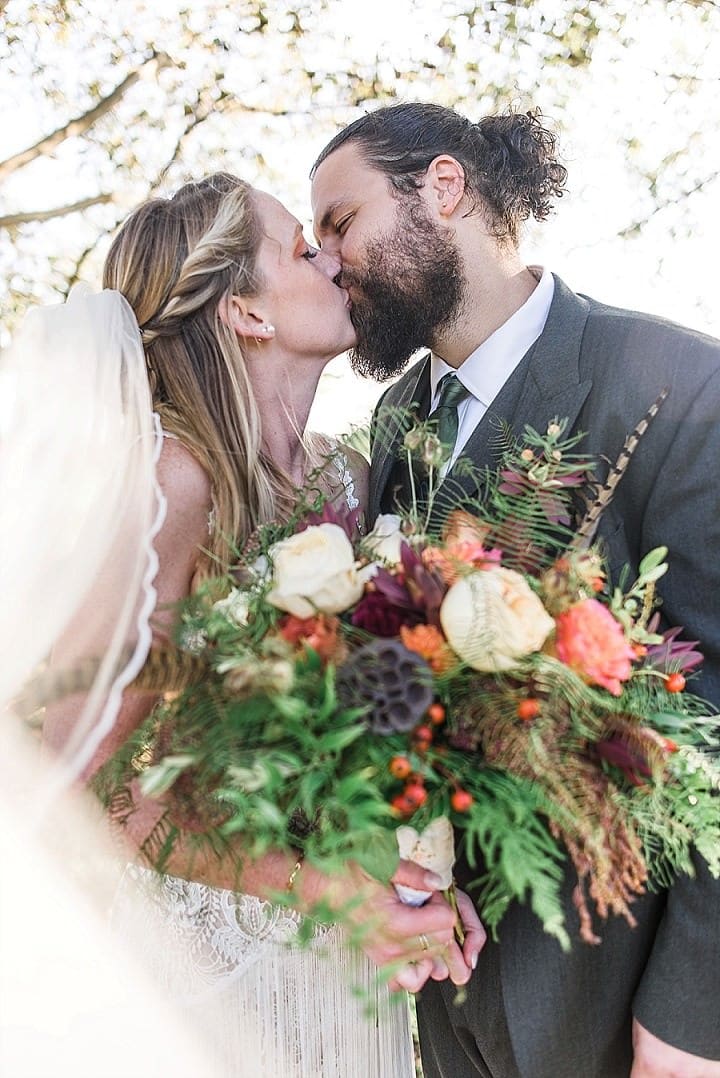 Supplier Shout Outs
For more information on Alisha Faith Photography go to