Happy Friday everyone and how has your week been? I hope it has been a good one, filled with wedding planning and lots of wedding chat. Mine has been good, so I am now looking forward to a lovely weekend with my wonderful family. I'm trying to keep it a relaxed one as we are going away next weekend. Today I am taking you over to stunning Phuket in Thailand for the most amazing wedding. Bea and Sarah knew they wanted a destination wedding so they could make their wedding last all week and give their guests a holiday to remember. They brought in the help of the lovely Ilaire from Wedding Boutique Phuket and she set to work creating the most beautiful beach wedding filled with elegant touches of white, greenery and bronze. The whole day is totally jaw dropping and with these two beautiful brides you know it's going to be a great wedding.
Bea and Sarah were married on 21st February 2019. 'We've lived in Sydney, Melbourne and Manila; our wedding was destined to be a destination wedding for some of our guests no matter where we decided to have it. So why not give all our guests a holiday to the perfect destination location!
From the very beginning, we knew we wanted to get married by the beach and fell in love with Phuket on a trip we made, right after our engagement. On that same trip, we met our wedding planner, Ilaire from The Wedding Boutique Phuket who helped Sarah start designing our dream wedding and helped us choose our location.'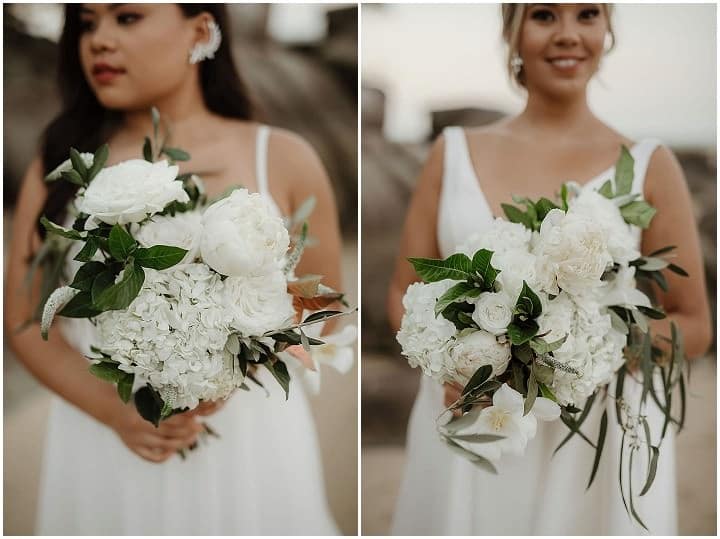 How they met 
It was December 2015 and it was Sarah's first day at work [Uber] where Bea was already employed. We met  through our friend who thought we should meet because we were both Australian! But fun fact, we should've met a few years earlier through work again [Redbull] where Bea was employed and Sarah had applied for a job but declined the offer for the role.
The Proposal
Haha, everyone wants to know about the proposal! Well, truth be told, it wasn't the way you'd expect it. It was Feb 2017, and the dialogue went a little like this:
BV: When do you want to be married?
SD: Hmm, not sure but I definitely want to be married before we have kids and I'd probably want to have kids before I'm 30…
BV: Yeah, I agree
SD: Well, we can't get married this year because we're traveling too much (2017)
BV: Yeah, and we won't have the funds for next year… (2018)
SD: Yeah, true. 2019 then?
BV: Yeah, cool…
And that was it! We made our decision, got our rings, and nothing was going to stop us. There were no grand gestures but, in our opinion, there is nothing more romantic than genuinely just wanting to get married to each other – no questions asked or theatrics required!
Theme or colour scheme
We knew we wanted something elegant and chic, but with so many themes out there, we needed help. Ilaire helped us narrow down options, gave us some inspo and we agreed on our white floral, greenery and bronze toned wedding. We had all our guests in white to keep our photos looking fresh and clean!  Without our fairy godmother, Ilaire, we would've been real bridezillas! She made everything so perfect for us.
Special Moments
The whole day (and week) was so special but, it was really our guests being there and being a part of such a big moment in our lives, that's what made it what it was. It was a true honour to be lucky enough to have such a beautifully crafted wedding and share it with 70 of our closest family and friends.
We couldn't stop smiling! It was the happiest day ever! Yet, it was a surge of different emotions. Everything was so surreal. We planned the wedding for 2 years and when it finally came down to the day of the wedding, it was crazy to believe that it was all finally happening!!
Walking down the aisle together, looking at all the beautiful flowers, decor, looking at all our beautiful guests and knowing all 70 of them had flown in to witness our commitment to each other. Everything came together perfectly, just as if it was meant to be that way.
We lived together for 3 years before getting married so we didn't think we would feel any different after the wedding but the wedding day itself really puts the legitimacy of marriage and commitment at the forefront of your mind. During the ceremony, our celebrant (who was a good friend of ours) personalised every aspect of our ceremony and took our family and friends on our journey. Hearing it aloud in front of our family and friends, really solidified why we were getting married and what marriage means to us. It has brought us so much closer and we are clingier than ever.
Advice for other couples
When you find your wedding planner, trust them wholeheartedly. Let go of all the stress, all the drama and no matter what goes wrong everyone is just so happy to celebrate the union of two people. At the end of the day, that is really what it is all about.
Lastly, it's important to prepare how you're going to go back to the reality of not having a wedding to plan anymore. It sounds bizarre but, we (and all our guests) had such a wedding week hangover! Keep yourself busy and ready to tackle the next big thing!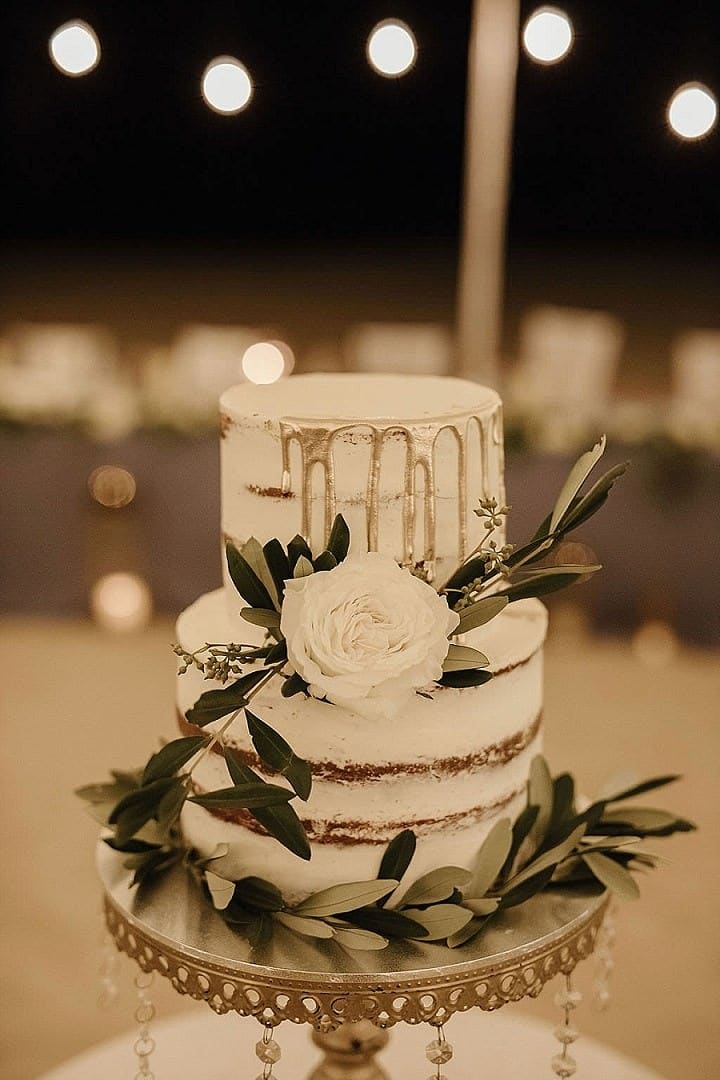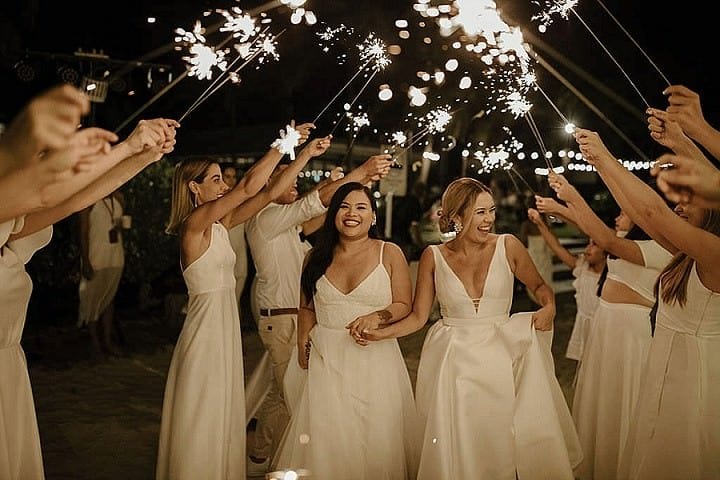 Supplier Shout Outs