This afternoon I have a real treat for you, a feast for the eyes in fact, as I introduce you to the work of  hugely talented wedding photographer Joseph K. Sarkodie from Sarkodie Photography. Joseph splits his time between London and Sydney and his love of travel can be seen in his work. Joseph's work is true, honest and full of warmth. They are crisp, clear and have a real artistry edge. You can tell that Joseph is incredibly skilled at what he does and his technical ability shines through in his images. But don't take my word for it, the man himself has shared 20 of his favourite images with me today and has answered a few questions, so you can all get to know him a bit better.
I'm Joseph K. Sarkodie, a wedding photographer based in London and Sydney, documenting true life with honesty, artistry and a sense of adventure. My images have a warm and natural style that embraces creative techniques, and I create a relaxed environment where I capture unguarded connection. I will shortly be launching the new brand and website… watch this space
How long have you been taking photos for?
9 years and 350 weddings!
When did you start your photography business and what made you start
My passion for creative expression began with a love of drawing and led to a career in architecture. Photography was a creative outlet that soon became my full-time occupation.
Where are you based and how far do you travel for a wedding?
London and Sydney. I love to photograph weddings in all locations around the world.
How would you describe your style?
I document true life with honesty, artistry and a sense of adventure. My images have a warm and natural style that embraces creative techniques. I create a relaxed environment where I can capture unguarded emotion and sincere interaction. My approach is friendly and unobtrusive.
What is your favourite bit of technical kit? 
My tilt and shift lens opens up huge creative opportunities. I also love my 1977 Zenith Lomo analogue camera which makes me shoot and think about photography in a very different way.
What makes you different to your competitors?
Beyond the full story of the wedding day, captured with warmth and a candid natural feel, I push creative boundaries to deliver different takes on a traditional scene. I look for opportunities to exploit light, shadow, framing and reflection to add mood and feel to an image. Further techniques include double exposures, the use of smoke and mist, and creative off-camera lighting.
What do you enjoy most about your job?
I love the individuality that couples bring to their day that reflects their personalities and makes each and every wedding so different.
What is your biggest achievement so far?
I've received numerous awards at State and National level including finalist of the AIPP NSW Wedding Photographer of the Year 2017, Capture Magazine's Emerging Wedding Photographer of the Year Award 2015, multiple AIPP NSW Gold awards  and the NSW Album of the Year.
What sort of couple do you think you attract?
A huge variety of couples, often fun, easy going and not too tied to tradition.
What would be your ideal wedding to work on? 
Historic streets, remote beaches, forest clearings, locations where inspiration and escapism is everywhere.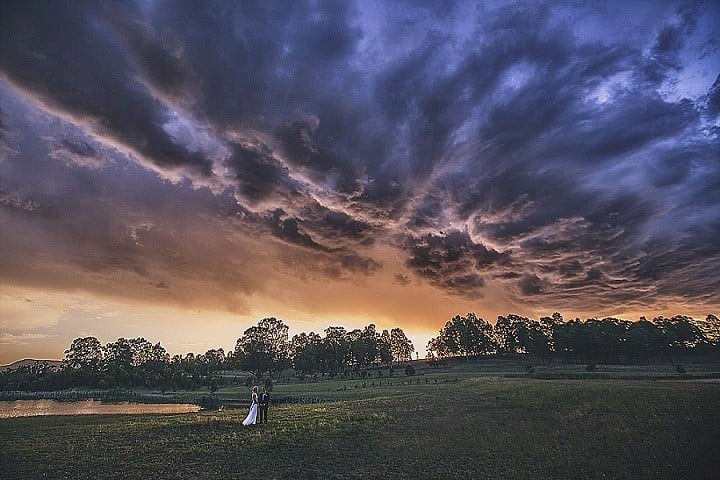 Which celeb would you like to photograph? 
The Queen
Who is your favourite photographer and why?
Nick Brandt, a wildlife photographer like no other, who photographs animals with the same approach that a portrait photographer brings to their subject. He also highlights the scarcity and fragility of wild animals in their natural habitat.
If you were to get married who would take your pictures
It would be Oli Sansom or Dan O'Day. Legendary photographers I know well from my years working in Australia.
What in your opinion makes the perfect photo? 
The perfect photo (if such a things exists!) stops the viewer in their tracks, it's arresting and evokes a strong emotional response and a shortness of breath. The perfect storm of content, composition, lighting, with a bit of magic thrown in.
What is your favourite photo that you have taken?
An image taken at Balmoral Beach wedding in Sydney, with looks through a gap in a glazed balustrade at a proud father watching his daughter take her vows. The reflection in the balustrade shows another world of fun and frolics on the beach.
What advice would you give couples when choosing their wedding photographer?
Naturally you'll want to find someone who's style you love. Check out their portfolio and instagram feed to see what you resonate with most. I would certainly advise lining up a chat either in person or on Skype or facetime, having a good connection makes things really easy and enjoyable on the day.
Can you give me some information on your pricing structure?
Couples typically opt for 10 hour packages, which are available with or without albums, this range starts at £1600 GBP. Packages can be tailored to suit your requirements and budget.
What is your ideal way to spend a day off?
Going for a run, catching up with friends and family.
What can you never leave the house without?
I like to bring a little analog camera, currently the Lomo Zenith, with me on most days out.
Who would be your 5 dream dinner guests dead or alive?
Marvin Gaye, Bob Marley, Otis Redding, Freddie Mercury, Jimmy Hendrix.
What would you do if you won the lottery?
Pay off the mortgage, help out the family, invest, do an ocean trench floor exploration in a submersible.
If you weren't running your business, what would you be doing?
Working as an architect in practice.
For more information on Joseph's work go to
sarkodie.com / FACEBOOK / INSTAGRAM
this is a sponsored post