As you know here at Boho It's not just me manning the blogging desk, I'm helped by my wonderful assistant Kelly C. As well a working here at Boho , Kelly works as a super talented wedding photographer with her husband at Paul Joseph Photography. Naturally I'm a HUGE fan of their work, it's fun, creative, crisp, clean, packed with emotion and full of amazing compositions. When you book Paul and Kelly not only are you guaranteed a good time at your wedding but also some pretty damn fine wedding art thrown in for the bargain. Paul and Kelly are true professionals and always go above and beyond to help their wedding couples, so my advice for you today is to check out their work and seriously consider booking them for your wedding, you really wont be disappointed.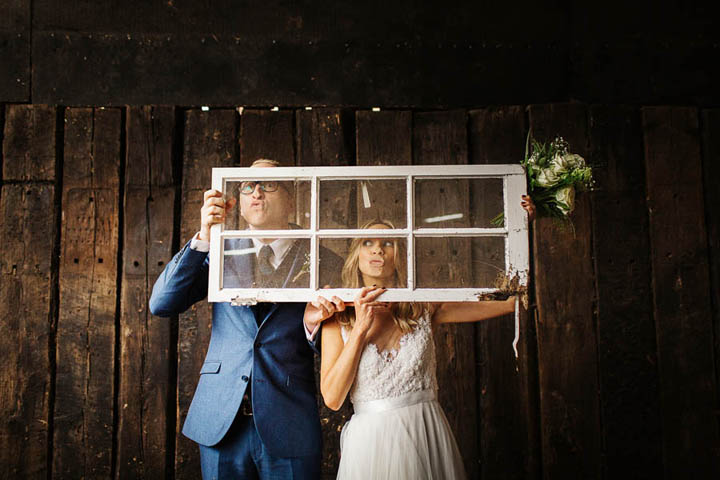 'We are Paul and Kelly, Creative Yorkshire Wedding photographers from Leeds. We make fun, creative and quirky wedding photographs for couples all over the UK and beyond'
I asked Paul and Kelly a few questions about them and their work……
How long have you been taking photos for
We have both been taking photo's since 2010 and we shot our first wedding at Broughton Hall near Skipton in the heart of North Yorkshire back in September 2011.  It was featured here on Boho Weddings.
When did you start your photography business and what made you start
We started the photography business in 2010 after our daughter was born.  At this time we mainly just took portraits and family pictures.  An old school friend of mine contacted me at the beginning of 2011 to see if we would shoot his wedding.  After a few photography courses and lots of second shooting with other awesome photographers we shot our first wedding in 2011 and have never looked back.  We are coming up to our 100th wedding in two weeks!
Where are you based
We are based near Leeds in West Yorkshire
How far will you travel for a wedding
We travel all over the UK, Europe and beyond.  We love to photograph weddings and we love visiting new and exciting locations.  We are so lucky to say that we have shot weddings in Panama, Mexico and Cyprus.
How would you describe your style
Fun, Fresh and Funky.  Natural and unobtrusive but with a quirky twist here and there.  All whilst having as much fun as possible.
What do you like most about your job
This is such a difficult question to answer as there is so much we love about our job.  It's an amazing feeling being invited by a couple to document their wedding day.  The thing we love more than anything is to capture those split seconds of time within a wedding day so in years to come they can look at the pictures and be transported right back to the day.  Be it a fleeting look, a squeeze of a hand or tears of happiness we like to capture it all.  We document a wedding like a story as it unfolds in front of us.
What is your biggest achievement so far
We're not that fulfilled by industry awards and such however being nominated by one of our 2014 wedding couples for The Wedding Industry Awards was very humbling. Knowing our couples love what we do makes us so happy. Outside of this, our biggest achievement must be turning a part-time business back in 2011 into a full-time business today but not just for Paul but also for Kelly.
What would your ideal wedding be to work on
Chilled Out, relaxed days where fun, laughter and enjoying the day is one of the main priorities of our couple.
Which Celeb would you love to photograph
Helena Bonham-Carter.  She truly fascinates us both
Who is your favourite photographer and why 
Ryan Muirhead, Annie Liebovitz, Image is Found, David Loftus, Paul Octavious, Keslertran.  All for so many different reasons and on different formats.  Some shoot film, some digital and some using mobile phones.
In your opinion what makes the perfect photo
A good composition is always a good start but for us moments are the key.
What advice would you give to couples about choosing their wedding photographer
Firstly love their work/style and secondly make sure you have a connection with your photographer.
What is your ideal way to spend a day off
Sleeping, eating, family-time, walking the dog, food on my wife (instagram hashtag) and watching movies.
What can you never leave the house without
Our phones.  Sad but true!
If you weren't running your business what would you be doing
We are total coffee snobs so I would say we would love to own a little coffee shop somewhere.
What would you do if you won the lottery
Travel.  We would use every single penny and spare moment travelling the globe with our little girl and documenting the journey along the way.
For more information on Paul Joseph Photography please go to
www.pauljosephphotography.co.uk
www.pauljosephphotography.co.uk/blog
FACEBOOK
PINTEREST
TWITTER – Paul
TWITTER – Kelly
INSTAGRAM – Kelly
INSTAGRAM – Paul

[jprel]