Today I am taking you to beautiful Cornwall, in fact I grew up not far from where this wedding takes place, so I just love it! Cara and John were married on 6th September 2018 at Cornish Tipi weddings near Port Isaac. They had a handful of guests to their intimate wedding which made the whole day even more personal and special. Cara is a florist so as you can imagine the whole day was filled with the most beautiful whimsical arrangements, from the tipi to the boat that they used for some gorgeous photos. The whole day is super pretty and incredibly laid back, with a tipi ceremony and pizza reception, this wonderful couple took everything in their stride and celebrated in Boho style. What an amazing day and a stunning location! Sarah from Salt & Sea Photography was there to capture the day in all it's glory for us.
Sarah the photographer tells us more about the day. 
Cara and John's elopement fell on one of those perfectly quintessential Cornish autumn days. Nestled in the woodlands of The Cornish Tipi weddings venue is a beautiful glade with 'the wedding pavilion,' a romantic, permanent yurt type structure perfect for an adventurous pair of lovers to run away and say their vows.
The couple wanted an intimate wedding and so invited only a small handful of family and friends (less than ten.) Cara rented a beautiful country cottage for their stay which was hidden in the valley and very much off the beaten track. Cara is a talented florist and her business name (The Enchanted Flower) very much suits the energy that she exudes. If anyone was an autumn fairy bride, it was certainly Cara in her bespoke bridal gown with feathers and trailing sleeves. Although she was originally going to make her own bridal bouquet, her husband-to-be persuaded her to treat herself to the exquisite work of the Garden Gate Flower Company. Becca from the Garden Gate put together a sublime arrangement of Cara's favourite flowers; Dahlias, an array of scented garden roses and honeysuckle finished with a dreamy silk Lancaster and Cornish ribbon. Cara however did decorate the wedding pavilion, the picnic tipi and boat to fulfil her dream of rowing off onto a lake with her love in a boat adorned with flowers.
Her father surprised her by hiring a traditional VW camper (WestCoastVW bus) to transport her to the wedding. The driver turned up in a kilt and trilby and a kick-ass playlist for Cara and with the atmosphere was so chilled and jovial, he too quickly became very much like another friend and part of the day as we bombed along the winding, single track Cornish roads making our way to the Tipi Farm.
We arrived at the glade where John, their tiny son and their three adorable pooches were waiting for Cara along with their small group of guests. Their ceremony was sweet, serene and heart warming – just them in the woods with their family. After the ceremony, they shared an outdoor first dance which their little boy very much wanted to be a part of. Soon, we all ambled down the path to the lake where Cara and John did set sail for a romantic trip around the lake in the beautifully, floral boat.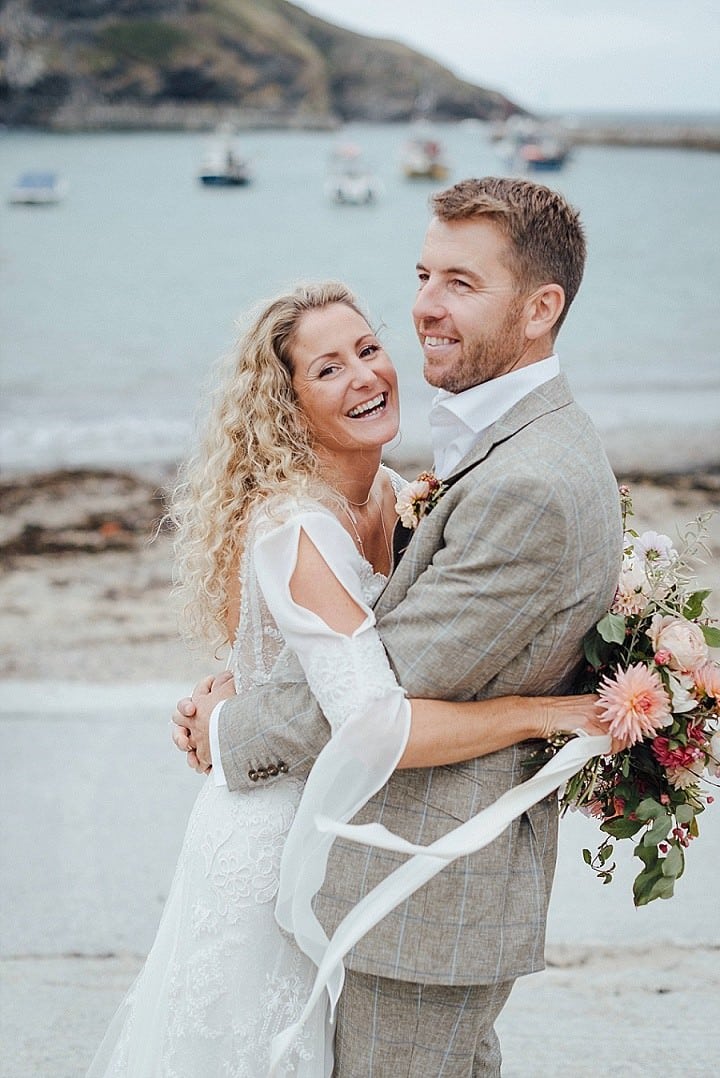 After their boat trip, we head off to the coast so that Cara & John could soak up some of their wedding day in one of their most cherished places in Cornwall. We went to Port Isaac where we stumbled upon some seaglass washed up which I picked up and gave to them, a keepsake from their day before heading up to the beautiful and dramatic clifftops for a stroll among the long grasses, capturing their romantic portraits set against the pale, September sky and churning ocean.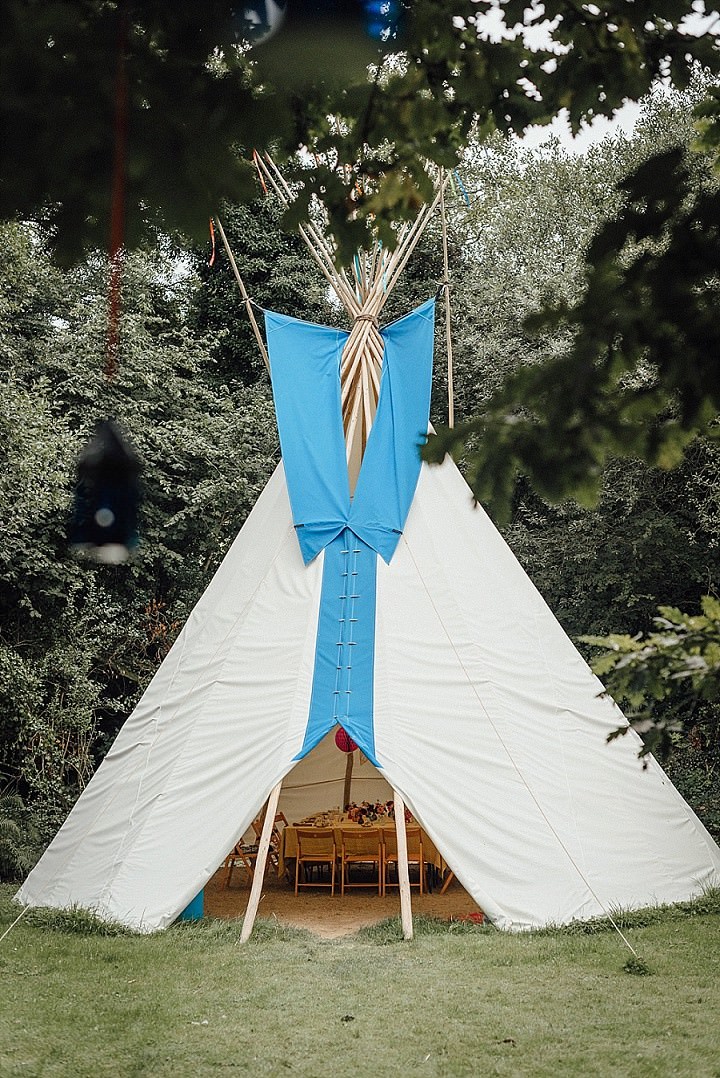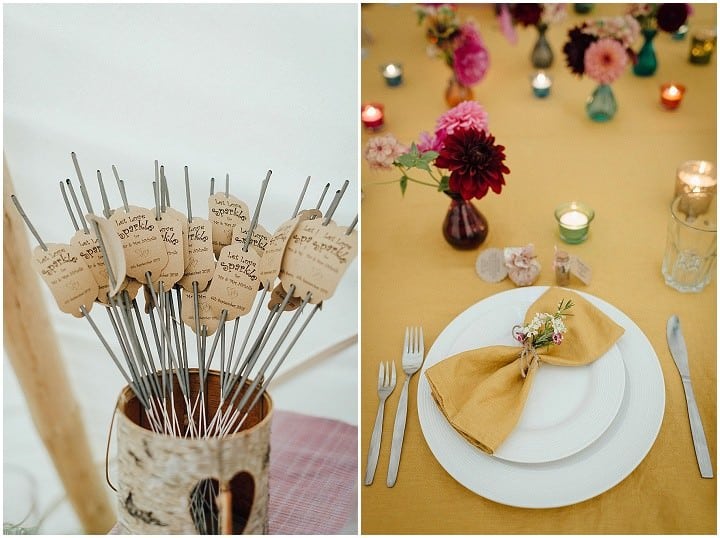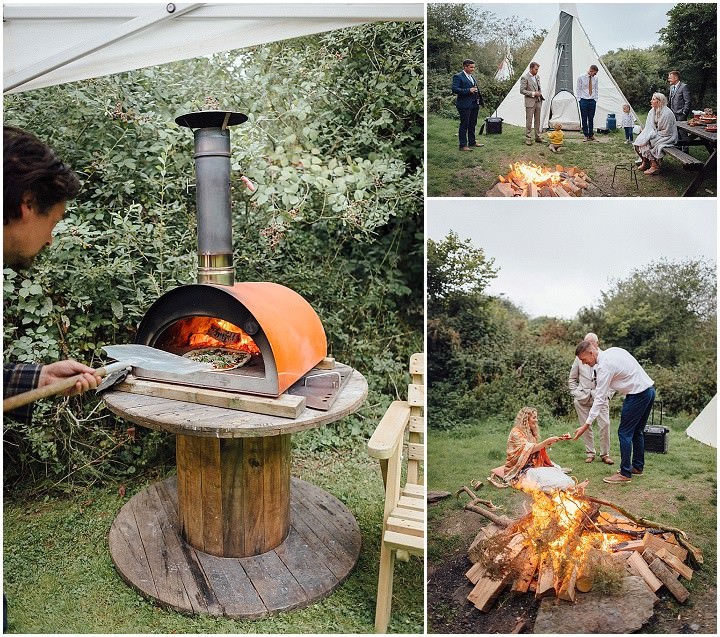 Back at the venue, we all shared a Pizza feast in a tipi at a beautifully styled table set up (again, the work of Cara) before heading up to another peaceful spot in the woods that had been set waiting for them by the venue team. They made up a cake picnic table of delicious deserts and their beautiful frangipani wedding cake, lit a bonfire and sat playing with sparklers and listening to music until the light faded and the sky became indigo blue. After a peaceful evening of chatter, delicious food and watching the twinkling firelight, we all headed back down to the lake where each of the guests lit eco-lanterns filled with positive intentions for the couple. The groom, John, rowed these out to the centre of the lake where he released them one by one and the night closed with everyone watching the lanterns bob and glow on the lake, hearts and tummies full.
It really was the perfect elopement, filled with warmth and sweetness and that kind of every day, real world joy and magic that you always hope to find at a wedding.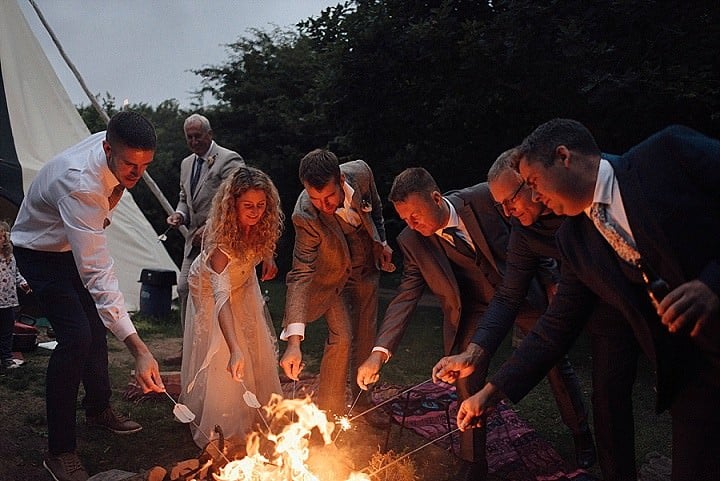 Supplier Shout Outs
Photography Salt & Sea Photography saltyseaphotography.com
Venue Cornish Tipi Weddings cornishtipiweddings.co.uk
Dress White Leaf Boutique whiteleafbridal.com
Groom's outfit Gresham Blake greshamblake.com
Flowers The Garden Gate Flower Company thegardengateflowercompany.co.uk
The Enchanted Flower theenchantedflower.co.uk
Catering Snails Pace Café snailspacecafe.co.uk
Campervan Westcoast Westy facebook.com/westcoastvwbus
Engagement ring Alexis Dove in Lewes, East Sussex alexisdove.com
For more information on Salt & Sea Photography go to
www.saltyseaphotography.com / www.saltyseaphotography.com/blog / [email protected] / FACEBOOK / INSTAGRAM