Happy Monday everyone, I do hope you have had a lovely weekend? Mine was amazing; we spent it at Gloworm festival in Nottingham, a family friendly festival FULL of stuff to do for children, Dexter had a ball! It's now back to work and ready for another fun packed week on the blog before I go away on my holidays next week. Today we are lucky enough to have the gorgeous garden wedding of Nicki and Deej. This fun loving couple had an awesome wedding filled with so many homemade projects. All Their friends and family got stuck in and helped them pull the wedding together and the results are this amazing looking homemade garden wedding, complete with delicious food, amazing decor, fun filled entertainment and of course this loved up couple. Such a fab day, and look at that glorious sunshine! Amazing. Big thanks to Emily and Steve Photographers for the lovely images.
It was like going to a festival but everyone there is someone you love, then you suddenly realise you're the headline act and everyone is there to see you. Euphoric. Genuinely the happiest day of my life. I could not stop hugging people because I was so full of joy and love for everyone.
Nicki and Deej were married on 22nd June 2019 at Little Orchard, Lymington, Hampshire. 'We always knew we wanted to get married outdoors and Nicki's best friend Camille's beautiful family home was somewhere Nicki spent a lot of time growing up, plus they always throw the best parties! When we got engaged Camille's parents offered for us to have the wedding there straight away and how could we say no, we had 150 guests. It took one year (but eleven Pinterest years in the making for Nicki)'
How they met 
We met 14 years ago when we worked together in a shop in our home town of Lymington, we hit it off straight away talking about our favourite foods, but it took us 3 years to realise what everyone around us already knew.
The proposal
We were in bed on the morning of our 10 year anniversary, on holiday in Mexico, I had forgotten to get an anniversary card for Nicki due the preoccupation of planning to propose (the only year that has ever happened, it's usually the other way round) and I just blurted it out. We bought a temporary ring from a beach seller that day which turned Nicki's finger green, but when we got home we got and got something a little nicer.
Where did you splurge and where did you save?
We splurged on people as the most important thing to us was having as many people that we care about there on the day to celebrate with us. We managed to do this with a lot of early planning; lots of trips to car-boot sales and charity shops to buy plates, cutlery, throws, furniture, you name it. Deej's mum grew a lot of the flowers, with the rest coming from a local trade market. Also, having big pan street food and making the evening BYOB helped massively.
We also spent more than we initial thought we would do on photography as we found people who seemed to be mirror images of ourselves; from their favourite countries to visits, to their love of Wes Anderson and Backgammon. Emily was amazing on the day and we never felt like we were posing for photos, more that we were being photographed while we enjoyed our day, naturally.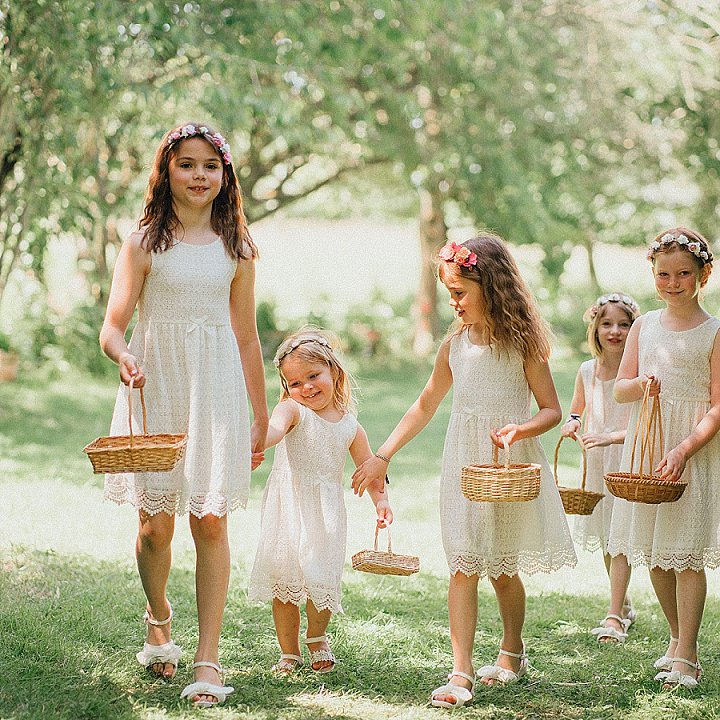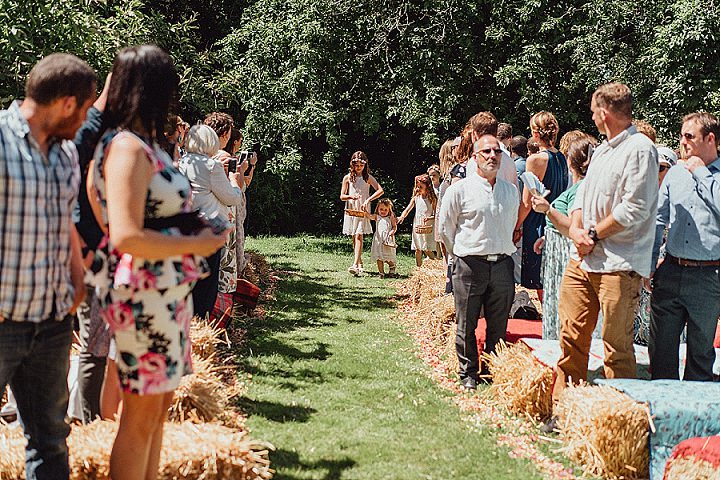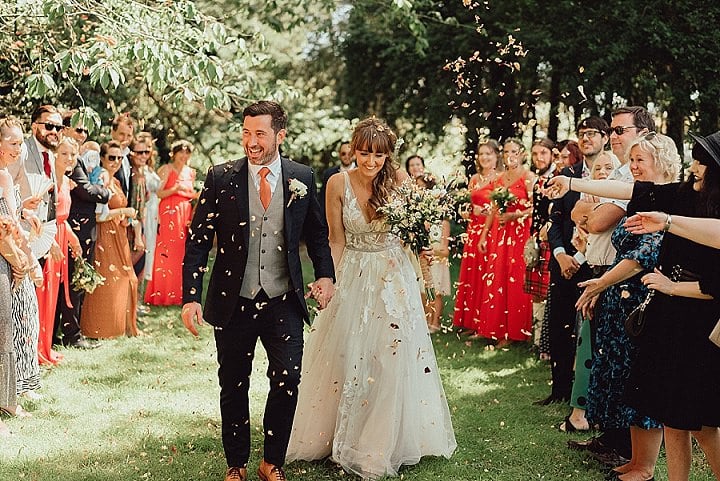 The dress 
Dress was by Willowby, bought from White Leaf in Brighton. (Blanca there is amazing!) Shoes were glitter jellyshoes from JuJu. Pretty proud of myself for wearing wedding shoes that cost just £26, even if I was a bit embarrassed when another bride at the dress shop asked to see them and, while she holding her Jimmy Choo's, I produced them in a Sainsburys bag for life! Accessories: Alex Monroe gold bee necklace that was a present from my mum and my flower clip a gift from my Aunty. For the evening I wore my rose gold nose ring, heart shaped sunglasses, LED trainers and favourite sequin jacket.
The suit and bridesmaids
Suit was from Reiss with shoes from Grenson. Bridesmaids dresses from Lipsy at Next. Flower girls wore white lace dresses from H&M, shoes from Next and flower headbands from Claire's Accessories
Theme or colour scheme
It was a pretty casual approach. There was a loose theme of wild flowers and Deej's mum grew most of the flowers and plants that we used while his dad spend months before the wedding mowing grass and sowing seeds to make it look amazing.
Flowers
We had so many different types of flowers; wild flowers planted in the field, a floral arch, crates of flowers planted by Deej's parents and bouquets made from a variety of flowers from the local market. Deej's Mum tells us that they were mostly alliums, roses, gypsophilia, eryngium, chrysanthemum, oxeye daisies, corn cockle and poppies.
My bouquet was amazing and a surprise! When I ran out of time the day before, I left bouquet making in the safe hands of Deej's mum, Shirley, my bridesmaid Zoe and Camille's sister Imogen. I was so happy when I saw them, and they were exactly how I had imagined – vibrant and relaxed.
Decoration 
Most of our decorations were homemade, from Ebay, carboots, freecyle or our favourite second hand shop in Lymington – Jubblies.
Outside we had an outdoor living room including a lamp plugged into a tree which a friend ingeniously put together and a family tree with pictures of our parents and grandparents on their wedding days.
For the marquee we attached greenery to the middle pole and dangled dried flowers on fishing line along with tissue paper strings which Nicki, her mum Jo, and several of our friends, spent many evenings making with a glue gun in hand.
Nicki's step parents Fran and Rich were an amazing help with the decorations, from table flowers, sewing hessian around each marquee pole, to removing a tree that had blown down and slicing it up to make centrepieces.
Food 
We knew food is usually a big cost so we saved where possible. We handed out mini twisters (our fave) to everyone mid-afternoon which was great because it was so hot. We had big pans of chicken chorizo paella or chilli with all the trimmings. The food was so tasty and there was enough for people to have seconds! Nibbles and desserts were all made by friends
Wedding cake
Our plan was to have a cheese cake with 6 rounds of cheese, carefully measured by us and stacked on top of each other to ensure they made a lovely looking cake. Turned out we weren't explicit in our jobs list so the staff cut up the cheese into wedges to put out in the evening!
Thankfully, our friends Daniel and Lottie saved the day with a surprise wedding cake (my Pinterest cake of dreams) from Bunston Bakes which was insane. Decorated with pressed edible flowers, the layers were carrot cake, white chocolate with raspberry and chocolate with salted caramel. So delicious.
Entertainment
We had garden games for the day and for the evening we had Eightball band, who were great, followed by a silent disco. No party of ours is complete without a silent disco. We created three channels (pre 90's, post 90's and dance-dance-dance) to keep people going until the morning…literally. I got up at 9.30 to find people still going with headphones on.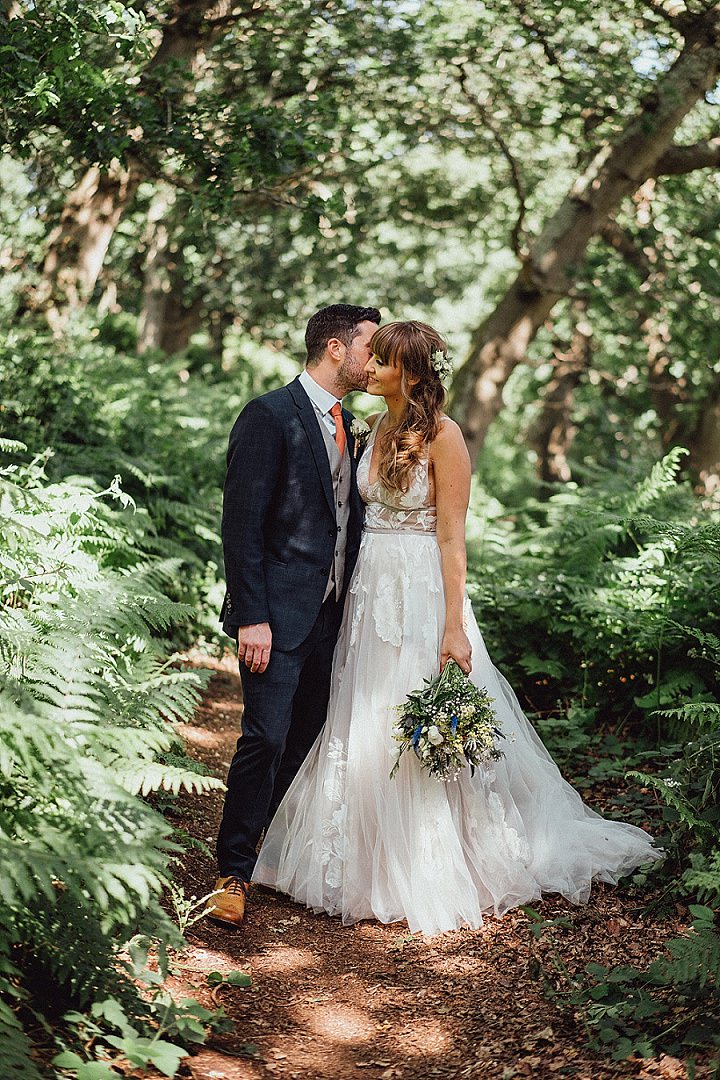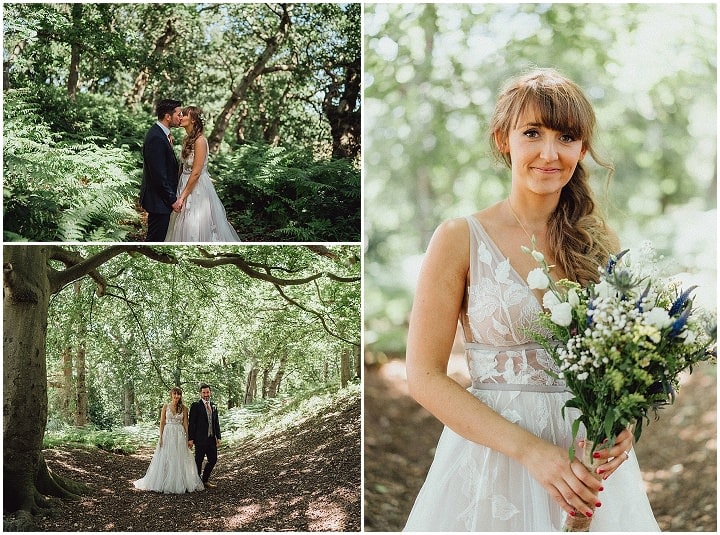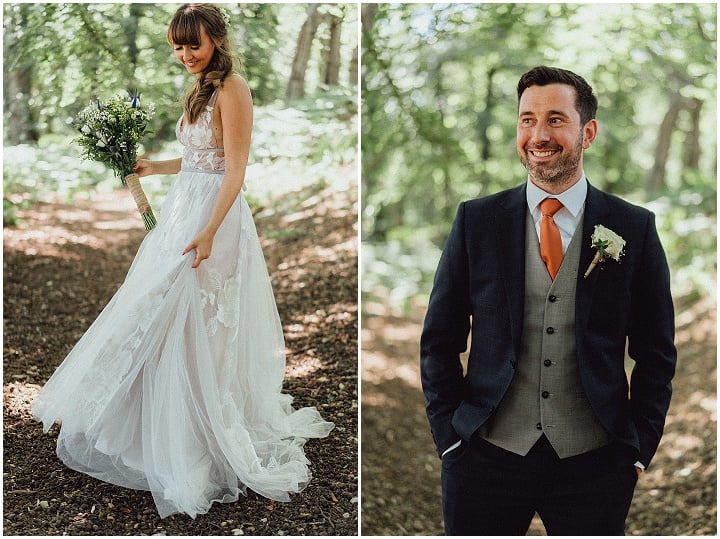 Who supplied the stationery?
To save money and trees we had a wedding website with all the info about the day. We used The Knot which was so easy to use and looked great.
Personal touches
One of the biggest and most time-consuming jobs was a table decoration idea that Deej had quite early on. On the tables we had pictures of each guest at their seat along with a memory, or funny story, from both of us on the back. It was amazing to watch people's faces as they read about their most embarrassing moments or private jokes between ourselves and it made the months of thinking of stories and noting them down on our phones on the commuting to work worthwhile.
Special moments 
The ceremony was so special. I walked down the aisle to a song from my favourite film (Little Miss Sunshine) and could not wait to get to Deej. We spent an entire wet Sunday at our local pub in London writing our own vows together, with a roast and bottle of red to help us along, and we were so happy to share them with family and friends. It made the whole experience so personal.
Nicki: Highlights for me include; throwing my bouquet to the unmarried men, the speeches, crowd surfing on the dance floor, taking my silent disco headphones off and hearing everyone with their best/worst karaoke voices, and the weather!
Deej:  Seeing Nicki for the first time as she came round the corner in that amazing dress that I will never forget, also the speeches, and being thankful I didn't get too much abuse from my best men. Our first dance and cutting the cake which was completely unplanned and such a good recommendation from our photographer Emily The two of us taking time away from the wedding on our own which gave us the chance to have a personal moment together and to get some great photos. Finally, the dancing – both the band and the silent disco.
Advice for other couples 
Take time out just the two of you.
Plan for as much as you can but don't worry when things go wrong, which they invariably will. Don't sweat the small stuff on the day – no one knows what it's meant to look like and won't care either way.
Delegate delegate delegate – identify the people that will just get stuff done early on and reduce your own job lists.
Ask people to help with the clear up!
Try to remember that the day is about you and celebrating your love and relationship and try not to feel pressure to make it about other people, or doing things just to put on Instagram!
Biggest surprise 
Our wedding cake!
Supplier Shout Outs
For more information on Emily and Steve's work go to
www.emilysteve.com / www.emilysteve.com/blog /[email protected] / 07900433019 / FACEBOOK / INSTAGRAM
We're Emily & Steve Photography – husband & wife photographers who also offer video. We're based in the south of England and describe ourselves as being super chilled, lover of boho weddings and those in unusual venues. We have a cinematic style taking inspiration from some of our favourite directors and cinematographers. We're always getting called photo ninjas because we capture real emotion without anyone noticing us!