Well hello Monday! I hope you all had a fantastic weekend and the rain managed to stop for you at some point! All I can say is where is Summer??? I am super excited as I fly to Dubrovnik on Thursday for 3 days, so it's a short week at work, but an incredibly busy one for me! So I am ploughing through my to do list so I can get packed and ready for my 4am wake up call on Thursday morning (eek!) I am starting the week with this super stylish destination wedding. Jaya and Ben wanted a relaxed, outdoor wedding with guaranteed sunshine. Their home town of Manchester wasn't offering them what they wanted, so they headed to Mallorca to enjoy the beautiful sunshine and an amazing backdrop. They held a beautiful Boho luxe wedding with an Indian twist and the whole day is just so stunning. Jaya looks amazing, as does Ben, what an incredibly handsome couple they make. Laura Jaume has done an outstanding job with the images.
An unforgettable day which reflected Ben and I in every way! It started and ended with dancing, laughter and pure magic.
Jaya and Ben were married on 30th June 2018 at Finca Son Togores, Esporles, Palma de Mallorca. 'We are from Manchester in the UK and it ALWAYS rains and it's ALWAYS cold! We really wanted a wedding outside in the sun which felt relaxed, fun and had a party feel to it. Mallorca was the perfect destination for our guests as it was a short flight with the perfect temperature. we had 120 guest and it took a year to plan.' 
How they met
We met in a nightclub in Manchester called Venus. It was about 4am in the morning! We have been together 7 years
The proposal
At the time, I was working in London in a fashion PR role which meant that myself and Ben were doing long distance. I had a terrible day at work and was feeling stressed and I was due to meet Ben in Manchester that evening.
I got off the train and was greeted by Ben who he took us home to our apartment and I walked into the living room. I turned around and could see on the wall in framed playing card letters 'MARRY ME J'. I turned to my right and Ben was down on one knee. After a few lovely and very surreal words, he proceeded to tell me that he has booked us a surprise trip to Venice and were due to fly tomorrow. He had planned for my suitcase to be packed by my twin sister the week before!
If things couldn't get any better, Ben took me out to celebrate in a Spanish restaurant and I walked up the stairs to be greeted by all of my friends and family who are stood and shouted 'SURPRISEEEEE!'. It was the best proposal ever!!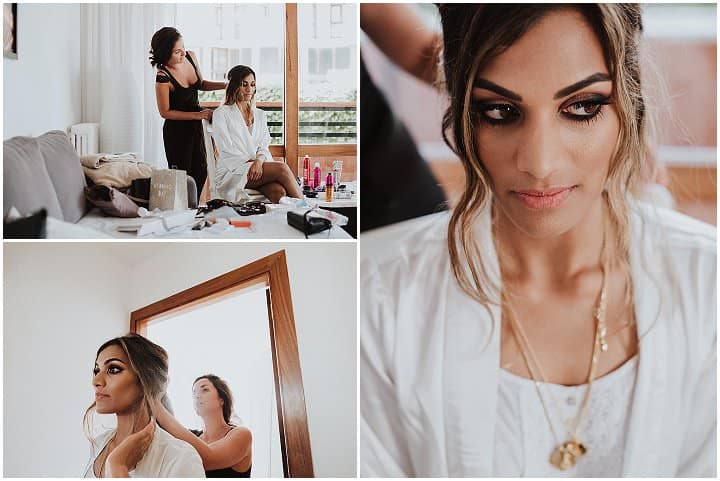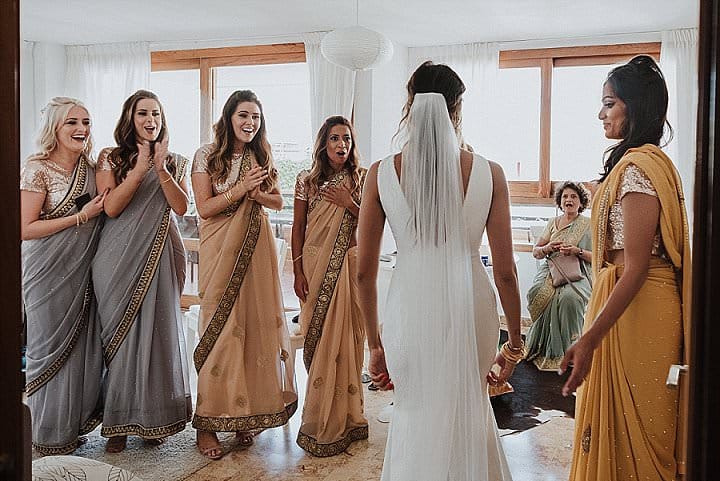 How did you allocate your budget?
The most important things to us were the music, the lighting and the food so we allocated everything with this in mind and let the rest follow naturally. Our amazing wedding planner was brilliant in helping us with the best suppliers and made it very easy for us.
Where did you splurge and where did you save?
We originally had 80 guests but this turned into 120! We saved on décor and stationery. The venue was so beautiful, it only required very simple but beautiful small touches.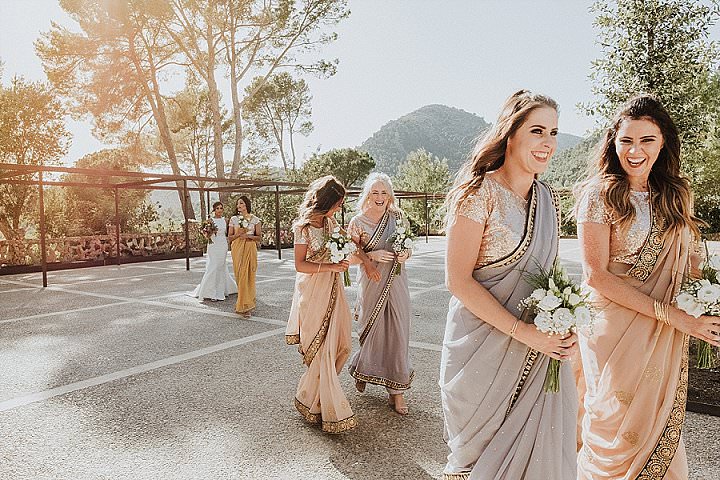 How did you choose your photographer?
We were recommended by our lovely wedding planner Katja Redweik
The dress 
My dress was Pronovias, shoes were Missguided (I wanted comfort as I knew I would be dancing all night!) and my accessories were vintage and Indian gold.
The suit and bridesmaids
The suits were from French Connection from department store Moss Bros. The bridesmaids wore traditional Indian sarees and later changed into an all white outfits in a mix of dresses, jumpsuits, playsuits etc- all from highstreet shops.

Theme or colour scheme
No set theme but we really wanted bright, laid back with a few colourful Indian twists! One of our favourite singers is Michael Jackson so we named our tables after his top songs! Funnily enough, my last name is now Jackson!!
Flowers 
I had a mixed rustic bunch of multi colours from the island and the bridesmaids had beautiful, classic white with green leaves
Decoration
We had a vintage/rustic feel- simple flowers and floating candles for the tables and festoon lighting throughout it.
Food
Starter: Skewer of tuna tataki with sesame, Mini chicken burger on turmeric bun, Homemade croquettes (Ham, chicken, vegetarian), Potato koftas with tzatziki sauce, Samosas (vegetables and cheese), Cornet with guacamole and smoked salmon, Spoon with marinated salmon roll, cream cheese and arugula.
Main: TAPAS IN THE MIDDLE OF THE TABLE: Sushi, tortilla with brava sauce, mushrooms with cheese gratein, mini risotto with duck & curry. Or Lamb medallions with stuffed with mushrooms with grated potato and sautéed vegetables with Lamb  sauce. Or SEABASS with aioli gratin on potato base, confided tomato.
Dessert: Carrot cake with White chocolate mousse and pistachio ice cream Or Cheese cake with raspberry sorbet.
Entertainment
Oliver from Velvet music. He played varied mix of genres but overall deep house, soul and R N' B- he was the perfect fit for the guests.
Who supplied the stationery?
We made the stationery ourselves in the UK!
Personal touches
My dad passed away when I was 12 so it was important to include his memory throughout the day. As our wedding favours, we had a personalised message in honour of my dad alongside a sparkler for each guest. He was known as 'Dr. Rao' to his friends. The note said 'Let love sparkle for Dr. Rao and light the way for Ben & J". All of our guests lit their sparklers and did a cheers to honour his life and for other guests that were sadly no longer with us. We also made sure to have photos of our grandparents so they were a part of the day.
We made our table place settings ourselves- each name had a musical note attached to it.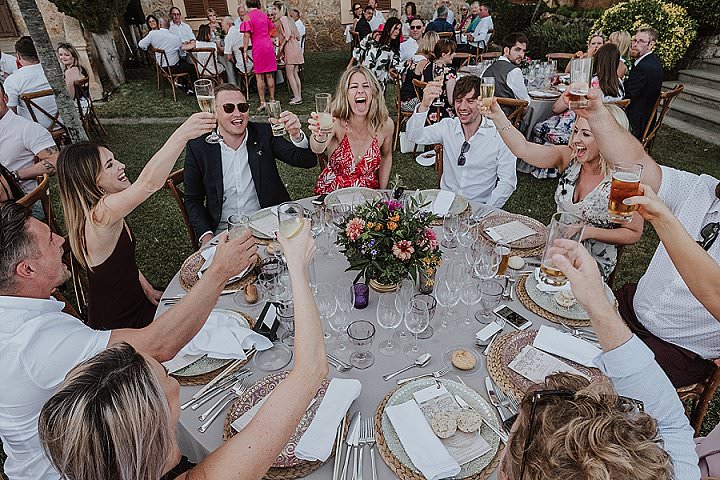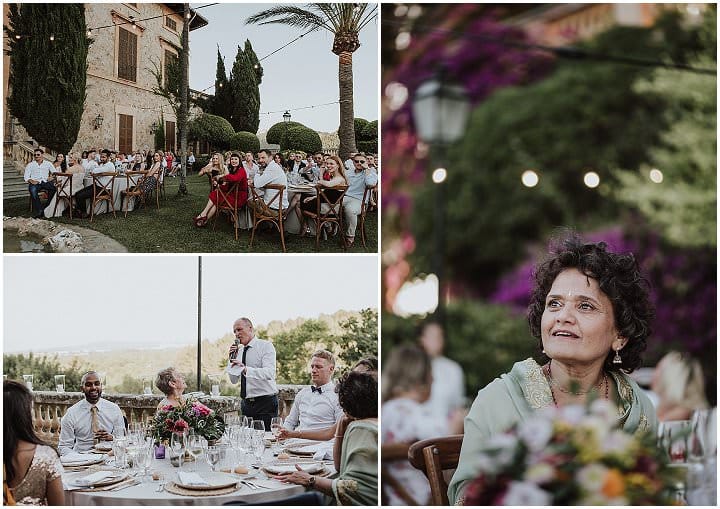 Special moments 
We are big music fans so two very special moments for us:  Walking down the aisle to 'Fat Boy Slim- Praise You' was incredible as it was the first time I saw Ben waiting at the other end and all of our guests ended up cheering!  We also loved walking to greet out guests at dinner to 'Daft Punk- One More Time'- this was our party song and we loved it!
It was also lovely to have a little time out for our wedding photos as it was the first time that me and Ben were away together to enjoy a moment!  Laura, our brilliant photographer did such a great job of capturing the moment.
Advice for other couples
We would say to really enjoy your day and not think about anything else!  Have drinks, get merry, lose your inhibitions and enjoy every moment. It goes so quickly so it's important to make the most of it!!  We would also say to do things your way and have no regrets and to also enjoy the planning part. Remember that if things didn't go to plan, no one will ever notice or remember. JUST ENJOY IT- IT'S TRULY THE BEST DAY OF YOUR LIFE.
Biggest surprise 
That I didn't fall walking down the aisle haha!
Supplier Shout Outs
 For more information on Laura's work go to
www.laurajaume.com / www.laurajaume.com/blog / FACEBOOK / INSTAGRAM / PINTEREST