Happy Monday everyone, I hope you are all well and have survived this weekend's horrible weather! It may be blowing a gale here in the UK, but in Ibiza it is super sunny and lovely and warm, and that is where I'm taking you today. You may remember one of our lovely Boho couples, Whitney and Tom from last year. Whitney wrote for the blog in our Diary of a Boho Bride feature. Well she is back today with the results of all that wedding planning she told us about. Like myself, Whitney chose Ibiza for her wedding, she even chose the same DJ as I did! And after spending a few years planning weddings in Ibiza in my days as a wedding planner it is lovely to look through these photos and see the suppliers they chose for their big day. This is a beautiful day Filled with the most gorgeous bright flowers and of course that wonderful Ibiza sunshine. Big thanks to Belle and Beau for the beautiful images, I know you are going to love them!
A beautiful, relaxed and intimate wedding set at a stunning Agroturismo in the Ibizan countryside. We feel so lucky and overwhelmed that our friends and families made the journey to the magical island of Ibiza – a very special celebration and holiday shared with memories made that will last forever!
Whitney and Tom were married on the 30th May 2016 at Agroturismo Can Gall. 'We had looked at several venues in the UK and hadn't been wowed and everywhere felt quite formal which just didn't feel like us. We had our hopes set on an outdoor wedding, guaranteed sunshine, a relaxed atmosphere and a good party – after seeing some amazing weddings in Ibiza and reassurance from our friends and family that they would make the journey we settled on Ibiza and didn't look back! We had 60 guests and the wedding took 12 months to plan'. 
How they met
My friends went travelling and met Tom on a plane to Australia. Once they got back to the UK they hinted several times we would make a great couple and following a few 'impromptu' nights out we soon became an item – proof  of how your friends know you so well. We've been together just over 6 years now.
The proposal
It was the week of my birthday and we had arranged a big BBQ with our friends and family on the weekend to celebrate the occasion. On the friday night I came home from work to tea lights all over the house and an amazing dinner cooked by Tom, I thought it was all part of the birthday celebrations until I noticed a huge diamond in an ice cube in my drink that he had poured me! Needless to say the BBQ the next day turned into a joint birthday/engagement party!
How did you allocate your budget?
We set ourselves a budget and once we had secured a venue and a photographer (the most important things for us) the rest went on everything else. We used spreadsheets to keep track as its so easy to get carried away
Where did you splurge and where did you save?
The venue and Photography was our splurge, so so important! We saved on making our own save the dates/table plan and brought a lot of the decorations for the venue with us as decoration hire in Ibiza is expensive!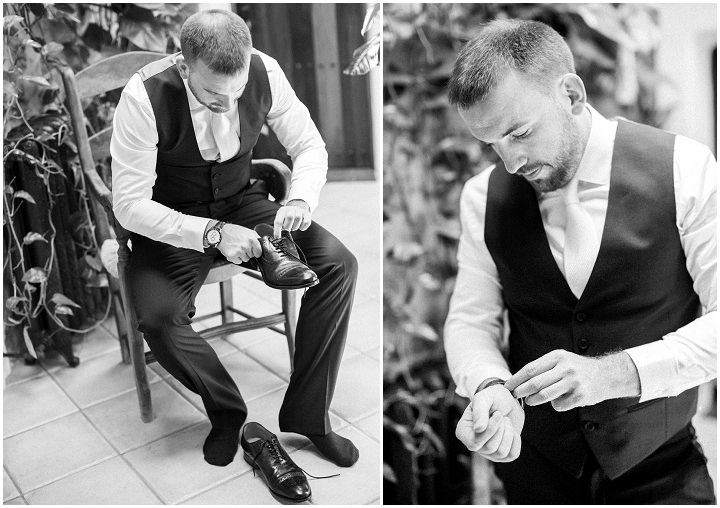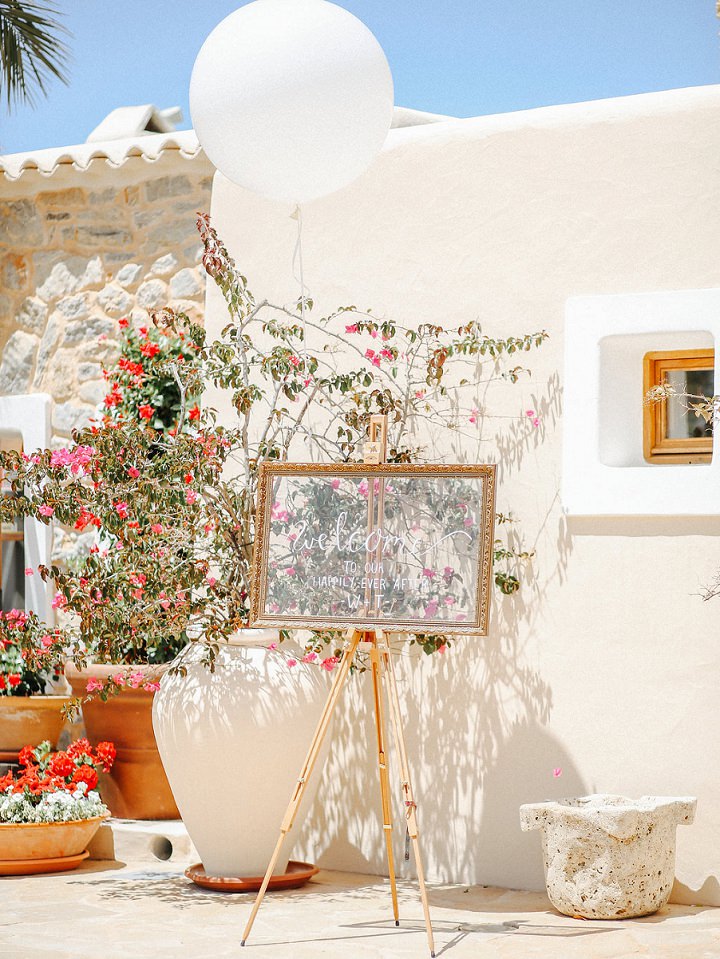 Why did you choose your photographer?
Holly from Belle and Beau (based in Yorkshire) had been recommended to us by our wedding planner (Lisa from Isla and Smith) As soon as we saw Holly's portfolio, full of dreamy soft romantic images shot in the most amazing natural light we knew we had to have her! Holly and her husband Phil were so sweet and made us feel so comfortable – they really did make it for us and we were over the moon when we received our photos.
The Dress
My wedding dress was painstakingly made by my lovely (and very patient) Auntie. We made several trips to Berwick Street in London to purchase lace, silk and various other materials that were required. I wore a bracelet my best friend had given me when I was her maid of honour and some earrings from Debenhams. After nearly purchasing some Jimmy Choo's I ended up finding the perfect heel height in House of Fraser.
The Suit and Bridesmaids
Tom's suit was from Ted Baker, the groomsmen's suits were from Burton and the Bridesmaids dresses were from Debut at Debenhams.
Theme or Colour scheme
We wanted to keep the colour scheme quite fresh and stuck to a bright colour palette with warm pastel tones.
Flowers
David Austin roses, eucalyptus, peonies, olive
Decoration
Hanging festoon canopy above the tables with white lanterns. White parasols, make-up station, photo booth, large welcome sign, large tasseled balloons
Food
Canapes – Warm crispy bruschettas, Goats cheese & spinach quiche, Mixed mediterranean paella, Prawn katiffi skewers
Starters – Wooden boards of cured meats, local cheeses and olives and Tomato and fresh mozzarella salad.
Main- Sharing platters of chicken stuffed with sun blush tomatoes wrapped in serrano ham, caramelised onion and roasted garlic homemade burgers, pork herby sausages, monkfish skewers, wild rocket salad, veggie kebabs, garlic and parsley corn on the cob and crispy potatoes.
Dessert – Blondie (white choc brownie) and dessert ice cream
Wedding Cake
Tom's dad decided to make our cake and carefully carried it all the way to Ibiza, it was a delicious sponge cake!
Entertainment
We had Paco R, a local spanish guitarist, play as guests arrived and again at the reception. We also had a local singer/guitar duo, play while our guests had coffee and we went off for some photos. Later in the evening we had Brian Beezwax on his turntables and Deva the saxophonist to kick start the party.
Stationery
We made polaroid save the dates ourselves using an app called la la lab, our menus were by Berinmade and our Wedding invitations were by Laura at byinvitationonlyink (found on etsy)
Personal Touches
We did our own take on a photo booth, we used the frame from our welcome sign and hung it up on string later in the evening for the make-shift photo booth, we collected a variety of fancy dress items over the planning stages and brought them to Ibiza with us. Instead of an evening buffet we bought lots of delicious pastries and cakes from a local bakery and made a dessert table for our guests to help themselves. We also made the table plan ourselves using the same app (LALALAB) which we had used for our save the dates. We had a photo of each guest on holiday hung up on string between two trees, they then had to find their face to take their place! It was a real conversation starter for our guests and worked out so much cheaper than a table plan from a stationary company.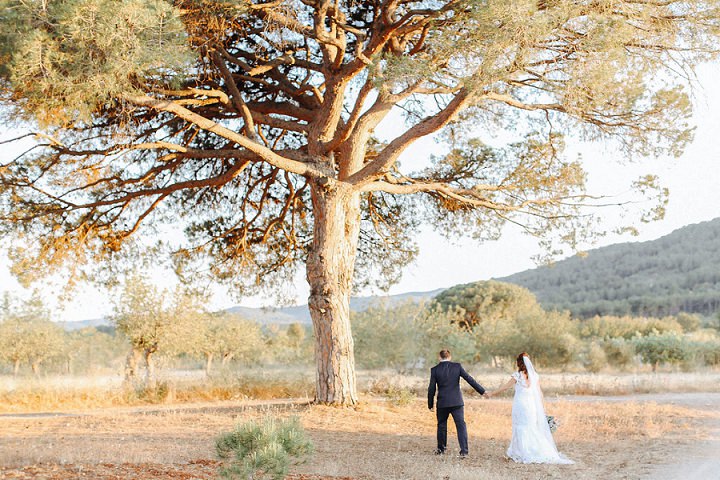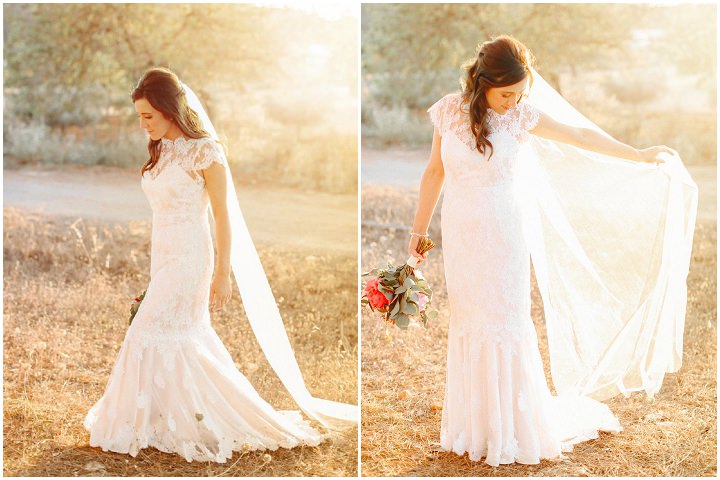 Special Moments or Highlights
For favours we gave our guests white sunglasses (we were having a white themed pool party the next day so thought these would come in handy!) and remember being announced at dinner and seeing all of our nearest and dearest clapping and wearing their sunglasses – it was quite emotional! Another memorable moment was being whisked away by our amazing photographers for some photos, they just left us to walk and talk and enjoy some quiet time together and soak everything up whilst they snapped away.
Advice for Other Couples
Take it all in, just relax and remember it's not about the material things, who cares if things don't go to plan – you are marrying the love of your life! Also we were really undecided about getting our wedding filmed, however I am soon pleased we did. If you can afford it – do it! You can see the film here.
Biggest Surprise
Just how relaxed everything was, I almost felt it wasn't happening as I expected to be rushed off my feet in the morning but it was super chilled and the perfect day. A special acknowledgement to Santi who runs the venue at Can Gall, the service we received for the 3 days we were at the venue was phenomenal and exceeded all of our expectations. It was pure paradise and our guests had the most amazing stay, we were treated like royalty and I cried (several times) when we had to leave!
Supplier Shout Outs
For more information about Holly's work go to:
belleandbeaublog.com  / belleandbeaublog.com/newblog / [email protected] / Facebook / I: @belle_andbeau /