Happy Friday everyone, I do hope you have had an amazing week so far and that you are looking forward to the weekend ahead. What have you got planned? Any weddings to go to? Dexter is in a dance show next week, so this weekend is all about rehearsals for him. We also have a children's birthday party to go to and also some shopping to do for our holiday. We go to Ibiza in 2 weeks and I still have so much to get organised!!
Moving onto today's wedding and i am taking you back to last summer, when the weather was amazing and the grass turned to straw! Katrina and Stuart were married in Katrina's home town of Somerby in Leicestershire. They were lucky enough to hold their reception in Katrina's parents garden. This lead to a super laid back day, with so many personal touches. The whole family got to help out with flowers, cake, decoration, you name it! A beautifully sunny day filled with much laughter and love. All captured by the wonderful Benni Carol.
Katrina and Stuart were married on 14th July 2018 at All Saints Church Somerby, in Leicestershire with the reception in Katrina's parents garden. 'We wanted a countryside wedding and to get married in the village church where my parents live, so it was the obvious place! We has 125 guests and it took just over a year (14 months), to plan. We didn't really do anything for the first month of being engaged as we just wanted to enjoy it but then realised things book up really far in advance so started organising the main things like the yurt, photographer and caterer.'
How they met 
We had been together 4 years when we got married
The proposal
Stuart proposed in Ha Long Bay in Vietnam on my 30th birthday. He had arranged for a private boat to take us on a tour around some of the islands and proposed on the deck.
Where did you splurge and where did you save?
Having a fun party was the most important part of the day for us so we made sure we had a band who would get people dancing and plenty for people to drink.
We also wanted to make sure the day was well documented so stretched our budget to included a videographer as well as our photographer.
We saved by having the reception in my parent's garden with a yurt and we also had lots of help from family and friends, it was a very homemade wedding.
How did you choose your photographer?
We scoured the internet and when we came across Benni Carol we knew we had a winner. We didn't want lots of posed picture, so we loved their natural documentary style.
The dress 
I bought my rembro styling dress and veil from Cicily Bridal. It was the third shop I went to and I thought I had found the dress in another place until I tried the rembro dress on. I loved how light and floaty the dress was, meaning I could be free to dance.
The suit and bridesmaids
Stuart's and the grooms party suits came from Alexander Wood. The bridesmaid dresses were from Hobbs.
Theme or colour scheme
A bridal bouquet I saw when browsing Pintrest inspired our white, pale pink and dusky blue colour scheme.
Flowers 
My mum and sister created the buttonholes, bridal and bridesmaids bouquets using a mix of roses, larkspurs, tweedia, gypsophilia eucalyptus and peonies. We also had a beautiful flower arch above the church entrance created by local florist Sophie.
Decoration 
In the garden we had a mix of bunting (which my cousins spent hours stringing!) and fairy lights. We kept things simple in the yurt as the woodwork was so beautiful with hops garlands winding around the poles in the middle.
On the tables we had a mix of silver and coloured glass tea light holders with candles inside. We used little vases containing flower and herbs to hold our name cards. My cousin designed the name cards with hand-drawn little flowers to mirror those in my bouquet.
Food 
For our main meal we had a Moroccan feast of Tagine with pomegranate studded couscous, flat bread, falafel and hummus.
For pudding my Aunt and Mum had made a trio of lemon posset, chocolate brownie and heart shaped fudge.
In the evening we had a cake made of cheese, a pork pie cake and of course the wedding cake.
Wedding cake
Stuart's mum made our cake. It was a delicious four tiered naked cake, decorated with berries and edible flowers. Each layer was a different flavour – chocolate, vanilla, lemon and almond.
Entertainment
We an indie band called 8 Ball who played an acoustic set during the drinks reception and then in the evening. We also had lots of garden games set up for people who wanted to spend time outside.
Who supplied the stationery?
My friend Kerrie is a very talent artist who created our invitations and order of service. She hand painted flowers based on our colour scheme to adorn the border.
Personal touches
The wedding was filled with personal touches as our friends and family created so many elements. As well as the flowers, cake, pudding and stationary I've already mentioned my sister made our sloe gin wedding favours from scratch from sloes near our house. My other sister created all of the signage around the wedding. My mum grew the flowers we used to decorate the tables and the church in the garden. My godmother created a flower arrangement for the church. My friend Alison designed our seating plan. Finally we had lots of family and friends helping us set up and decorate the garden in the days leading up to the wedding.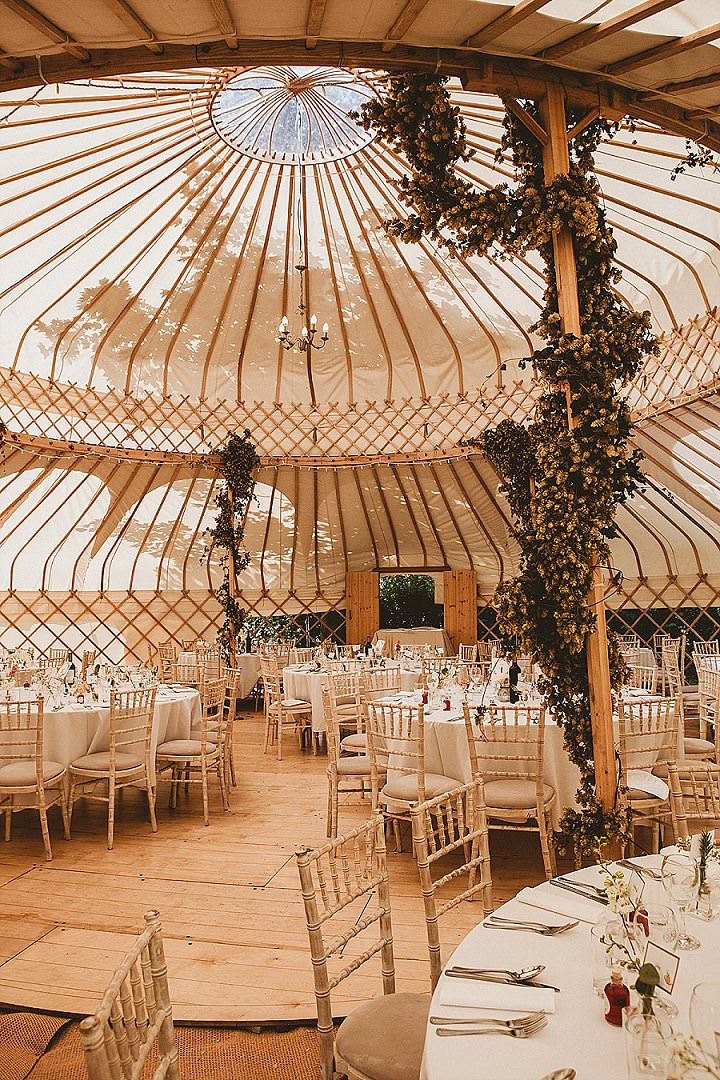 Special moments 
I've just asked Stuart and we agree it's impossible to chose! The whole day was fantastic and just how we wanted it to be.
Advice for other couples
On a lot of blogs before our wedding I read the advice 'Have a videographer'. I wholehearted agree with this one, your memories of the day will fade so fast and it's the best way to be transported back there.
Biggest surprise 
Stuart organised a vintage Jaguar Mark 2 to whisk us away at the end of the evening that was a total surprise. We had wanted to leave the wedding with a bang so had organised sparklers for everyone to wave as we left in a taxi. We'd run out of budget so I was expecting a standard taxi which Stuart said he'd booked so I was delighted with the infinitely more glamorous departure.
My Dad had lots of illustrations of Stuart and I created to accompany his speech which were charming and totally unexpected.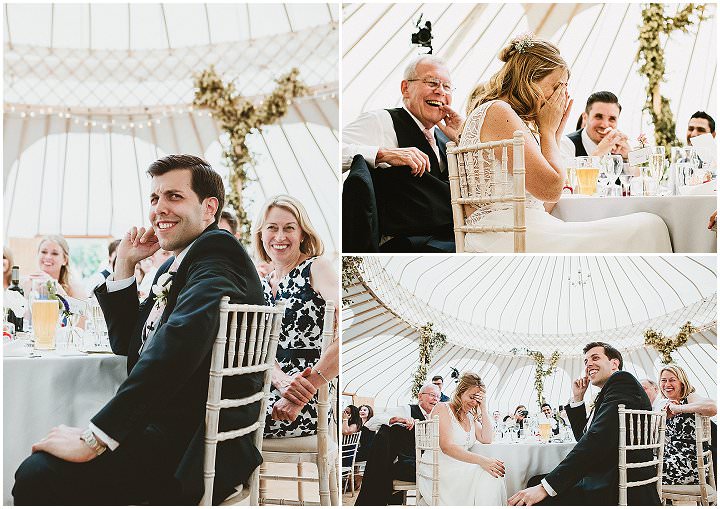 Supplier Shout Outs
FOR MORE INFORMATION ON BENNI CAROL PHOTOGRAPHY GO TO
www.bennicarolweddingphotography.com / www.bennicarolweddingphotography.com/benni-carol-photography-blog / [email protected] / 07454022243 / FACEBOOK / TWITTER / INSTAGRAM / PINTEREST
We are two Italian sisters in love with nature, adventure and people. Working together on the day, we combine fine art with alternative and creative photojournalism. We look for the beautiful, dramatic and authentic moments which make a wedding unique and have twice the eye to uncover these as the day unfolds. Above all, we love adventurous couples who are keen on experimenting to get the best photographs.