Happy Wednesday everyone, I hope you all had a wonderful Valentine's evening? Did you get up to anything special? Today we have a fun-filled Carnival wedding to share with you courtesy of Benni Carol Photography. Helen and Alex were married on the 30th July 2016 at Crosby Farm in Slinfold and by the looks of these photos they had a cracker of a day! Filled with Fun fair attractions, including a helta skelta and hook a duck as well as an actual carousel, all of which created the BEST photos! The guests sure were spoilt when it came to the entertainment. Helen's 2 piece wedding dress is stunning as are her multicoloured bridesmaids all in playsuits. A fantastic wedding that I know you are going to love.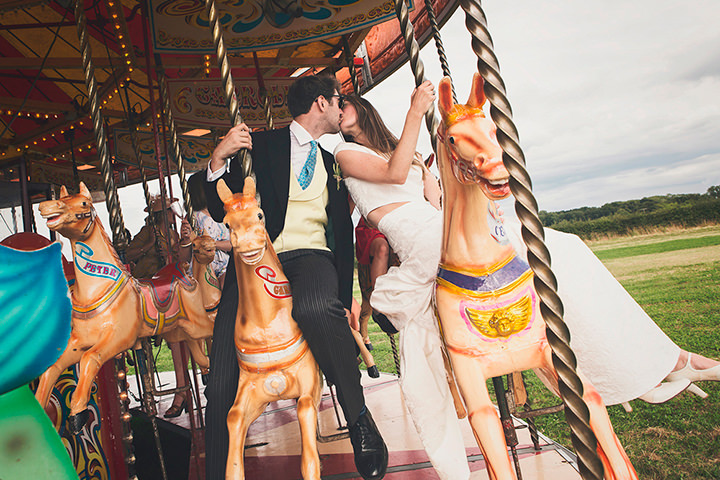 More from Benedetta and Carolina the Photographers
It is really hard to classify the beautiful wedding of Helen and Alex, it could be defined as Festival Wedding, as Outdoor Wedding, as Teepee Wedding, I guess it was all the three things together! Helen and Alex have surely chosen a very entertaining way to celebrate their big day. They made their whole reception a beautiful funfair. Helen is a school teacher and she wanted to have her whole class at the wedding, so I guess when she was organising the day she thought about her kids too and she really succeeded in the plan! But they did not stop there. Apart from the gorgeous teepee tent where they had their wedding breakfast, speeches and first dance, Helen and Alex also invited their guests to sleep over at the fantastic camping they put up especially for the occasion. When we arrived at the reception, we saw this beautiful camping that was really quite a unique scenery and it was actually the very first time we attended such a wedding.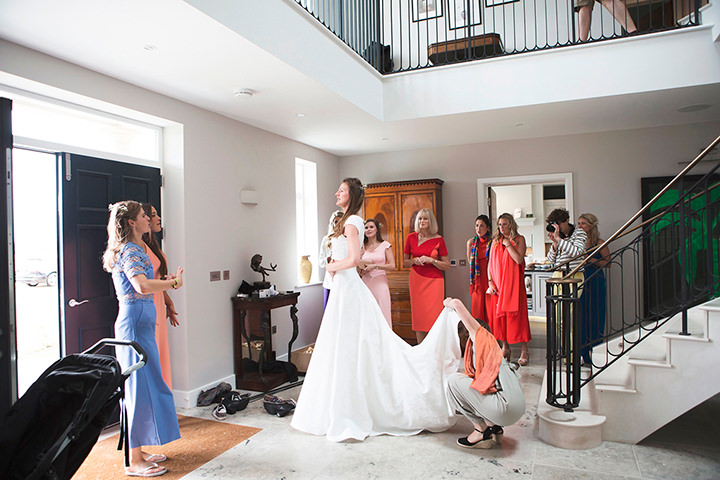 Helen and Alex's day was special in so many different ways! Well, for one thing, the bride (and the whole bridal party) arrived at the church on top of Helen father's tractor. Then the whole day was accompanied by the pleasant presence of Kitty, an extremely talented girl on a mission of making a musical video of the day. She made every single guest follow a very specific choreography, you would see people of any age starting to dance and lip sync completely out of the blue, pulling up the funniest faces and expressions! We got some very different shots there!
Being two wedding photographers, we had the advantage to split and to follow the two preparations. Benni photographed the bridal party getting ready at the beautiful Helen's parents mansion house, while Carol followed the groom and his ushers at the "pre wedding meal" they had in a very cute pub just opposite the church where the ceremony was held.
On a more stylish note, Helen was wearing a two pieces dress, extremely unique and with a very high wow factor. The top of the dress was classy and different, while the skirt was the perfect prop for the couple pictures!
The decorations were in a perfect country style, we were surrounded by wild flowers in wellies used as vases. But if we have to pick the thing that we think it was the most different, I would definitely choose the placeholder. You know the classic funfair game with the little yellow ducks you have to pick up with a stick? There was a pool full of little yellow ducks and each of them was given a guest name. You had to lift yours up and read your table number that was written underneath them, what a lovely idea! The icing of the cake was definitely the two ducks dressed up like the bride and groom!
And, talking about cake, they had a beautiful cheese cake decorated with all the seasonal Summer fruits, just stunning.
Helen and Alex had a live band that gave a final thrill to an already very thrilling and full of emotions wedding! We are so thankful to having been part of their fabulous day.
For more information on Benni & Carol's work go to:
www.bennicarolphotography.com / www.bennicarolweddingphotography.com/blog / [email protected] / 07454022243 / FACEBOOK / T: @ twitter.com/BenniCarolPhoto  / I: @instagram.com/bennicarol / PINTEREST
We are two Italian sisters specialising in vintage wedding photography, alternative wedding photography and fine art family portraits. We are based in Richmond, London and Cambridge. We are very happy not only to travel around the UK, but also to far away places abroad, therefore we offer destination weddings too. We consider wedding and family portrait photography as a form of art. Our fresh and imaginative yet reportage style has developed over the last ten years and it is the result of working in many different areas of photography. Our goal is to provide people with unique images that they will treasure for the rest of their lives.