Todays wedding comes with quite a back story. Our couple Misty and Ashley met, fell in love and were engaged within a matter of months, however after their first baby and then triplets 8 months after wedding plans were soon put on hold. Fast forward 4 years and here we are today sharing their gorgeous wedding photos. The stunning couple decided to make the wedding day completely personal to them and held the reception in the own back garden. With vintage themed decoration and lots of DIY details this wedding is brimming with personality. I am just loving the bridesmaids playsuts and Misty's change of outfit for the latter part of the reception, super beautiful and super stylish. Thanks to Benni Carol Photography for the images.
'We Couldn't think of anywhere more perfect than our own back garden to hold our reception. Filled with vintage decor and all the people we love'
Misty and Ashley's wedding took place on the 6th of September 2014 at Hitchin Priory – Hitchin – and the reception took place in their Georgian house in Baldock, Hertfordshire.  'We have been together for nearly 5 years and it's been a complete whirlwind of a time. We were engaged after 2 months and had planned to get married in 2011 but life threw us a curveball when we fell pregnant very quickly and then a few weeks after our gorgeous Hendrix was born we were pregnant again with triplets, Solace, Senna and River, who arrived 8 months after Henny. As you can imagine, all other life was put on hold as was the wedding'
Benni and Carol told us a bit more about the day……
When Misty and Ashley contacted us, the first thing they said was "we are going to have the reception in our new house!" They were so proud of it, and we were not surprised at all: the happiest and most in love guys ever, who have been through so many tough moments, and the wedding was the perfect celebration of their united family.  So,  you can imagine their happiness when they – finally – could get married and celebrate the union in their house.
Misty got ready in her own place, which picture wise, was just a dream! Wooden stairs and uneven floor helped create that surreal feeling we loved so much about that Georgian house. Misty being a make up artist, you can guess who she decided to hire for her make up!  Once everyone was ready, after a few emotional moments, tears and laughs, we drove to the ceremony venue.
They decided to have their ceremony and reception drinks at Hitchin Priory, Hitchin as the setting was just beautiful. The location was so gorgeous that we decided to take the couple pictures in the lovely park just outside the venue. Misty was of course at ease and she was acting like she has done this for her entire life.
We have to say though, that rarely we met a groom that was so keen on taking pictures, who felt like it was the most natural thing in the world.  After the guests had a few drinks, we drove back to Misty and Ashley's place where the decorated vintage theme garden was waiting for all of us.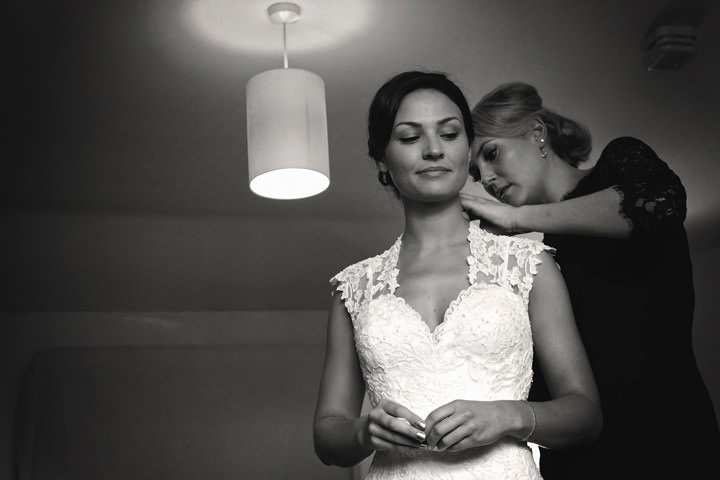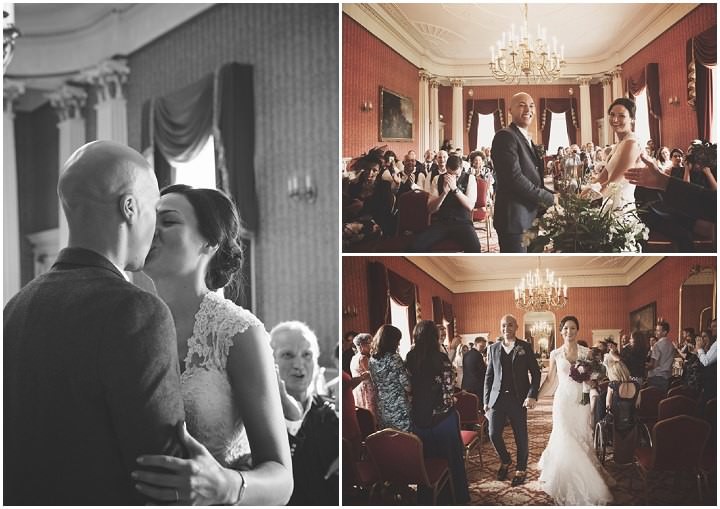 Decoration and Food 
Misty's sisters helped her with all the decorations, which were proper vintage themed. The flowers came from London, and in particular from the Flower Market.Some family members went to London very early in the morning to get the flowers and then quickly back to the wedding.
The Food 
They organised a massive hog roast in the garden for their 150 guests, just delicious and very practical.  Also, the cake and the speeches took place in their garden, and actually they could not have chosen a more appropriate location.
The highlight of the day
It is really difficult to highlight a particular moment of the day, but if we had to do so, we would probably pick the speeches as it was the most touching and emotional moment, where you could actually feel the toughness these two guys have been through and the relief they were finally feeling by celebrating the wedding with family and friends.
When they decided to call us to take the pictures, they said: "We love your style and think it would suit our wedding very much!" and it was true, we loved the vintage themed party and the locations we have been to, it all fitted perfectly with our colours and style.  We are glad we had the chance to being at this wedding and to meeting these two incredible and strong guys, to whom we wish the happiest of the future.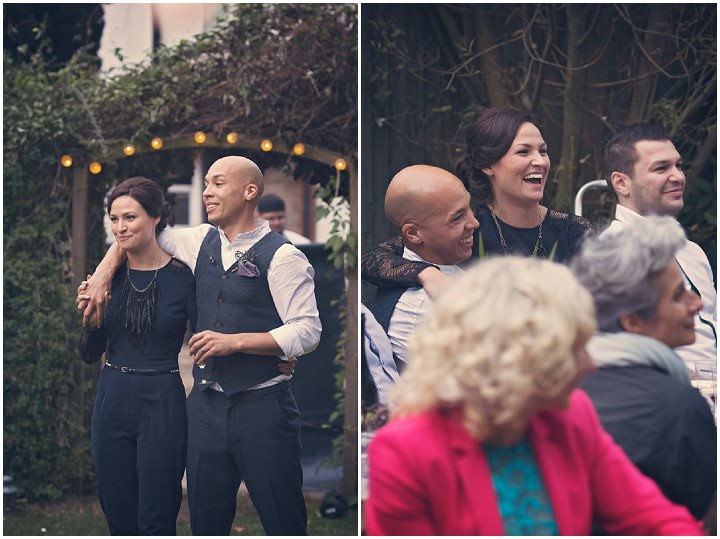 For more information on Benni and Carol's work go to
www.bennicarolphotography.com
www.bennicarolweddingphotography.com/blog
[email protected]
07454022243
FACEBOOK
GOOGLE+
Benni Carol Photography specialise in vintage wedding photography and fine art family portraits. Our service aims to be unique and to give a boutique and fine art touch to our final product. Being two photographers on location, we are doubly ready to capture every single and intense moment of this most important of days. We have two branches, one in Richmond, Surrey and the other in Cambridge and we are happy to work all over the UK and abroad. Our experience includes also some destination weddings in our home country, Italy.
[jprel]