Happy Friday everyone and how are you all? I hope you have all had a great week? It's the last days of our holidays today as we head back home tomorrow. It's been lovely to have some time out, a chance to re-charge my batteries and re-set my body and mind. Lots of fresh air, good food, the odd drink of wine! And of course time with my two boys! To finish off the week, I have this fabulous travel themed styled shoot from Verlee Bishop Weddings. The shoot took place in Lunenburg, Virginia on 7th June. If you are planning a travel themed wedding day then this shoot is for you, filled with so many fab ideas. Oh and of course not forgetting the two super cute Baby Nigerian Dwarf Goats.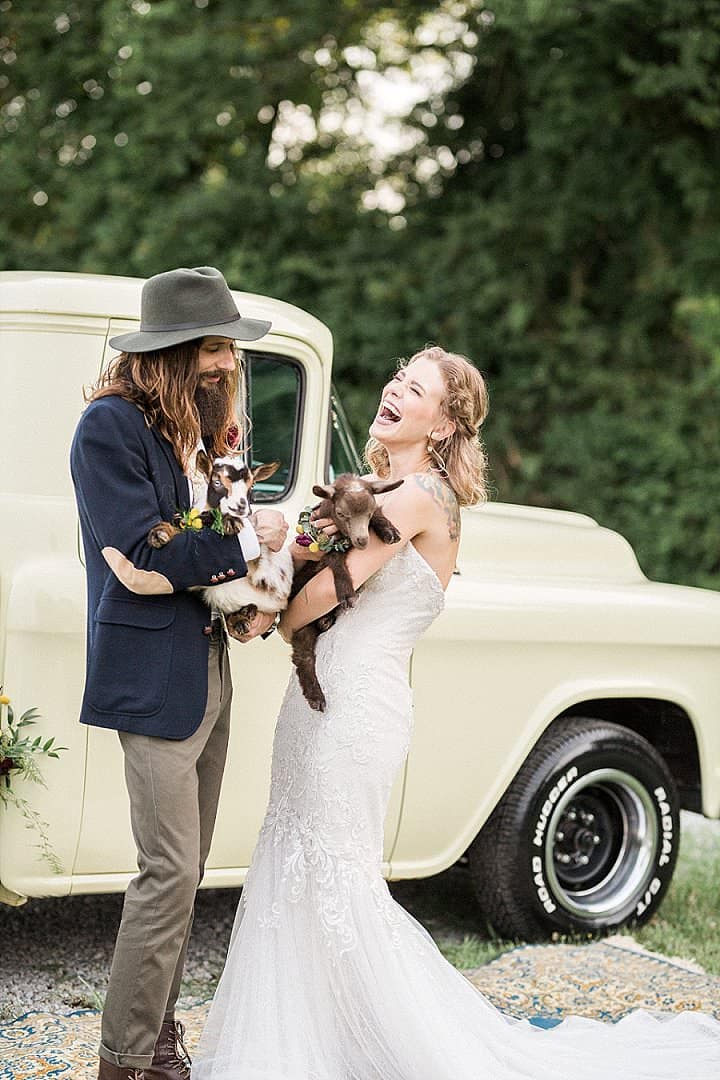 More about the shoot
Being the owner of Waverly Estate, every day I would walk by our mustard yellow chairs in the upstairs foyer and feel inspired. Something about that color just gives you the warm and fuzzy feeling. I began with the focus on mustard yellow and when I came to the realization that vintage maps all went really well with mustard yellow, the styled shoot quickly developed into an adventure and travel theme. The invitations, the earrings, the cufflinks, the isle decor, etc. all included travel and adventure themed decor/wording. Julia and Chris were the perfect couple for the styled shoot. Their style and personalities created a free spirited and hip inspiration. Their connection and adoration for each other was the perfect addition to every single picture.
A 15′ copper tipi was setup in front of the willow tree with soft greens and Billie balls, Protea Pincushion, Black Baccara roses, and ranunculus to add pops of color. Antique wooden pews were setup on both sides of the vintage rug lined isle. At the start of the aisle, suitcases, guest favors enclosed in map boxes, a globe, and an adventure awaits sign sat to set the mood for the ceremony.
After the ceremony, the bride and groom took pictures with a yellow antique Chevrolet as the backdrop. Baby Nigerian Dwarf Goats with floral wreath necklaces snuggled right up to the bride and groom and allowed for the most adorable pictures!
The sweetheart table, filled with florals and candles sat underneath the venues 200 year old Hackberry tree that was lit up from the base all the way up and over one of the branches. This provided a romantic and woodsy setting for the couple to enjoy dessert while sitting in those mustard chairs that inspired the entire shoot.
After dinner, the free spirited couple swung on the wooden tree swing and danced under the bistro lights before packing up the old Chevrolet with their luggage and "hitting the road" to continue the greatest adventure that they just began!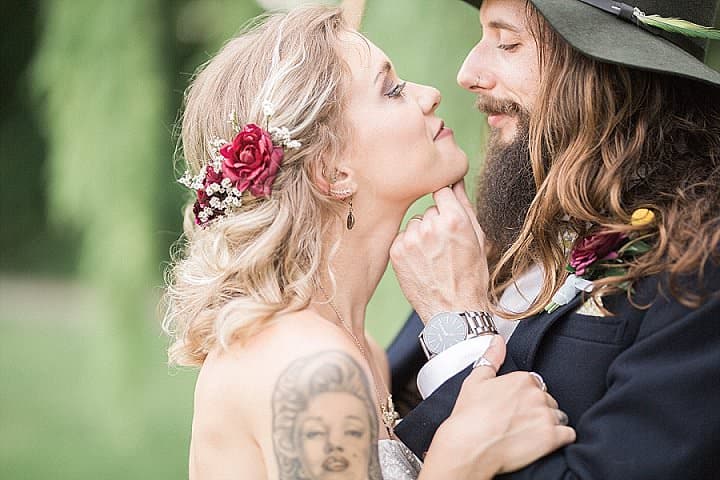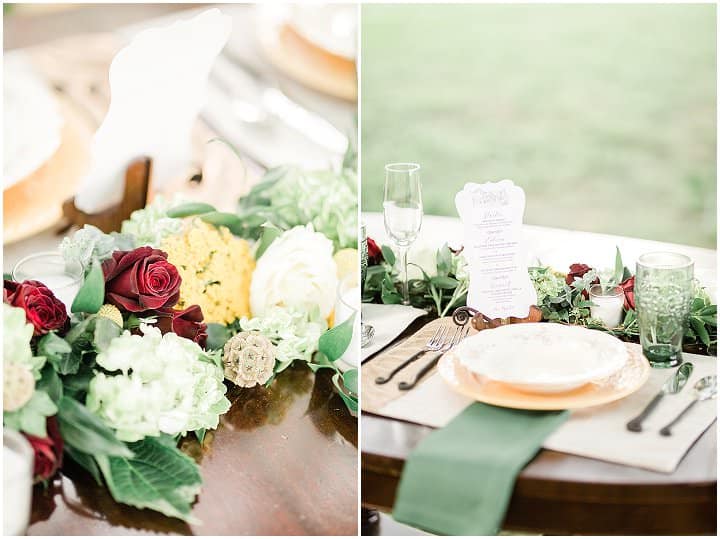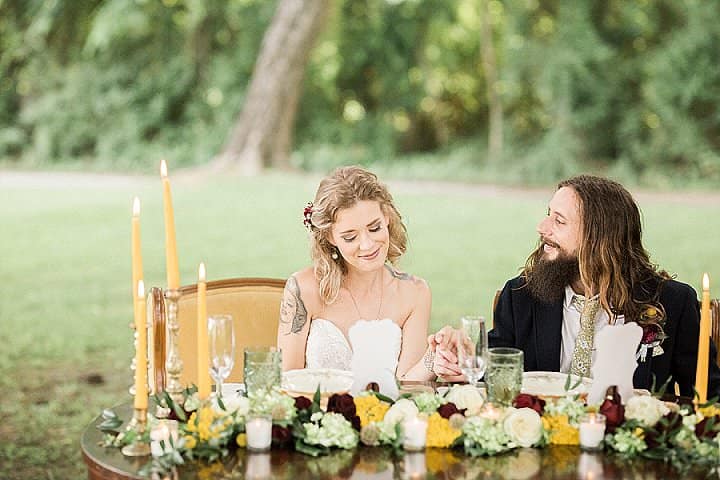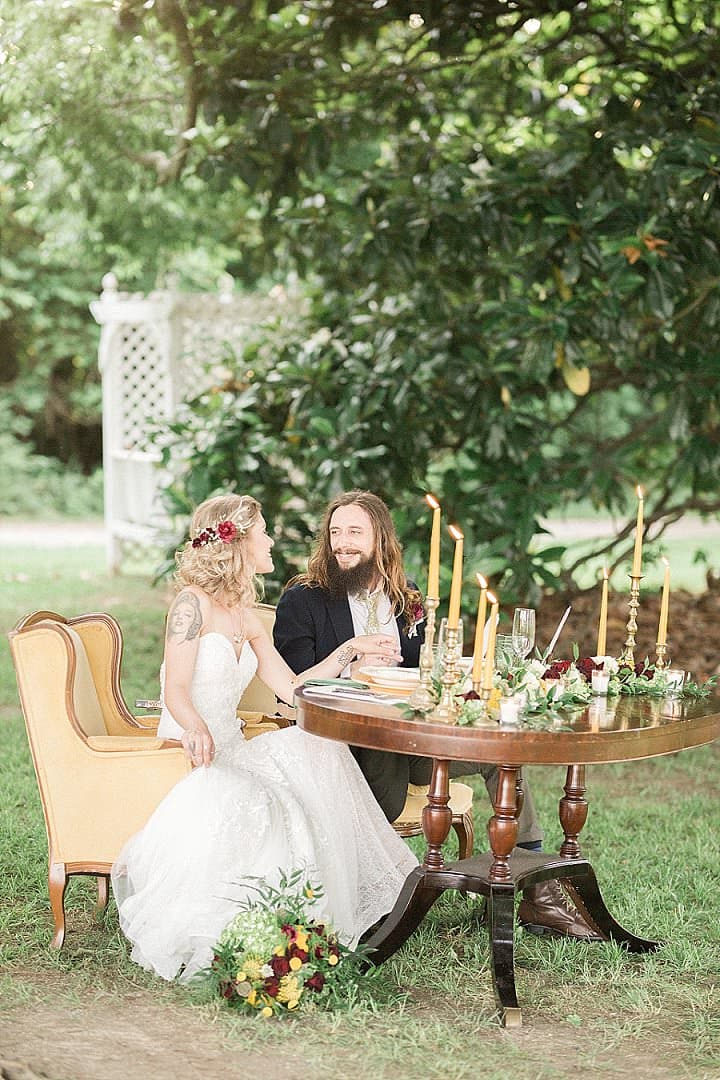 ARVE Error: Invalid URL https://youtu.be/yqLkfvnpMic in url

Supplier Shout Outs
For more information on Verlee Bishop Weddings go to
www.verleebishopweddings.com / www.verleebishopweddings.com/blog / [email protected] / INSTAGRAM