This afternoon I have a real treat for you, as I take you off to Ohio for this awesome inspiration shoot. Dani and Evvy are a real life couple who were brought in with the help of a collection of amazing suppliers to create this bad ass shoot, filled with rock and roll meets Boho wedding inspiration. From the Motorbike, to the tattoos, tacos, to the awesome decor, this shoot is oozing free-spirited goodness as well as this sexy, completely in love couple. Mann & Wife Photography were responsible for the awesome photos.
Kalyn Mann from Mann & Wife Photography tells us more about the shoot
Cleveland is known for its industrial side along with the people who make the city what it is today. Dani, from Disowned Customs, and The Blonde Maker's, Evvy, eloped with his motorcycle off into the smokey sunset. This bad ass, tattooed couple wanted to set the scene of care-free, love, and passion. Evvy's hair and makeup vision was executed by Kattie Cool, of Kattie Cool Beauty, and Christine Dopoulos, stylist. They created three separate areas to evolve their vision, including a lounge area with blankets and pillows thrown together, a king and queen dining table with chalices and a cow's skull as the statement, and his own custom bike that he built from scratch. We can't get enough of her two-piece dress and boots thrown together flawlessly from Winds of Change. They enjoyed their first meal as a married couple with tacos under a blanket, courtesy of Luchitas. We are in love with how Mann and Wife Photography captured this unique and one of a kind elopement with such ease and attention to their details.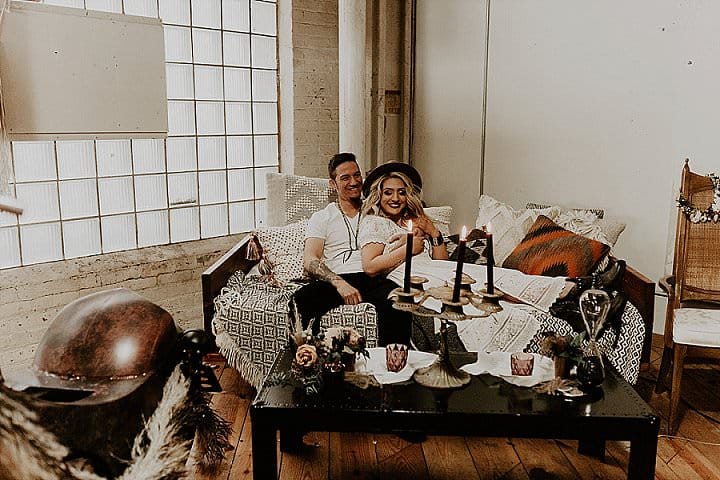 For more information on Mann & Wife Photography go to 
www.mannandwifephotography.com / www.mannandwifephotography.com/blog / FACEBOOK / INSTAGRAM / PINTEREST