Happy Monday everyone, I hope you all had a great weekend? Did you get up to anything exciting? Mine was pretty chilled out, we have a few busy weeks coming up, so it's always good to have some time to take stock, relax, get a few jobs done and catch up with friends. Today I am treating you to the most awesome wedding, a totally laid back beach affair, with the chillest couple. Belen and Diego threw the most beautiful sunset love ceremony on the beach of Costa Rica, which was followed by dancing under the stars till 5am. The whole day is a celebration of their free-spirited nature, the love for their friends and family and of course their love for each other. All topped off with some amazing food, decor and dancing. I just LOVE this wedding, and I know you will too, the perfect way to start the week. Big thanks to the awesome Raw Shoots Photography for the wonderful photos.
The perfect sunset love ceremony, followed by the best party ever dreamed of, barefoot dancing in the sand under the stars with the people we love most!
Belen and Diego were married on 17th March 2018 (their anniversary yesterday) at  Surco de Piedra Beach Pavilion, Playa Lagarto in Costa Rica. 'We love the beach, and this venue had it all, private beach for our party, amazing hill for the ceremony with infinity views of the ocean, sunset.. open space, sandy dancefloor and a night sky full of stars. We had 100 guests and it took less than a year to plan,'
How they met
In Costa Rica, he asked me out via Facebook and I easily agreed, we have been two years inseparable.
The proposal
He used to live in Peru, I lived in Costa Rica and during one of my visits, arriving from the airport in our apt in Lima, he served me a glass of wine, and we were just talking. I had travelled with Macu, my long hair most favourite and perfect dachshund in the world (he is my everything) and I saw him running around the apt with something in his mouth, and quickly ran to get it away  and when I grab it I saw it and it was a Tiffany box! I just looked at him and started nervously smiling and almost crying and he sat next to me and ask me to marry him. He knew there was no best way to do this, but with Macu who I love so much.
How did you allocate your budget?
We established a budget we considered fair and enough so we could invite our friends and family to drink enough, eat deliciously and dance all night long.
Where did you splurge and where did you save?
Splurge on the wedding photos, I wanted the best in CR to remember this day forever, and we saved in flowers and décor, the place is pretty amazing so it didn't need much, we wanted something cozy and simple.
How did you choose your photographer?
I been following them since forever, not only in wedding photos, but in every type of photos and they have an amazing unique eye, they are the best in CR by far.
The dress
Stone cold Fox, I wanted something Boho  simple, wild white orquid on messy long hair, no shoes!
The suit and bridesmaids
My husband was all dressed in Massimo Duti, he loves that store, and my bridesmaids where all my best friends, each dressed in their unique own way.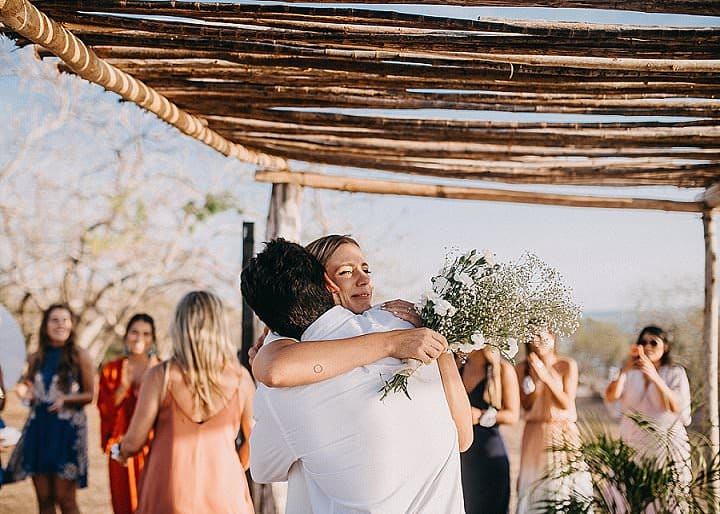 Theme or colour scheme
In general, the idea was to have a boho beach wedding, everybody barefoot, happy, dressed colourfuly and unique, nothing formal.
Flowers
All white flowers, different styles but white.. mixed with greenery.
Decoration
Wood tables, raw wood bar an dj booth full of flowers, sandy dancefloor, a discoball hanging from this amazing dry trees with little lights. Original Persian carpets in the lounge area, with earthy color pillows all over the place, candles and white flowers and green vegetation.
Food
Lobster Skewers, Meat Skewers, grilled vegetables, amazing tuna salad, tropical salad, artisan breads all served in raw plantain leafs.
Wedding cake
It was a Torta chilena, the best form an artisanal place in San Jose, and we also had the best chocolate cake.
Entertainment
An amazing Dj, everybody danced till 5am!
Personal touches
Or things that you did yourself? Everything, we did not hired a wedding planner, my best friend owns the property and we did it together, she is the best with amazing taste.
Special moments
The ceremony, all gathered around, so much love! The sunset, the watermelon margaritas, the lobster skewers, my handsome husband and Macu who was able to hang out with us all night long!
Advice for other couples
To really enjoy the process, it goes buy to quick!
Biggest surprise
The beautiful mandala my friend had prepared for us and the ceremony, it had crystals, and deep meaning words, it was super special.
Supplier Shout Outs
For more information on Raw Shoots Photography go to
www.rawshoots.com / www.rawshoots.com/blog/ / [email protected] / +1 506 7012-1215 / FACEBOOK / INSTAGRAM / PINTEREST / TWITTER
We are Rob & Lori a couple of wedding and portrait photographers based in Costa Rica, we really enjoy shooting couples in love in a documentary, organic and spontaneous way. Outdoor weddings are our favorites, we know that the stories are there, all the beauty and drama of life, all the characters and details are right there for us to capture them with our cameras. Our lifestyle is alternative, bohemian and adventurous; This is something that really defines us as a couple and photographers, we feel blessed to live and share this adventure together.