Happy Friday everyone! I hope you have had a great week? We are ending the week with this perfectly beautiful Costa Rica wedding. So far this week we have traveled to Colorado, Palma de Mallorca, Portugal and Canada and today we are ending our travels with this beautiful Costa Rica Beach Wedding. Monica and Carlos knew straight away that this was the wedding location for them, which made planning the wedding that much easier. Also by bringing in planners Four Nineteen Weddings, their laid back wedding was not only laid back for the guests but also for them. The beach ceremony is an absolute delight, as are Carlos and Monica, what a magical day, captured beautifully by White Diamond Photography.
It was truly one of the best days of our lives and reflected so well who we are as a couple. We could feel so much love and everyone's beautiful energy that day. It was perfect.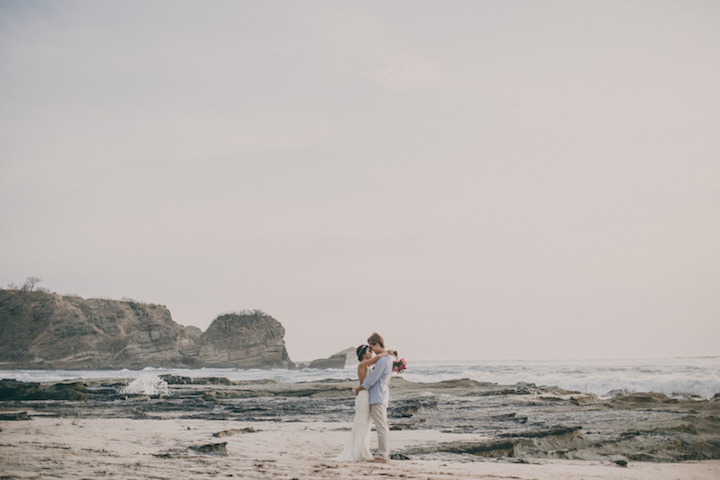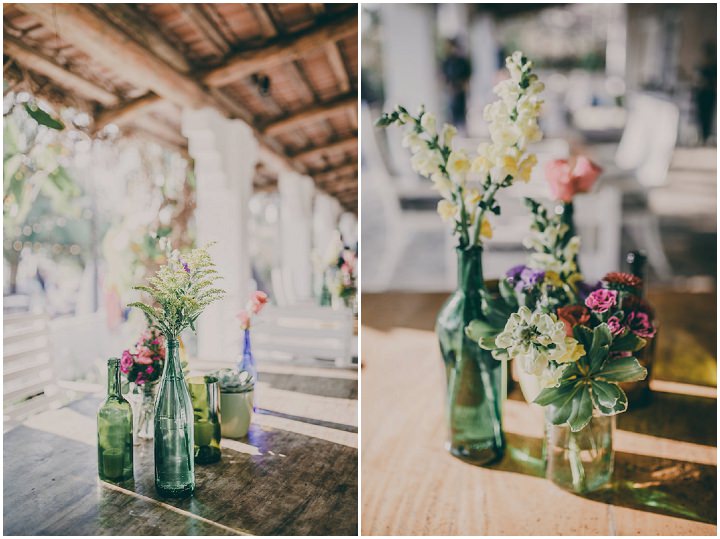 Monica and Carlos were married on the 30th April 2016 at  Restaurant La Luna at Playa Pelada, Nosara, Costa Rica. 'We always knew we wanted to get married at the beach and Guanacaste is one of our favorite places here in Costa Rica. We go to Playa Guiones and Playa Pelada (which are right next to each other) often. When we were thinking about venues, I immediately thought of Restaurant La Luna. We go there almost every time we visit the area, because its practically on the beach, the food is delicious and it is simply beautiful and relaxing. We went one weekend and sat down for the sunset and it just felt right, Carlos looked at me and said "This is it". We had 110 guests and the wedding took 5-6 months to plan.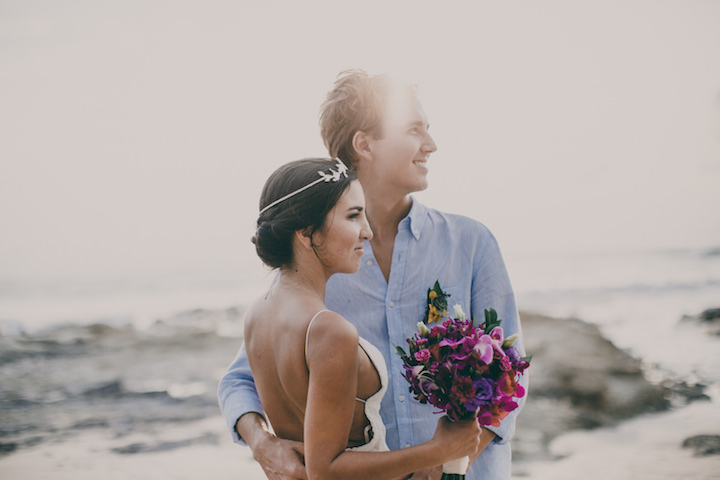 How they met
We met in High School, but really didn't start talking to each other until Senior Year. We started dating on our Graduation Day, it's been 12 amazing years.
The Proposal
It was on June 27th, our 11th anniversary. We lived at the beach, so that day we did our usual Saturday. Usually on our anniversary we go somewhere different for the weekend, but this year we decided to stay home. We were about to move out in a couple of weeks so decided to make the most out of our last days in that house. Being our anniversary and all I thought that maybe after sunset, we might at least go to dinner, but Carlos didn't seem to have anything planned. So I suggested we go out to our favorite Japanese place. I said " What's taking you so long"? He really was taking a long time! He came over and told me to pour him some wine as well and made a toast, to our anniversary and our last days at this house. I started crying at that very moment because I was so sad of leaving…the place was so special to us. All of a sudden as he continued saying beautiful things, he placed a small white box on the counter. I had no idea what was going on, I just started crying even more and putting my hands over my eyes. I finally opened the box and saw the most beautiful ring ever. I really did not expect it, we really hadn't talked much about getting married, and we were practically already married anyways. The rest is a blur, we just started crying and laughing at the same time. It was such a special moment, so simple and true, the perfect last memory in our first home together.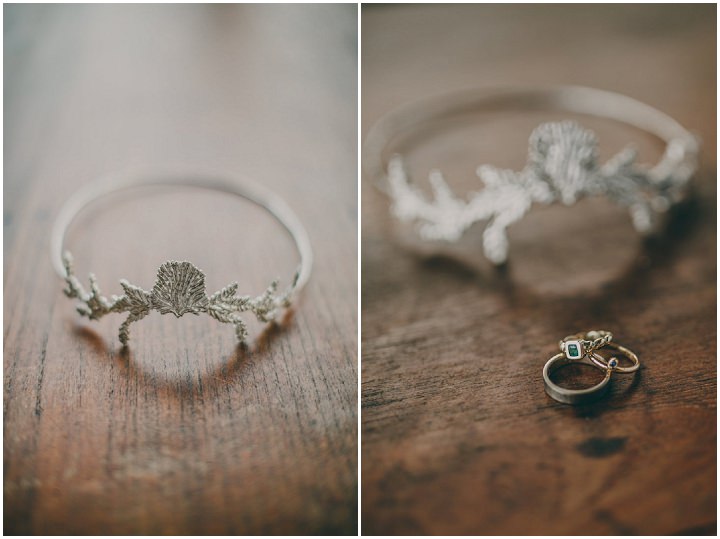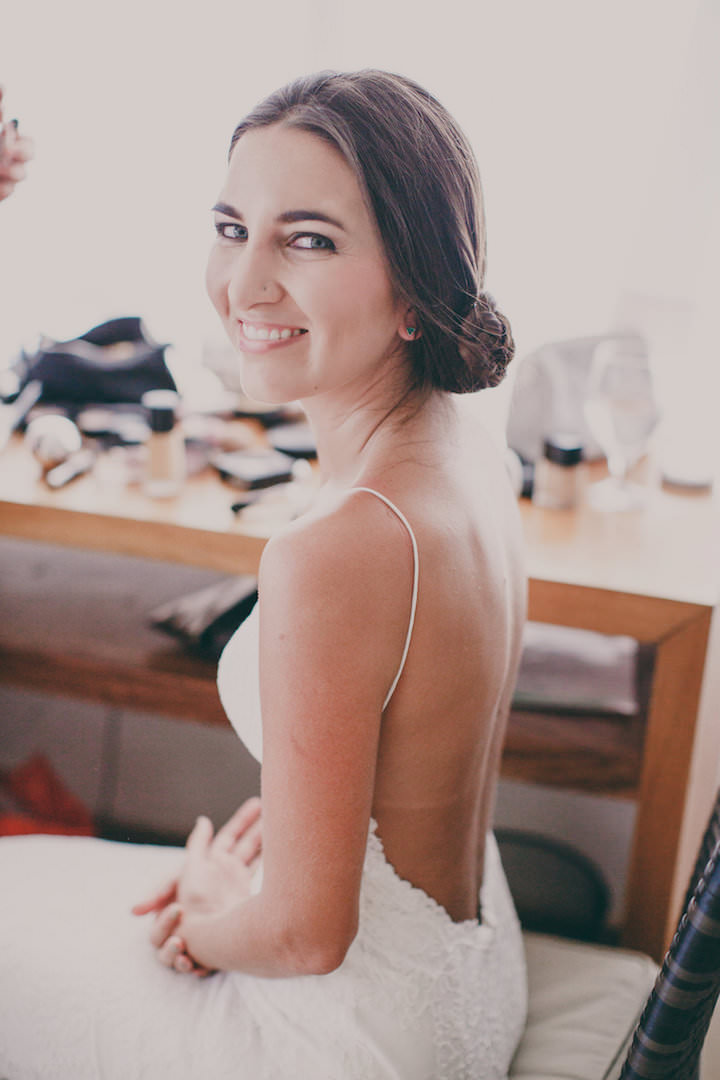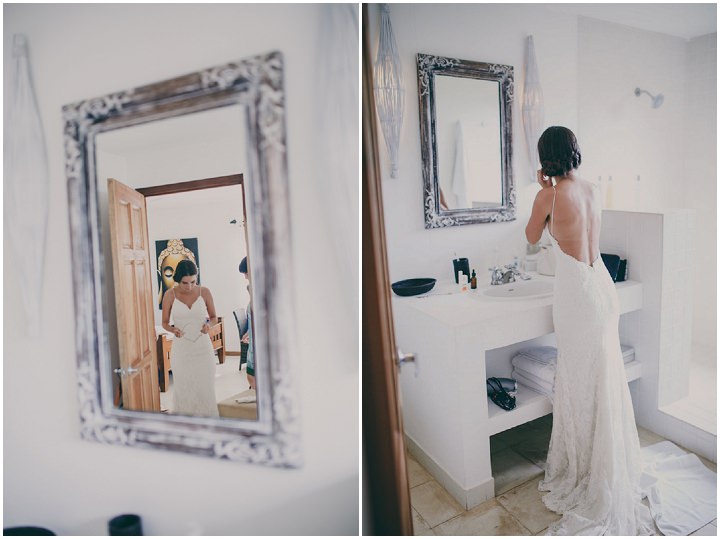 How did you allocate your budget?
We focused on what really was going to be needed and actually used or appreciated by our guests. We had already gone to about 10 weddings in the last 2 years, and a couple more after we got engaged, so we started paying attention to what details the guests noticed or what they didn't notice. I think this helped a lot in how we spent our budget.
Where did you splurge and where did you save?
The highest cost we had was the venue, which included the food and drinks. In the end it was worth it of course, because the food there is really delicious, our friends and family were amazed by it. I really don't think we splurged on anything else, we always tried to keep our costs as low as possible but still maintaining quality in the products and vendors that we chose. I'm a photographer, so finding a good photographer and videographer was very important, I guess you could say that was the second highest cost, but we saved money on so many other things, like, not printing out invitations, not going crazy with flowers, we didn't  purchase a wedding cake, my Godfather made the desserts. And our center pieces for the tables were different glass bottles that we collected since we got engaged. Carlos has a great reggae band with very close friends of ours, so they played at sunset at no cost. And after they played, we had a DJ, which saves you so much money, rather than hiring a full band. Another small saver is that we didn't have champagne at the wedding.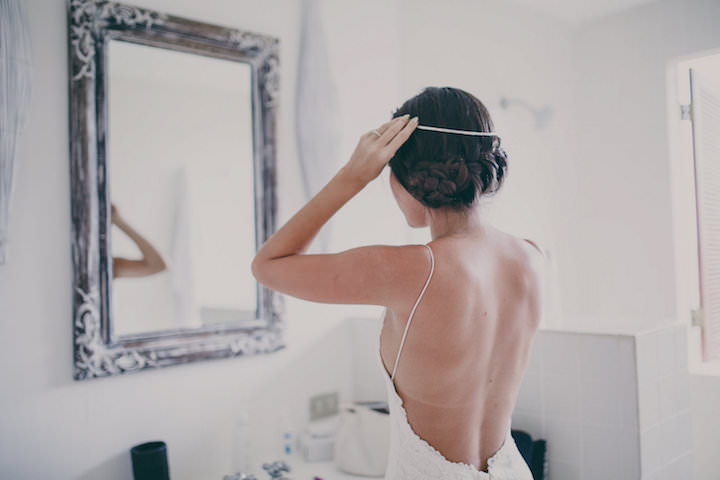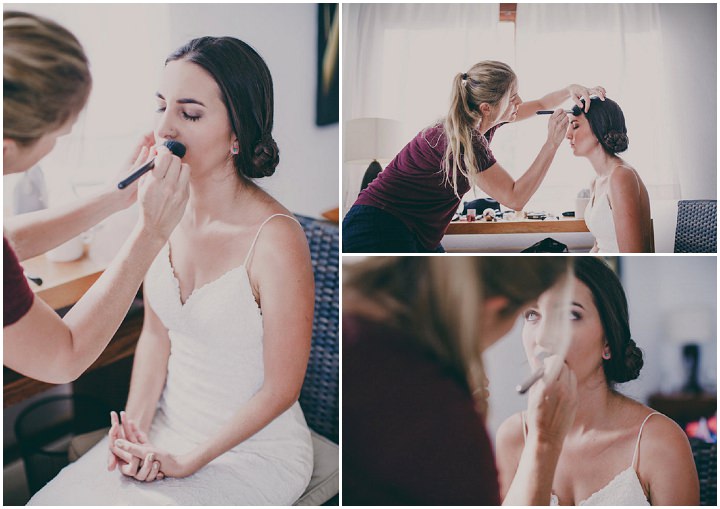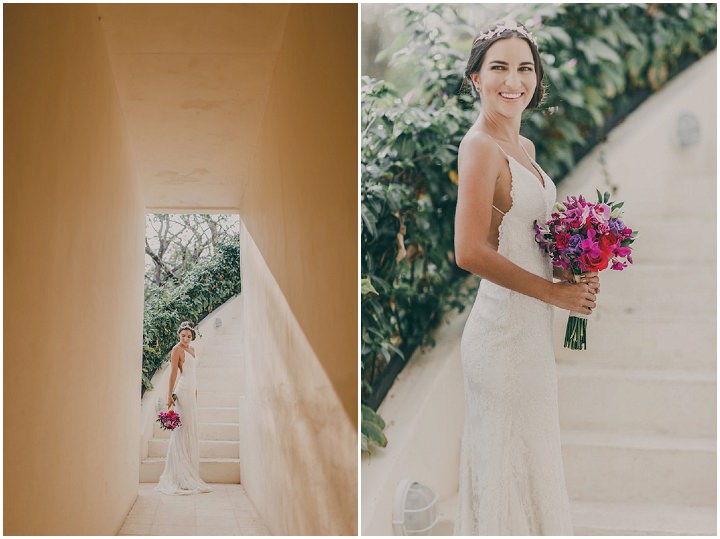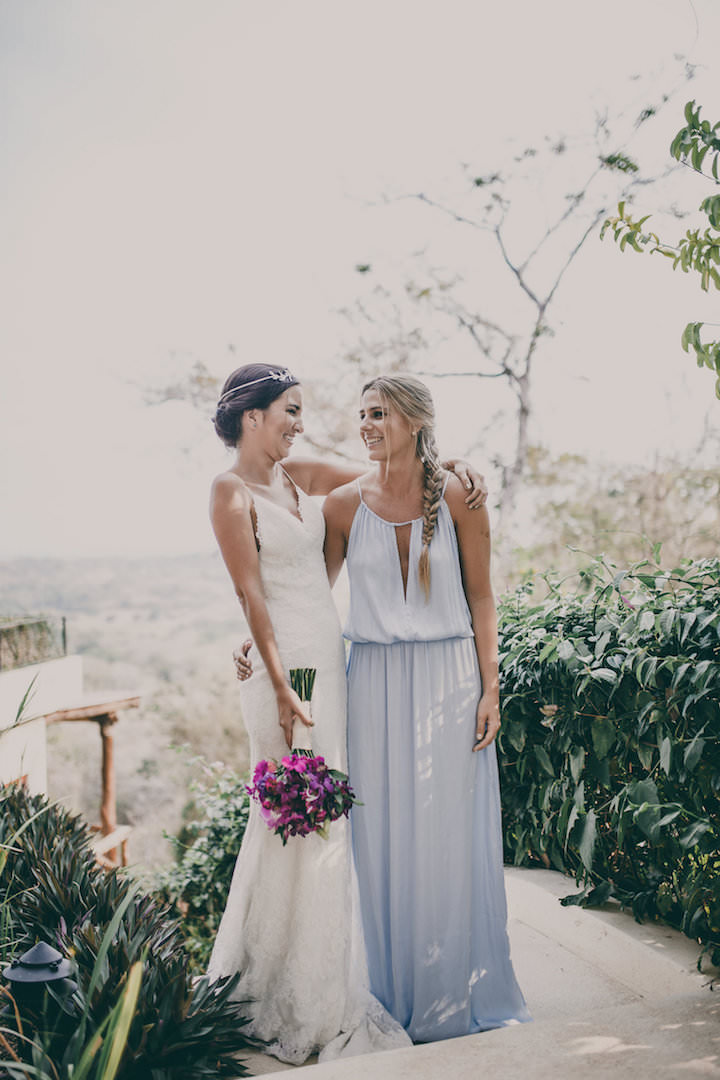 Why did you choose your photographer?
Being a photographer myself, I knew exactly what I wanted. I actually knew who I wanted after we got engaged. For photography, I chose White Diamond Photography. I had seen their work before, it was so raw and spontaneous. I didn't want traditional posed wedding photos, it's what I try to avoid when I'm working as well. I knew Natalia would do an amazing job and she did. In 11 years we had never had our pictures taken, so we asked her to do a sort of engagement shoot, it was nice and important for us for her to get to know us before the wedding. We always felt comfortable around her. As for our videographer, I never even bothered looking for anybody else, my only choice was Jonathan Yonkers. It's simple, his work is perfection!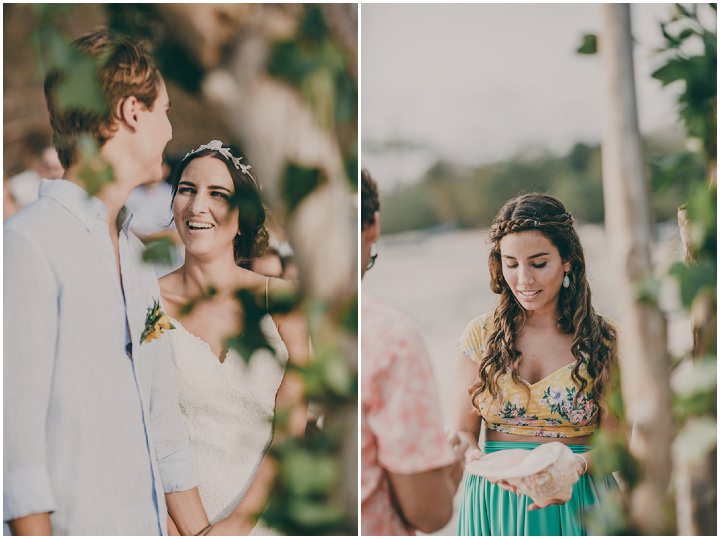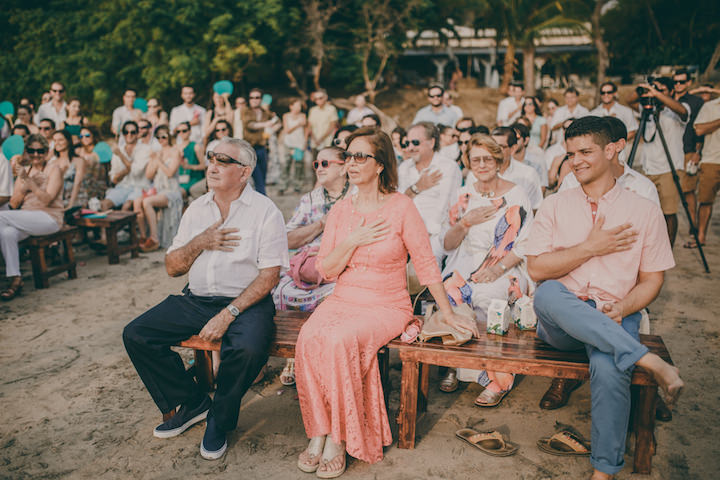 The Dress
My dress was the Love Marley – Inez Gown. I saved money on shoes and was barefoot the whole time. I've been barefoot or in flip flops since I was a kid, so my wedding day wasn't going to be any different, especially having the ceremony in the sand. Having your feet in the sand is one of the best feelings there is! My engagement ring (designed by the super talented Jimena Bolanos) has an emerald, so I wore simple triangle emerald earrings. It's my birthstone. My headpiece was made by De Polvo y Viento, I gave them a bunch of old silver jewelry that was given to me when I was younger, so they could melt it and use it to make the piece. I absolutely loved it, it was perfect! I wore it all the next day after the wedding too!
The Suit and Bridesmaids
No suit and no bridesmaids! We are very laidback as you might tell… I went with Carlos the weekend before the wedding to buy his clothes, he wanted to be comfortable and we wanted to contrast a bit, so we didn't want him wearing white. His light khaki pants and light blue shirt were perfect for the occasion. The only people who walked down the aisle were me with my parents. I didn't have bridesmaids. However, my favorite color is blue, and my mother, sisters and maid of honor ended up all wearing blue toned dresses, it was a wonderful coincidence.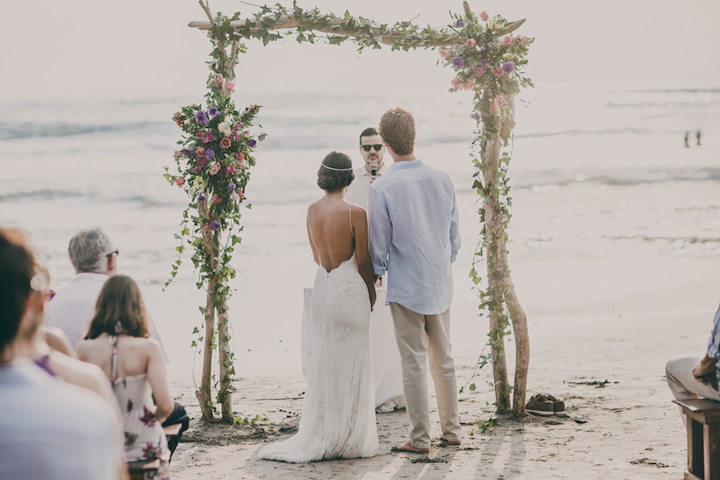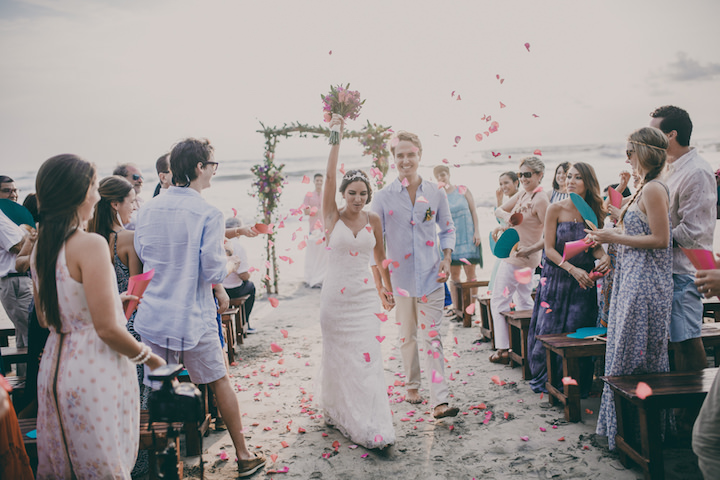 Theme or Colour Scheme
There really wasn't a theme to our wedding or color scheme. We just wanted something simple, that reflected who we are. I guess you can say that was our theme, us. And I think we did a pretty good job, because everyone said it was exactly how they imagined our wedding to be.
Flowers
We wanted blue, purple and yellow toned flowers. The colors of the venue were very neutral toned, sand, wooden tables and surrounded by leafless trees (being the end of dry season), so we wanted to give it some color with the flowers.
Decoration
We actually didn't have much decoration. The venue was so beautiful, there really wasn't need to decorate. Our wedding planner added lightbulbs in the patio, and she made some big triangle dreamcatchers for us, it all looked so beautiful and fit just right!
Food
We had a lot of food! In the beginning after the ceremony we served Mediterranean food: hummus, babaganoush, breads, cheeses, ceviche and grilled veggies. It was so much food that everyone thought it was the only thing we were going to serve. But then the main course came along, different kinds of grilled fish, quinoa and cous cous salads. My Godfather makes delicious desserts and was kind enough to help us out with that, he made lemon and pecan pies, they were a hit. Last but not least, pizza! At the end of the night after a lot of dancing, you get hungry, and La Luna has the best pizza ever, everyone was thrilled by it.
Wedding Cake
No wedding cake, like I mentioned before, I noticed different things at weddings and not eating cake was one of them, people leave it behind or unfortunately sometimes don't even notice it, which is a shame because I've seen beautiful wedding cakes.
Entertainment
After the ceremony, our friends played some acoustic pieces and then we had an amazing DJ that kept us on the dancefloor all night! We also had a surprise entertainment at the end, not from us but from the sky… it started pouring rain! It didn't matter though, everyone was so hot and sweaty it came at the perfect time, we ended up dancing the night away under the storm, it was beautiful.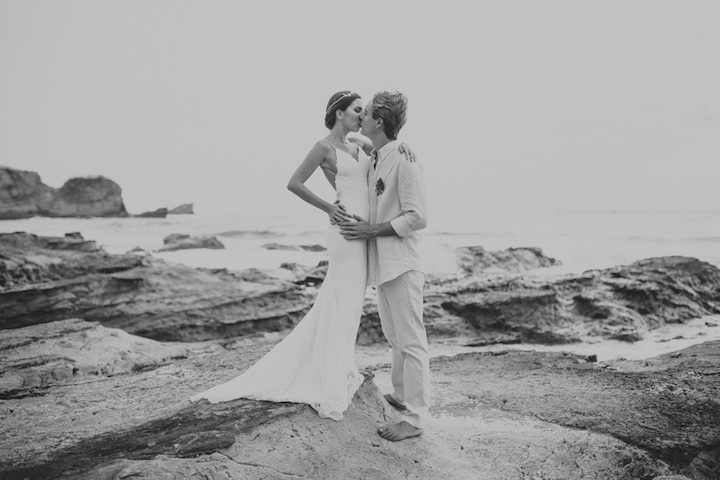 Stationery
No stationery either. We made our Save the Date and wedding invitations ourselves and sent them via email; we wanted to make everything as eco-friendly as possible.
Personal Touches
The center pieces were bottles that we started collecting after we got engaged. We had a lot of different sizes and colors. A friend of ours made us a bottle cutter, so we cut some and used the halves as candles holders. We live for the beach, and there is nothing we love more than a cold beer with your feet in the sand, so as party favors we had Koozies made with a personal message from us on one side and our beach life motto on the other side. They were given to everyone at the very beginning to keep there drinks cold. And as a reminder of everyone's love that day, we had our guests sign once of Carlos's old surfboards.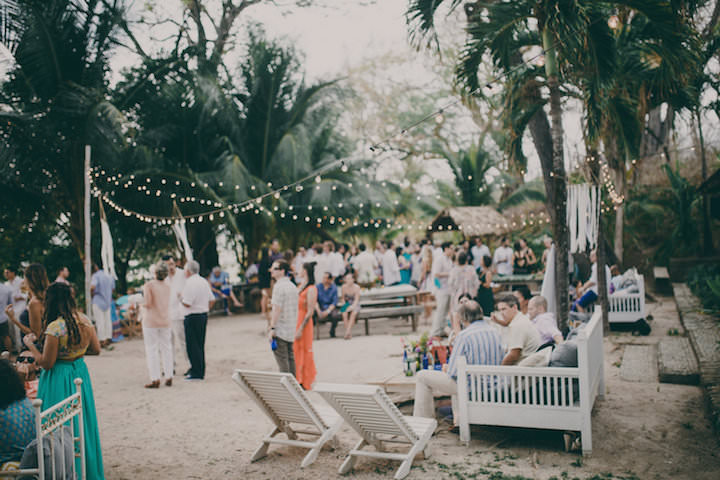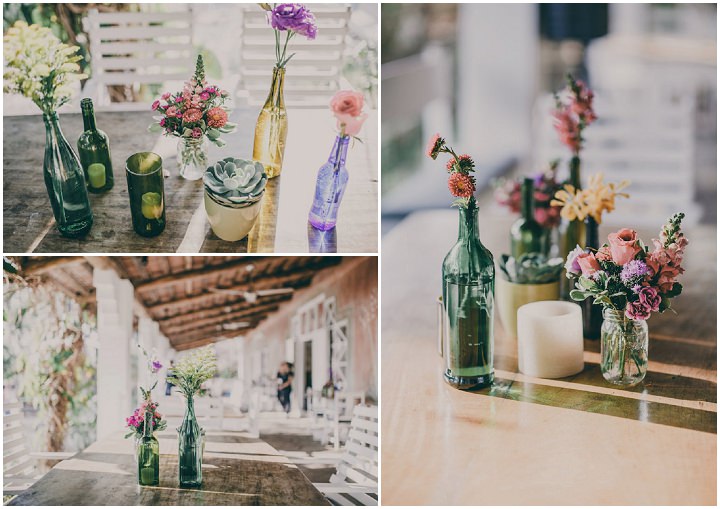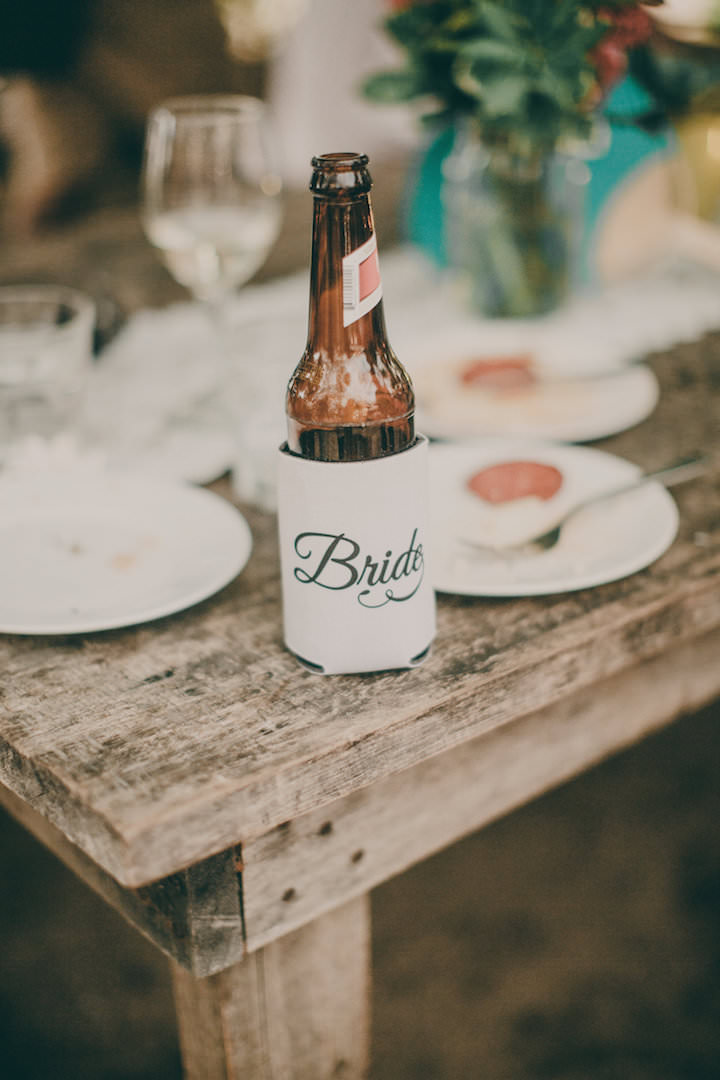 Special Moments or Highlights
This is a hard question to answer. Everything! The ceremony was definitely a major highlight. Our best friends officiated the ceremony and they did a beautiful job. We were right on the sand in front of the ocean, just like we had dreamed it would be. Everyone telling us how beautiful everything was and how much love that was felt that day. The dancing! There was no stopping us, everyone danced like there was no tomorrow! And the pouring rain at the end of the night, it was the perfect ending.
Advice for Other Couples
It's true what everyone says, it goes by fast! From the moment you get engaged to the big day. Breathe in every single moment, from choosing the vendors, to enjoying the wedding day, even the stress in between, embrace it, embrace all of it. Do not worry about saying hello to everyone that day, enjoy yourself and you will get to say hello and thank everyone. It will happen, you don't have to rush it! This is your day and no one else's, invite who you want, do what you want, don't let other people's opinions get to you either. Take a moment with your partner and see the venue from a distance, the details, everyone's faces, there smiles and be grateful… it's a second that will never happen again. On a last note… hire a wedding planner! There is a reason why we were able to enjoy every second of the big day; you are not supposed to worry about anything at all. Barbara knew what we wanted from the beginning and she helped us find options that best fit our needs. She decorated the venue so beautifully and logistically, everything worked so wonderfully thanks to her. She is the go to wedding planner to hire, trust me, you won't regret it.
Biggest Surprise
How happy everyone was. I was nervous that our guests weren't going to like anything, that they were going to be bored, (crazy I know). Our venue was far from the city, it's about a 4 to 5 hour drive, and I wanted to make sure the trip was going to be worth while for everyone. Carlos told me not to worry, I mean, who doesn't like a party at the beach? And especially a celebration of love like this one! I was so grateful for everyone's love and beautiful vibes that day, they made the celebration whole. Everyone had such a great attitude and they were so grateful the day of and even after the wedding, they kept telling us how amazing everything was. Being together for 12 years, and seeing all those people
that have been a part of our journey was so special, thanks to them it really was one of the most amazing days of our lives.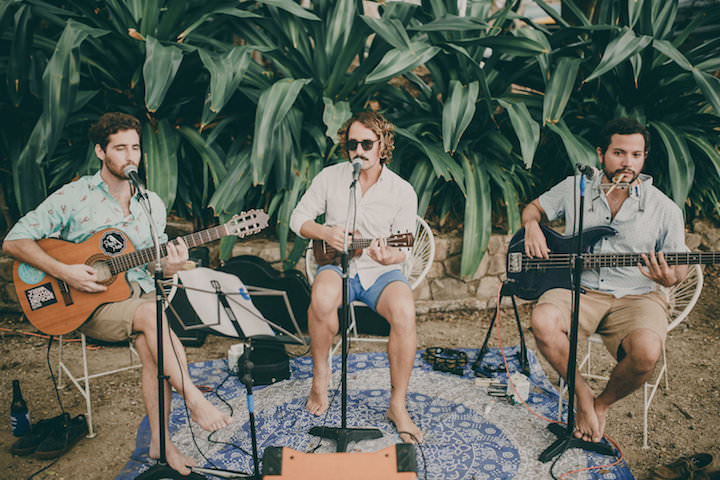 Supplier Shout Outs
For more information about Natalia and Emanuel's work go to:
www.whitediamondphoto.com / [email protected] / +506-8665-0202 / FACEBOOK / I: @whitediamondphoto
'We are photographers based out of Costa Rica. We love candid moments, natural lighting, finding beauty in the details, unique love stories, flowers, and elopements.'