Today I have the most spectacular Winter wedding to share with you. It comes from Croatia and the most impressive part is that it was all planned in 3 months! Suzana and Darko chose the venue as it has a unique quality to it, a blank canvas that had a separate room for the ceremony. The whole venue looks amazing, I just love the way they have decorated every section from the ceremony area to the tables, to the hanging flowers and pampas grass – totally stunning! The whole day is a real spectacle for the eyes. The pre wedding shots of the couple just on their own are beautiful, incorporating the surprise snowy downfall they had the morning of the wedding. Matija and Marina Weddings were there to capture the day.
It was our dream day full of beautiful emotions, we were so happy to celebrate our love surrounded by our families and friends. It was a magical, sparkling and warm day in the middle of winter…the happiest day of our lives.
Suzana and Darko were married on 14th December 2018 at Kuglana Grmoščica in Grmoščica, city of Zagreb, Croatia. 'We wanted to have a small, simple and relaxed winter wedding. When we started our search, we accidentally came across an online article saying that a new beautiful wedding venue had opened in Zagreb, and when we saw the images of the place, we knew it was the one. Kuglana Grmoščica is located in peaceful and quiet surroundings of the forest park Grmoščica and a long time ago it was a bowling alley. Now it is available to rent for smaller events. We liked it from the first moment we stepped into it,  It seemed like someone had breathed new life into something very old, and that made it really special. It was perfect – a warm, relaxed and yet modern and different place, also with a separate room where you could have a wedding ceremony and a beautiful outdoor garden. We had 48 guests and after we found the wedding venue, it took us 3 months to plan everything.'
How they met 
We met 15 years ago when we were still in high school, through our mutual friends in front of the local café one Saturday night out. After that we would hang out when we accidentally bumped into one another, until one day he asked me to go to the cinema with him. That started to be ˝our thing˝ every couple of months, and we started going out for drinks more often and seeing each other more often and…you know how these things go.
On our wedding day we had been together for exactly nine years, that's why we choose that date. And can you imagine, nine years ago on that same day, it was snowing like crazy, you couldn't even see the roads.
The proposal
It was 5 years ago on New Year's Eve in London. We spent some time exploring the city and that morning we decided to visit Regent's Park. As we were walking, we came to Queen Mary's Rose Garden. I continued walking around, but then he called for me to sit next to him. When I sat down, he gave me a small red velvety box, without saying a word. I was in shock and I carefully opened the box and there were two Mentos sweets in it. I started to laugh because he really had me fooled. He also laughed, but all of a sudden, he became serious and popped the question holding the ring in his hand. The surprise was not just in the proposal itself, but also in that ring. When we started dating, I told him I saw a beautiful unique ring hand made using an old technique invented by the Etruscans. It wasn't expensive but could only be bought in one jewellery store in Zagreb or at Ponte di Vecchio in Florence,  I just showed him a picture of the ring. In his hand was that ring! Of course I said yes! And later I found out that he had carried that ring with him every day from the beginning of our trip to London, but he was looking for a special place to give it to me.
How did you allocate your budget?
We had some savings and the plan was to spend that on our wedding. To make sure that we would have enough money, we compiled a list of all the things we thought we needed (wedding venue, food, decorations, photographers, music, dress, suit, rings, wedding invitations, gifts for guests…) and we predicted for slightly increased costs based on prices we found online, after which we continued planning. So, we had an idea of how much we were willing to spend, but we also agreed that we should afford everything we wanted, to make that day just as we had imagined it.
Where did you splurge and where did you save?
We don't think we could say we splurged at all. We really organized our wedding at a reasonable cost, and for the things we paid we felt that they were worth every penny, and in the end all those things contributed to our perfect wedding. Most of the budget went towards wedding venue rental, food and decorations. Thanks to good people that recognized our story and to our own efforts, we even managed to save some money. Our photographers/videographers liked the idea of a winter wedding and on that account immediately gave us a discount. The Adela Mese team, who decorated the venue, enjoyed doing it so much that they also didn't charge us for all the inventory that they had used to decorate the venue.
How did you choose your photographer?
Matija and Marina are incredibly passionate, creative and talented photographers, extremely hardworking and organized professionals genuinely dedicated to their work, they are two fun, emotional and artistic souls that complement each other and most importantly  friends for a lifetime.
We stumbled onto their website quite by accident when we searched the internet looking for Croatian wedding photographers. Their photos were breathtaking, capturing so many details and moments, full of colours, life and emotions, so spontaneous and natural, exactly what we imagined perfect photos should be. At the end, without any doubt we couldn't be happier that we chose them to tell our story in their unique way through two different lenses. We are so grateful for the beautiful memories that they gave us. They really are proof that "a picture is worth a thousand words".
The dress 
I wore a beautiful dress designed and made by Croatian designer Ivan Alduk, amazingly warm alpaca wool bridal jacket that was handmade by Lija Janauskiene, Dress in Felt, Michael Kors shoes and hair comb made by Irena Vučinić Art Jewelry.
The suit
His elegant suit, waistcoat, shirt and tie were made by Perrin, shoes were from Aldo, coat from Zara and he had cufflinks from Peek & Cloppenburg.
Theme or colour scheme
We didn't plan to have a theme or colour scheme, but you might say that the theme was winter wonderland! Simple, relaxed, warm and rustic winter wedding with green, gold and black colour scheme. And we were so happy that the venue and all the little things really came together to represent us and what we love.
Flowers 
I had a lovely little bouquet with white roses, cotton flowers and eucalyptus. And the whole venue was decorated with the magical combination of eucalyptus, cypress, cotton flowers and pampas grass that was on the tables, on a hanging ceiling construction and in the room where we had the wedding ceremony, as well as big green potted plants decorated with lamps. It was stunning!
Decoration 
Adela Mese team decorated the whole venue and ensured that the flowers, greenery and other plant creations would leave us breathless, but also, they completed it with their stylishly diverse inventory and complementary decorations. So we had old books scattered on tables, black candles in bottles and candlesticks, white candles on the window sills, decorative waterfall lights, retro bar tables and chairs, pink plush armchairs and footstool, small fluffy carpets, retro metal barrels, big neon bar sign, and outside at the entrance was a swing with a lots of cushions next to a metal barrel with an open fire so the guests could warm themselves up.
Food
Everything was so good, all thanks to Catering Lisak, who have done a marvellous job preparing for us delicious food and cakes. Since the venue had a beautiful garden, we thought that we could serve warm punch, mulled vine and tea outside in the garden as welcoming drinks.
After the wedding ceremony, we served cold and warm appetizers: plates of cold meat cuts with prosciutto, ham and sausages, various sorts of cheese and salads, pulled pork sandwiches with coleslaw, mini tramezzini with ham and cheese, fresh ravioli with mushrooms and truffles, cannelloni with cheese and spinach, crispy pancakes stuffed with chicken and button mushrooms, rice with veal and truffles, and our traditional meal called ˝štrukli˝. And finally, the dinner buffet included pork fillet stuffed with cheese and pancetta with potato, turkey steak filled with rocket salad and pine nuts with grilled vegetables, and veal medallions in prosciutto and green pepper sauce.
Wedding cake
We didn't want a big wedding cake, so we had a simple, small, naked wedding cake with layers of biscuit, vanilla crème and kiwi fruit. To make sure that there would be enough for everyone, we also had two chocolate cakes, a Cheesecake and an Icy Wind cake, and they all were so delicious. Also, there was an extra table full of various small cakes, mini donuts, colourful cupcakes, panna cotta and tiramisu desserts in glasses, apple strudel and hot pancakes served with various fillings.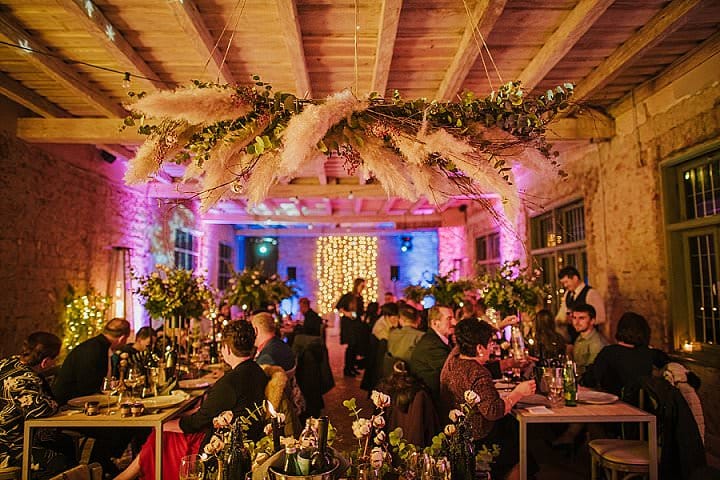 Entertainment
During the gathering and at the wedding ceremony, we enjoyed the calming sounds of two acoustic guitars and one mandolin played by amazing acoustic duo 'Gala Guitarras', Matija Opačak and Miroslav Dominić. The rest of the evening we continued with acoustic and vocal trio 'NosTress tRIo', Sanja Bunoza with her beautiful voice along with a Dino Arbula and Nikola Janeš on guitars, who spiced the atmosphere up until the end and lit up the dance floor. We really had fun, they played a mixture of Latin, jazz, blues, soul, pop and rock music that we enjoy listen and songs that we love so we danced all night long!
Stationery
Wedding invitations and gift tags were our own design made by Hoopla Design, and the name tags and seating chart were made by Adela Mese.
Personal touches
We designed our wedding invitations and gift tags and we made gifts for our guests. Those were little glass jars decorated with a jute ribbon with a red heart shaped button and tag with our names, wedding date and a ˝thank you for coming˝ note on one side and a description of the contents on the other side. The jars were filled with Rooibos Lemon Spice tea for ladies, Virginia steak spice for gentlemen and mix of colourful candies for kids.
Special moments 
That whole day was so special to us and filled with so many beautiful moments we will never forget, but if we had to choose some highlights of that day, those were when Darko first saw me in my wedding dress, our fun photo shoot in the snow, the beautiful wedding ceremony that really touched our hearts, my grandma's tears after the wedding, our first kiss and dance and Darko's speech to our family and friends, which started off very emotionally, but by the end we were all laughing.
Advice for other couples?
Just relax, be yourselves that day, have fun, smile, enjoy…and go with the flow. Let that day be all about you two so try to tell your love story your own way. Try to capture and remember all those little things that happened because those memories will last forever. And don't forget the feeling that you had that day, we hope that feeling follows you for the rest of your lives.
Biggest surprise of the day
Definitely the snow, because this winter started out really dry. Only one or two days were snowy. And that morning when we woke up everything was white, and snow was falling like crazy. Usually it's not a problem, we love snow, but we live on a hill and we were worried that we would get stuck in the snow. But in the end, these little white snowflakes created even more magic…like the ones that have been following us since our very first day together.
Supplier Shout Outs
For more information on Matija and Marina Weddings go to
www.matijamarina.com / www.matijakljunakweddings.com/blog / [email protected] / www.vimeo.com/matijamarinaweddings / FACEBOOK / INSTAGRAM / PINTEREST
We're Matija + Marina, a creative husband & wife duo. What sets us apart is the time we'll devote to getting to know our couples, so we can tell the story of who they really are. We find that each couple is truly unique and the only way to do their photos & videos justice is to tailor our approach to them.
Our photos and videos are cinematic, colorful, sometimes unexpected but always honest. We save no effort in the field and our couples recognize this time after time!