Happy Friday everyone, wow that week went quickly! I don't know about you but this week has sped past. Did you get an extra day off on Monday? our school didn't go back till Tuesday so it has been a super short week. So the weekend is here and it is on with the birthday celebrations for my husband Nik. He was 40 whilst we were away in Ibiza and this weekend is his birthday party. We have 30 people coming to our house, so tomorrow we will pimping and prepping getting it decorated and party ready, I can't wait! On with today's wedding and I am taking you to very sunny Croatia for the gorgeous wedding of Danica and Daniel. With both of their parents coming from Croatia it seemed like the natural choice for them to get married. They created a traditional church ceremony, followed by a beautiful reception, with whites, creams and Olive branches. So simple but so beautiful. Big thanks to Matija+Marina for the fantastic photos.
A special gathering of friends, family, and relatives on a Happy island that had all the elements of a great day filled with joy, love, and happiness. We couldn't have asked for a more perfect day thanks to everyone celebrating not only us but all together.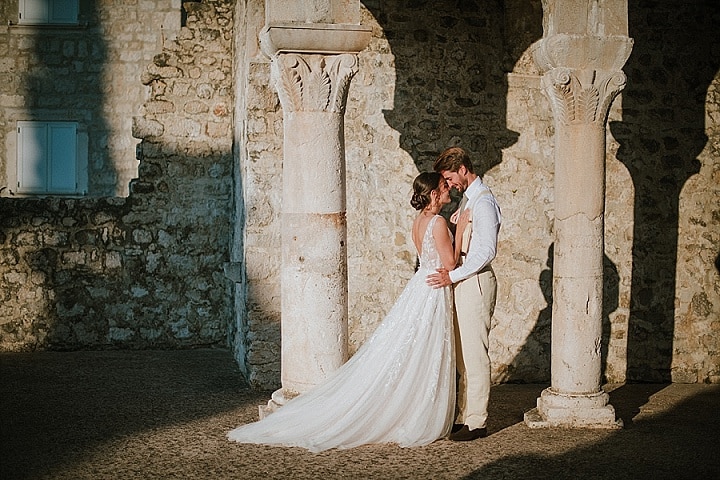 Danica and Daniel were married on 28th August 2021 at Arbiana Heritage Luxury Boutique Hotel, Rab, Croatia. 'Both of our parents are from Croatia, so having the wedding in Croatia was a given from the start of our planning. Daniel's father is from Rab (Buza-Vidas family comes from this Happy island), so having visited Rab a couple of times together, it was no doubt that we wanted to have our wedding celebrated on this wonderful island of ours together with friends and family. It would also be a great opportunity for our guests to visit the island and enjoy the stay before and after the wedding. A plus was that we had a personal connection with the location and venue. We went from a guest list of 250 guests to 80 guests, since the venue was outside in the 'Adriana Garden' and cannot host more than maximum 90 guests. Initially, we wanted to have the wedding in August 2020, but because of Covid-19 and restrictions still being effective, we postponed to 2021, which was still uncertain due to Covid-19. Actual time spent on planning the wedding was from March 2021 to July 2021. Talking about it is not the same as doing something about your plans.' 
How they met 
We hooked up at a bar in Malmö, Sweden, where Daniel is born and raised. Daniel saw Danica sitting on a couch with her 'kuma' and went up to talk and the rest is history. This was back in October 2017, so we have been together for about 4.5 years.
The proposal
Danica's parents had bought Daniel n overnight stay at a Spa hotel for his 35th birthday as a surprise. Daniel had guessed which spa and had arranged a surprise room next to the restaurant where we had enjoyed a 7 course dinner and was bubbly from all the wine and great food. But the room was more of a conference room for companies with a big wall poster of a Lion in the safari and they couldn't arrange more flowers and candles that Daniel had requested (1 big candle and 1 rose had to do). Danica thought we were going to finish desert in that room and while she was looking at the view outside (total darkness, couldn't see anything), Daniel went down on his knee and proposed, while showing some love notes written on the white board in the corner.
How did you allocate your budget?
We had a pretty fixed budget of approximate costs of everything we wanted to do and buy, and did our best to stick with that budget. We added some room in our budget to not get disappointed for having too little. But of course we turned some ideas down to not overdo it, which is a tip to anyone planning a wedding. It does not always have to be "go big or go home". A small wedding can be a big wedding.
Where did you splurge and where did you save?
The hotel and the restaurant was our biggest splurge, while we saved on having a DJ and not a band, and going local on everything (Rab local that is, so not going for example Zagreb vendors except for our DJ and photographer/videographer).
How did you choose your photographer?
Since it took a while to take the decision to have the wedding, since many things was still uncertain due to Covid-19, several vendors were already taken and fully booked. But we both had been active on social media and following several vendors and had our eye out for a couple of photographers, where we had both got stuck on Matija+Marina since seeing some of the work from the start when looking for photographer/videographer. Luckily they were still available when we started to execute our plan. It was also a pretty easy decision since Matija+Marina already started engaging with us and giving us pointers even if we hadn't chosen them yet, so it felt right to go with them.
The dress 
Danica's dress is a Pronovias (Barcelona) from the Proms & Weddings store in Malmö, Sweden. Accessories was only ear rings from 'kuma' (maid of honour) and flowers in the hair from our flower vendor Murtela from Rab. Shoes from Vagabond.
The suit and bridesmaids
The suit is a DePetrillo (Napoli) from store Engelska Herr part of Baltzar.com in Malmö, Sweden. The bridesmaid/kuma had her own dress on from Samsøe Samsøe.
Theme or colour scheme
We took inspiration from the traditional Rapska Fjera medieval festival on island of Rab, where the colours was taken from stones and surroundings of the island.
Flowers 
Our florist Murtela (Marina) from Rab helped us out a lot just based on our inspirations and desires. Flowers were white and crème colours, with a splash of olive branches, to create a Mediterranean and romantic feeling.
Decoration 
Murtela arranged more flower decorations with candles and help from Hotel Arbiana.
Food
All food and wine came from hotel restaurant Agatha's Gardens.
Welcome reception Food: Finger food (canapés) of all kinds with sparkling wine, and other local wines and beverages.
Cold Starter: Pršut, Paski cheese, Octopus salad and basket of strawberries, olive oil emulsion with lemon and honey.
Warm Starter: Istarski fuži pasta with truffle sauce
Main course: Grilled lamb and grilled sea bream fillets (served on ovals), Grilled vegetables, Spinach 'na dalmatinski', Baked potatoes with roasts
Late Night Food: Gulaš stew with bread dumplings
Wedding cake
Rapska torta (cake), a traditional cake from Rab based on lemon on almonds.
Entertainment
At the welcome reception, we had a local band of trio from Pag who played both local music and international covers.
At the wedding dinner and party, we had DJ Luca Goya (the best wedding DJ! @luca.goya).
Who supplied the stationery?
A local guy called Marino Gulić. We got his name from our right hand Laura from Hotel Arbiana, since he had done the menus at the restaurant. We wanted to have the Rapska Fjera theme on the menus, seating card and table numbers, and since it is trademarked, he still managed to deliver as per our wishes even though it was in the last minute before the wedding day. The big plus of having things organized locally.
Where did you go on your honeymoon?
From one island to another, we went to Brač, and stayed in the small town of Milna.
Personal touches
Not really, but everything was planned by ourselves through our ideas and inspirations, so very proud of that. On the wedding cake, the Rapska torta, we had figs from Daniel's parents' house at Supetarska Draga, Rab and blueberries and strawberries from Danica's parents' garden in Razljev. I also need to mention the small souvenir gifts we gave to the wedding guests, which was a small flower/scent bag of lavender and other local flowers that Marica Španjol who runs her own prized lavender shop at their 'Apartments and Rooms Španjol'. It was a last minute decision and they still managed to deliver, so thankful.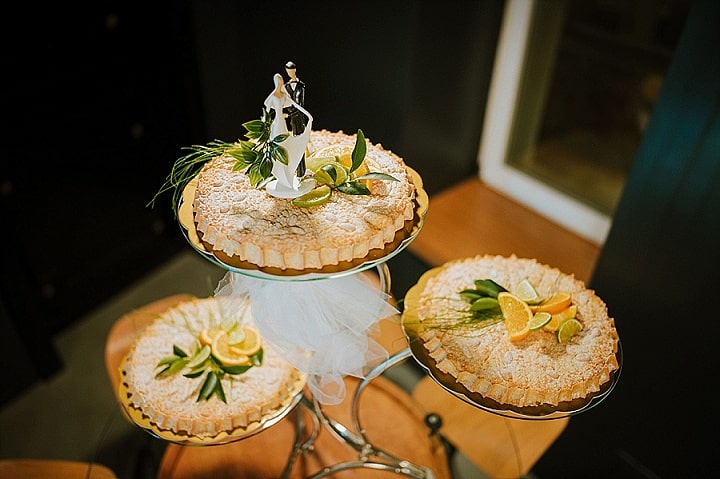 Special moments 
Seeing all the guests at the welcome reception by the hotel pool was amazing, you could see that everybody was happy and it was going to be a great day. Our private photo session next to the famous Rab church bells, where throughout the photo session we felt like we were alone on the island. Going up to the Cathedral of 'Uznesenja B.D. Marije' with all guests following us was special. Then coming back to the restaurant, first dance, getting seated and starting dinner and party – amazing! The day after brunch was also great.
Advice for other couples 
Plan ahead and in due time, and don't think of all details and that everything needs to be perfect. Write down everything you would like so you can discuss it later and run through the list and stick to your budget. It is good to think things through and have a clear vision of what you expect on your wedding. But remember to have fun while planning, it is a special day you want to remember. And everybody coming to celebrate you are there to have fun and will be happy no matter what you have decided to go with so don't put too much pressure on the whole wedding. Small or big, whatever you like is the most important thing as this is your wedding!
Biggest surprise 
The weather! The forecast showed 3 cloudy and rainy days having previously been blue skies and sunshine during the three weeks spent on the island ahead of the wedding. We postponed the start of the welcoming for half an hour, and the rain stopped just when people was starting to gather. We were so worried about it, as it was an outside wedding, and we didn't have a Plan B.
Supplier Shout Outs
FOR MORE INFORMATION ON MATIJA + MARINA WEDDINGS GO TO
www.matijakljunakweddings.com /  www.matijamarina.com/blog / [email protected]  / FACEBOOK / INSTAGRAM / PINTEREST
Matija + Marina Weddings are based in Croatia and specialize in fine art documentary photography and cinematography. We bring small camera kits and blend in so we can capture truly candid shots. We especially love mountain & island weddings and anything with the whiff of adventure about it!