Happy Friday everyone, and hooray for a four-day week. I don't know about you but this week has whizzed by thanks to Monday's bank Holiday! This weekend by Mum is coming up from Cornwall to visit, which will be lovely. I've not seen her since Christmas and she hasn't seen Dexter either so it will be lovely to catch up. What about you, what have you got planned? We are finishing off the week with the very lovely Sonja and Thomas and their beautiful free-spirited wedding day. The wedding takes place on an uninhabited island in Croatia and it is filled with bohemian charm and natural beauty. A simple ceremony, and laid back reception are perfect for this gorgeous couple and their 30 guests, which has been captured perfectly by Matija Kljunak.
A romantic love ceremony immersed in nature and focused on the deeper meaning of marriage – it's not a one-time act, but a choice to spend your life together that you make again and again each and every day.
Sonja and Thomas were married on the 20th August 2016 on the uninhabited island of Proizd, near town of Vela Luka on island of Korčula, Croatia. 'Even though they both live in Canada, Sonja has a long family history linking her to Korčula and Vela Luka, where she spent a part of her early childhood. After she moved to Canada, she spent all her summers there, and when she met Tom they went there for their summers together as well. It was an intimate wedding with 30 guests.'
How they met
They've been together for 8 years. When they first met, they soon realized they both hopelessly love the nature – Sonja lives for the oceans, and Thomas for mountains and forests.
The Proposal
Tom proposed when they went for a swim on Osjak, a small uninhabited island near Vela Luka. Sonja has been coming there since she was a baby and she learned to swim there as well.
Why did you choose the photographer?
They told me that they wanted a completely unplugged wedding, without a photographer at all! The idea was to be immersed in the nature on a pebble beach, at sunset, with no distractions, cameras, phones, officiant and formal procedures – just them and their closest friends and family.
However, Sonja's mum told her to do everything she wanted her way, but insisted she gets a photographer. She knew these memories will be too precious to leave them to the decay of time.
They went online and found the Fearless Photographers organization, where I was an obvious choice because my style was compatible with their vision for the big day – unobtrusive, spontaneous and honest, while at the same time artistic and beautiful.
The Dress
Dress was Hollie by Grace Loves Lace. It fitted perfectly with the ocean-themed wedding and had ribbons which freely fluttered in the sea breeze.
Shoes were simple ocean-themed beach sandals by Lola Cruz. Flats were needed for hiking across the island and climbing down the rocks to get to the ceremony 'venue' – the pebble beach.
The Suit and Bridesmaids
The groom opted for simplicity and didn't have a suit – it was a hot and humid Mediterranean summer, so he just wore a white shirt with beige dress trousers. Bridesmaids got their own dresses and went for the slight color variations in each one.

Flowers
Flowers were minimalistic as well – for the beach wreath everyone gathered around they had simple white Eustoma juxtaposed with magenta Aster flowers, on a bed of miniature white Babybreath flowers on green Eucalyptus. The same theme was used for bridesmaids' bouqets and the floral arrangements for the dinner tables.
Decoration
Small wooden boat replicas, seashell and flower arrangements on the dinner tables; very minimalistic. The idea was not to detract from the rawness of the place where we found ourselves.
Food
A choice of locally sourced fish specialties. Octopus salad as cold appetizer, seashell risotto as warm appetizer and grilled fish as the main course. There were meat options for meat-lovers, but scarcely anyone could refuse the fresh, tasty fish right out of the sea in front of us.
Wedding Cake
There was no formal wedding cake, just local 'štrudl' as the dessert and a surprise fruit-basket inside a carved watermelon for the newlyweds. (Which they generously shared with everyone)
Entertainment
A live band "Bolero". They mixed a bit of traditional Dalmatian songs with the more usual Anglophonic popular music.
Personal Touches
The dinner tables were named after famous singers and bands. The guests were given opportunity to sing a popular song together (acapella) from the artist whose nametag was on their table. If they did it successfully, the couple would kiss. Let's just say there was a lot of singing and kissing through the night!
Special Moments or Highlights
The love ceremony at sunset, on a beach on a deserted island was without the doubt THE moment. There was a minute of silence instead of the vows so everyone could appreciate the beauty that surrounded us… they felt that reading vows would be just too much of a cookie-cutter approach to their love ceremony.
The boat ride of Sonja and her father in a small boat towards the island where Tom awaited with the rest of the wedding party was equally touching for me as the photographer. They reminisced about the past, their roots in Croatia and Bosnia, and what led them to this moment.
Advice for Other Couples
Tailor the wedding to yourselves – the more unique, the better. Tradition is a good spice for your big day, but it shouldn't be the main course.
Biggest Surprise
When all the guests joined the newlyweds at midnight for a quick swim in the sea, jumping off the pier into the darkness.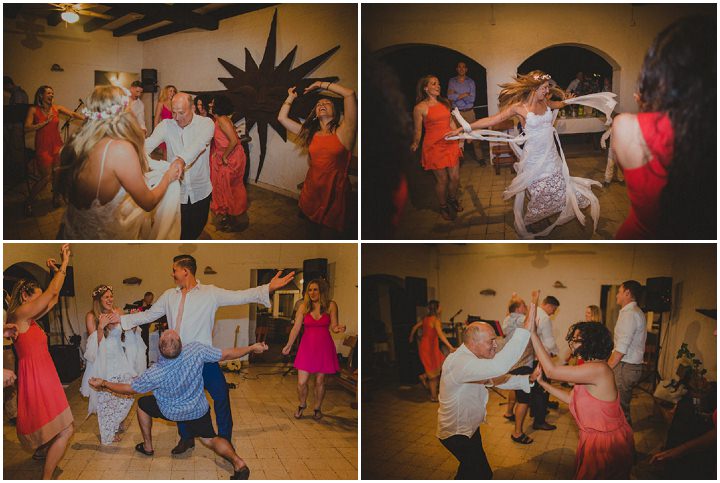 Supplier Shout Outs
For more information on Matija's work go to:
www.matijakljunakweddings.com / www.matijakljunakweddings.com/blog / [email protected] /  FACEBOOK / I: @mkljunakweddings
I'm a Dubrovnik wedding photographer based in Croatia, with a taste for a intimate weddings. I spend a lot of time getting to know my couples so I can come as one of their guests and keep a low-key appearance. I also work with small, unimposing, silent cameras and dress like your guests so I blend in perfectly. At the end of the day, I try to capture the wedding as it would be if I wasn't there, allowing people to relax and give me a peek into their intimacy, showing me who they really are.