Today's wedding sees us head off to another gorgeous destination wedding as we fly over to Cyprus for Joanna and George's beautiful wedding. While they were there they had a heatwave but I'm sure you will agree they managed the heat incredibly well. The Cyprus location makes for a stunning backdrop and because the location was so pretty they kept the decoration natural and minimal. The whole day is effortlessly cool, despite the rising temperatures, and they both look stunning. Big thanks to Sarah Gray Photography for capturing the day so well.
An incredible day, surrounded by our closest friends and family. Lots of heat, food, laughs and dancing!
Joanna and George were married on 3rd September 2018 at Liopetro Venue, Kouklia, Cyprus. 'We always knew we wanted to get married abroad, initially thinking we would elope just the two of us. We chose Cyprus as George is half Cypriot and still has family living there. We have been on holiday there loads of times and loved the food and the guaranteed sunshine! We had 60 guests and it took just over a year to plan. We got engaged in May 2017 and booked our venue in Sept 2017.'
How they met 
We met when we were 4 at primary school! After being friends all our life we got together when we were 21 and have been together nearly 10 years.
The proposal
We were away for the weekend staying in a village called Dale in South West Wales, where my Grandparents had lived. George proposed to me on my favourite nearby beach after we'd had a picnic. He'd written 'Will you Marry me' in the sand whilst I'd been sunbathing! It was very romantic and emotional!
How did you allocate your budget?
We knew we didn't want to spend a fortune on one day so loved the idea of being away with all our friends and family. Most of the budget went on making sure everyone had a good time so plenty of food and drink.
Where did you splurge and where did you save?
Our biggest expenses were the venue, food and drink. Even though it would have been simpler to hire the décor, we chose to do a lot of it ourselves. My mum made the runners and the little favour bags which contained sugared almonds from a local shop in Cyprus.  We chose not to have a wedding cake as we were having a huge Cypriot Mezze which included lots of desserts.
We also hired a wedding planner who was fab- she put us in touch with suppliers and completely took the stress out of sorting out all the legal bits whilst allowing us total control over everything else.
How did you choose your photographer?
Our great friend Sarah is the most amazing Wedding Photographer and we both immediately knew that we'd love her to capture the day. Neither of us relished the thought of being centre of attention or having our pictures taken so we loved the idea of our photographer being someone we knew and felt relaxed with.
The dress 
My dress was 'Jayne' Elizabeth Jane Howell, although it wasn't at all what I'd thought I'd choose I loved the vintage feel of it. I wasn't keen on the shoulders so had them altered by a talented seamstress Laura Davey who was able to make the exact changes I wanted. My shoes were Rachel Simpson 'Mimosa' in Mint. My mum bought me a diamond necklace from London Road and I wore simple earrings from Etsy. 
Suit and bridesmaids
The Groom/ Groomsmen all wore DKNY suits. The Bridesmaids wore dresses from Reiss.
Theme or colour scheme
Although it was slightly unintentional we ended up having a bit of an Olive branch theme. This started from designing the wedding stationery (invites, table plan and menu's). We then decorated the chairs with olive branches and they were added to my bouquet and the button holes.
In term of the colours we were keen to keep it natural so went for a pistachio/sea green bridesmaids dresses and ended up matching the Groomsmen's ties and the table runners.
Flowers 
I knew the flower choices would be more limited with it being September in Cyprus  (flowers are mostly imported) so kept it simple with roses, alstromeria, lisianthus and lots of greenery.
What sort of decoration did you have?
We kept the decoration minimal as the venue was so beautiful, we tied olive branches to the chairs along the aisle and had flowers on each table.
Food
We had a Cypriot Mezze which included over 20 dishes such as Grilled Halloumi, Pitta and Dips, Moussaka, Keftedes (Meatballs) Souvlaki (Kebab) and Baklava.
Entertainment
We had a DJ
Who supplied the stationery?
With the help of my talented brother we designed all the stationery ourselves. He helped to design a stamp for the save the date which we got made and then used that on luggage tags. He designed the invites after we drew out some olive branches which he then transferred on to a computer to create a pattern. We used this pattern for the Menus and Table Plan which we got printed onto fabric.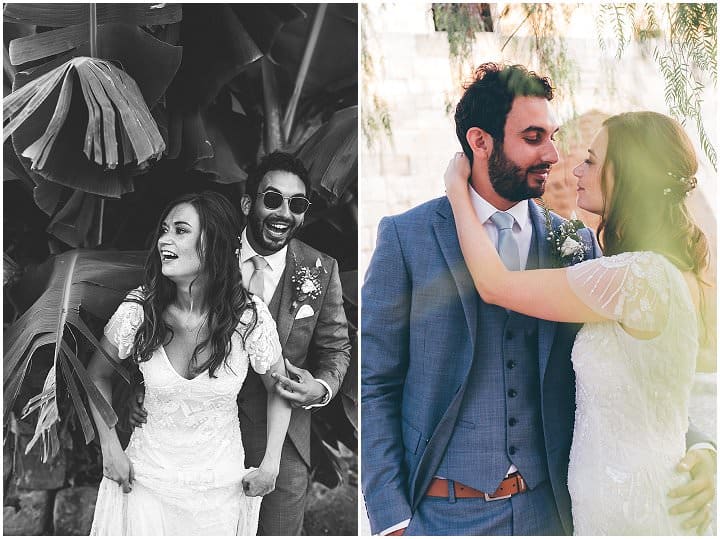 Personal touches
The whole wedding was a family effort! Our friends and family sorted out the flowers and helped decorate the venue in the morning.
My mum sewed a small bit of lace from her wedding dress and from Georges mums wedding dress into the wrist loop on my dress.
My mum made a hoop which contained picture of our parents and grandparents on their wedding days.
What were your special moments or highlights of the day?
Seeing my Dad for the first time.
Seeing George face as I walked down the Aisle.
Everyone singing Bohemian Rhapsody at the top of our lungs at the end of the night.
What advice would you give other couples?
Remember what the day is about- you as a couple. Try not to get sucked in to pleasing everyone else and do what YOU want as it's your day. Also, don't stress about the small stuff as on the day you really won't care!
What was your biggest surprise of the day?
George's speech! After being incredibly nervous about it in the lead up to the Wedding, he absolutely smashed it!
Also- the heatwave! We expected sunshine but didn't expect the extreme heat weather warning which covered the 48 hour period of our wedding!!
Supplier Shout Outs
For more information on Sarah Gray Photography go to
www.sarahgrayphotography.com / www.sarahgrayphotography.com/blog / 0787 5147 183 / [email protected] / FACEBOOK / INSTAGRAM
Hey! I'm Sarah, a Belfast born wedding photographer living in Bristol. I'm normally hopping back and forth over the Irish Sea capturing all kinds of wonderful love stories, with the odd destination wedding thrown in the mix. Weddings are bursting with moments to photograph and I love the real stuff, happy tears, ugly criers, kids behaving badly, tie-round-the-head drunken revelry and ALL of the love.