Well hello there, and how is your week so far? Yes, it's Thursday, if you are as confused as I am to what day it is! I am officially back at work on Monday, so my head is still half in Christmas and half planning the year ahead. None the less, I have plenty of wedding goodness to share with you today. So if you are looking for some much-needed inspiration, then today's wedding is a real beauty. I also have some fab inspiration coming up for you this afternoon, so make sure you check back then. This morning Jess and Tom are sharing their gorgeous destination wedding with you. I do love sharing weddings from all across the world on the blog, jetting you off to warmer climates and adding a bit of sunshine into your otherwise gloomy January . This wedding from Cyprus is just the antidote for any January blues you may be having today. The day is filled with pretty Boho touches, gorgeous flowers, greenery, flower crowns and the most wonderful decoration. Big thanks to Christodoulou Photography for the beautiful images. The perfect way to start 2019 Real Weddings.
The absolute best day of our lives, everything we could have imagined and more. Fun, floral and very sweaty!!
Jess and Tom were married on 22nd August 2018 at Vasilias Nikoklis Inn in Cyprus. 'We never decided on a set place to marry but just knew we wanted to get married abroad. We collected lots of destination wedding magazines and searched for an ideal venue. Vasilias Nikoklis Inn in Cyprus met our requirements of a rustic but very pretty venue; love at first sight! We had 21 guests altogether, we always wanted a more intimate feel to our wedding so this was perfect for us. There were 22 months from our engagement to the day however most things were booked and planned within a year.'
How they met 
We met via a popular online dating website as at the time we were both shift workers and this was the easiest way. We've been together now for three and a half years.
The proposal
It wasn't really a secret that Tom was going to propose as it was something we talked about alot and we also picked the ring out together. But we went for a walk with our dogs to a place called Black Rock in Derbyshire and we made it official there. So relaxed and lovely!
How did you allocate your budget?
I had a very rough idea on a budget and tried to stick to it as much as possible. We were gifted quite a bit of money which meant I did go over our budget but it was with nice things. The venue/food was very well priced so it meant we could get some little "extras" elsewhere. Within our budget we also paid for our two week holiday in Cyprus so overall I felt our money went far!
Where did you splurge and where did you save?
I didn't really splurge on anything but I did spend more on my wedding dress than I planned (although I know many spend more on their dress!). I saved quite a bit on my wedding ring by going through an independent jeweller and Tom made his own ring!!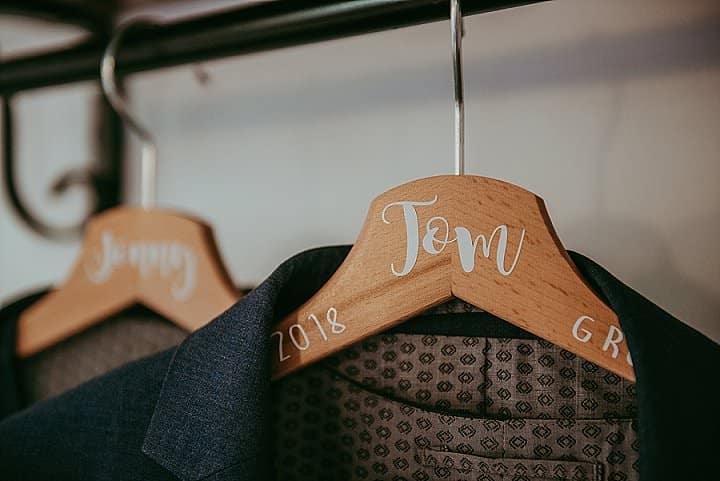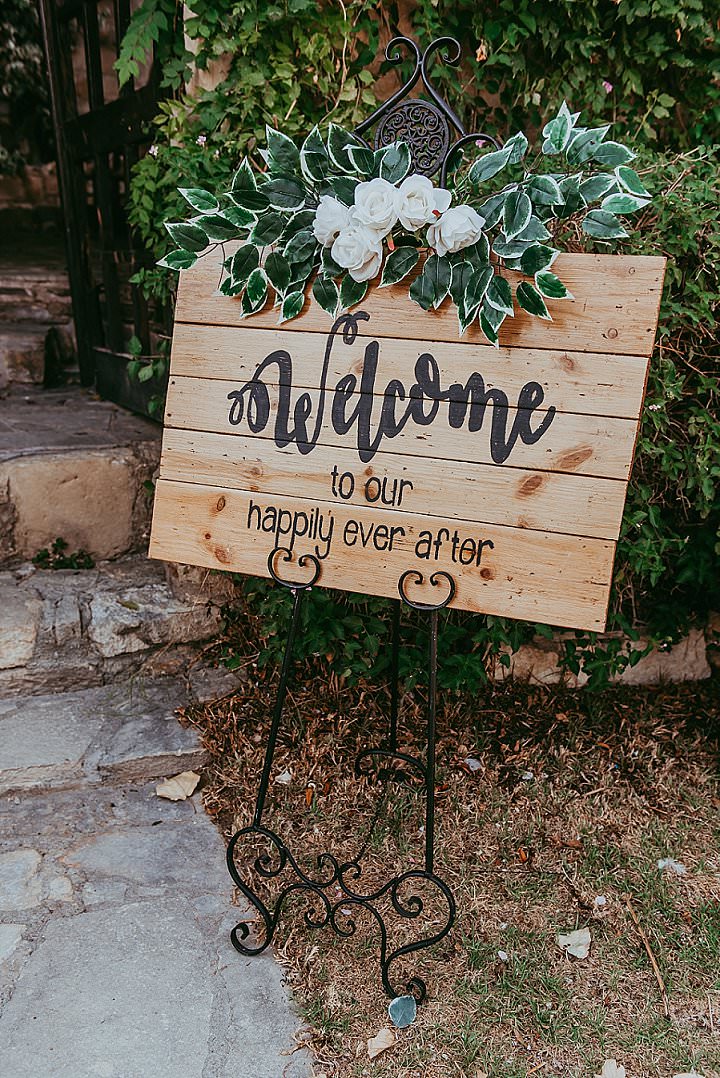 How did you choose your photographer?
I spent some time researching photographers as I wanted a particular editing style with relaxed and posed photos. I found Mandy and Louis at Christodoulou Photography on a Cyprus Wedding facebook group and went from there! Very approachable and friendly people who absolutely captured our day so perfectly. Really can't thank them enough!
The dress 
Dress was made by Eliza Jane Howell from the Wedding Room in Nottingham. Veil was from Sash + Veil via Etsy, shoes from an Etsy seller called RoniKantorShoes, flower crown from Innocent Chaos and earrings from Molly and Pearl.
The suit and bridesmaids
Tom was very fussy about his suits but he found a lovely set from Next, structured but well suited to a hot summer wedding. Bridesmaid dresses were from a vintage shop called Joanie Clothing.
Theme or colour scheme
I always planned on a greenery/foliage theme with pinks however over the year and a half of planning a boho theme emerged so I went with that! But overall I just got what I wanted and hoped they all went together!
Flowers 
I used artificial flowers as I wanted a bit of a DIY project to get stuck into. So I collected artificial foliage, roses, ranunculus', peonies and berries. I watched lots of youtube videos on flower arranging and went from there.
Decoration 
Ceremony decoration was quite simple as the venue is so lush and pretty. However I made a swag for the ceremony table and used a picture of our dogs so they could be with us.
The reception was decorated by Cyprus Wedding Touches who made a long artificial foliage runner with added gold candlebras and tealights. All other little added bits like name places I collected from independent shops.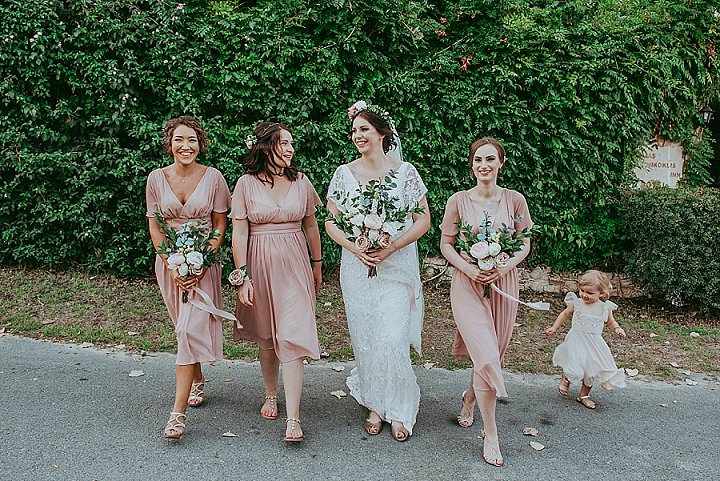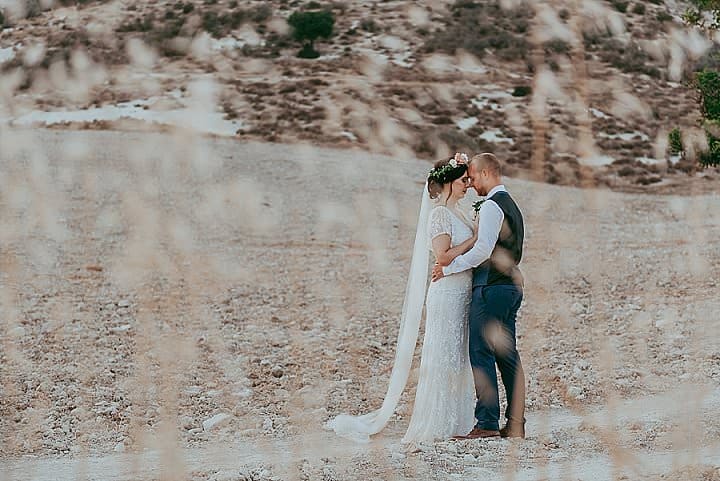 Food 
Oh my gosh the food was AMAZING!!! We have a Cypriot Meze for starter, chicken with roast potatoes and vegetables for the main and panna cotta for pudding.
Wedding cake
Our wedding cake was made and decorated by Love-Island-Cakes. We decided to pick our own favorite flavours and not cater for everyone else as we are big foodies and was really excited about the cake! One tier was banana and caramel and the second was red velvet and cream cheese. 
Entertainment
We had a DJ and Cypriot dancers who were so fun and everyone LOVED them!! They really made the evening. We also got a second hand polaroid camera and props to capture the evening.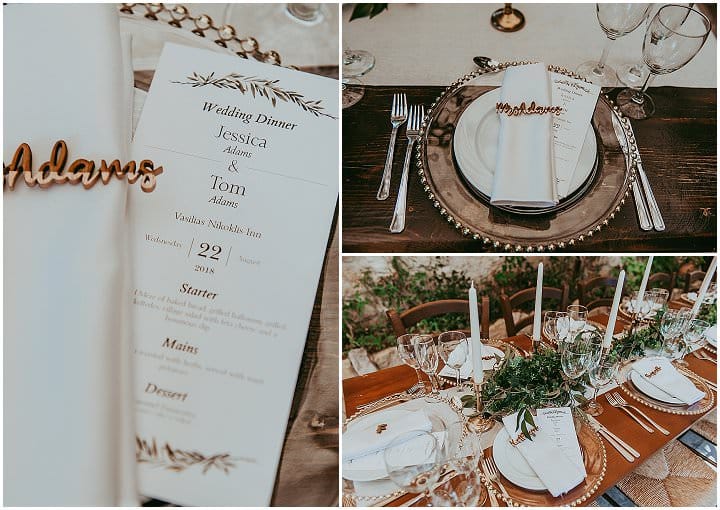 Who supplied the stationery?
We simply used vista print with a foliage template. I added twine and little wood hearts for the invitations to add an extra dimension.
Personal touches
The flowers throughout the wedding party were all made by myself which I was very proud of and I got lots of compliments about them. Tom worked very hard on making his own wedding ring and it looks perfect on him. But generally I tried to get most things from independent sellers from etsy or notonthehighstreet.co.uk as they had a general unique feel to them.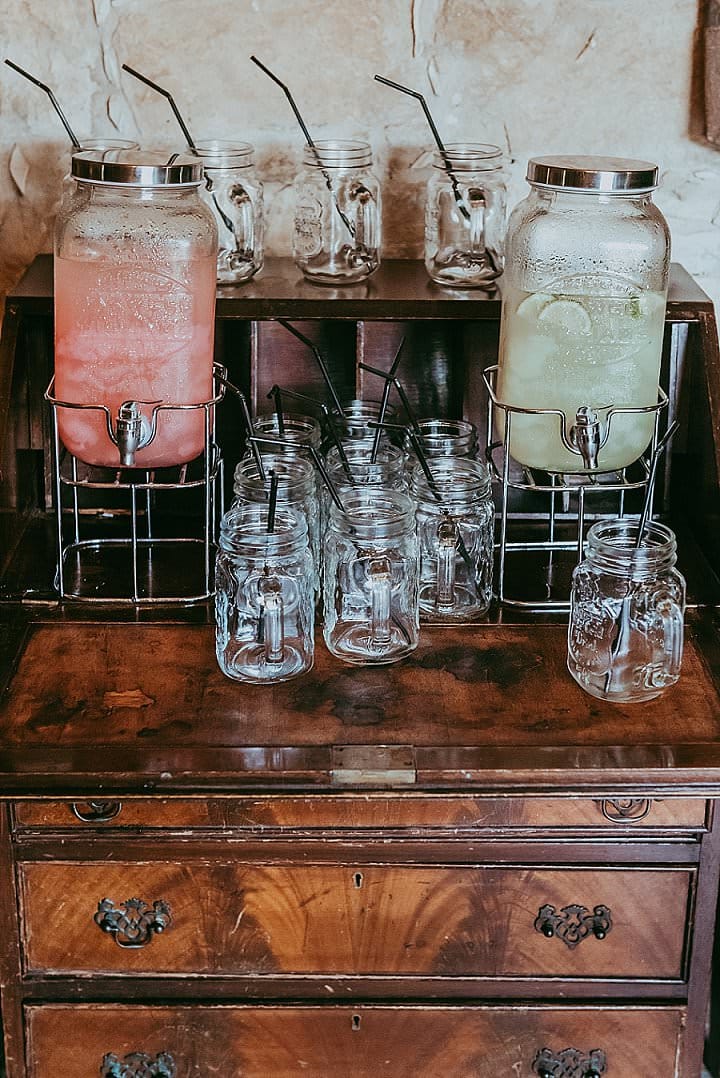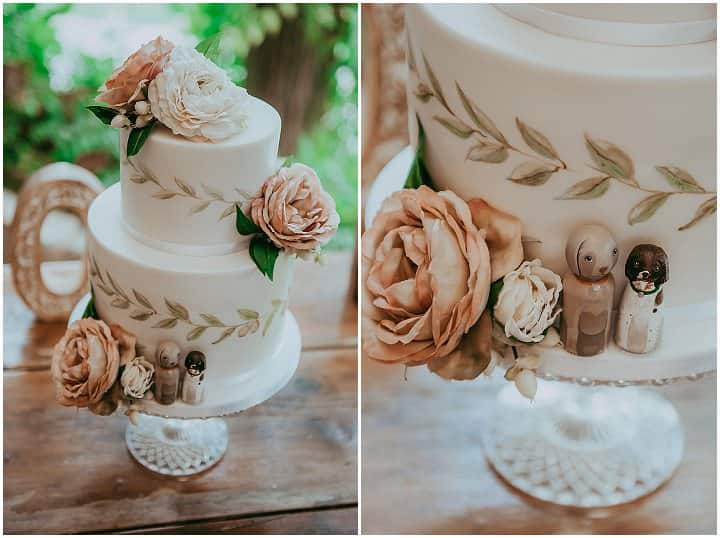 Special moments 
We really enjoyed the time we spent as a couple with the photographers. It all just felt very real at that point and it gave us the opportunity to just enjoy each other.
Advice for other couples
To just enjoy the day and accept that not everything will be perfect but you just will not care! I would also advise to utilise as much help on the day as you can, my bridesmaids really pulled together and I can't thank them enough!
If your budget allows so, I would also suggest having a videographer to capture the day as the day just flies by!
Biggest surprise
I loved listening to Tom's vows as I know he was very nervous about the ceremony aspect of the wedding.
I also remember seeing the table decor for the first time and just melting inside as I loved it so much!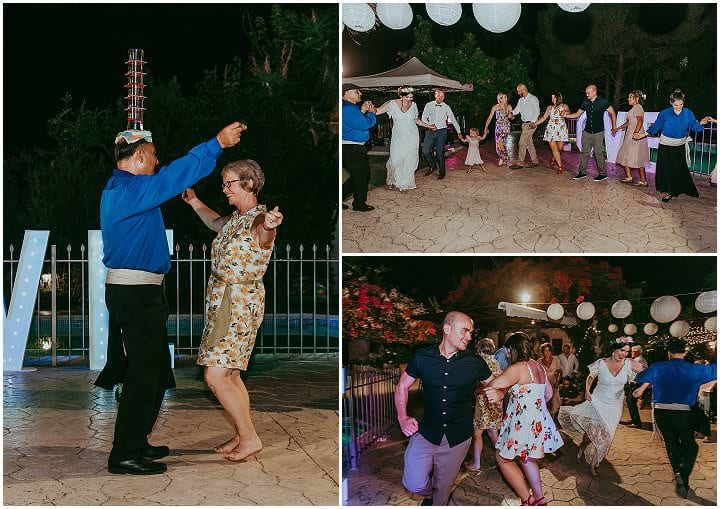 Supplier Shout Outs
For more information on Christodoulou Photography go to
www.christodoulouphotography.com / [email protected] / +357 96697644 / FACEBOOK / INSTAGRAM / PINTEREST / TWITTER
We are a husband and wife team based on the beautiful island of love, Cyprus.  What we do is more than a job for us, it's a privilege and an honour to document all the joy, laughter and love on possibly the most important day of their lives.
Authentic emotion, connections & moments inspire us.  We capture the essence of who our couples are and the real moments of the day.