Hello everyone, I hope you have all had a good week? Can I get a 'YES it's Friday' as I'm so excited for the  weekend! We actually have a night out planned on Saturday night, Nik and I are off to a comedy night with some friends, which should be fun. In fact, the next few weeks look pretty busy in the old social calendar so lots of fun to be had all round.
I am finishing the week with this lovely woodland wedding set in the Hampshire countryside. Elizabeth and Jack were lucky enough to hold the whole wedding at Elizabeth's parents house with a woodland ceremony and a marquee in their field. They wanted to keep costs down so they did a lot of the wedding themselves and were helped out a great deal by lots of friends and family. From the handcrafted wedding dress, to home-brew beer, DIY flowers to handmade decoration. SashaWeddings was there to capture the day.
Our aim was for it to be the best party we'd ever throw, and it certainly lived up to that! One of Jack's best men described it as "Glastonbury crossed with Downton Abbey".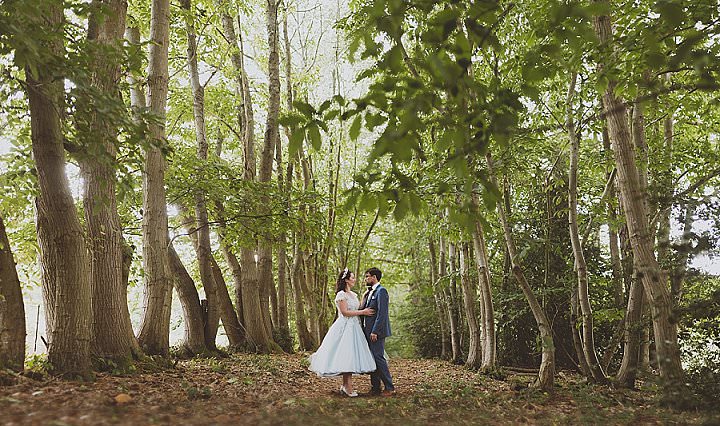 Elizabeth and Jack were married on 28th July 2018 at Elizabeth's parents' house in Hampshire. We had the ceremony in the woodland behind their house and the reception in their field and garden. 'It was always a no-brainer to get married at my parents' house. They have a large field and their neighbours own the beautiful 100-acre woodland behind their house, it's the perfect space for a relaxed wedding. It also meant that we were able to do whatever we wanted without any venue constraints, including having 5 Labradors running around the whole time! We had 110 guests. We were engaged for two years to enable us to save up for the wedding and not have to rush planning at all. However, we only really actively planned in the first few and last few months of our engagement. The first few to book all the vendors and the last few to sort the nitty-gritty details.' 
How they met 
We met on a scuba diving trip with the Manchester University Sub Aqua Club. The trip was to the Farne Islands in Northumberland to go dive with the seal colony there. However, the weather was so bad (snow at Easter!) that we ended up just visiting castles, playing board games, drinking and making eyes at each other! As we say to people, "There was nothing else to do!" We'd been together 3 years when we got engaged and 5 years by the time we got married.
The proposal
After university I got a job in London and lived there a year before Jack moved down too and we moved in together. It took us three days to move in to our new place and unpack everything, after which we were absolutely knackered! While I was flopped on the sofa, Jack got up and put a record on that I had made for him as a previous anniversary present. He asked me to get up and dance with him, which I was reluctant to do because I was so tired! After dancing together for a while, he got down on one knee and proposed with a beautiful vintage ring that fitted me perfectly! I burst into tears immediately because I was so shocked and not expecting it at all!
How did you allocate your budget?
We worked out how much we were willing to spend on the wedding (no more than £10k), picked the three most important things to us and prioritised those. They were: an open bar with lots of good booze, a great band and good food.
Where did you splurge and where did you save?
We splurged for our photographer, Sasha. Jack wasn't originally convinced about having a professional photographer, but after seeing the resulting photos he loves them and is so pleased we splurged on it!
We also splurged on getting high quality spirits for the cocktails we served. We're both very into our cocktails and served cocktails we have developed ourselves over the years. We definitely didn't want to ruin them with poor quality ingredients.
We saved by cutting out a lot of traditional wedding things that weren't important to us. We used Paperless Post for digital invites rather than paper ones, we DIYed our floral displays. We didn't have a big fancy wedding cake, nor did we have a formal sit-down meal.
How did you choose your photographer?
Neither of us is that comfortable having our photo taken or posing for photos, so it was important to us to have someone that would just let us do our thing while also getting some amazing photos. Sasha was amazing at both of these. She somehow always managed to be right where she needed to be and all our guests said she was like a stealthy ninja! The photos she took were beautiful and it was so wonderful seeing all the things she captured that we were too busy to see.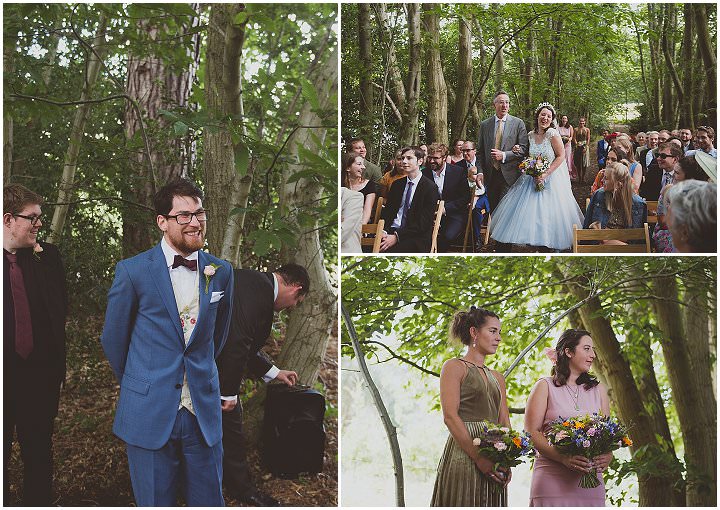 The dress 
My mother, Cerina, made my dress for me. She has always made my sister and I beautiful dresses over the years for parties and was even on the Great British Sewing Bee.
We designed it together, pored over fabric samples together and had so many fittings! It was great fun and we were both really pleased with the end result. The dress itself was made up of a beautiful blue silk corset and skirt, with a tulle overdress, which she hand sewed all the lace appliques to and had tens of pearl buttons down the back! I chose to have the corset and skirt in blue silk so that all the details of the lace were visible and didn't get lost in lots of white.
My tiara was worn by both my grandmother and mother at their weddings. I remember trying it on when I was younger and deciding that I was going to wear it when I got married.
The suit and bridesmaids
Jack's suit was Ted Baker, his shoes were Kurt Geiger, his bow tie was from Mrs Bow Tie (the Best Men's ties matched) and his waistcoat was also made by my mother.
My maid of honour was my sister, Catty, and my bridesmaid was Jack's sister, Josie. They are both really into their clothes, but have completely different tastes. Rather than struggling to find a dress they both like, we decided that they should just were whatever they wanted. Catty's dress was from ASOS and Josie's was from a charity shop!
Theme or colour scheme
We didn't really have a particular theme at the start but we tried to be in keeping with the location, so ended up with a vague wild flowers and nature theme.
Flowers 
Neither of us were that bothered about flowers, we didn't have any strong opinions on what they looked like and didn't want to spend vast amounts of money on them either.
We ended up getting the flowers from the Great British Florist. All their flowers are grown on their farm in Herefordshire and so don't have hundreds of air-miles associated with them. We ordered three beautiful bouquets and two big buckets of flowers that matched the bouquets to DIY the rest of the flowers. When the flowers arrived the day before the wedding we arranged them in beer bottles for centrepieces and used the remaining flowers in vases dotted around.
It ended up only costing us £400 and we even had too many flowers for the number of vases we had!
Decoration 
As we were mainly interested in spending our money on things to make the party itself better, we did not spend much on decorations.
Jack and I made, painted and drew out lots of blackboards for various signs over a few weekends. We also strung over 100 pom poms on fishing line from the ceiling of the marquee, along with some fairy lights, nicely adding some colour and fun to the marquee.
We also moved all the furniture from my parents' house into the marquee, making it feel like a giant living room! Sofas, armchairs, side tables and lamps, rugs and even our old toy cupboard.
For the camping area, we strung up lots of festoon lights, both as decoration and to help people stumble back to their tent at the end of the night!
On the tables we had long sheets of brown paper on top of the tablecloths, along with a load of crayons. We drew lots of prompts on the sheets to get people colouring in, playing games and drawing all sorts of things. It was great fun and we had some wonderful drawings that people had done of the party at the end of the night!
We also had my mother's bright yellow VW campervan parked at the end of the field, which people could sit in and have some peace and quiet if they needed it. Jack and I also slept in it that night, which was fun! We've been to many festivals in it and it was certainly better than a tent, which is what most people stayed in.
Food 
We did not want a formal sit down meal, so had a buffet with lots of mixed seating. We had a mix of tables and chairs and sofas in marquee, but the weather was so nice that everyone sat on the chairs outside, on rugs and also just standing in the sun enjoying the weather!
We had a wood-fired pizza oven from Pizza Federicci along with lots of salads and nibbles that we had prepared ourselves. For dessert we had an ice cream van from a local ice cream shop (Dylan's Ice Cream), as well as a cupboard full of goodies (sweets, cookies, doughnuts, etc.). For a late night snack we had fish-finger sandwiches, because who doesn't love a fish finger sandwich when you're drunk?
Wedding cake
We weren't really interested in having a big fancy wedding cake. Instead, just for the fun of having something to cut, we had a giant doughnut from Doughnut Time. It had a gilded Freddo on top!
Entertainment
The band absolutely made the night. Bangford are an originals band from Birmingham, but came down to play at our wedding because Jack's uncle is the bass player in the band. They were amazing fun and we couldn't help but dance to every single song they played – it was absolutely knackering! Everyone particularly enjoyed it when they handed out shaky eggs and tambourines.
Jack also made an awesome Funk and Soul playlist, which we played for the rest of the night after the band had finished. Great music for everyone to dance to!
My parent's three pygmy goats also live in the field where the marquee was, so everyone had fun stroking them!
Who supplied the stationery?
We did not have any paper stationary, but used Paperless Post for our save the dates and invites. It made keeping track of the RSVPs so much easier as it is all built into the website and also made it easy to send out reminders to people when they had not responded.
Personal touches
A big personal touch was that our very good friend, Adam, conducted our ceremony for us. As we couldn't legally get married in the woodland, we got married at the registry office a few days before with just our close family. However, this meant that for our ceremony in the woodland we could do whatever we wanted.
One of Jack's best men made all the beer served at the wedding (6 different types!). Everyone had great fun trying all of the different types.
As the wedding was at my parents' house, it meant we were able to have all the family dogs marauding around! They loved having so many people to stroke and play with them and it made the day feel so relaxed! All the brown Labradors belonged to my parents and all the golden ones belonged to Jack's family.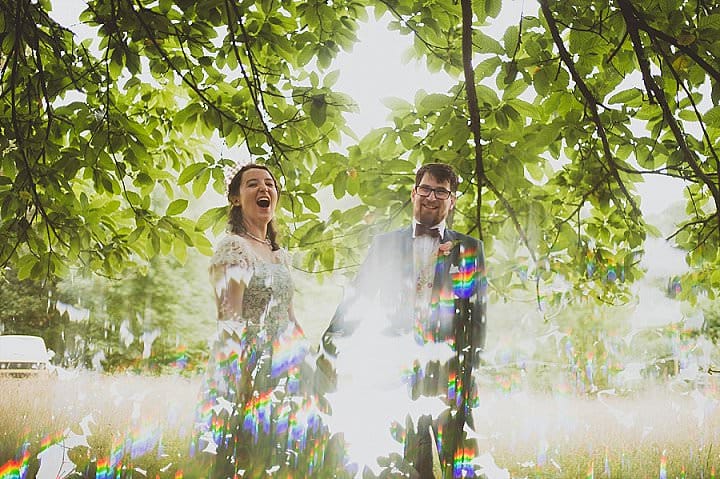 Special moments 
A really special moment was in the ceremony my father and Jack's mother giving some beautiful speeches welcoming each of us to the other's family and also remembering my Grandfather and Jack's Grandma.
A highlight of the day was the band playing Elbow's Grounds for Divorce. They thought it was hilarious that we wanted them to play it, but it's a great song, if rather an unusual choice for a wedding! Everyone was dancing, jumping up and down, singing (shouting) along and shaking their shaky eggs and tambourines and just having so much fun. That was exactly what we wanted the day to be – just an awesome party.
Advice for other couples
It's easy to say, but hard to do – don't stress. Most of the time it's only you that knows things have gone wrong or that they aren't quite as they should be. As long as you have lots of food, booze and music, everyone will be having a great time.
Biggest surprise 
The biggest surprise was just how great the band was. I'd never heard or seen them live before, just listened to their EP. They were so amazing, really ramped up the party and kept everyone dancing for hours!
Supplier Shout Outs
For more information on Sasha's work go to
www.sashaweddings.co.uk / [email protected] / 07961542571 / FACEBOOK / INSTAGRAM
My style is simple -Informal and relaxed – to tell the story unfolding in front of me – real connections with real couples. I try to avoid stereotypes, capture personality, emotions and show the uniqueness of every person and atmosphere of each wedding.  I strive to create timeless photos that you will cherish for years to come. I'm based in London and travel all around the Uk and abroad.