Today's wedding is a great one, made even better by the amazing guests and the bride and groom. I don't feature many Tattoo weddings on the blog, I generally leave that to Rock n Roll Bride, but when Mark Tierney sent me this wedding and asked if I wanted to feature it my first reaction was  'Hell Yeah!'
The wedding takes place at  Wentbridge House which is where I did my first wedding of the season back in April, which you can see HERE . The couple are great, really fun loving and you can see that their guests are too. Mark has captured some great fun shots but also mange to capture the sentimentality and warmth in the portrait shots as well….Enjoy!
Full names
Gabrielle Caves (was Butcher) Simon Caves
How did you meet?
We have been together for 3 and a half years. We met when I worked in a piercing studio in Barnsley and Simon had a Tattoo Studio around the corner. We had spoken a few times and I liked Simon a lot. Wasn't too sure he liked me but one day felt the need to go see him for a tattoo. I spent half an hour with him and basically it was like fate had brought us together. After that day we haven't really spent much time apart. We now own our own studio in leeds that we are very proud of and run this together. ( ink vs Steel)
Date of wedding
10th June 2011
Location
Wentbridge House Hotel – Pontefract
What made you decide to get married where you did?
It was a small but very personal venue which made you feel very important. The staff were amazing, service impeccable and food to die for.
Who was your dress by
Maggie Sottero purchased from Hoops a Daisy – Wakefield
And the suit?
Hand Tailored by Carl Stuart – Huddersfield
How would you sum up your day?
Perfect so much better than I had ever imagined, magical, unforgettable and we want to do it all over again. All I can say it thank god we chose Mark Tierney to do our photography as he captured everything beautifully so we will be able to look back and remember everything exactly the way it was – Perfect
Did you have a theme or colour scheme?
Yes I wanted country vintage. My flowers were quite soft coloured and it matched with Ivory and Gold.
Did you have any personal touches? Or things that you did yourself?
I picked unusual wedding favours which ranged from salt and pepper pots shaped as two peas in a pod, shoe bottle openers, pizza cutters which said a slice of love, and a few more!!!!
How many guests?
we had around 70 in total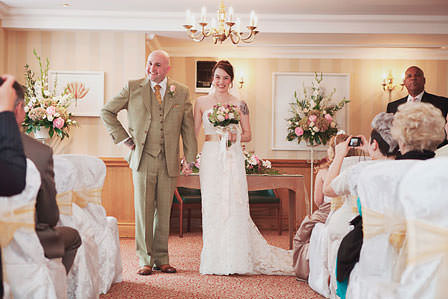 What were your special moments and highlights
to be honest it was all special, I think it was a perfect day as we invited just the people that mattered to us more than anything, not inviting all those relatives that we hadn't seen for years like you usually have to do.
Is there anything you would do differently?
nothing it was perfect.
What advice would you give any other couples?
Enjoy it, don't stress as it will be perfect, that's something me and my husband didn't really do we did it all together and it ran perfect. Don't worry what other people think, its your day do it your way!!!!!
What was your biggest surprise of the day?
Finally seeing everything come together that we had planned over the months, and thinking wow this is the best wedding ever. Everything looked better than I had imagined from the chair covers to the flowers and the cake was amazing.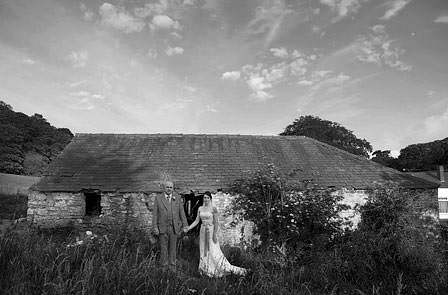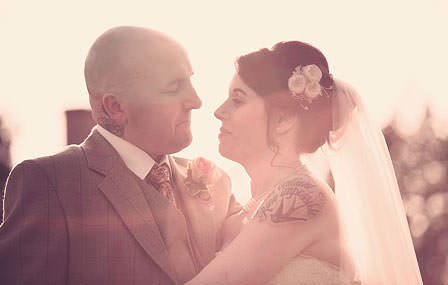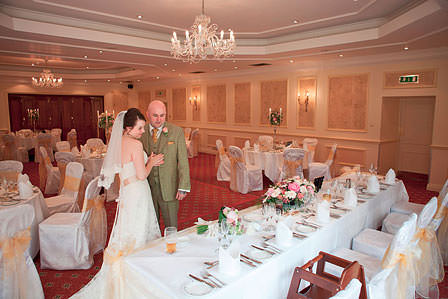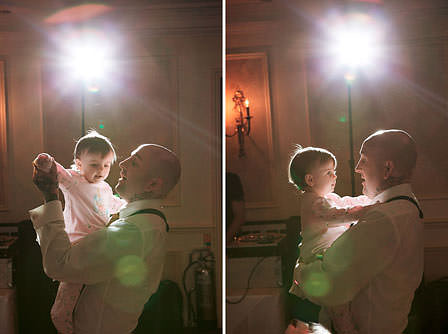 Supplier Shout Outs
Venue – Wentbridge House Hotel – www.wentbridgehouse.co.uk
Photography – Mark Tierney Photography
Wedding dress – Hoops a daisy Wakefield www.hoopsadaisy.com  These guys were awesome I had seen my wedding
dress in a shop about 9 months previously and when it came round to us booking a day I couldn't find it anywhere.  I rang round and these were the only shop who actually offered to order me a sample dress in to try on.  Really good service.
Suit – Carl Stuart Huddersfield – www.carlstuartbespoketailor.com
Bridesmaid dresses – www.weddingbellesdoncaster.co.uk
Flowers – Le Fleur  www.lafleurfloralbridal.com Amazing by far the best flowers I have ever seen and have been featured in a few articles now, also loved them that much I am having them preserved
Wedding Cake – Patisserie 44  www.brasserie44.com/patisserie
Chair Covers and Candelabra Hire – www.mocoloco.co.uk These guys were awesome they came to work to see us and were just such lovely ladies.
Wedding Invitations –  I purchased my wedding invites and designed them myself from www.zazzle.com worth checking out as I found something different at half the price of other sites.
For more information about Marks services got to:
www.tierneyphotography.co.uk
tierneyphotography.co.uk/blog
[email protected]
FACEBOOK
TWITTER
07981 347019