When the bride and groom not only have a wine box ceremony, but matching ring tattoos straight after their outdoor ceremony, you know it's going to be a super cool wedding. Add in an owl as a ring bearer, and a pole dancer as wedding entertainment and you have a wedding that I'm sure you will wish you were a guest at. Helena and Neill created a wedding that was perfect for them and I'm sure you will agree they both look amazing. A beautiful Northern Ireland Wedding, captured perfectly by Divine Photography.
It encapsulated exactly who we are. It was the most relaxed and intimate day of our lives.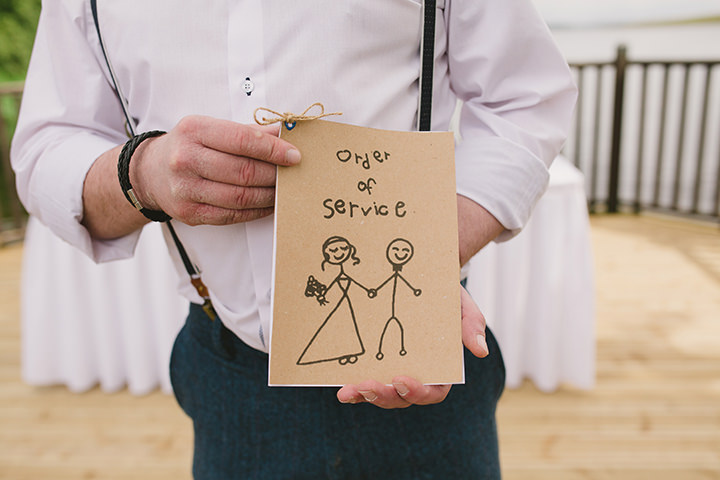 Helena and Neill were married on the 21st August 2016 at Lusty Beg Island in Northern Ireland. We always wanted to get married outside beside water somewhere be it Ireland or another country. The year before the wedding we went to visit Lusty Beg and as we arrived on the island a bevy of swans swam towards us and I just knew that was our place! We had 68 guests and we had it booked about 10 months in advance, most plans were arranged quite last minute and things really came together in the last two months.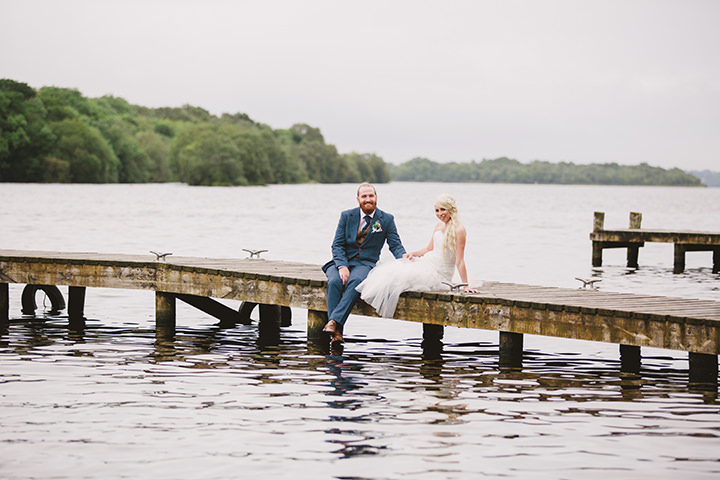 How they met
We first met in school, we were in different schools but I would join my friend in her art department which is where I first met Neill. It wasn't until many many years later on a night out we both began to properly chat. We continued to chat until 8am in the morning, had told each other our life stories and realized that something special really clicked with us. We were together exactly 8 years on our wedding date.
The Proposal
Neill proposed on my Birthday as we walked along the beach front in Newcastle. We were at the Sleive Donnard spa and we shut the world out for the weekend. No phones, no internet, just us. We told everyone of the engagement when we got home.
How did you allocate your budget?
We wrote a list of what we felt was really important to us, the main things for us were location, good food, the officiant for the ceremony and photographs to look back on so this was the first of our allocations. After that we found it was quite easy to either splurge or save on certain aspects so we managed to keep within budget very well. The location was so beautiful it didn't require large amounts of wedding flowers so that was a great save. With everything on the island, I didn't feel the need for wedding vehicles. When it was time for the ceremony, myself and the bridesmaids jumped into my Daddy's jeep and got a lift down. We created most of the props ourselves along with the wedding invites and other stationery.
Where did you splurge and where did you save?
We splurged on the food, photography and videography. We were also expecting our second baby in June just before the wedding so budgeting strictly was necessary. We saved by creating the majority of decor ourselves. We didn't want to get lost in trying to get around a lot of guests so only invited the closest family and friends which kept our numbers small. We wanted to support local businesses as much as possible for every aspect and I feel it made all our services so personal.
Why did you choose your photographer?
I love how Catriona captures the perfect moments in such a natural way. It was exactly how we wanted our day to be captured- and it was! We also felt really comfortable around Catriona which was a big aspect for us as we didn't want to feel like anything was being 'staged' on the day.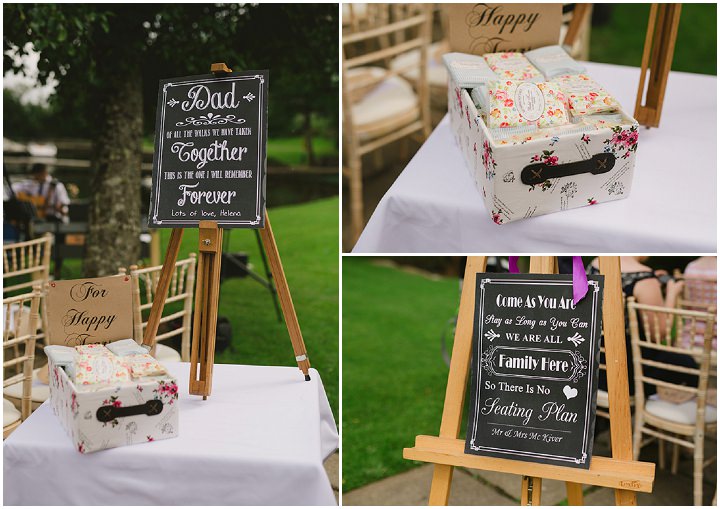 The Dress and Shoes
I changed my mind on the dress a few weeks before the wedding! It was from 'Joanne Ferguson' who creates beautiful handmade dresses. I had previously chosen my dress when was pregnant and had a bump so when I tried it on afterwards I just couldn't shake the image of a huge bump with the dress. Luckily Joanne was absolutely fantastic and said 'If you're not happy then I'm not doing my job right.' Neill spotted the dress I wore in Joanne's shop on the way to the bathroom. I tried it on and it fitted perfectly. The shoes were custom made by 'Becci Boo's custom shoes'. I wore my late great Aunt Mary's engagement ring.
The Suit and Bridesmaids
Neill and Kristian's suits wear tailored made by 'Dee Graham, tailor made suits'. He also made the groomsmen's trousers which was no easy task as one of them lived in California. He had to go on their measurements with both groomsmen only having their fittings the week of the wedding. Dee also suggested the bows which the groomsmen wore and it all fitted in fantastic. The bridesmaids tops were created by 'Fi Bourke Design' who creates beautiful pole dance costumes for the pole dance competitions. Her designs are extremely well know throughout the 'pole world' as she creates such beautiful, unique pieces. The tulle skirts they wore were from 'She's fabulous' boutique. Their shoes were Irregular Choice. The flower girl, Laura, wore her own communion dress which was given a little update with a pair of converse.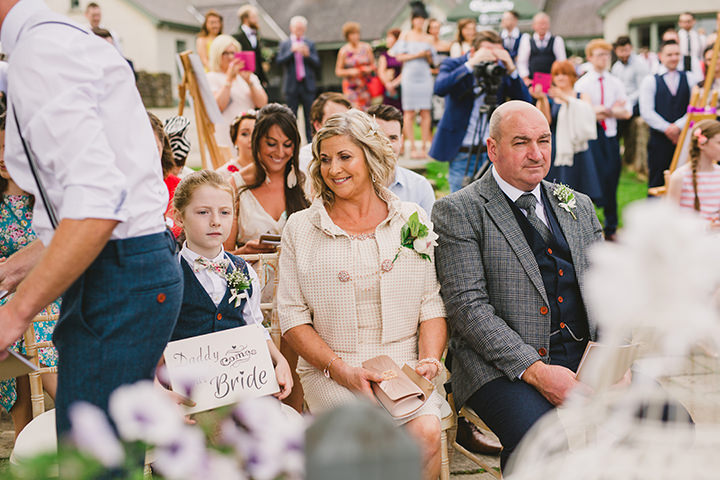 Theme or Colour Scheme
Originally we didn't although everything naturally swayed towards the rustic style with tomes of purples and blues throughout. As my partner's tattoo studio is called 'The Mad Tatter Studio' we wanted to subtly include aspects of Alice in Wonderland which we did with my shoes and the table favours.
Flowers
The headpieces, bouquets and table flowers were put together by Catherine Campbell at Beautiful Blooms. She knows me very well so completely 'got me' flower wise. I had shown her a few images of what I like and she created the beautiful bouquets and head pieces the bridesmaids wore.
Decoration
We choose not to have the reception room decorated with drapes or chair covers as we loved it in its natural form with the high ceilings and the exposed wooden beams. We created the table centre pieces ourselves. Neill and his brother Shea chopped up the wood from the land we lived on and I had been collecting jam jars and Jack Daniels bottles from the previous year. The florist, 'Beautiful Blooms' put the flowers in for us and glued everything down so it was easily transferred. That was the creation of our centre pieces. The props were also put together by us, the pallet decorated by Neill and help from the bridesmaids with tying the string bows on many many items!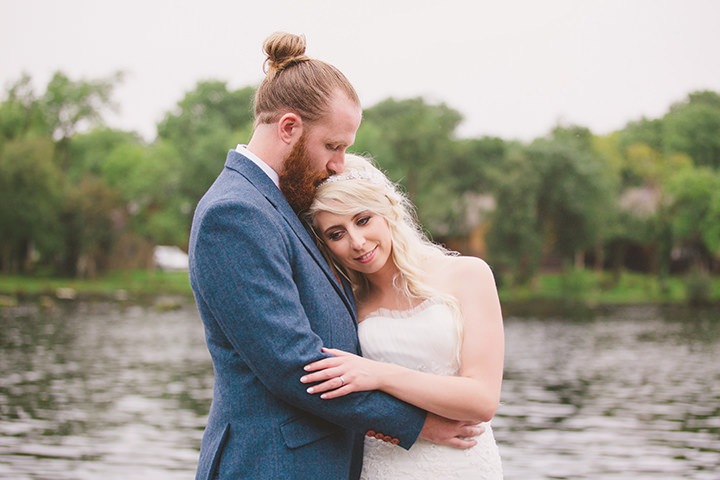 Food
We had a trio of starters which were duck, salad and salmon tartlet, followed by red pepper soup. We then had Champagne sorbet as a pallet cleanser then a choice of turkey and ham or herb crusted fillet of beef which was amazing. We also had a trio of desserts to finish.
Wedding Cake
The cake was made by a friend, Elish Fox, we choose a naked cake which sounds great in theory but quite difficult in reality. The cake maker had a difficult time preventing it from collapsing. It went slightly lopsided which I think added to its little quirks and it tasted delicious which is the main thing!
Entertainment
We had the band 'Gypsies Wish' followed by the wedding DJ 'Gaz Entertainment' who was fantastic with the kids and great fun.
There was an amazing pole dance performed by my good friend Kelly O Neill and her dance partner Aidan Cairns. We had a harpist play during the meal who was fantastic- Irene Coyle. The wedding ceremony music and singing was done by my brother Aiden Donnelly and one of the bridesmaids, Kathryn Mc Kiver who is the groom's sister. I think releasing the doves and the owl as a ring bearer were quite entertaining also! We went out on the pier that night to release lanterns and had sparklers for the guests which turned into quite a sing song!
The Stationery
The invites were drawn up and designed by our six year old son Krystian, we then finalized them and printed them all out. He also drew up the cover for our order of service.
Personal Touches
We created our own wedding rings. We went to 'Ember Jewellery' in Belfast and spent the day with Cyril Flannigan moulding our own rings so they are really special to us. I love owls so I searched Ireland for a sanctuary that would by willing to give one of their owls a chance at being a ring bearer and we found 'Lawerence' the barn owl who did his job perfectly. We had written our own vows and blessing for the rings. We also choose our own ceremony readings, one of which is an extract from 'The Notebook.' A timeless classic. We had a wine box ceremony where we wrote each other letters and have them locked in the box along with a bottle of wine. If we run into difficulties in our marriage we can open the box and read the letters. If not it is to be opened on our 10th Anniversary. Doves were released after the ceremony.
We both got our wedding date tattooed on our ring fingers following the ceremony by Rory O Neill from State of the Arts studio. (Neill's cousin). I did a small part of Neills tattoo and he did a small part of mine. We created the props ourselves. Neill also put the print on the pallet for the instant photos. Most things where possible were D.I.Y. I remember the weeks before the wedding sitting with Luna as a newborn on my knee feeding her while gluing together paper on the jam jars for the centre pieces! All part of the fun.
The kids had their own table and disposable cameras with 'I Spy' cards which they loved. Neill's sister and my brother singing and playing as I walked down the aisle to meet my groom was an amazing feeling.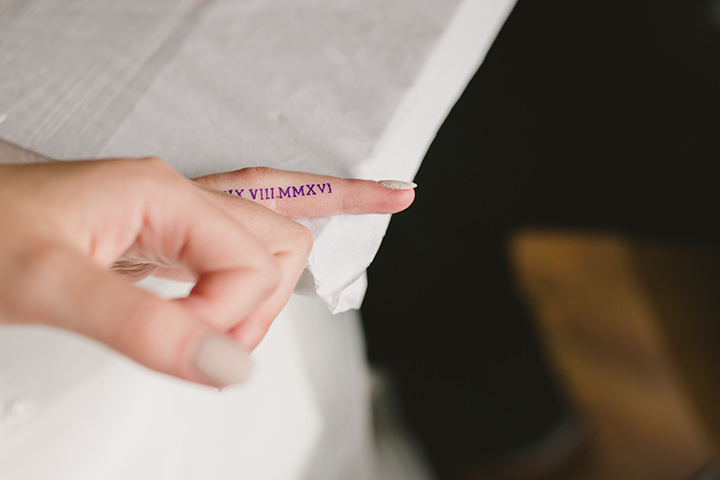 Special Moments or Highlights
Our ceremony was really special as it captured us and how our relationship works on such a personal way. To have my brother and Neill's sister collaborate on the ceremony music was simply amazing, it meant the world to us. Every song was so full of meaning, who knew Biffy Clyro songs would made beautiful ceremony music! Our friend performing the amazing pole routine was very meaningful to us as I know the blood sweat and tears that goes into creating a pole dance routine. Our flower girl told us she wanted to say a speech and had written us a poem which was fantastic. The best man had also put together a fantastic speech and a slideshow of images from our youth. It took a bit of co-operation from the other members of the bridal party to do this as he was in California at the time! The speeches were all short and sweet but really had so much gravity behind the words that it had most of us in tears.
So many guests were involved in different parts of the day that it really was so intimate with us all.
Advice for other couples
I would encourage couples to try do as much as possible themselves, that way you really are creating your day. It will naturally follow the direction of things which you are drawn to the most creating the perfect day which encapsulates you as a couple. Don't get bogged down with minor details as it's all irrelevant in the grand scheme of things. You won't please everyone no matter what way you do your wedding so focus on what's important to each other. Also work out the areas you can afford to splurge on and where you need to cut costs, its one day and you really want to think about building towards your future together rather than getting stressed trying to create a wedding beyond your budget. On the day, don't rush anything. Take your time to breath in and absorb every second of the day, its amazing!
Biggest Surprise
We had been told quite a lot before the wedding that you don't really get to spend much time with your other half. However we found we had lots of time together and so many special moments that it did surprise us both. The speeches and words said at the wedding really were so heartfelt it brought tears to our eyes. Reading the guests private notes/ memories and bucket list suggestions after the wedding was one of our favourite aspects. Time and effort had been put into those notes and they were full of both great past memories and fabulous suggestions for creating future memories.
Supplier Shout Outs
For more information on Catriona's work go to:
www.divinephoto.co.uk / 07525 900885 / FACEBOOK / I – @divinepic / T – @divinepics
I am a Wedding & Portrait Photographer based in Dungannon, Co Tyrone, Northern Ireland.  I love working with couples who do things a little differently and who trust me to create truly awesome photos.   My work is creative, authentic and modern.   I've been shortlisted 3 times in the top 5 wedding photographers in Northern Ireland in the past 5 years (Getting Married in Northern Ireland Awards).  I am passionate about my work and take pride in providing top class service to my clients.