Today I am taking you across to sunny California for today's stunning wedding. Macee and Matt were married on 5th August at Serendipity Gardens in Oak Glen, California and the day is just adorable. These high school sweethearts were together for 7 years before tying the knot with a mountain backdrop. Their vision for the day was to play off the romantic garden setting by adding simple, bohemian greenery and DIY decor to create a minimal yet elegant feel. Macee made all the wedding signs, menu cards, table assignments, candle holders, and invitations herself and the gorgeous king protea was her chosen flower, a huge hit here on the blog. I just love an outdoor reception and this one ticks all the boxes for me, all captured perfectly by Kaitie Brainerd Photography.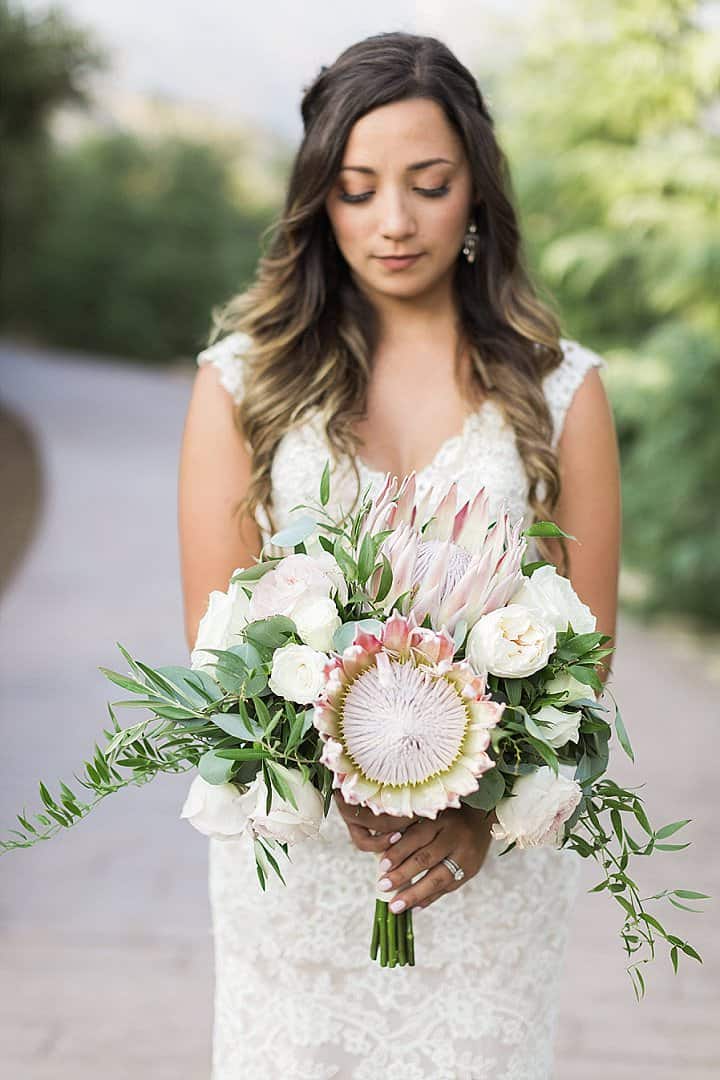 How they met
Matt and I met in high school through mutual friends. I can't say that it was love at first sight- our love grew slowly. Matt graduated from high school and moved to go to college, and I remained in high school. The distance actually brought us closer together.
The proposal
We went to Pismo Beach, CA for a small weekend vacation. I didn't think anything of the weekend, as Matt and I had been dating for 7 years at this point, and I didn't think marriage was even on his mind. That night, as we were getting ready to go to dinner, I slept onto our balcony to see the sunset. Matt followed me and said he had a late birthday present for me. I opened the box and saw a heart necklace. I was partially disappointed because I wanted the engagement ring, but also because I have like twelve heart necklaces! I said thank you and started to put it back in the box, but Matt said to turn it around and read the back. I turned it around and it had the date and said, "Today is just the beginning" As I finished reading, I looked at him and he was on his knees with my ring! I couldn't believe what was happening, and I couldn't tell you anything he told me!! It was a perfectly simple engagement!
The Outfits
My wedding day look took a while to come up with! I was very indecisive with looks and accessories, as I don't dress up or do my makeup very often. It was hard to imagine myself on my wedding day, and how I wanted to be seen by my husband. The bridal shop, Ladies & Gents gave me many tips on choosing my dress, and I can't thank them enough for all their help! As for the groom, my husband looks great in everything! I had been seeing the navy tuxes all over Pinterest (of course!) and I loved the look it gave-plus it was different than the normal black you would see at every wedding.
Theme or colour scheme
My wedding day was everything I planned it to be. I didn't have a specific theme, but I wanted the feel to be garden, romantic. I envisioned blush, with hints of gold and champagne. My husband and I wanted our day to be traditional, but also different than other weddings our friends and family had been to. We made our wedding different my choosing to have my husbands cousin marry us. It made our day that much more special.
Decoration 
I had a year and four months to plan our wedding. That meant everything was going to be DIY! I made most of our wedding signs, menu cards, table assignments, candle holders, and invitations. For the reception, we chose to have most of our decor very simple. This meant greenery from our florist, and simple flowers to put into the greenery.
Flowers
The florals were my favorite part of the entire day…besides marrying the man of my dreams! I told the florist that we wanted a bohemian look, but also very romantic and simple. We chose to use Protea in much of our decoration, and the bouquets. This flower made everything pop. The Protea added elegance to our simple wedding.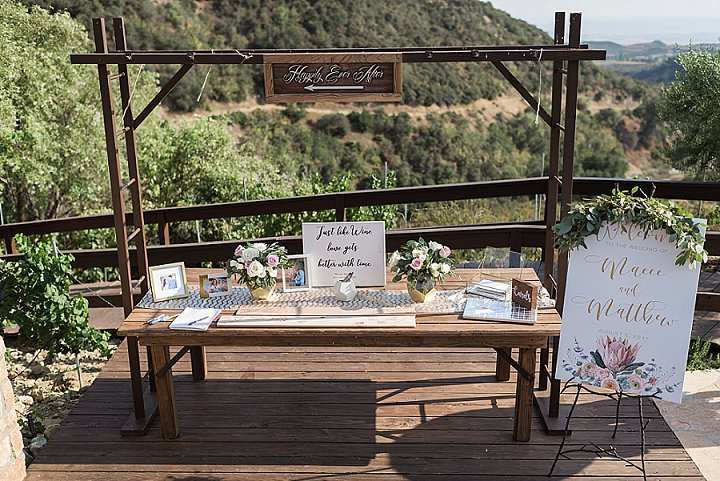 Personal Touches
We absolutely loved the ice-cream vendor, A La Minute. Our guests raved about the creaminess of the icecream, and how it was the best tasting ice cream they had ever tasted. The ice-cream helped to cool our guests as the night came, and helped to keep our dance floor full of life!
Special Moments
The most anticipated part of my wedding day was having my sister walk me down the isle. Growing up in foster care, my sister was like both of my parents. Having my sister give me away was very emotional, and something I will never forget.
Advice for other couples
I would say to do what makes you and your fiancé happy. In the end, the day is about your relationship. Your day should reflect your life together. Take advice and comments from family and friends, but you will regret not doing what you ultimately wanted. Also, don't sweat the small things! Its hard to do in the moment, but you have to remember that at the end of the day, you and your fiancé will be married-and thats ALL THAT MATTERS!
Supplier Shout Outs
For more information on Kaitie Brainerd Photography go to
www.kaitiebrainerd.com / www.kaitiebrainerd.com/blog / [email protected] / FACEBOOK / INSTAGRAM
https://www.pinterest.co.uk/kaitiebrainerdphoto/