Today I am taking you to my favourite wedding destination, California, for the super fun and eclectic animal filled wedding of Cheryl and Jared. This fun-loving couple were married on 10th November 2017 at Reptacular Ranch in the hills behind Sylmar, California and their day is pure heaven. Together they collected so many amazing trinkets, decorations and lots of pretty goodies all of which adorned their outdoor, vintage loving wedding. My favourite part is the fact that they held the wedding in a petting zoo, so plenty of photo opportunities with zebras, camels and the like. A fabulous day filled with so many amazing details, all captured perfectly by Kaitie Brainerd Photography.
Wildflower Vintage Ranch Wedding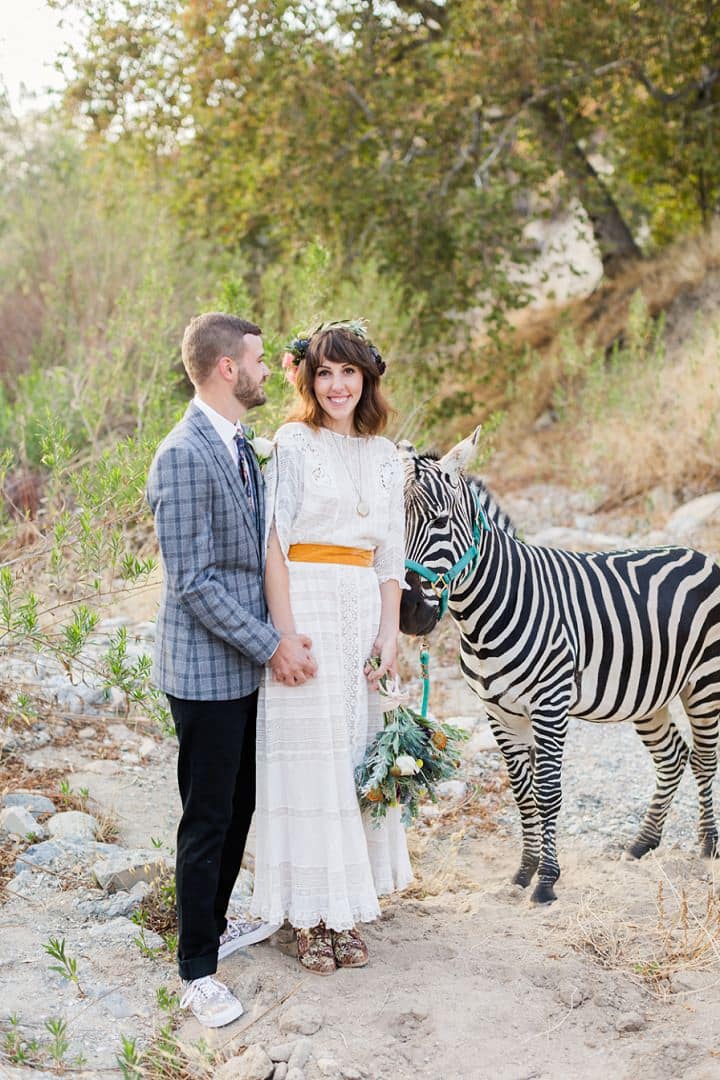 How they met
Jared and I were attending a punk show in Scranton, PA. We had never met before, but ran in the same circle for years. We both didn't want to be there since it was my ex-boyfriend's record release show that I had to go to because I designed their album cover, & for Jared, it was a band he despised. We ended up walking across the street to a bar called the Bog where we eventually started chatting, we had one cigarette together, that cigarette turned into hours, and eventually… Forever. We have only spent 5 days apart since that night. As far as our proposal, we woke up on Christmas morning (2016) at his Mom's house, before walking upstairs to open presents with the family, we got into a big fight (over nothing). This fight turned into a million I love you's & for the first time "I want to marry you" left both of our mouths. To us, it was perfect.
Outfits
While driving home from work one day & on the phone with my future husband, I drove by a tiny little vintage shop that had a dress hanging from the outside awning, blowing in the wind. I yelled "I'll call you back! I just found my wedding dress!". After walking in to the shop Canonball & Tilly, I realized their selection was even greater than I thought. I waited until my future Mother-In-Law came to visit & brought her with me to pick a dress from their collection. I ended up selecting the dress that was originally hanging from the awning, it was so delicate, made in 1877. I contacted a designer friend of mine, he offered to rebuild the dress and added his own touches to create literal perfection. Johnny the Dressmaker happened to be a contestant on Project Runway prior to our meeting, my Mother & I were big fans, so it was an honor to have him create this masterpiece for me.
Theme and Colour Scheme
Our wedding design started when we booked Reptacular Ranch. Once we found out we could have animals at our wedding, we knew this was the place for us. We used vintage Gucci scarves as a base for design & took it from there. We did not want to select a color palette, our goal was to include ALL colors in the rainbow. "Wildflower Vintage" was our theme. My Husband & I are not religious, so there were no Cultural or Religious traditions involved at any point.
Decoration
Most of our wedding decor consisted of Knick-knacks collected by our families through the years. It was really interesting to see these meaningful items that graced shelves in our homes, it felt really amazing to have everyone see them for the first time at our wedding! Through the weeks leading up to the wedding, we visited many secondhand shops since our style is typically "vintage/cluttered". I did all of the graphic design for the wedding using vintage Gucci for inspiration, hand painted S'mores sticks, made all of the favors, + more. With the assistance of a co-worker that graciously offered her Stylist skills, we were able to come up with a beautiful & affordable design. The macrame arch was lovingly made by one of my Bridesmaids, she spent weeks creating this for Jared & I, and even flew across the country with it. It will now be on our wall forever, we will treasure this gift always.
Flowers 
The flowers were all purchased (day of) at the Flower Market in Downtown Los Angeles. Our flower choices were eccentric, we wanted people to look at the flowers in our wedding and say "wow, what is this?!". Thistles, Billy Balls, & other assorted florals that I can not pronounce graced our wedding and now are displayed dried in vases around our apartment.  We ordered flower crowns, bouquets, & boutonnieres from a Florist & paid quite a lot of money, unfortunately, when they arrived, they were poorly made, unfinished & falling apart. In a panic, the wedding party had to rebuild them all within 20 minutes in the Bride's trailer. We ripped them all apart & made piled of flowers in the trailer, each Bridemaid masterfully created a bouquet & flower crown for herself. I created mine & Madelyn's, our flower girl. Thankfully, we have artistic friends!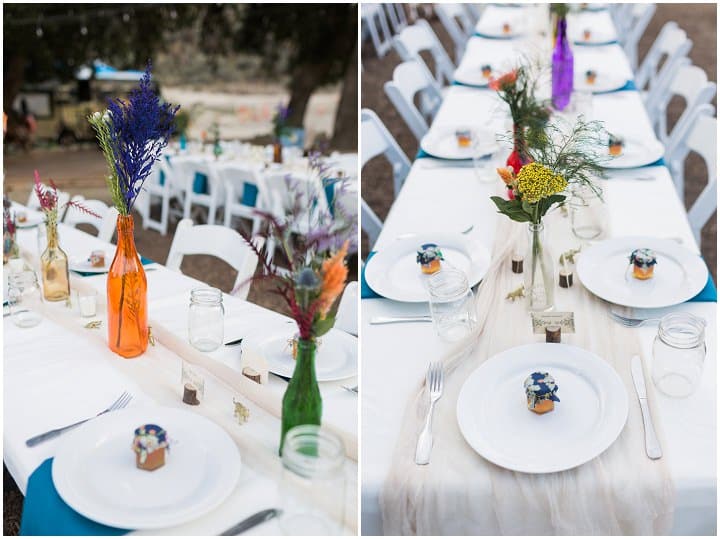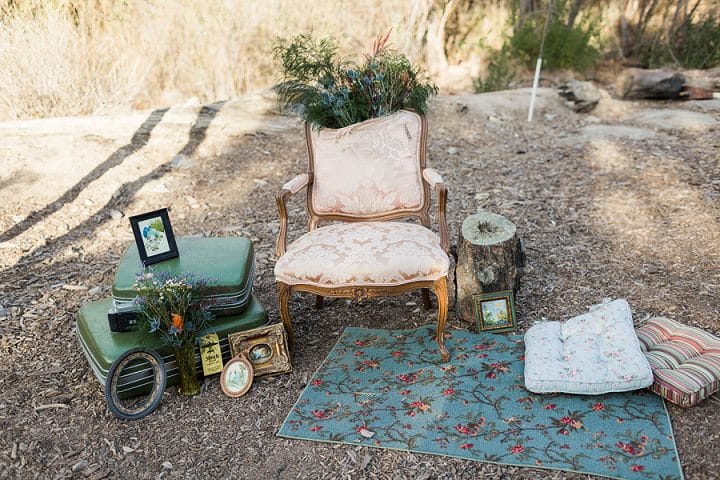 Food
When Jared & I first moved to LA, we wanted to find our local weekend eatery. Right down the road was a cute little eatery called Farmer's Belly. We enjoyed many Sunday brunches there over the years & were thrilled to find out that they did catering. We instantly knew we wanted their food truck at our wedding. They provided amazing farm-fresh food with plenty of Vegetarian options.
Entertainment
Our DJ was Weston, our downstairs neighbor. Weston was a fast friend we made upon moving in to our first apartment here in LA. Over the years, we traded favors by watching each other's cats while the other went away. Weston (a professional DJ) shares the same eccentric taste in music, so we knew he would be the man for the job. We made sure to play all genres of music so that everyone was happy, but Weston was very slick about fitting in band like Television, The Damned, & other assorted punk bands… He even fit the Pennsylvania Polka into the playlist, which is where Jared & I are from.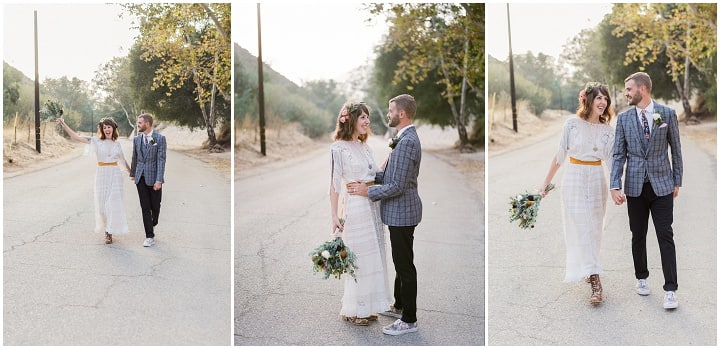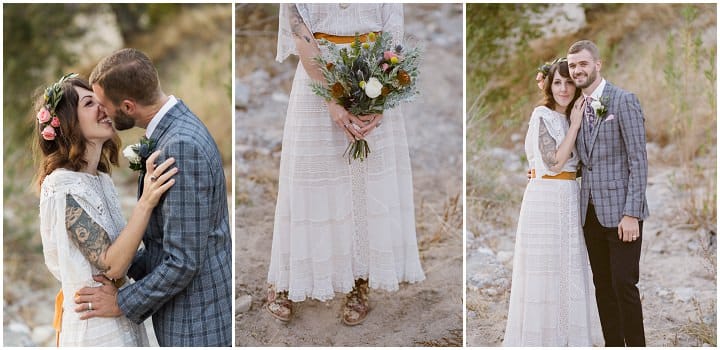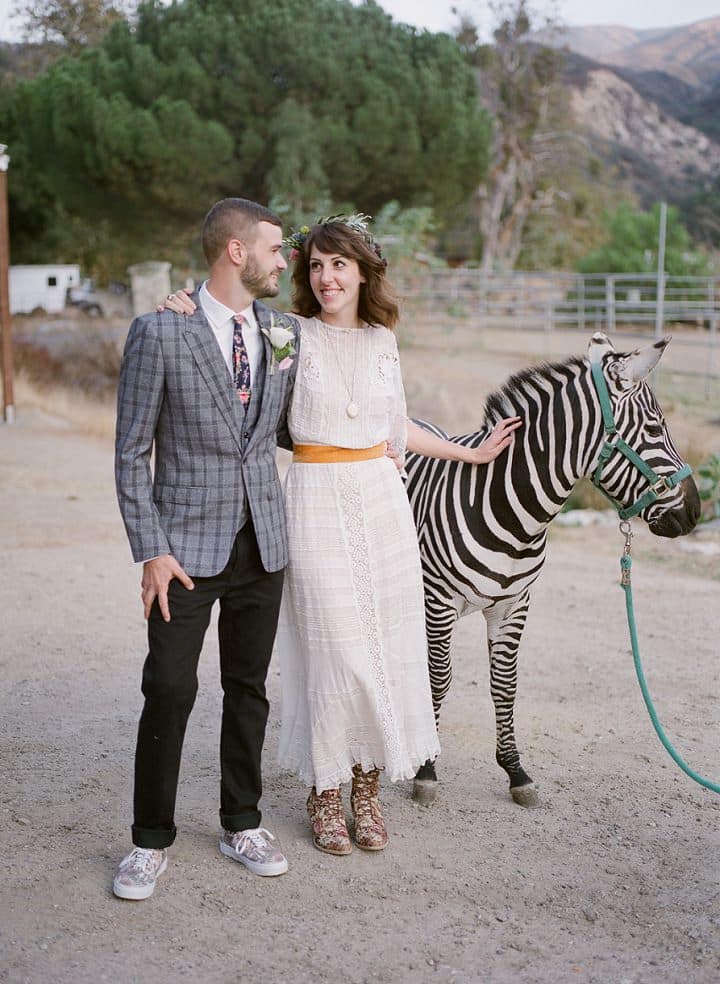 Special Moments 
One of the most special moments of our wedding day was my Grandfather walking me down the aisle. I lost both my Mom & Dad a few years before, and Jared had lost his Father as well. With those losses, we wanted to make sure ALL of our family was there with us to share our special day. My Grandfather doesn't get around very well, but he made sure he made it all the way out here from Florida to walk his only Granddaughter down the aisle. It was great! So many of the Groom's family members came out for the wedding, it was especially wonderful to have Jared's Godson (Dalton) and his niece (Madelyn) take part in the wedding. They did a wonderful job!
Advice for other couples 
Wait until the last minute! We were very nervous during planing because we had about a year and a half to plan, but procrastinated until the last 3 months. Most vendors appreciated this, we didn't run into any booking issues, we even were offered some discounts because of booking so late. Keep in mind, pretty much everything is going to go wrong, so if you go into it knowing that, you'll never be disappointed.
Supplier Shout Outs
For more information on Kaitie Brainerd Photography go to