The weather here in the UK has certainly taken a dip in temperature over the last couple days, so today I am jetting you away to warmer shores and some much-needed sunshine with this gorgeous same-sex San Diego Wedding. Kevin and Robert wanted a casual yet stylish wedding, so they chose this gorgeous beach side location in San Diego. With an Autumn pallete of grey and burgundy they kept the day super stylish and chic, and added in a beer theme for an element of fun and a Scottish twist to honour their Scottish heritage. The results are this beautiful outdoor sun filled fall wedding full of beer themed details and our very handsome grooms. Big hugs to Eder Photo for the lovely images.
Kevin and Robert were married at La Jolla in San Diego on 10th October. 'When choosing the feel of our wedding we considered the place, the season, and one of our favorite pass-times. Being in October, we chose an Autumn palate. Being next the the ocean, we wanted the wedding a little more casual, but still dressed up. Because we were in San Diego, being Beer City USA, we had to go with a craft beer theme. Plus we brew ourselves. Our two primary colors were gray and burgundy. In every detail we wove in the theme of beer and brewing. We also loved the element of Scotland. Both of us having a family background in Scotland, we hired a bagpiper, added thistles throughout, and were married with a handfasting to punctuate the ceremony.'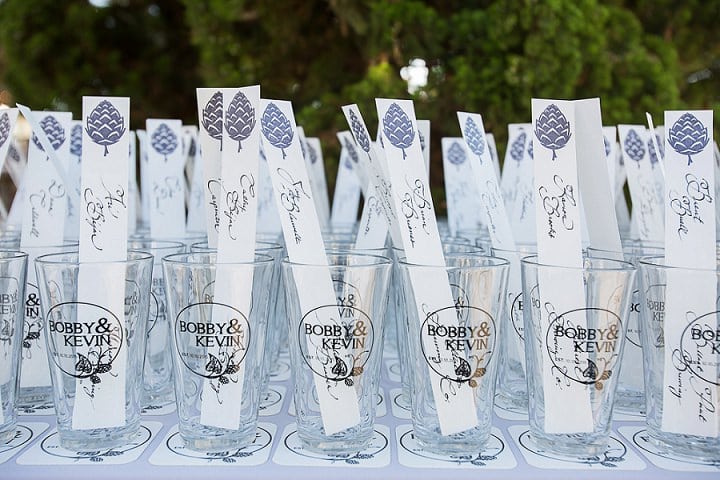 How they met 
We met through friends in common. Kevin proposed to Bobby the morning of Bobby's birthday
The Outfits
For our outfits we chose gray suits with burgundy bow ties and burgundy miniture pinstripe plaid shirts. The best men had vests. The groomsmen were decked out without jackets.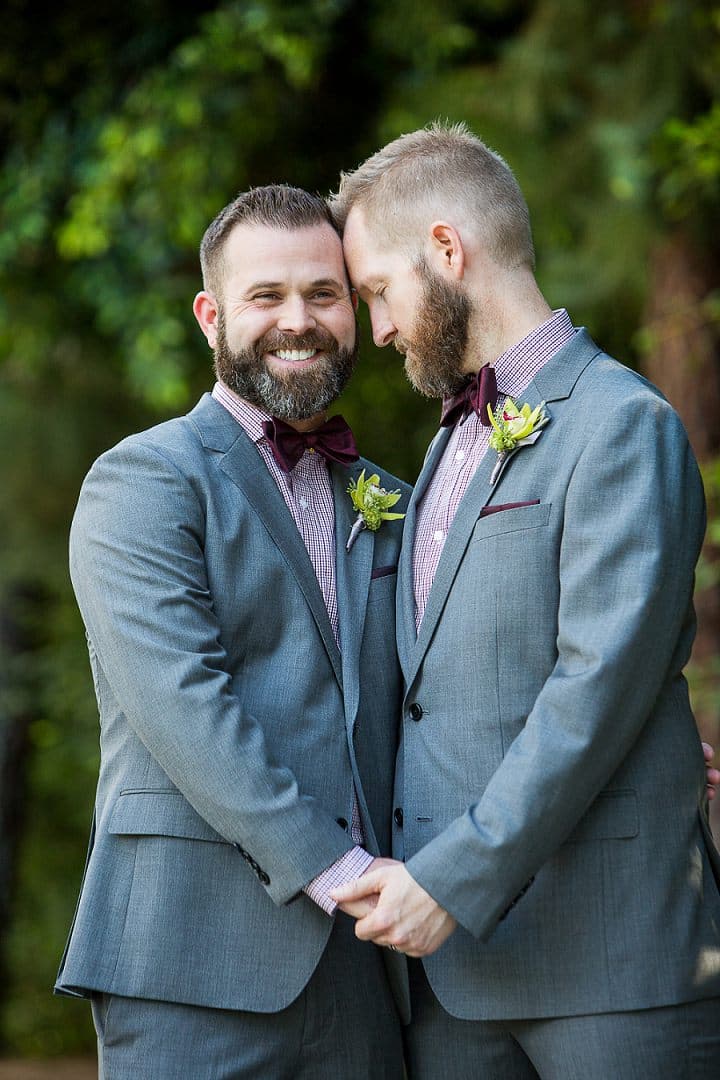 Decoration 
Rustic with burgundy and gray. Elements of brewing added throughout. A canopy of historic sycamore trees arched over the venue that transformed into shades of burgundy and red uplighting as the sun set. Market lights were the finishing touch to the setting.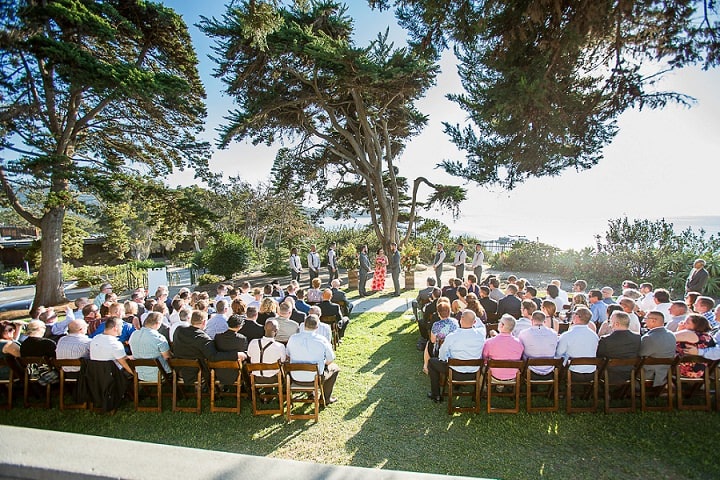 Flowers
We utilized an autumn pallet mixing in rusts, oranges, reds, and greens. We gave our florist Levi Mousaw the key words of rustic, whimsical, autumn, and beer and he ran with it. He blew us away with explosions of beautiful flowers in addition to little details of tiny potted succulents. Clusters of brown bottles throughout the tables filled with thistles, orchids, barley, hops, and greenery.
Personal Touches 
We are huge foodies, so we insisted on amazing food. We did stations. Cocktail hour had an amazing assortment of cheeses, Korean steak skewers, and fruit. The stations had everything from salmon on garlic mashed potatoes to Mongolian BBQ made to order in front of you. Instead of a cake, we opted for hundreds of cocktail-themed mini-cupcakes.
Special moments 
My most anticipated moment was watching the faces of our friends and family when the bagpiper came down the isle. It was worth every dollar we spent on him.
Advice for other couples
Patience and constant apologizing. It is not knowing what to say, it is knowing what NOT to say. Learn to listen more than speaking. An argument will alway end well with that rule of thumb.
Supplier Shout Outs
For more information on Eder Photo go to
www.ederphoto.com / www.ederphoto.com/blog / FACEBOOK / TWITTER