Wedding stationery, it really can set the tone for your wedding day. I LOVE wedding stationery, from the save the dates, to the invitations and order of the day. So when I received an email from the lovely Karla at Paper Skeleton, I just knew I had to share her amazing designs with you. Karla's work is modern, stylish and creative, perfect for the couple looking for something sophisticated, minimalistic, while managing to fill the contents with plenty of wedding info. As well as her tailored collections and bespoke options, Karla also offers her new Zine-Vites, which are editorial style mini magazines full of all the info your guests need to make their attendance at your wedding stress free. I just love these modern day invitations and I know you are going to too.
My name is Karla and I am the designer, maker and owner of Paper Skeleton. If you are on the hunt for something a little different, then it would be my absolute pleasure to work with you to create your dream wedding stationery.
I specialise in design led wedding stationery and paper creations, so if you are a style conscious couple looking for something a little different and very creative then you are in the right place. In the designs I create, I love to experiment with alternative ways of constructing stationery, and how your guests will interact with them. Playing with paper and coming up with alternative ways to display information in a creative way is what I LOVE to do.
From setting the tone before the day with save the dates and invitations to on the day stationery with menus, order of service, table names, place names, seating plans, to even after the day with thank you cards.
What made you start your business?
With a background in Graphic Design, (almost 11 years) I started creating stationery for friends and family. I found the creative process more freeing than I did with corporate clients and really started to enjoy designing all over again.  Each wedding is so different, and I LOVE meeting/chatting with each couple and finding out all about their wedding and what details we can incorporate to really compliment their style as well as adding the personal touches.
When did you start? 
I started Paper Skeleton while working full time three years ago, and went full time with my business two years ago, I have never looked back!
Where are you based? 
I am based in Aberdeen City Centre, but love how close I am to the Scottish countryside and find my surroundings so inspiring. 
What sort of geographical area do you cover? 
I find that most of my clients come from Aberdeen, Glasgow, Edinburgh, but have worked with clients from Australia, Bermuda, Dubai and across the UK.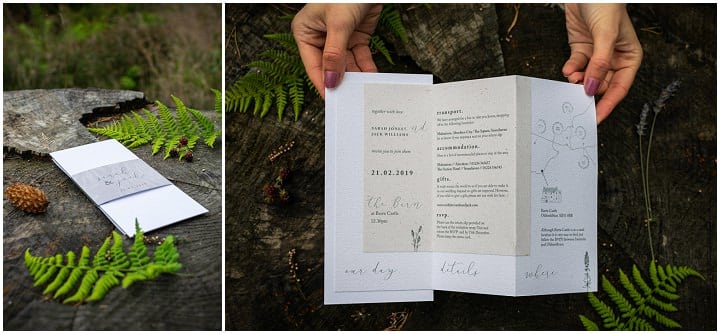 What were you doing before? 
I have been a Graphic Designer for 11 years, and also worked in Marketing and as a Brand Development Manager. 
How would you describe your style? 
I would describe my style as minimal, editorial, functional and experimental in terms of format and user experience. 
What makes you different to your competitors? 
I find that the formats of my invitations are unique, especially my 'Zine-Vites'.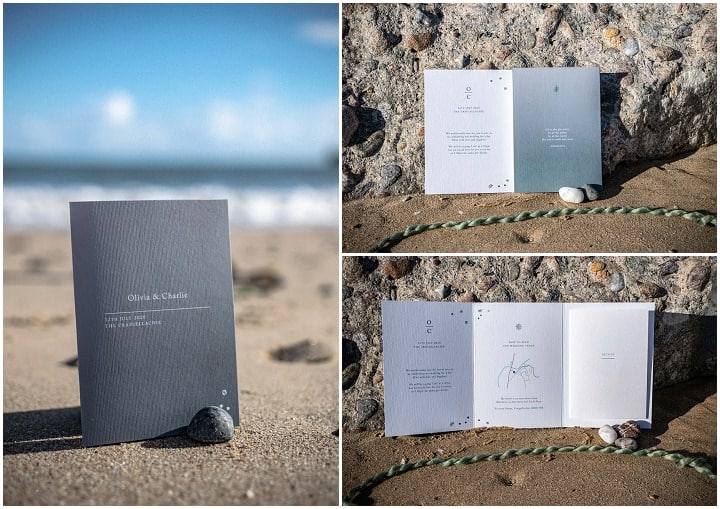 What do you enjoy most about your job? 
I LOVE the creative process of developing the new collections. I also love working closely with the couples that I get to meet or chat to on a daily basis. Bouncing ideas off of one another, and coming up with the special details that will really mean so much to each person is really rewarding.
What sort of couple do you think you attract? 
A style conscious couple, looking to have creative stationery.
What would be your ideal wedding to work on?  
Ooo, I think at the moment I am loving the darker tones, gothic chic with an edge. I take inspiration from everywhere and follow a lot of fashion influencers on Instagram. If @sammijefcoate wanted to renew her wedding vows I would LOVE to create her stationery. Her style is my favourite. I may have to create a 'Tailored Collection' with her in mind.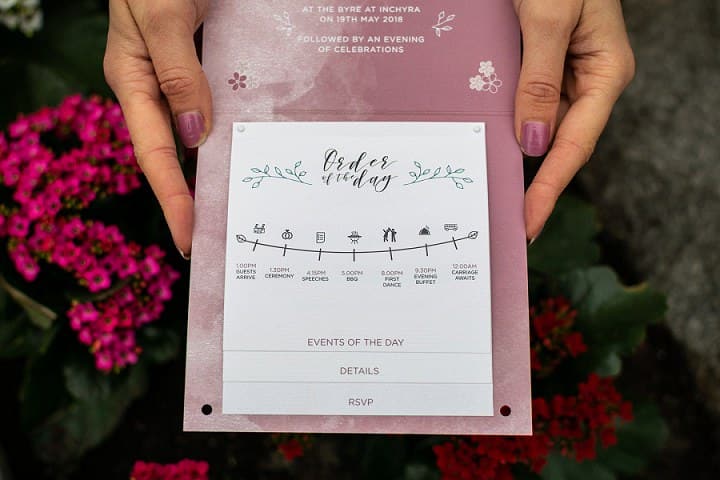 Can you give me some information on your pricing structure? 
I have three design services; 'Tailored Collections' and 'Zine-Vites', have a range of designs that can be personalised. And each one is itemised in terms of price, so you can build the stationery suite to suit your style budget.
The 'bespoke design' service, allows for us to discuss your wishes about your designs, and I will put a quote together depending on your requirements. This quote will also be itemised so you are able to choose what you want to include and how many of each.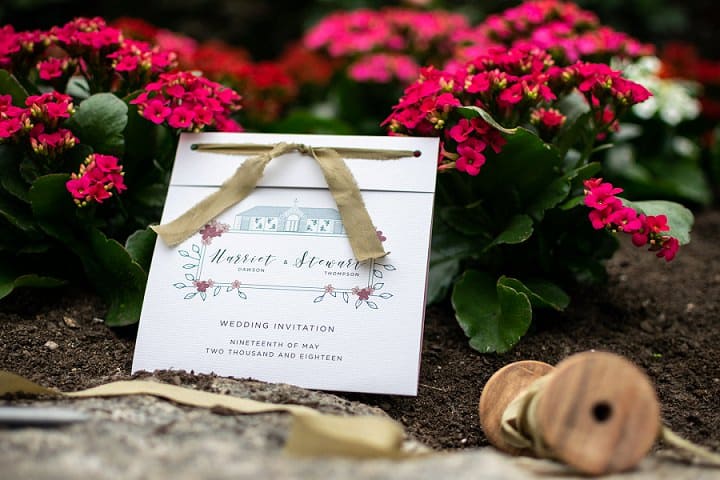 What is your ideal way to spend a day off? 
An ideal day off would include forest walks, cups of tea and cake in nice coffee shops, good food for lunch in a new place and spending time with my love Jack and my French bulldog Dexter. 
What can you never leave the house without?
I wish it wasn't – but I would have to say my phone.
What would you do if you won the lottery? 
I would expand my business further and employ a team, invest in various printing equipment so I could experiment with lots of different techniques.
I would also buy a big house somewhere in the Scottish countryside, with lots of land, so I can keep animals, and make it a really fun place to hang out for friends and family to visit.
Also travel and see as many places as I possibly can. 
If you weren't running your business, what would you be doing? 
I can't really imagine myself doing anything else, being creative and working on growing my own business is so rewarding. Remembering to celebrate all of the tiny victories and learning from every mistake, is a true experience. And career wise the happiest I have ever been. If I had to pick something completely different, I would love to help rescue animals all over the world.
Zine-Vites are Paper Skeletons brand new alternative answer to wedding invitations.
Zine-Vites are editorial style mini magazines telling your guests all they need to know about your wedding day. A modern alternative to an invitation, the Zine-Vite is your 'coffee table' tell all about your day to come.
Each Zine-Vite is made up of beautiful papers in neutral tones to showcase the unique folding techniques and minimal layouts. These papers can be customised to suit your style choosing from GF Smiths Colorplan Range that offers a great selection of colours and Keaykolour Particles range which is 100% Recycled pulp, with beautiful textures available.
"I love working with these beautiful papers. Experimenting with the different paper types and seeing how they work together while creating a user experience is what I love to do".
While getting the aesthetic of your stationery is key, it is also important to ensure that the wedding content is easily read and laid on in such a way that is easy on the eye, easy to follow and not overwhelming to your guest. The Zine-Vite captures this perfectly, dedicating, sections and pages to each part, sectioning it off neatly from the next, while creating a tactile experience.
There are currently five unique types of Zine-Vite on offer, which I will continue to grow.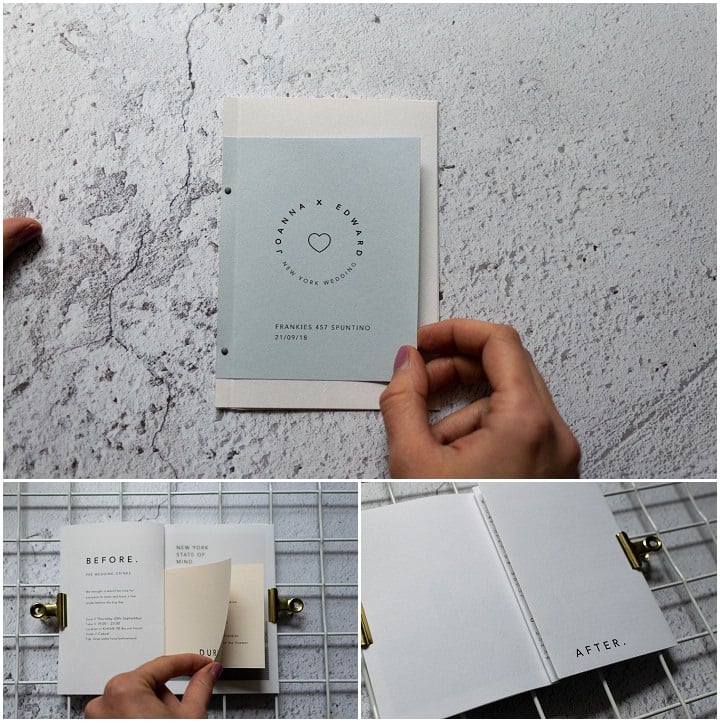 If you pop over to the Paper Skeleton's Instagram page Karla is offering you the chance to win 50 zine-vites. Pop over for your chance to win.
For more information on Paper Skeleton go to
www.paperskeleton.co.uk / www.paperskeleton.co.uk/zine-vites / 07535 504453 / [email protected] / FACEBOOK / INSTAGRAM / TWITTER
this is a sponsored post
[jprel]