Hen parties are BIG business these days. No longer is it just about the men going off and having fun before the wedding. These days it is as much about the Bride and her tribe as it is the Groom. Due to the rise in popularity of the hen party, there are now a whole host of options available to you and your best girls. One of my favourite and one of the most versatile is the option of hiring a cottage. What better option is there for getting a big group of your best friends and family together. All ages can be catered for, you can do as much or as little as you wish. Hire in caterers, go out for food, chill out, party indoors, play games, have a pamper night, a film night, arts and crafts or explore the area you are staying in. Whether it be a country cottage or a modern city property, the options are endless. So this afternoon I have invited Big Domain onto the blog to give us three ideas for the perfect hen party house.
3 amazingly unique hen party houses across the UK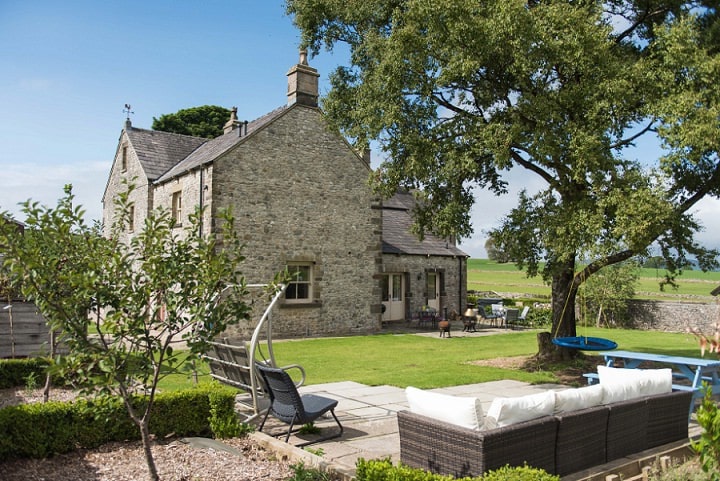 With weekends away in party houses becoming an increasingly popular option for hen parties over the traditional boozy night out, there is an ever-growing range of spectacular party pads across the UK to get away to over the weekend.
For a hen party you will never forget, why not go for somewhere truly unique? Packed with amazing features such as hot tubs and even private cinemas, these hen party houses from Big Domain offer all the ingredients for the perfect hen party.
Location: Woolverstone, Suffolk.
Sleeps: 16
Price: From £2229 for 3 nights
Surrounded by gorgeous Suffolk countryside, The Skyscraper is a spectacular octagonal tower, boasting 7 floors and space for 18 hen party guests.
The Skyscraper is set just south of Ipswich, perfect for a spot of shopping or a spa day, and the River Orwell also lies close by, where you can enjoy a relaxing walk or cycle ride. Foodies will also love the many eateries and farm shops located nearby. However, when you arrive at The Skyscraper, you may never want to leave!
Towering at 80ft high, The Skyscraper is sure to make your jaw drop as you first approach. It's just as stunning inside as it is on the outside, with an eye-catching modern décor throughout which makes it a truly fun place to stay. You'll find 9 extremely comfortable bedrooms here, as well as 6 bathrooms or shower rooms, meaning there's plenty of space even for the bigger hen parties.
The kitchen is also enormous and boasts 3 ovens and 2 fridges, meaning you'll be able to cook up a storm. The large dining room is the perfect setting for throwing an unforgettable meal for the hen and her guests too.
That's not all The Skyscraper has to offer – for the competitive, there's a games room packed with games consoles, as well as a pool table, perfect for fun and games late into the night.
For those who would rather relax, they can sink into the private hot tub and soak their troubles away, or head up to the roof garden where you can have drinks looking out over the stunning countryside.
You can even get everyone together to watch your favourite movies in the property's very own cinema, which also comes with a karaoke machine where you can sing your heart out.
This is one tower we're sure Rapunzel wouldn't have minded being locked away in – it's a hen party house truly fit for royalty!
Location: Chelmorton, Derbyshire
Sleeps: 18
Price: From £2119 for 3 nights
Get away to the Peak District for your hen party at Roman Farm – a beautiful and secluded former country manor house. Set amongst 18 acres, there's plenty of space for you and 17 other guests to enjoy the ultimate hen party.
Roman Farm is set on the edge of Chelmorton, a sleepy Peak District village from which you can enjoy a variety of scenic walks through the National Park, with a cosy country pub to relax in afterwards. The spa town of Buxton is just 4 miles away, offering beautiful architecture and many great locations for spa treatments and afternoon teas.
Roman Farm boasts 7 bedrooms, and extra beds can also be added, while 5 bathrooms and shower rooms mean there's plenty of space for everyone to get ready for a special day or night out.
Guests will love the comfortable relaxation spaces throughout Roman Farm – from the lounge, with its plush furnishings and toasty wood burner, to the dining room, offering space for 20 people to get together for a celebration dinner. The country kitchen is also a delight, with its warming Aga and farmhouse dining table that's perfect for lazy breakfasts.
Outdoors there are plenty of lovely seating areas where you can enjoy drinks out in the country air, as well as a bubbling hot tub to relax in surrounding by gorgeous views.
For a truly different hen party activity, Roman Farm even has its own 3-acre footgolf course. Suitable for all fitness levels, footgolf is sure to result in fits of laughter and amazing memories!
Location: near Kington, Herefordshire
Sleeps: 18
Price: From £2635 for 3 nights
Nestled in the Herefordshire countryside close to the Welsh border, The Colloquy is a charming collection of Victorian stable buildings brimming with eclectic style and the perfect setting for a hen party.
Close by you'll find a range of lovely market towns, ideal for shopping trips and meals out, such as Hay-on-Wye, Ludlow, Leominster and Hereford. There are so many facilities to be enjoyed on site at The Colloquy, however, that you don't even need to leave the premises to have an amazing time here.
8 bedrooms and 7 en-suite bathrooms can be found across the collection of cottages that make up The Colloquy, all centred around a pretty courtyard, decorated with a stunning clock tower – a great spot for evening drinks.
The property also boasts 4 kitchens, including the main kitchen complete with American fridge/freezer and large oven, as well an adjoining vast dining area set beneath traditional wooden ceiling beams.
Guests will also have the choice of 3 reception areas to unwind and relax in: The Tack Room, a cosy lounge with an open fire; The Clock View, an intimate setting perfect for cocktails, and The Parley, which can be either an impressive dining room or a studio cinema.
If you're seeking another dining option, the terrace can accommodate up to 23 guests for a special dinner out in the open. From here you can also head for a dip in the heated outdoor pool or relax in the sauna or the hot tub which are housed in the potting shed. The walled garden is also a delight to wander through with its delightful scents of lavender.
For those looking to get a little competitive during their hen party, there are also plenty of great activities to try with your family and friends. A squash court, badminton and table tennis are all located on site, meaning you'll never run out of things to do.
For more information on Hen Parties with the Big Domain go to
www.thebigdomain.com/hen-party-houses / FACEBOOK / INSTAGRAM / PINTEREST / TWITTER
[jprel]