If you are currently thinking about eloping for your wedding, then today's shoot is perfect for you. I get sent a lot of shoots to feature on the blog, but when this one from Laurel + Prairie landed in my inbox, I knew I had to share it with you. The unusual location of a retro record store sealed the deal for me, as it just shows how well small, eclectic venues can work for an elopement. The shoot took place this March at Kiss the Sky record store in Batavia, Illinois and the couple modeling are a real life couple who have been together for 10 years! What a fabulous way to celebrate 10 years of marriage together. I'm sure you will agree they look gorgeous and those flowers are stunning!
Sarah Yoder from Laurel + Prairie tells us more about the shoot 
One of my favorite things about elopement and intimate weddings is that you can use venues that don't work for traditional weddings. Kiss the Sky is an amazing local record store housed in an old limestone warehouse in Illinois. They host quite a few small concerts and other events, and have a small stage area that is perfect for a tiny wedding. Taj and Akilah were the perfect real couple for our shoot. They genuinely enjoy each other and their chemistry was palpable despite being together for over ten years! We wanted a boho 70's theme to fit the eclectic space and Akilah's vintage gown from etsy was perfect. Her vintage fur stole was a perfect necessary touch as we braved the chilly Chicago winds. Jen from The Local Petaler outdid herself with the show stopping florals. With such a great venue, we wanted a floral design that reflected the colorful surroundings and provided a nice alternative to traditional white and blush. The jewelry from K.Hollis Jewelry dressed up the simple gown and added a touch of bohemian elegance to Akilah's look.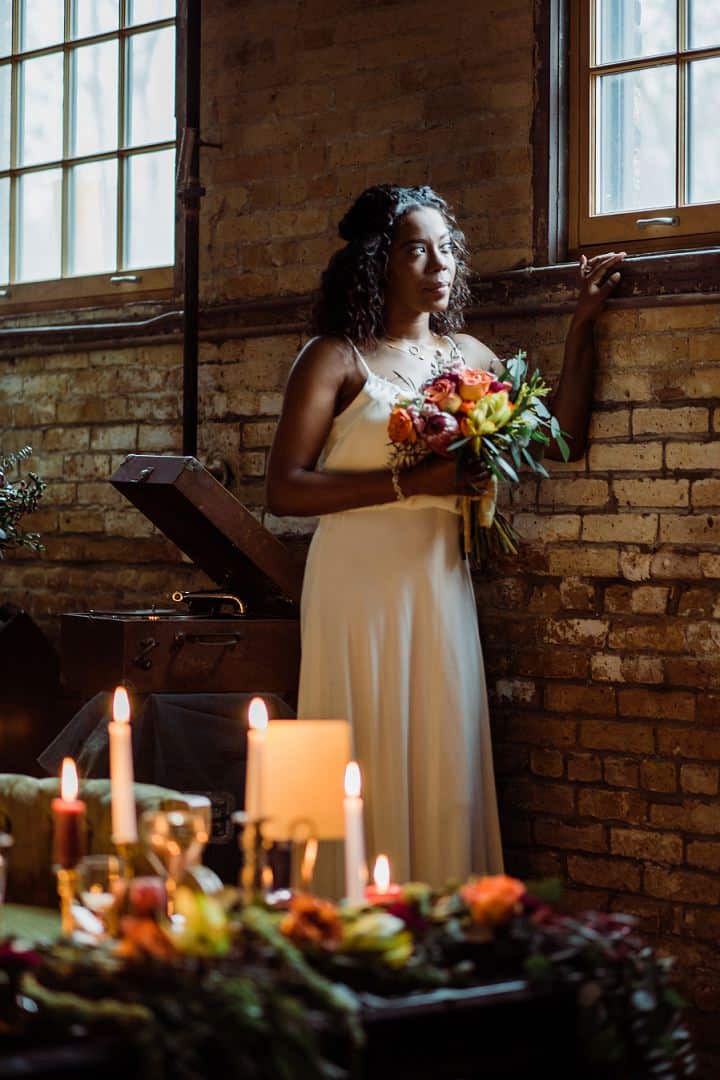 The suppliers how made the shoot possible