I have the most stunning wedding for you today, filled with so much colour, amazing decor and the most gorgeous couple. Courtney and Sam wanted a wedding that really reflected them as a couple. They wanted to include many elements into their day, including a nod to Lord of the Rings, Pirates, Doctor Who and both of their backgrounds of Wisconsin & California. They did this by creating a beautifully whimsical woodland ceremony, complete with the most amazing flowers and Jewish Chuppah. This was followed by a festival inspired reception with plenty of jewel tones, tie dye, amazing decor and the most delicious looking cake. The whole wedding is filled to the brim with colour, personality and so much fun, all captured perfectly by James & Jess I know you are going to love it as much as I do.
Fall Wedding at the Santa Barbara Museum of Natural History
Courtney and Sam were married on 16th September 2017 at Santa Barbara, California. 'Our inspiration came from ourselves! The theme was a mix of Lord of the Rings, pirates, Doctor Who, Wisconsin & California. The color palette all around featured jewel tones, with the ceremony having more of a Renaissance Faire vibe and the reception having a more festive atmosphere. The ceremony was officiated by both our rabbi and our dear friend, so a few Jewish traditions were incorporated into the ceremony  – including the chuppah, seven blessings,  and the breaking of the glass.'
A few words from James and Jess the photographers
If we could sum up this incredible wedding day into one word, it would be F.U.N.!! Sam and Courtney are full of life, and it's so clear they have amazing friends and family who love to celebrate them! We had such an amazing time getting to know their friends and family, and we just about had to pick our jaws off the floor when we saw all of the details! They wanted a whimsical ceremony in the woods, which is exactly what it was! And they wanted a reception inspired by Pirates and Game of Thrones, and their vision perfectly came to life with the help of Jaime of Wild Heart Events!
How they met
We met online on OkCupid.com – long before apps, there were actual WEBSITES. Ha! He was living in Death Valley at the time as a hiking guide and bartender, and I was living in Los Angeles and working in the entertainment industry. After messaging back and forth, and 4 months of my not speaking to him since he lived 5 hours away, he came out to the coast and got up the courage to ask me out in person.  He continued to come out for more dates and eventually moved out to Los Angeles a few months later to give this thing a real shot. I'd say it worked out!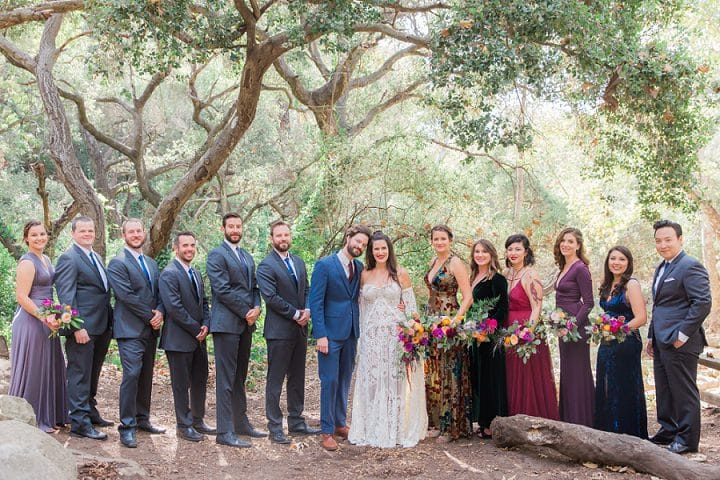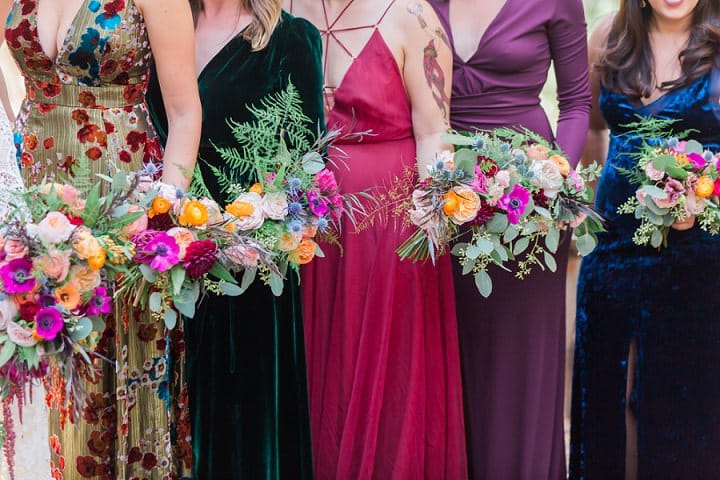 The outfits 
Some girls dream of looking like a princess on their wedding day, but I dreamed of looking like an elven queen! I wore Rue De Seine's "Beau" gown, which was absolutely gorgeous with its all over antique-looking lace, and stunning yet manageable train. The real deciding factor were the wonderful and dramatic lace sleeves that slid up my arms separately. They took the dress from beautiful to incredible and unique. I had my hair half braided in a style that was inspired by Vikings, and gold leaves and wire were incorporated into the braids. My husband and I both wore leather boots, by Teysha, that we had purchased together at a music festival. So we were comfortable, ready for taking photos on rocks, and dancing all night! He wore a blue suit to go with his blue eyes, and my great-grandfather's pocket watch, which my mother had gifted to him, and he had repaired for the occasion.
Decoration 
The ceremony had a magical woodland vibe with a bit of a Renaissance feel, so the decor featured lots of velvets, vines, and flowers. We wanted the reception to have a more party atmosphere, and be personalized, so it featured lots of hanging photos of family and friends, dinosaur succulent holders, troll dolls, and pirate themed decor items.
Flowers
The ceremony took place at the Natural History Museum, and we enhanced the forest setting with jewel toned flowers, but specifically those that would be found in a forest so they felt natural. The chuppah was built out of twining branches and decorated with vines and flowers, so that it looked like it grew out of the ground. It really gave the fairy forest/Lord of the Rings vibe we were going for! The flowers at the reception were more vibrant and had a slight California vibe with bougainvillea and other bright colors reminiscent of Spanish tile. All of the reception flowers were in unique planters like ceramic heads and the bridal bouquets reflected the reception colors so they were bright and fun!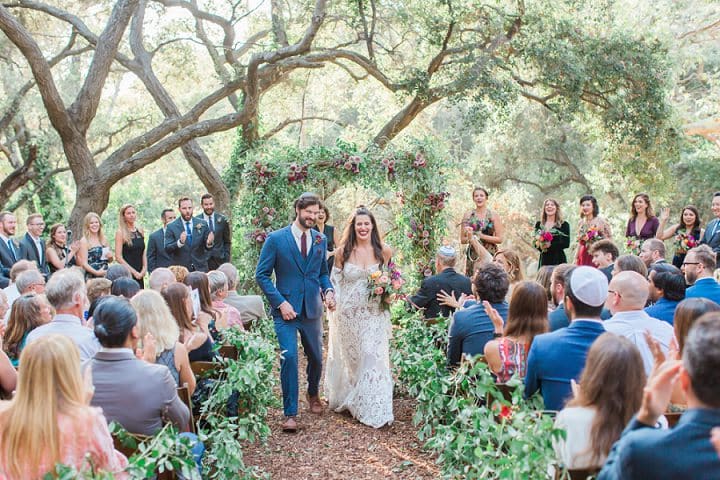 Personal touches
Our wedding was very personalized! Photos of family members who were no longer with us were framed and placed amongst the trees and flowers at the ceremony. A friend wore faerie wings and wrote poems on a typewriter for assembled guests, and the bridesmaids/groomsmen walked down the aisle to the Hobbit theme from Lord of the Rings. (While the Groom and Mother-of-the-Bride walked down to the Indiana Jones theme song). The reception was where we incorporated the fun part of our personalities with tables named after famous pirates, a photo booth with gold dinosaurs as the backdrop, the napkins (which were shibori dyed by the bridesmaids), dinosaur and troll succulent holders, a signature drink designed by the groom (as he creates cocktails for a living) and a tarot card reader.
Special moments
I was really excited for the first look. I really couldn't wait to see his reaction when he saw me for the first time. We really are BEST friends and share everything, so it was really hard to keep all the details of my dress a secret from him! When he turned around, saw me, smiled, and then started to cry, my heart burst.
Advice for other couples 
Don't get too stressed about the little things – this is basically a big party to celebrate your love! The way the napkins are folded doesn't matter, neither does the exact placement of the flowers. What matters is you and your partner. You guys are the only thing that REALLY matter on the day. Also, don't be afraid to personalize every part of your wedding! Sure, you might want to go classy and elegant, but make sure YOU are in there somewhere. Have fun!
Supplier Shout Outs
For more infromation on James & Jess Photography go to