Today on the blog we are talking about one of the most fun parts of your wedding planning, choosing your wedding dress and bridesmaids dresses. Now, for some, choosing the dress can be THE most exciting part but for others it can also be the most daunting. To help you on your way and to give you a bit of a check list I have asked CocoMelody to give you all some much needed wedding dress advice. CocoMelody have been in the business for 19 years, selling dresses both in their stores and on-line, so they really are the experts. I hope you find their advice useful.
Do Your Research
Before you go to a bridal boutique, get your wedding magazines out and your pinterest boards full and do your research. Pull some ideas together and keep a record of them to use as a reference for when you actually start trying things on. You may spot a dress at a wedding fair or magazine that you MUST try on. You will need to research the designers you like find out who stocks them.
Think About Your Venue
The type of wedding or venue you have booked may end up playing a big part in your final decision. If you are having a festival wedding in a field, then you may need to think more practically, maybe a BIG puffy dress won't be ideal for muddy fields. Or if you are planning a destination wedding you may want to think of a lighter dress, rather than something heavy and restricting.
Budget
Before you try anything on, have a sit down with your budget and get your head around what you can and can't afford. There is no point looking at those big designer labels if your budget won't allow as this will ony lead to disappointment. Be realistic about how much you can afford to spend and try your best to stick to it.
Know Your Style
Know the best silhouette. Go to local boutiques and try on as many styles as you can.  One thing to consider is trying on something a little bit different in case you find the perfect dress in a new style. Don't rule anyting out, that perfect dress is out there for you all.
Time To Order
Bridal boutiques often need at least 5-9 months to order in your chosen dress, so don't leave it too late to order your dress. If you are ordering on-line it may be quicker, but you still need to leave enough time for any alternations that need completing once you have had your fittings.
When To Start Looking
You really shouldn't start looking for the bridesmaids dresses until you have found your own dress. Otherwise you may find that the styles clash. You should all complement each other. In terms of timings, you don't want to be leaving it much later than 6 months before the big day to get the dresses ordered, so they arrive in time for any alterations or those last-minute accessory buying sessions!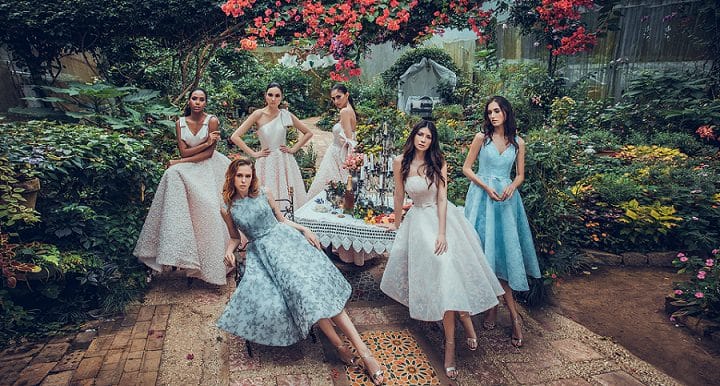 Time Of Year
The time of year or season will play a part in your choice of bridesmaid dresses. A summer wedding may lend itself to floral patterns, bright and bold prints or colours, while winter to darker more metallic tones and shades. Some colours and styles work better at different times of the year.
Who Will Choose
You need to decide how much input your bridesmaids will have in the final choice. Do you want to give them a full say in their outfits? Or will you just have one of your chosen ladies to help you choose the final design. If you have lots of different ages and shapes and sizes it may be better to include them all.
Budget
Before you start looking you will need to decide who is paying for what. Are you paying for everything, the dress, accessories, shoes etc, or are the bridesmaids happy to put in for their outfits? Would it be easier to give them all a set budget and tell them to find their own dress with a brief guideline from you? Who knows, but make sure you take the time to discuss with those important bridesmaids!
Where Are The Bridemaids Located
Where do all your bridemaids live? You may all be living in the same town or city, which makes things easier for group shopping trips. However, if you are spread across the world or country then you may be better looking at an on-line option.
CocoMelody is a bridal brand providing high quality wedding dresses, bridesmaid dresses, accessories and occasion dresses at affordable prices! 
'We are proud of our part in making wedding dreams come true for over 19 years. We believe that every bride deserves a gorgeous dress to wear on her big day, no matter what her budget is, no matter what her size! We look forward to helping more and more brides find their Dream Dresses without breaking the bank!'
What made you start your business?
We want to share happiness to the whole world. We know that to plan a wedding costs a lot, and wedding dresses are expensive, so for brides who do not have a large budget it didn't seem fair. We encourage our clients to "Dare to love", to seek for Happiness. We have our own workshop where we make high quality dresses, we sell dresses to our brides from our online stores or physical stores directly, no middle man, so no extra costs. This way the brides can get their dream wedding dress without breaking the bank.
When did you start and where do you cover?
We started our bridal business since 1999. We are based in Los Angeles, California. We ship worldwide. But most of our clients are from the United States, the United Kingdom, Ireland, Canada, Australia, New Zealand, Germany, Austria as well as Japan.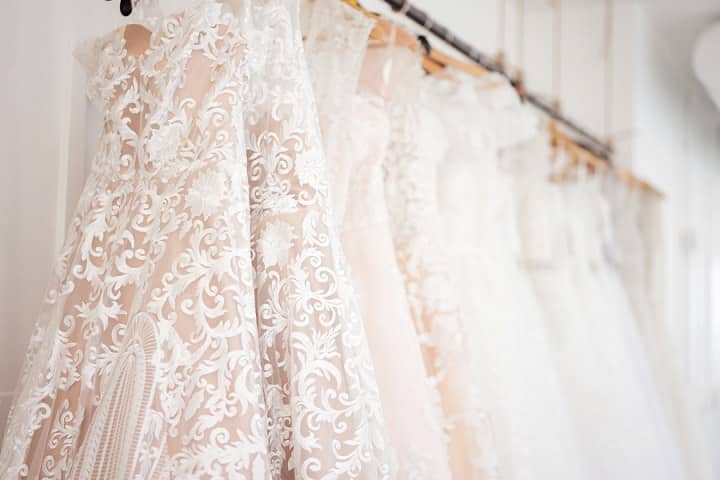 What makes you different to your competitors?
We offer all sizes and a custom-sizing option. We also help the brides to customize their dream wedding dress style.
We offer high quality dresses at affordable prices.
We are more flexible than our competitors, and we not only focus on sales, we care about the brides' needs, we appreciate their feedback too.
Can you give me some information on your pricing structure?
85% of our wedding dresses are under $500
95% of our bridesmaid dresses are under $150
For more information on CoCo Melody go to 
 www.cocomelody.com  / www.cocomelody.com/blog / [email protected] / FACEBOOK / INSTAGRAM / PINTEREST / TWITTER / 1-323-203-0897
Due to an email issue if you have emailed me between the 2nd & 9th of December, please resend it.
X