Happy Friday everyone! I hope you have had a good week. Today is a strange one for me as normally Friday is my day off, however, due to the school holiday's I am working different days each week which means I am in the office today and tomorrow. I rather like my Friday's off, so I have to admit it's a bit of a shock to the system today. On the plus side I get to look at beautiful weddings all day, like this one. It's the wedding of Lauren and Blake who got married in Portland. They chose a minimal wedding, which took place in a large white open and airy venue. They filled it with hanging greenery, white flowers and vintage furniture. The overall look is modern, considered and super stylish. I just adore Lauren's BHLDN cape and those flowers are just divine!
Overflowing with gratitude for each other, our chosen family, our parents and our relatives. Oh, and sweaty – cause we got down on the dance floor.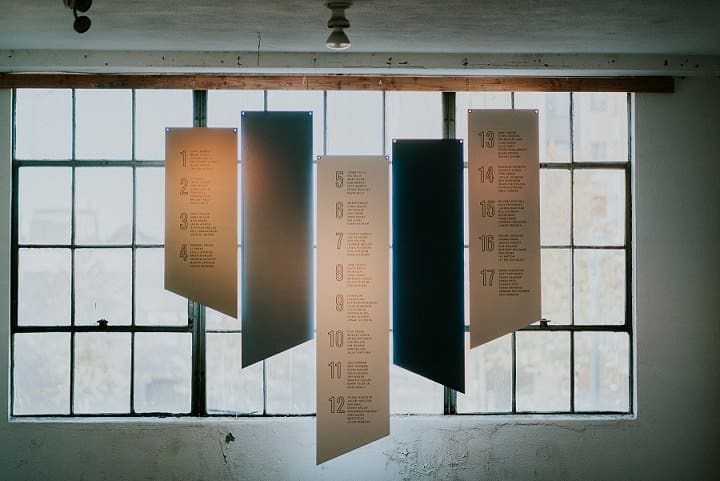 Lauren and Blake were married on 14th October 2017 at Yale Union, Portland Oregon. 'Portland Oregon is my hometown. We had spent the last 7 years in the midwest and had just moved back to Portland, so we loved the idea of getting married there and getting to introduce the city to our friends and family. We looked at many different venues, ultimately we loved Yale Union because the space was raw (and left so much room to be creative and play with design) and because the cost of the rental went to support local and emerging artists. We had 120 guests and it took a year to plan.'
How they met 
Blake and I met at an after school program in Chicago, Illinois where we both worked serving students and families living 200% below the federal poverty line. We have been together for 7 years.
The proposal
We went out to dinner at one of our favorite restaurants in Chicago in November 2016 (where we were living at the time). When we got home Blake said he had an early Christmas present for me. He went to the stereo and began playing music. I heard my mother's voice singing The Rose, by Bette Midler and instantly began to cry. My mother passed away from Colon Cancer when I was 12 – she had made a recording of her singing that song around the time I was born and after her death I would play it over and over on my cassette tape. Over the years the tape had become warped and then lost. Blake had found the recording and digitized it so I could have it forever. As the song played, he proposed. I was overwhelmed. We decided to call up our friends and see if they wanted to celebrate – they invited us over to their house for champagne. As we walked in the door of their apartment I heard "surprise!" Blake had flown out my dad, sister, his parents and many of our closest friends. It was one of the most meaningful moments of my life. We danced, drank and celebrated all night long.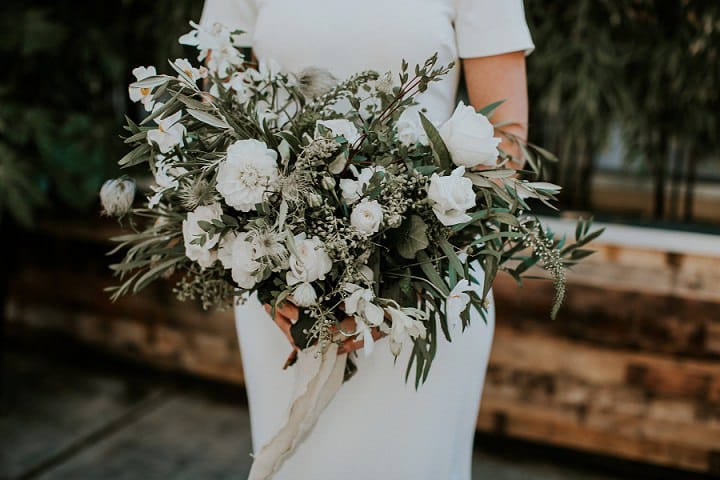 How did you allocate your budget?
We focused our budget on (1) hiring an amazing coordination team (Luxe) to help us get organized and run the event (2) picking out great vintage furniture pieces to compliment the industrial space and give it some warmth and (3) finding a florist who would be open and creative with design, given I wanted minimal flowers and mostly green fauna. We both wanted a clean, simple and minimalistic feel. I purposely stayed off of pinterest because I wanted the details to feel unique to us and to not be side-tracked by hundreds of trends.
Where did you splurge and where did you save?
Splurge – Furniture (we rented games like Pool and Foosball and sourced our furniture/tables from vintage rentals)
Save- The tiny details (we didn't focus on small details, we were going for a minimal vibe. I didn't do things like wedding favors or lots of tiny signage/intricate decor). We also didn't have a full liquor bar, just one signature cocktail and beer/wine.
How did you choose your photographer?
Our coordinators recommended our photographer!
The dress 
My dress/cape/earrings were all BHLDN and my shoes were clogs from Maguba. I didn't want to labor finding a dress, all I knew is that I wanted it to have simple clean lines and to be under $1000. I went to BHLDN tried on 5 dresses and bought the one I liked best. I am so glad I made the decision I did – I felt absolutely beautiful on the day and stayed well within my budget!
The suit and bridesmaids
Suit – Hugo Boss (from Nordstroms)
Bridesmaids – BHLDN
Theme or colour scheme
We just stayed with cool neutral shades and all our floral was green. But we didn't have "colours" – we kept it open to what looked/felt good in the space!
Flowers 
I had some white flowers in my bouquet but otherwise we only did small bud vases and then hung Smilax from the rafters. I loved the idea of keeping the vast majority of the floral lofted above the tables – it created warmth in the space and became another architectural detail.
Decoration 
We kept our decor minimal! We focused on a few vintage furniture pieces (including our lounge areas and tables). I didn't want a lot of tiny details/signage – that was something I felt would bleed our budget – so instead we picked some larger design pieces we liked and went the "quality vs quantity" route.
Food
We ate family style! Beef, Salmon, and a vegetarian option with a butter lettuce salad!
Wedding cake
My sister made a cake for Blake (because I hate cake and he loves it) and otherwise we just had small finger desserts (panna cotta and mini cupcakes).
Entertainment
We had an awesome DJ!
Who supplied the stationery?
My friends sister designed our invitation and we printed it via Vistaprint. Our coordinators designed our day-of signage and menus. Paper products was another area where I wanted to save money so I focused on only items that were absolutely necessary.
Personal touches
Honestly, not really! The personal touches came through in how our coordinators helped us bring our vision to life and pick furniture pieces and elements that represented our style. A DIY wedding approach can sometimes be deceptive on the "saving money" scale, when you think about your labor cost, and even actual cost. We had really intentional conversations with our planners about who we were as a couple and as individuals (and what our priorities were) and they helped us network with vendors who could make that come to life for us.
Special moments 
Our family dance was to my mother's recording of The Rose. It was an incredibly meaningful moment for all of us and it meant so much to me to have her voice present in the day.
Advice for other couples
Have an intentional conversation with your partner about how to approach the physical and emotional labor of planning a wedding, and then keep talking about that all the time. Think through the roles you each will play – it doesn't have to be 50/50 but be really open and honest with one another about how you are feeling during the process and check in with each other regularly.
What was your biggest surprise of the day?
How quickly it went by!
Supplier Shout Outs