Happy Friday everyone, and how are you all? As I recover from my eye operation yesterday I am super excited for the weekend. I am off to the theatre on Saturday afternoon with a friend and then Sunday Nik and I have a couple of hours free together as Dexter is at a Hip Hop dance workshop. By Monday I should be able to report back on how the eye operation went and how my recovery is going. I am finishing off the week with this gorgeous modern and elegant wedding set in New York. Kate and Andrew wanted an 'Elegant and Minimal' look to their wedding, while keeping the day romantic and full of style for their guests. They started off their day with a traditional Chinese tea ceremony, then moved onto the main event. They filled their urban style venue with so many candles, garlands and beautiful flowers, the whole place really does look amazing. The wedding was planned and submitted to me by Event Planner  Vision Event Co and has been captured by Brian Hatton Photography.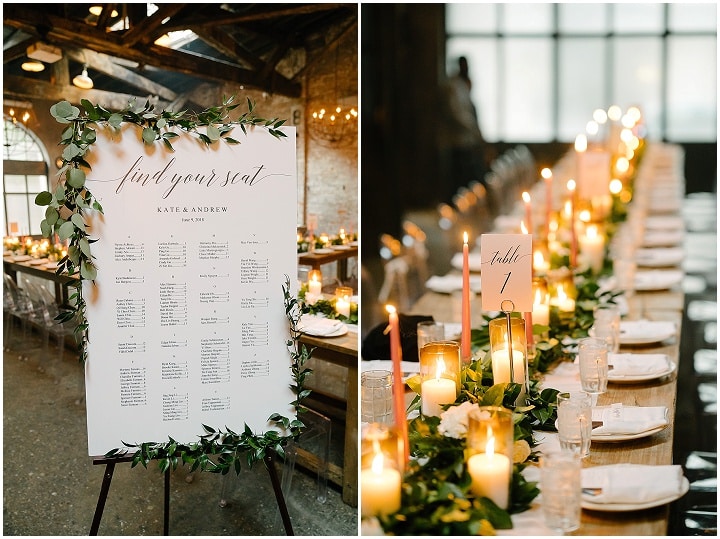 Kate and Andrew were married on 9th June at Houston Hall in New York's West Village. 'We had a strong vision of our wedding, but didn't know how to pull it together. We easily knew what we didn't like, and Vision Event Co. brought us options to help us build an experience that we loved. Daniela is very connected in the wedding industry around the NYC area and was able to connect us to vendors, as well as give us design idea options.'
How they met 
We both went to Carnegie Mellon, and for two years, lived only 75 feet from each other on the Greek quad. We were casual acquaintances, but never really friends. After graduation we happened to be staffed in the same city. We overlapped in Detroit for 12 months, and connected over our strong interest in travel, travel hacking, and on-the-road consulting work life balance. Kate planned a solo trip to Nashville one weekend, and I thought, why not, I'll come along too. We kept in touch after Kate left the Detroit project, and started dating after she moved to Boston 2 months after. We spent our free time travelling and eating our way through New England, Canada, and then expanded our adventures to Europe, Africa, Asia and South America.
The proposal
Andrew and I are avid skiiers, and we scheduled a trip Sun Valley Idaho for a weekend getaway. Andrew arrived an hour earlier than me, and told me he had to finish up some last minute work and will meet me in the airport lounge. I arrived in the airport lounge, and the desk attendant told me that they were compiling profiles of their frequent flyers and wanted to take a photo of me next windows that faced the airplanes and mountain backdrop. She walked me over to the windows and then I see Andrew in his suit. At first I thought "Oh you dressed up for this photo shoot? I'm wearing sweats!" But then I saw the camera filming and red roses, and I knew it was it! He gave me handmade paper luggage tags of places we've visited, cities we've lived in, and the last card was marked "Salt Lake City", the airport where he asked me a very important question.
Design and Decor
We spent 3 years in NYC at the time of our engagement, and it was the city where we shared our first apartment together. We knew that we wanted to be in New York, somewhere with soaring ceilings so it doesn't feel stuffy, and inside in case of storms, or unforeseen humidity. When we saw Houston Hall, we knew it was the perfect choice. With exposed bricks and a massive marble bar, it comfortably fit the number of guests on our list and it had a family style dining option which was very important to us. We wanted to keep our decor elegant and minimal, without taking away from the charm of existing space. The family style dining tables were lined with lush dark green garland with white peonies and roses, while large vases of greenery with white accent flowers lined the bar. We had gold accented frames and lanterns that brought a shimmer of accent colour and light to the space, and a dark wood welcome sign that complemented perfectly in the vestibule. The ceiling over the dance floor twinkled with bistro lights, while 4 large orbs glowed above the dining room area. Additional lighting from the pillar candles and candlesticks provided the romantic glow during dinner.
Special Moments
Walking into the reception together as a newly married couple. The music was blasting and the room was full of energy. All of our guests were standing in a circle around the dance floor awaiting our entrance. It was the most exhilarating feeling, being surrounded by your family and friends who are cheering for us.
Advice for other couples
Savor every moment! The moment you get engaged, text your close ones but stay off social media. Enjoy time with your new fiance(e), the new engagement feeling doesn't last forever. For the months leading up to the wedding, I told people to stop asking "how's wedding planning going". Do what is important for you, and not for others. Yes there are goals, timelines, or deadlines, but it's not always about chasing down the next milestone. Spend time with your fiance doing the same things you did before you got engaged.
Supplier Shout Outs
[jprel]