Today we are back in North Yorkshire for this gorgeous wedding, brought to you courtesy of A Little Picture Photography. It's a super cute wedding that shows you no matter the weather your wedding will rock and you will have a fabulous time. Amanda and Matthew worried about the weather for months and on the day it rained ALOT! However, it turned out it didnt matter at all, all that mattered is they had their loved ones around them celebrating their special day. They planned the whole wedding for less than £10,000 which also goes to show that you don't need to break the bank to have a good time. They filled their guests up on Pimms and ice cream, followed by a slap up BBQ and a huge cake table and a sizeable cheese tower! With homegrown flowers and lots of friends and family pitching in, this wedding is full of personality and a whole lot of love.
It was just magical and so relaxed, felt like we were in a bit of dream bubble. It all came together and involved everyone that was special to us. We all worked together to pull it off. Really confirmed to us how amazing our family and friends are!
Amanda and Matthew were married on 2nd June 2018 at Swaledale Yurts, Keld in North Yorkshire. 'We had spent a very snowy first wedding anniversary there so it had special memories for us and we  wanted to show all of our family and friends this amazing glampsite! We had 100 guests and it took about a year…. ish to plan.'
How they met 
We met online. We have been together 5 and half years.
The proposal
Matt counts the days we have been together and every month I get a text. He proposed on 1000 days in front of the Christmas tree, it was just perfect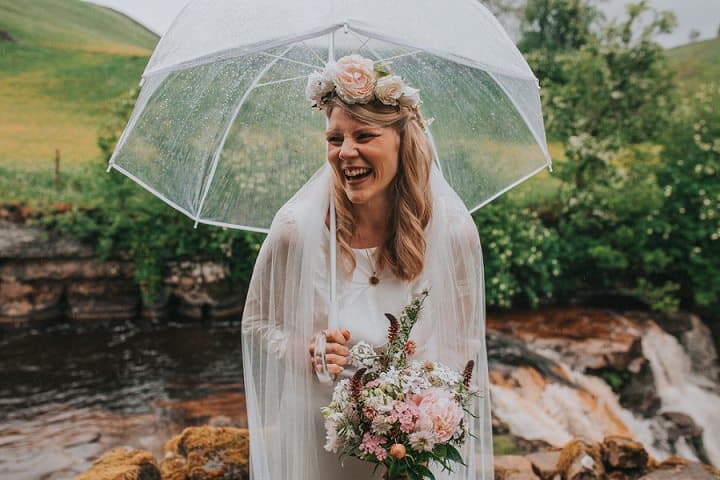 How did you allocate your budget? 
We worked out what we could afford to save every month and went from there! Overall we did the entire weekend for just over £10,000
Where did you splurge and where did you save?
Splurge was my dress, just fell in love with it so went for it!  It was a beautiful silk dress which I never thought I would get away with, I felt incredible in it and never wanted to take it off!
Food was a saving, we went for a BBQ which was cheaper than a sit down meal and more what we wanted. We are proper foodies so made lots of the salad, nibbles and cakes ourselves – loved the food at our wedding , It was proper food with a proper Yorkshire theme. Michelle from Swaledale Yurts put us in touch with an amazing local baker for the bread and we brought pork pies from York from our favourite butcher. We catered for 100 people for less than £2500!
How did you choose your photographer?
Alice from A Little Picture! What a star. Alice first took a photo of our little boy at a friend's birthday party and I was blown away, she just captured him sleeping and it was gorgeous (it is still up on our wall 2 years later) We then asked her to do a photoshoot for Christmas presents and once we had seen the photos from that we were sold! We knew we wanted her to capture our day, we aren't the most confident of couples so the natural shots were just what we wanted.
The dress 
Hayley Neil- Glory Days designed and made my dress, veil and flower crown. My shoes were a great find in the Hobbs summer sale, before I had even chosen my dress but they just worked!
The suit and bridesmaids
Suit wasn't really a suit Matt wanted to feel comfy so smart chinos and a tweedy waitcoat and jacket and the boys just a waistcoat. All from Slaters and good old M&S. The girls dresses were from Hobbs again another summer sale bargin!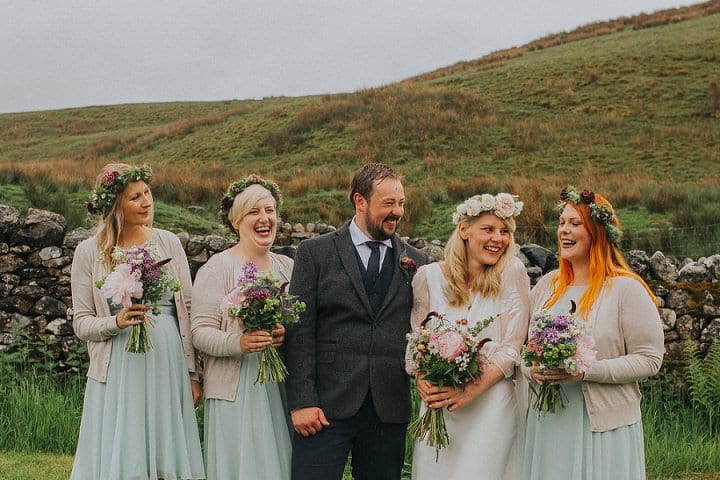 Theme or colour scheme
Not really… just wanted natural but did a bit of navy/ mint green scheme by the end of it, wasn't planned though
Flowers 
English grown seasonal, I wasn't really bothered about them being perfect, just beautiful! I am wild flower girl so was happy to have whatever was growing at the time, ended up with peonies (which I adore) sweet rocket, cornflowers, alliums, sweet williams,  and snapdragons – they were stunning! Very kindly my mums friend also grew lots in their allotment so there was a real mixture of different flowers.
Decoration 
Lots of different Gin Bottles filled with wildflowers, loooads of tree stumps, tea lights and jam jars. And lots of homemade bunting…. Oh and fairy lights!
Food 
We had Pimms and ice cream to start as a welcome then a BBQ with salads (homemade by mum) and amazing bread made by the Ivy cottage baker in Kirkby Stephen. We then asked our nearest and dearest to all bring cake for our dessert table. Michelle and Ian from Sawledale yurts put on the most amazing cheese board for the evening from the Wensleydale creamery and pork pies from Jed Bell Butchers in York.
Wedding cake
My mum is an amazing baker, we had a 'naked cake' with loads of fresh flowers on it. It had 3 different layers. Lemon and blueberry, Rhubarb and Rose and just Victoria Sponge- was delicious!
Entertainment
Club class DJ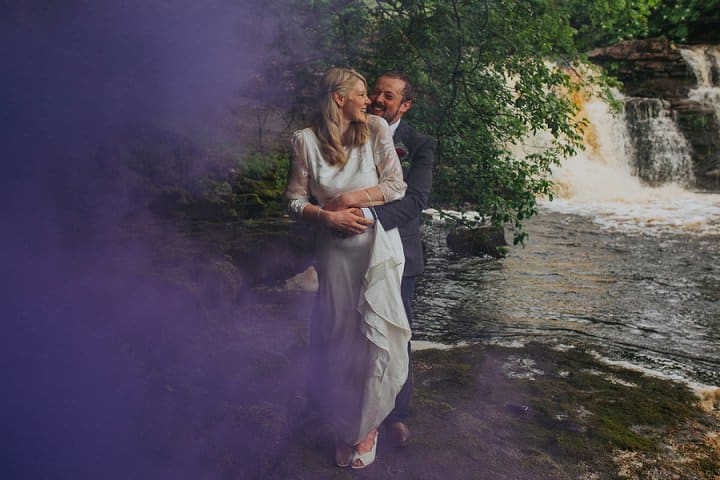 Who supplied the stationery?
Matts work designed our invites, the rest was down to us.
Personal touches 
Most of our day was personal, that was kind of our theme. We had a family BBQ theme because we have both grown up loving our family BBQ's. All hands on deck made our day. The only thing we didn't do was the actual cooking of the BBQ. We managed to stick to our budget because of everything we did ourselves from drying out rose petals for confetti to my mum making the cake!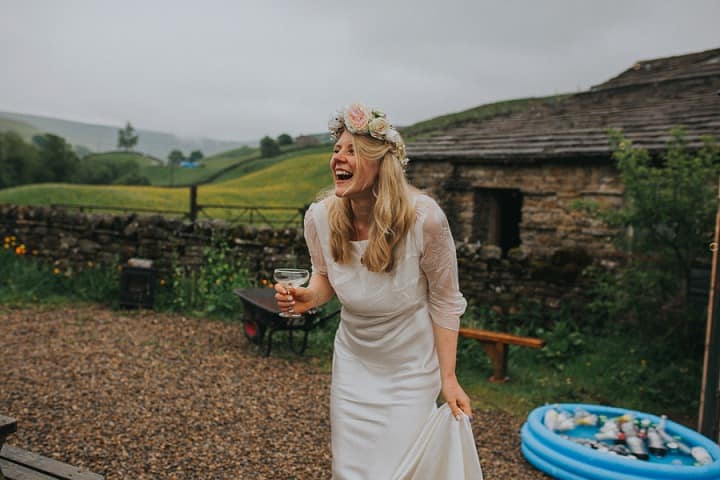 Special moments
Just us going in the rain to the field at the back of the campsite and down to the waterfall. Was so lovely to just have time together. And making my best friend cry (he doesn't cry, ever!).
But honestly the whole weekend was amazing, our family all arrived we just worked together from start to end and had the most amazing family weekend. Lots of emotions and spending time with people that meant the most. Because we had gone for chilled out we actually managed to get round everyone and enjoy everyone's company.
Advice for other couples
Don't worry!!! (So much easier said than done) It really is the best day of your life, don't let small things take over, like family worries or rain – we worried about other people and the rain for months before! We shouldn't have done because the day was perfect (it did rain A LOT) and always was going to because we were getting married!! Most of all enjoy every moment, take time together, it really does go SO fast!
Biggest surprise 
My dad wrote a very small speech, which we were not expecting. It was very short but very sweet of him.

Supplier Shout Outs
For more information on 

A Little Picture Photography go to
www.alittlepicture.com / www.alittlepicture.com/blog / [email protected] / 07933152850 / FACEBOOK / INSTAGRAM 
My style is reportage mixed with beautiful portraits. I love to use natural light to create stunning portrait images and also capture the wonderful and unique moments that make up the wedding day. I am based in York, North Yorkshire, but cover the UK and abroad.