Happy Friday everyone, I do hope your week has been filled with sunshine, happiness and lots of positive thoughts! Mine has been great, back from holiday and feeling refreshed! I have to admit though it's been hard to concentrate in this heat, so I'm really looking forward to today as I have the day off. The day consists of a trip to the park, lunch, ice-cream and then a BBQ! Tomorrow we are at a birthday party and then a family fun day and Sunday we are at a summer fayre. Bring on Summer!! Today's wedding takes us back to last year as we visit Peckham for Sophie and Jack's kick ass wedding. This unconventional couple wanted to throw tradition out the window and make their wedding their own and this they did, with the help of lots of friends and family, who all chipped in to make the wedding the party that it is. Catherine Regan was there to capture the memories.
It was hopefully quite a memorable one… full of fun, gold, nonsense and a kick ass brass band.
Sophie and Jack were married on 31st July at Bussey Building (CLF Art Cafe), Peckham, London. 'Sophie works in the artist studios in the building, along with a lot of our friends. We also lived just over the road at the time. We wanted to make our wedding as personal as possible, all while breaking as many traditions as we could. We had 100 guest for the ceremony, and 250 for the reception. It took 8 months (ish) to plan.
How they met
We met at a mutual friends house party back in 2010.. so, we've been together 8 years now. The story of our meeting is a long and complicated one with bizarre but important references to Nelson Mandela, Doc Martins and The Animals of Farthing Wood.
The proposal
I (Sophie) had booked us tickets to visit Syon Park's Enchanted Woodland. Jack hijacked it rather adorably to propose. It took two attempts, the first was interrupted by a man dangling his half naked son next to us as he urinated. The next attempt was a success after a slight panic over losing the ring.
How did you allocate your budget?
We were helped massively by our parents. Also our friends are all crazy talented, and way too nice.. that helped a lot!
Where did you splurge and where did you save?
We got our friend (Garudio Studiage) to cover an entire wall of the venue in gold foil curtains.. he also helped make us a massive lightbox with our names on it for the stage.. perhaps unnecessary, but totally worth it.  We saved money by doing a lot of the décor ourselves, and breaking traditions as much as we could!
How did you choose your photographer?
I had worked with Catherine Regan a few times on styled shoots for the brand I work for. She is truly amazing at taking everything in her stride, making everyone feel super comfortable… and most importantly making stuff look WAY better than it does in real life!
The dress 
My dress was just from a little boutique in Exeter and my shoes were some chunky heels from Topshop. I had the same party shoes as my bridesmaid for the evening.. they were big, gold platforms that I will love for ever and ever. (From River Island)
The suit and bridesmaids
Suit – River Island. Bridemaid (Adult) – Ghost. Bridemaids (Kids) – Next
Theme or colour scheme
The theme was 'us'. Fun, Dirty, Industrial, Peckham. Colour scheme was a bit navy and a dirty red.
Flowers 
Gypsophila. The bouquets were super simple and beautiful.. by Jam Jar Flowers.
Decoration 
Big, gold, bold and handmade.
Wedding cake
Jack's sister made the wedding cake.  We only brought it out in the evening once everyone had arrived, so she had to make three huge blocks.  Each block was a different flavour.. it was so tasty people were actually filling their pockets with it as they left!
Entertainment
Officer – Acoustic set during the drinks reception. Absolutely gorgeous voice!
No limits Street Band – Big, loud and proud. Our guests still rave about these guys on an almost daily basis!
Fuzzylogicbaby – Jack's band. A sweaty London sound to finish off the evening entertainment at kick off the dancing.
Stationery
I designed all the stationery myself. My ceremony invites were all screen printed by Garudio Studiage. Everything else was printed by through the lovely printers I use for work.
Personal touches
We did A LOT ourselves with the help our friends and family.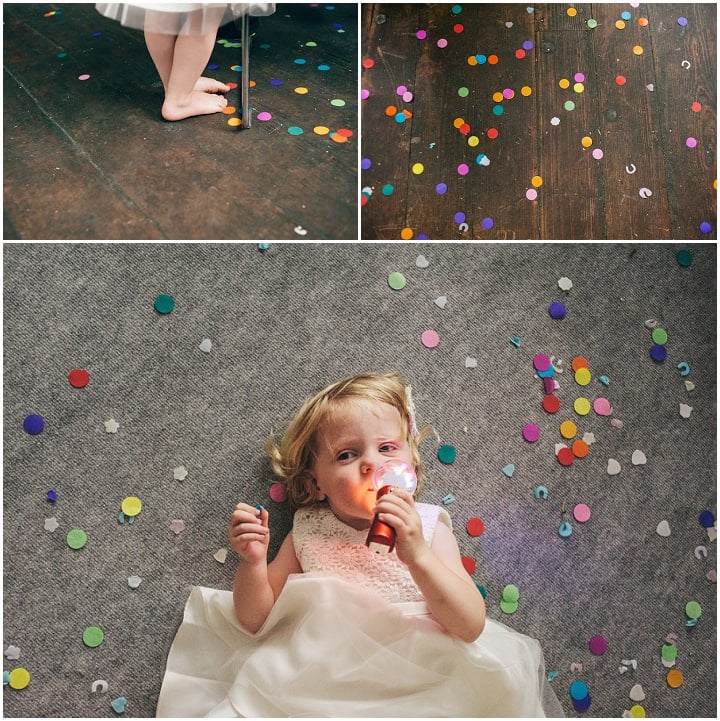 Special moments 
Dancing to No Limit Street Band. Our dad's speeches.. both were SO good! (Jack's Dad was his Best Man)
Advice for other couples 
Sophie: Nothing is set in stone.. make it yours, not someone elses.
Jack: Don't go to the pub with a load of your friends and family the night before.
Biggest surprise 
Sophie: I told my dad he didn't need to do a speech.. but he did, and was HILARIOUS!
Jack: My dad got on stage with my band and did a particularly amazing guitar solo. Legend.
For more information on Catherine's work go to
 www.catreganphoto.com / http://www.catreganphoto.com/blog / [email protected] / 07800945951 / FACEBOOK / INSTAGRAM
I am based in the Midlands (Worcester) and I have a heartfelt, real and natural style of photographing