Happy Friday everyone! I don't know about you, but today is a definite TGIF sort of day. If you have had snow days where you are and you have small children you will know what I mean! I currently have cabin fever, so I'm going to do everything I can today to leave the house! What about you? It's also my birthday weekend, so I'm off out on Saturday night, snow or no snow! Nothing is getting in the way of prosecco, cocktails and a good meal with friends and my husband! As for today I am delighted to welcome John and Catherine onto the blog with their gorgeous wedding that took place in one of my favourite wedding venues The Asylum Chapel in Peckham. Their theme was distressed vintage and lots of handmade projects, from the flowers to the cake, to the favours. Everything was made with an abundance of love, all captured perfectly by Emma Hare Photography
A day that reflected who we are and the way we try to live our life – informal, relaxed and filled with love.
John and Catherine were married on 24th July 2017 at The Asylum Chapel, Peckham, with the reception was at the Brunel Museum, Rotherhithe, at the site of the 'Grand Entrance Hall.' 'To us, the ceremony was the most important part of our day. We wanted it to take place somewhere that represented us, somewhere within our local community. We were apprehensive about visiting the Asylum because we knew the hire costs would take such a huge chunk out of our limited budget, but from the moment we walked in it was clear that it could never take place anywhere else. We thought it would be nice to find somewhere that was a part of local history, the same as the Asylum, and that's when we stumbled across the Brunel Museum. We didn't even know if they were able to host weddings, but they were totally up for the challenge! We had 75 guests, John proposed in September and we were married the following July. Other than booking the venues, the rest of the planning was done in under 6 months.'
How they met
We met online. I was John's first online date and he was my last :-) John proposed on the 2nd anniversary of our first date and we were married a little under 3 years from when we first met.
The proposal
We had made plans for our anniversary, but I was too unwell to go out, so John built a blanket fort in the living room for us to snuggle up in instead. John had bought the ring a month before, but was still waiting for the perfect moment to propose (the ring had already accompanied us all the way to Turkey and back again!) The moment came when he realised that, even when I looked and felt at my worst, I was still the one he wanted to spend the rest of his life with. You can take your grand gestures, folks because THAT is true love.
How did you allocate your budget?
Our focus was very much on the experience for us and all of our guests, rather than the material things that can go along with a wedding. Neither of us are the flashiest or most flamboyant of people and we were only concerned with being true to ourselves and creating happy memories. Our biggest expense was the hire of both venues, but they really did set the tone perfectly for our day. Ours was very much a handmade wedding, so we were able to save a lot of expense by making things ourselves as well as calling on the talents of friends and family. Not only did it save money, but it felt so much more personal because of it.
How did you choose your photographer?
Emma is a second cousin of mine and we had already seen and admired her work and her informal, yet professional, reportage style. She completely captured all the emotions of our day and looking back at our photos is like being taken on a wonderful journey through our day all over again.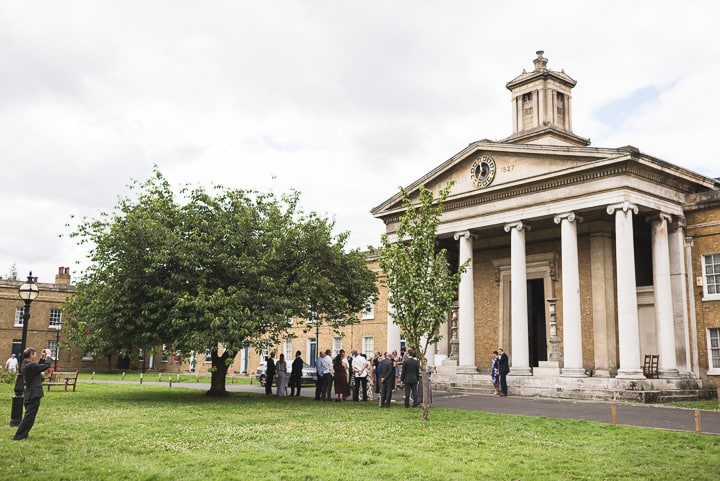 The dress
Uncomfortable with the idea of being the centre of attention, I was determined to dress as simply and understated as possible. However, those simple and understated styles really did not flatter me at all and I ended up choosing something completely different to what I had envisaged (so said every other bride ever!) The Mori Lee gown I chose really worked with my curves instead of against them and the dress's vintage touches suited our venues perfectly. My hair piece was a gift from one of my best friends who had it made especially for me.
The suit and bridesmaids
John didn't want to dress as a carbon copy groom and wanted to include vintage elements that would complement our venues. After scouring second hand shops we actually found his suit in the Next sale! The cravat was second hand though, as was the vintage pocket watch I had engraved and gave to John on the morning of our wedding.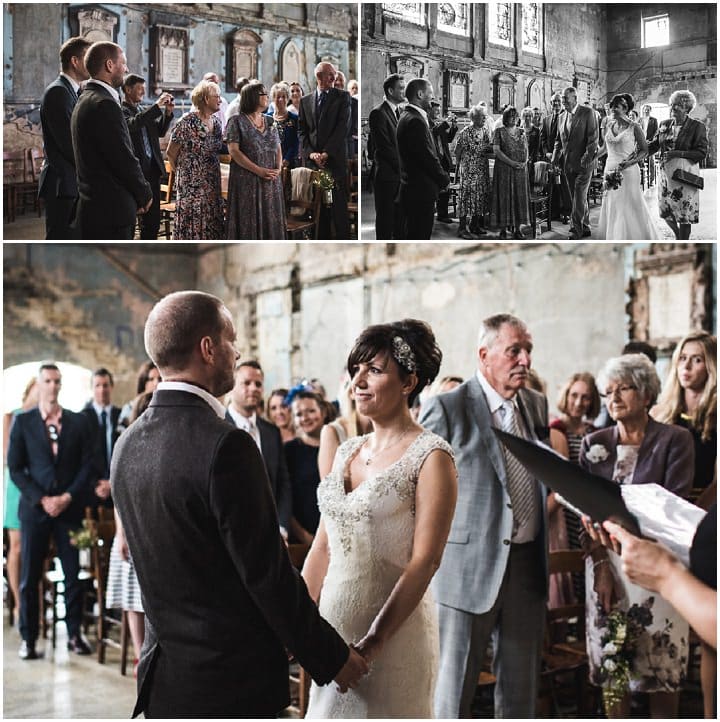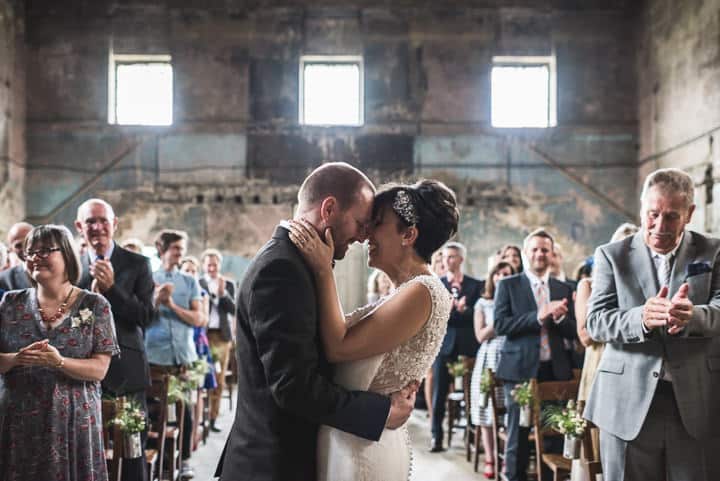 Theme or colour scheme
I guess the theme of our wedding was 'distressed vintage', a style we already loved, but was further inspired by our historical venues.
Flowers
We kept the flowers very simple as we didn't want to detract from the natural beauty of our venues. I wanted the bouquet to look like I had just nipped out into a field to pick some wildflowers and we hung tin cans from the chairs with more of the same. John's mum did all the arrangements the day before the wedding.
Decoration
Again, only simple decor was required in such breathtaking venues. Wedding photographs of our parents and grandparents were added as a focal point, alongside table centrepieces of vintage books topped with wildflowers, jam jars lined with pages from the books and lit up with faux tealights, and the tables were sprinkled with heart shaped confetti made from the torn book pages.
Food
Whenever we reminisce about the wedding with friends and family, the first thing they invariably say is "oh man, those pies!!" The food was a biggie for us – we wanted it to be relaxed, informal and without a table plan in sight, yet we wanted something memorable and delicious. We worked our way around many a local street food market (and gained about 2 stone!) before stumbling across MyPie. You can taste the years of dedication and commitment to the perfect pie in every mouthful and we knew it would be a winner with all ages, hipster or pensioner! Chris, the man behind the pies, served them from 'Robert Bedford' his adapted ice cream van and everyone ate them sat around the museum gardens. Perfect.
Wedding cake
As a self-confessed cake baker/lover, I initially planned to bake the cake myself, before realising I may be a tad busy in the days leading up to the wedding. Instead, the obvious choice was to ask my bestest Poppet (aka Jenny) to create it for me. We opted for blackberry & apple, lemon & blueberry and raspberry & almond flavours for the three tiers. Jenny also managed to create the most stunningly beautiful tower of naked cake we have ever seen. The finish of the cake even matched the patina of the crumbling walls!
Entertainment
We are so glad that we employed the services of Mike Georgiades to play during our ceremony and throughout our drinks reception. His reworking of our favourite contemporary classics on his classical guitar worked so well with the acoustics of the chapel and helped to create a beautiful and moving atmosphere. We were also lucky enough to have the services of David, our Vintage Wedding DJ throughout the day and evening. John is forever on the lookout for his next DIY project and so he built our very own Victorian photo booth. After sampling the delights of our 'Pimp Your Prosecco' bar our guests had a great time dressing up.
Who supplied the stationery? 
We created our own stationery – another great way to cut costs and add a personal touch. We thought it would be fitting to create telegram style invitations and we used the 'madlib' style RSVPs we received back to decorate our reception and amuse our guests.
Personal touches
It may be easier to ask what aspects of our wedding weren't handmade! Obviously, cost was one motivating factor for this, but we also had a vision of how we wanted the day to be and the best way to achieve this was to create it ourselves. I even picked up a needle and thread for the first time in twenty years to create our wedding favours – vintage style, drawstring shoe bags for the ladies to pop their heels in whilst they were wearing the much appreciated flip flops. Don't worry, the gents weren't left out – they had their own hand made hangover kit.
Special moments
During the afternoon, we snuck away from our guests and sat quietly at the side of the museum for a while. Those ten minutes on our own, with the sound of our guests laughing and chatting in the background, were incredibly special to us and really gave us chance to digest everything that was happening.
Advice for other couples
We would definitely recommend that couples try to arrange independent catering for their wedding, wherever possible. Some built in packages at venues may seem good value, but menu choices can be limited and suppliers seem far more motivated to negotiate and please you when working independently. Also, stay true to yourselves when planning your big day, instead of trying to please everyone else. If you create a day that you will enjoy, then everyone around you will enjoy it more too.
Biggest surprise
John anticipated what a blubbering wreck I would become when it came to exchanging our vows and during our ceremony he handed me a personalised handkerchief embroidered with a lovely message to his 'beautifully weird wife'. Needless to say it created more tears instead of stemming them!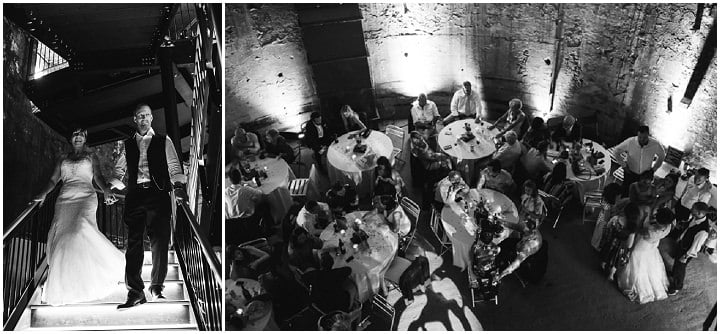 Supplier shout Outs 
For more information on Emma's work go to
www.emmahare.com / [email protected] / 07703 729980 / FACEBOOK / PINTEREST / INSTAGRAM / TWITTER
I am a London-based Wedding and Lifestyle Photographer specialising in creative, personal and relaxed documentary photography. Working across the UK and available for destination weddings worldwide. I create vibrant, storytelling images that show people's personalities and lives at their most authentic. Friendly, down-to-earth and honest with a smiley face, I ensure you and all your guests feel completely at ease on the day.