As we reach the mid-point of the week I'm not quite sure where the week is going? I still seem to be in holiday mode and already planning our next trip away! Today though I have the cutest DIY wedding for you from Norfolk. It's a fusion of English and Gambia, as Hannah and Modou celebrate with plenty of colour, handmade details and a fab festival vibe. I just love the laid back feel of this wedding, the big beaming smiles and the huge amount of fun everyone involved is having. Big thanks to Beard and Mane for the lovely images.
A string of life-altering moments. The day was a soul-filled, vibrant celebration with a home-grown vibe as so many of our family and friends pitched in to make the day possible. We tried where possible to weave in aspects of both of our cultures.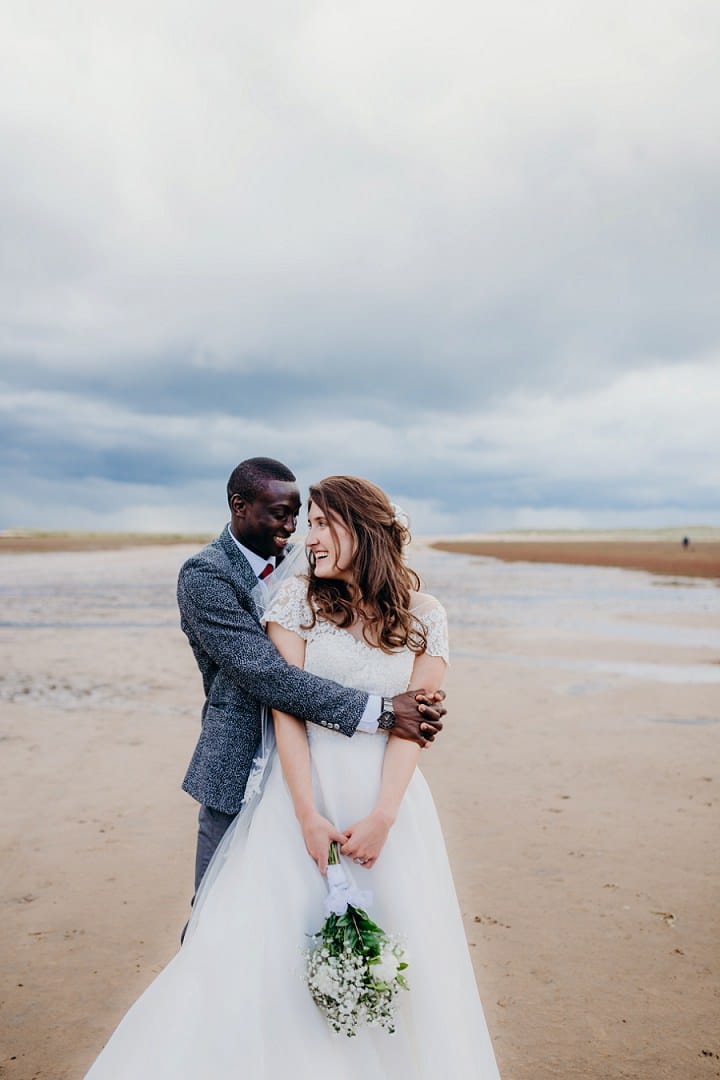 Hannah and Modou were married on 9 September 2017, The Ceremony was held at St. Withburga's Church, Holkham Estate, Norfolk. With the Reception "on a field just down the road". View out to the pinewoods and ocean. Holkham/ Wells-Next-to-the-Sea is one of Hannah's favourite places in the world. Grown up visiting grandparents in Wells. We both love the outdoors and wanted it to be "rustic, chilled and home-grown". We had 180 (give or take!) (plus a few canine special guests – who had free use of the field!) and it took 6 months to plan.
How they met?
At a celebration in the days before a mutual friend's wedding in The Gambia (where Modou is from). January 2014.
The proposal
Simple. Modou took Hannah to a park close to her childhood home, got down on one knee in the muddy grass in the rain and said all of the right things.
How did you allocate your budget?
Worked around areas of key spending (e.g. food) and minimised spending in other areas. 
Where did you splurge and where did you save?
Splurge – food, traditional style marquee and dress.
Savings – "the bits around the edges". Handmade deco, stationary, most of flower arrangements.
How did you choose your photographer?
Beard and Mane's David and Kerry Salisbury are excellent and good friends of Hannah's. LOVE their work. It was an easy choice.
The dress 
Dress – Wtoo (from boutique range at Carla's Brides). Accessories – various Nottingham boutiques. Shoes – ASOS Bridal.
The suit
Suit – Tweed jackets from Alibaba; custom made waistcoats in handwoven Senegalese material.
Bridesmaids – wore their own navy dresses, customised with a splash of Gambian fabric.
Theme or colour scheme
Quintessential English festival meets a touch of Gambia
Flowers 
As there was so much colour, we kept the flowers to simple whites and greens. Bought from local wholesalers and mother of the bride/ various friends pitched in to help out with bouquets and arrangements. Gypsophilia played a large part. Foliage from Grandpa's garden.
Decoration 
Bunting – African prints. Lovingly made my Hannah's cousin Kate. Fairy lights. Big colourful rugs in the kids' teepee!
Food 
Canapés – BLOOM, a social enterprise in Lewisham to which Hannah is connected. Variety of Gambian dishes including Benachin (one of the national dish of The Gambia; origin of Jollof rice!), Domoda (peanut-based stew) and Yassa (Senegambian grilled chicken) – prepared by Modou's friends and family. Highlight – fiery ginger beer and wonja juice.
Wedding cake
Stack of various yummy flavours (including carrot – Modou's favourite – chilli/chocolate and lemon) made by Ellie and Jo Perry – close childhood friends.
Entertainment
Various talented musical friends gigged through the afternoon – Sam Jackson, Ruth Notman, Joel Baker.
Evening – "Burnhope, Morris and the three Ami-Joes". Post-modern jukebox style band comprised of Hannah's friends from all musical walks of life; arrangements of some classic pop. Special – "Wonderful World" as first dance.
Who supplied the stationery?
All homemade. Invites – off-cuts of Gambian fabrics; gold; brown cardboard… nothing an Edmonds (plus others!)-lady production line can't tackle. Name-cards held in pinecones. Hannah Darcy's beautiful script. Table plan – map of the world. 
Personal touches
See above – most of the day was homemade!
Special moments 
The ceremony. Time with the bridal party on the beach. Looking around a packed tent full of wonderful people from many walks of our lives mingling together. Milling on bales of straw as the sun went down.
Advice for other couples 
Work out what is really important to you (for us – the ceremony, food, music and people) and prioritise those arrangements.
Take time on the big day to look around, do things together, and be overwhelmed (!) by the love and support of people gathered to celebrate the two of you.
The wedding day is a life-changing, important day but shouldn't overshadow planning for married life.
Biggest surprise 
We took an African wedding approach to volume of food (catering for around double the attendees…): the food went down a storm and there was minimal left over!
Supplier Shout Outs
For more information on Beard and Mane go to