Happy Thursday everyone and how are you all today?  Before I tell you a bit more about todays beautiful wedding may I first apologise for the missing posts over the last couple of days.  As you may have seen from Facebook Dexter has been very poorly over the last few days and we have spent the past 3 days in hospital with him. However he is out now and getting back to his normal cheeky self, so the blog can now go back to normal. So on with todays wedding and what a corker it is, I absolutely love everything about it! It's a fun packed, relaxed festival style wedding, that is full of pretty pastels, lots of DIY details and decorations and the most adorable couple, who are regular readers of the blog.  If I was a guest at a wedding this is the kind of wedding I would like to go to. Lots of lovely food, a free bar, loads of good music and a whole lot of fun! Big thanks to the very talented Kirsty from This and That Photography for these fantastic images.
'A sunny, day long festival giving all our friends and family a taste of everything we love in one beautiful setting on the Thames. An outside stage with amazing bands, open bar, lethal rum punch, bouncy castle, pizza oven and boozy sorbets were just a few highlights! Bakerfest!'
Paul and Lorna were married on 26th July 2014 at St Margaret's church, Mapledurham & Mapledurham House and Watermill. 'I think we both felt that a lot of weddings can get completely out of control, costing a fortune for not only the couple but for all the family and friends who have to travel miles, pay a huge amount for a hotel they hardly see, buy formal uncomfortable outfits, expensive bar drinks etc. We just wanted a totally chilled, fun celebration where everyone could relax and enjoy the day with us. Paul stumbled upon Mapledurham House by accident while on a bike ride and we didn't need to view anywhere else – it was perfect! Smack bang between the 2 villages we grew up and in the most beautiful setting on the Thames we were in love. Even better they gave us free rein to plan whatever we wanted! And we did! Paul proposed the same weekend a year before, so it took exactly one year to plan! We hadn't planned it that way but it was the perfect amount of time. Wedding planning does tend to take over your life a bit and I'm not sure we could have coped thinking about it for any longer than we did.'
How they met
We met when we both worked for Walkers Crisps…Gary Lineker didn't make a surprise appearance at the wedding.
The Proposal
Paul is quite often joking with me that I have no awareness and I have to say I had no idea he was planning a proposal! He snuck to Hatten Gardens to buy a ring and took me completely by surprise while we were out on our bikes one morning. We'd stopped at the local pub in the village I grew up in when he asked the question and then we celebrated with a bottle of wine by the river. It was perfect!
How did you allocate your budget
We really wanted a festival vibe and we didn't think you could go too wrong as long as you have great music, food and booze! So that's where we focused our budget. And also a marquee as you can never rely on the weather, even in July. It was just as well as it tipped it down the day before while we were setting up (two of our marquees blew away, but we won't talk about that!!)
How did you choose your photographer
We actually found Kirsty (This and That Photography) through another wedding featured on Boho Weddings (Tara and Paul). Her pictures stood out to us as it felt like she really captured the fun of the day which is exactly what we wanted. There's nothing I personally hate more at a wedding then standing around awkwardly while the couple spend ages having loads of formal pictures taken. I didn't want to miss a second of the special day we had planned and Kirsty really understood that.
We absolutely loved having Kirsty with us during the day, it was just like having another friend there. She totally put us at ease and it was easy to see from the start how passionate she is about her work and how much she enjoys it! (she even had a little tear in her eye taking a photo of me and my dad as she said it reminded her so much of her father! aww!). I think she has a really unique style and talent for capturing those amazing little moments that a lot of people would miss. It was so exciting to get our pictures back and to relive the day. She even presented them in a lovely little box with sweets! We really do have pictures to treasure and I would recommend her to anyone…(in fact we did and she photographed Paul's sisters' wedding last month!)
The Dress
My dress was by Hayley Paige. Somehow I managed to fall in love with one of the most difficult dresses to track down! (thank you Pinterest!). Eventually I found one boutique in London who could ship the samples over from America for me and get the dress in time for the wedding (Les Trois Soeurs). It was a little more money than I had budgeted for but I think when you find the perfect dress that all goes completely out of the window. I had justified it to myself by saying I would sell it afterwards…but it's still upstairs!
The Suit and Bridesmaids
The bridesmaids dresses were by Jarlo and they looked amazing! I wanted something floaty and light that the girls would be comfortable in. Paul got his and the best men's suits from Moss bros. He wanted to keep them a surprise so I had no idea what they would be wearing. I think they chose pretty well though! Nothing too…jazzy
Theme or Colour Scheme
The only theme we really had was rustic & DIY! So it was a bit of a mish mash of everything we liked. I think once we had the bridesmaid dresses they started a bit of a mint / pastel theme and we went from there!
Flowers
We had lovely, locally grown flowers from www.floralcircus.co.uk. We're not very good with flowers but Jo had loads of ideas so we sort of left it to her! We also got some beautiful keepsake roses for the bridesmaids from Rococo.
Decoration
Completely DIY! We got a bit carried away with things we liked on Pinterest…which in reality don't always work! Big hits were the hay bale sofa which we made into a kind of photo booth and the troughs for the bar. We made the orders of service, confetti cones from music sheets, signs out of pallets, tablecloths out of old sheets, the pork pie cake topper was an old pig toy! We had 2 wedding coordinators who were an absolute godsend on the day helping with last minute decorations (after everything blew away the day before! eek!).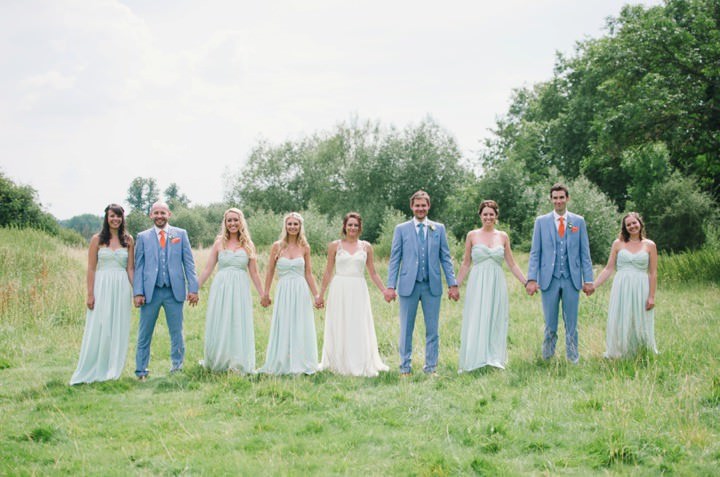 Food
Gigantic antipasti boards and a hogroast buffet with salads by Absolute Delights Catering.
A 3 tier pork pie cake by Brays Cottage Pork pie….try the chorizo, it's delicious!
Amazing ice creams and boozy sorbets by Fancy a Treat.
Wood fired pizza by Boyceys for the evening
Wedding Cake
Hand made by Paul's sister Jo! She should be a professional! I was terrified she would expect me to make hers! : )
Entertainment
The Hope Street Busking Band were our daytime entertainment. The guys were absolutely amazing and went well out of their way to play our wedding and then on to another in Brighton. Lovely guys, everyone needs to listen to them!
For the evening we had the Daisycutters on the stage outside. They were so lovely and put up with various guests (and me) crashing the stage at different points throughout the evening. Sorry guys! You were very good sports. They did a brilliant live version of our first dance, Romeo and Juliet by the Dire Straits as a surprise for Paul. He has a bit of a thing for Dire Straits so we all just went with it!
Surprise musical performances by my very talented cousin on the Ukulele and friend Tim who is in a Police cover band who we forced to play an impromptu version of Roxanne for a giant drinking game…things got a bit messy after that. We then had our own playlist going before sheepishly turning it down when the venue politely informed us of the time!
Buy or DIY your Stationery
DIY…as above don't get too carried away with Pinterest! We found we didn't really have time the day before to set everything up. We had two wedding coordinators on the day who ended up being an absolute godsend helping with last minute decorations, buying more soft drinks (when we realised how hot it was and ran out of everything within the first few hours) and manning the bar for us. Thank you Katie and Lucy at Ether events. You were absolutely legendary and I don't know what we would have done without you!
Personal or Handmade Touches
Soooo many! We did everything DIY. As mentioned the venue were great and gave us total free rein to do what we wanted!
Special Moments
So many special moments! A particular one was the gigantic bottle of bubbly my brother smuggled in and surprised us with. It was huge and he had to recruit 2 friends to help him move it. Bouncing around on the bouncy castle with my bridesmaids, the amazing surprise musical performances from our friends, discovering the guitar that the best men brought along and had everyone sign as the guest book, just seeing everyone having a lovely time relaxing in the sun, seeing people start an impromptu cricket match and hearing that people ended up in the river retrieving the ball! It was such a fun day, I actually had to be dragged home
Advice to other couples
Ummm, watch lots of episodes of don't tell the bride!
Google spreadsheet! (not that I'm biased or anything – I work for them now). Was so important to keep track of everything in one place. The knowledge that you will go over your budget. If people offer to help, take it! If you do everything DIY I would definitely recommend getting some coordinators to help on the day. In hindsight I'm very glad I wasn't the one having to dash to the shops to buy more soft drinks! We were able to completely enjoy the day and not worry about the details.
Biggest surprise
Not so much a surprise of the day, but welcoming our beautiful boy Dex to the family less than a year later!
Supplier Shout Outs
For more information on Kirsty's work please go to:
www.thisandthatphotography.co.uk / www.thisandthatphotography.co.uk/blog / [email protected] graphy.co.uk / FACEBOOK  / T: ttp_photography / I: thisandthatphotography / PINTEREST

Super relaxed, smiley, heart of my sleeve story teller based in Hampshire covering the whole of the UK.

[jprel]