Happy Monday everyone, I hope you have had a good weekend and that you are now ready for the week ahead? I am back from my Holiday today, slowly getting back into the swing of work after a wonderful week off with my gorgeous family. It was lovely to get away and take a bit of time out, relax, enjoy the sun, good food and now I feel totally chilled and ready for the week ahead. So on with today's wedding. It's a real cracker, full of autumnal colours, rustic detailing and lots of handmade details. Felicity and Jonathan got married on their 7 year anniversary, embracing autumn and really making it a large feature of their wedding decor. With hessian, wood, branches, leaves and all the rustic trimmings they could find adorning their barn venue, they really did go to town on making their venue look the part. Big thanks to Olivia Judah Photography for the gorgeous images.
After a year of planning and not really knowing what to expect, it was a bit surreal. A perfect day with one hell of a party at the end!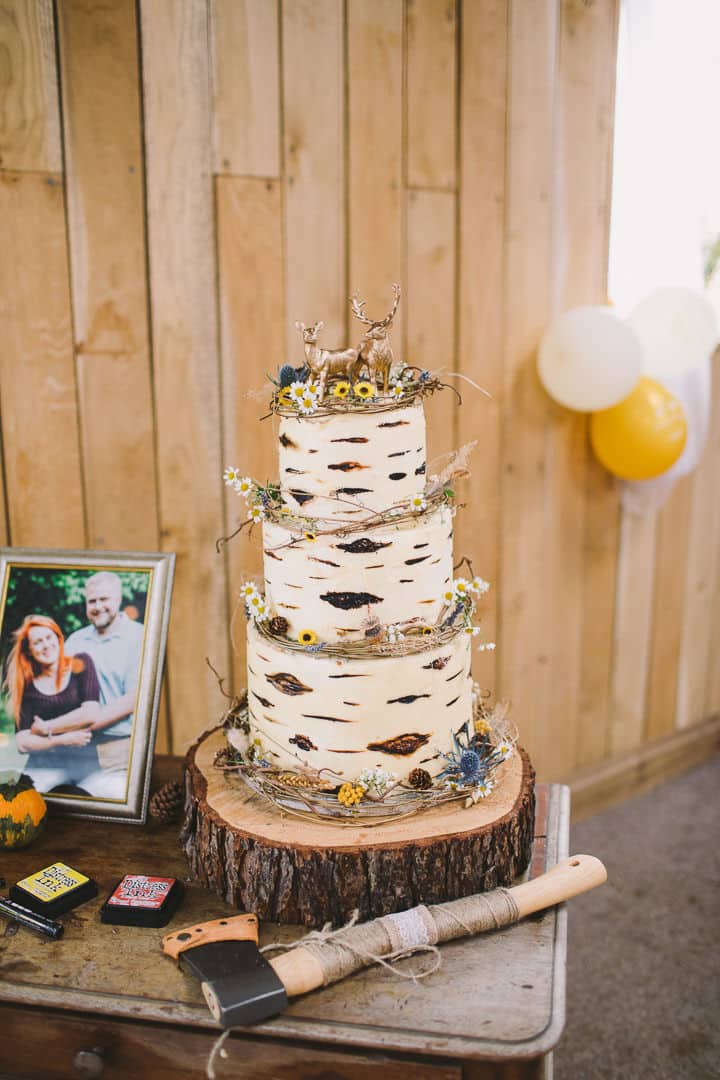 Felicity and Jonathan Douwe Ball were married on 14th October 2017, at Chafford Park, Tunbridge Wells in Kent. 'We wanted the freedom of a blank canvas. We both loved the country style wedding, and wanted to be able to do everything ourselves from scratch. We also wanted to pick our own caterer – the best man is a top London chef, and we knew we wanted him to do our food! We had 120 guests. How many guests? We got engaged on the 14th October 2016 (our 6 year anniversary) and got married a year later! Most of the big stuff was all sorted with in the first couple of months, but it took the year to get everything planned and sorted.'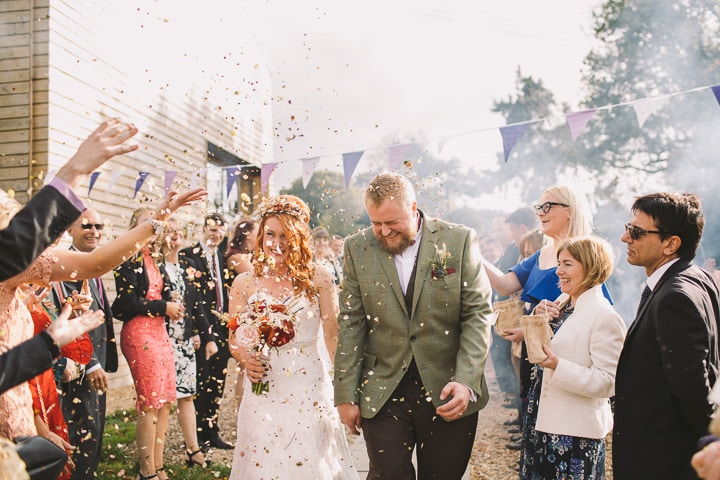 How they met 
We met at University, on our first night of freshers week. We got together two weeks later, and have been together 7 and half years now.
The proposal
We went to University at Nottingham Trent University, and attended a really beautiful countryside campus. For our 6 year anniversary we went back to Nottingham for a mini break, and on our anniversary visited the campus. Jonny took me on a walk of the campus, and we went into a little wooded area. We crossed a little stream on a bridge and Jonny got the ring out and asked me to marry him – but only after he asked if he had to get down on one knee! (I said of course!)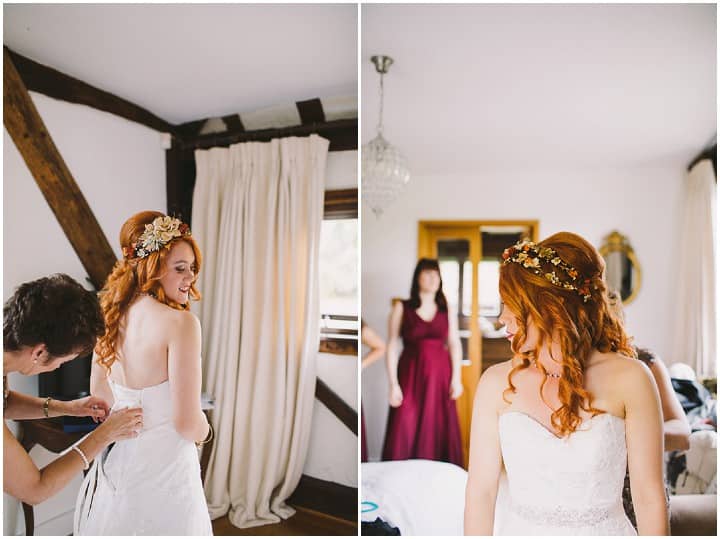 How did you allocate your budget?
We knew that we had a tight budget – we tried to do a lot of things ourselves to save money. A bridesmaid made the cake, we made most of the decorations, we bought cut flowers and did all the flower arrangements ourselves – I am now an expert bouquet creator! We knew the venue and the dress would be some of the biggest budgets, but everything else we tried to be imaginative and find a cheap way to do things.
Where did you splurge and where did you save?
As Jonny is an ex-chef the food was very important to him, so we definitely splurged on the catering! We also splurged on our band. We had an awesome band called Zazu – they were the best band we had found and after trying to find someone cheaper we decided that we didn't like any as much as Zazu! Our biggest saving was on our flowers – whilst we still spent a lot we were able to buy a lot more flowers for our money by doing all the arrangements ourselves!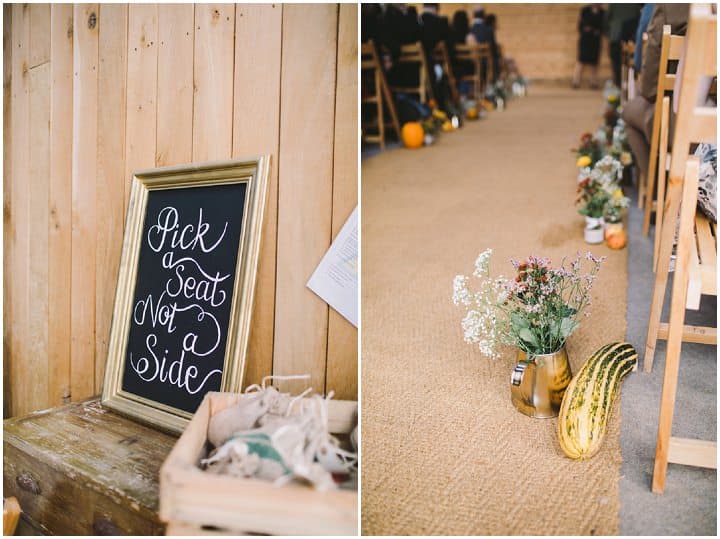 How did you choose your photographer?
My bridesmaid, Nicole, works in a bakery in Worthing and she knew our photographer through there. We contacted her and have been so happy with our choice. She is very friendly and helps keep everything relaxed. She was very flexible with hours and prices, and her work was incredible! We are so happy with our wedding photos, and would recommend her to anyone!
The dress 
My dress was by – Essence of Australia, My shoes were Kurt Gieger Cavela. I purchased a headpiece from America on Etsy – it was very floral and autumnal. I wore one of my Mums necklaces (something borrowed), and had new earrings and new bracelets.
The suit and bridesmaids
Jonny had a tweed style jacket from Moss Bros, and a scopes waistcoat. The groomsmen all had tweed style jackets and waistcoats hired from Moss Bros, and all bought their own trousers. Bridesmaid dresses were floor length burgundy dresses with a plunge neckline. We purchased them from House of Fraser.
Theme or colour scheme
Theme was autumnal, country, rustic style and the colour scheme was autumn colours. This meant lots of hessian, fairy lights; we had tree branch centrepieces, lots of bunting and orange, yellows, reds and gold colour scheme!
Flowers 
Lots of rustic, country-feel seasonal flowers. Some roses and canna lilies, but lots of gypsophilia, daisies, gerbera.
Decoration 
Hessian table runners + chair covers, fairy lights, tree branch centrepieces, wooden logs, bunting, hay bales and lots of flowers!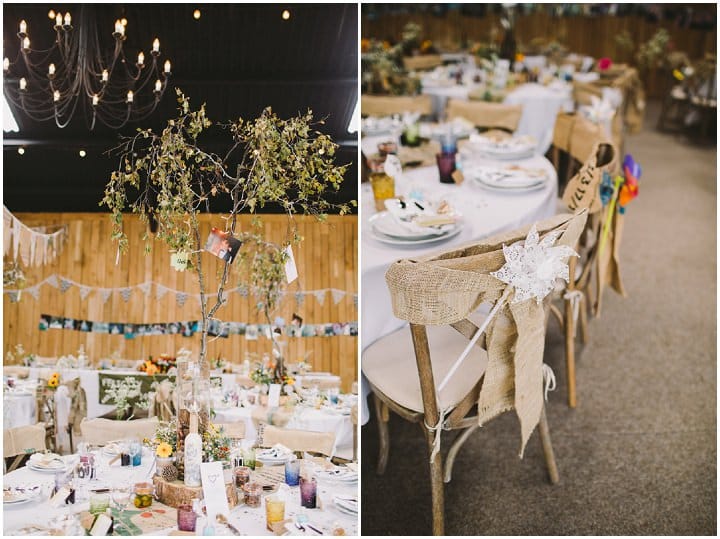 Food
Starter was London Charcuterie, bread and butter pickles, and candied walnuts. Vegan black pudding for vegetarian/vegan options. Main was whole lamb cooked on an assador grill, squash and goats curd, charcoal cooked vegetables. Coal roast cauliflower and miso bagna cauda for vegetarian/vegan options. Pudding was Eaton mess with a champagne and strawberry sauce. Vegans were able to have a vegan meringue with their pudding
Wedding cake
Three tiers, bottom tier was chocolate fudge, middle tier was spiced parsnip and top tier was red velvet – all styled to look like a birch tree! I also made a Dundee cake with my Nans famous recipe – she passed away a year previously so it was nice to have her there!
Entertainment
Had a band – Zazu (excellent band!)
Who supplied the stationery?
Save the dates and menus printed on vistaprint. Invitations were designed and printed by a close friend who is an artist.
Personal touches
We did everything ourselves! All the flower arrangements were done by me (the bride), as well as all the bouqueta and all the button holes/corsages. The biggest thing would be the confetti – We handmade all our confetti, but getting shape cutters and creating it from autumn leaves. This was then scattered on the tables, and put into handmade hessian bags for guests to throw.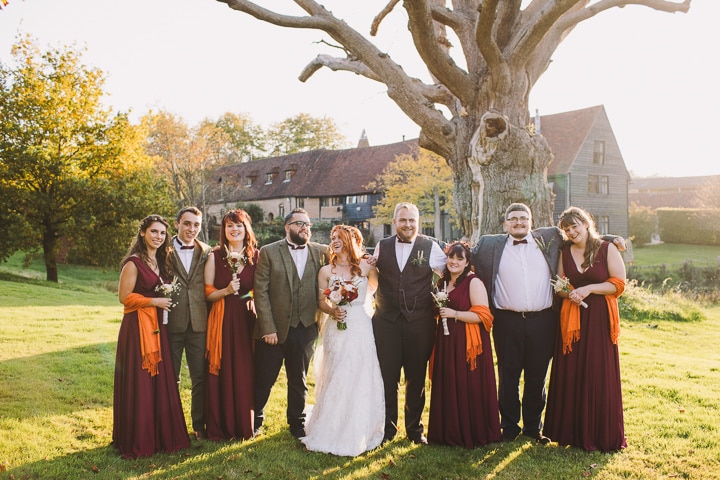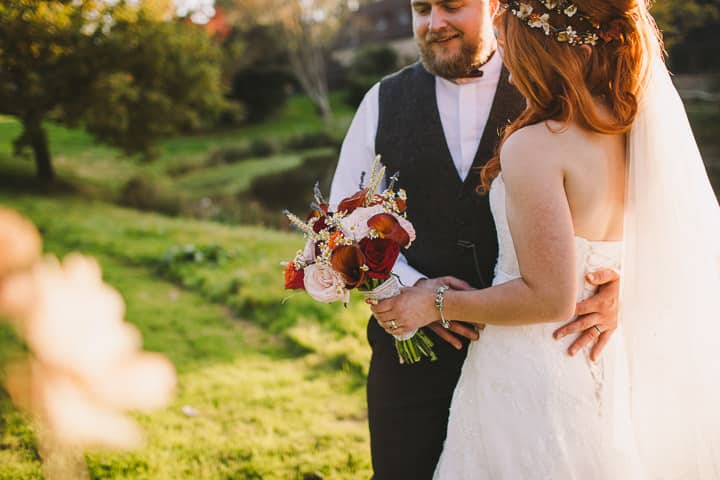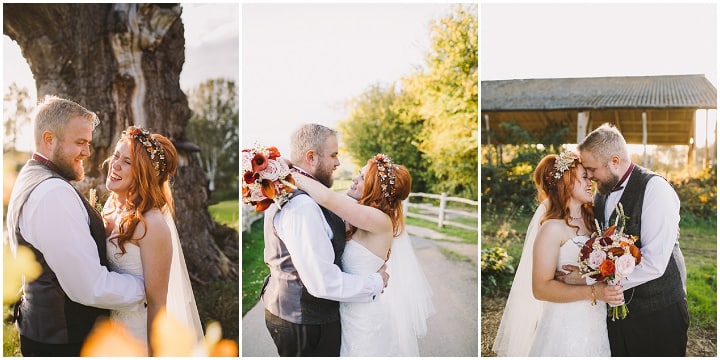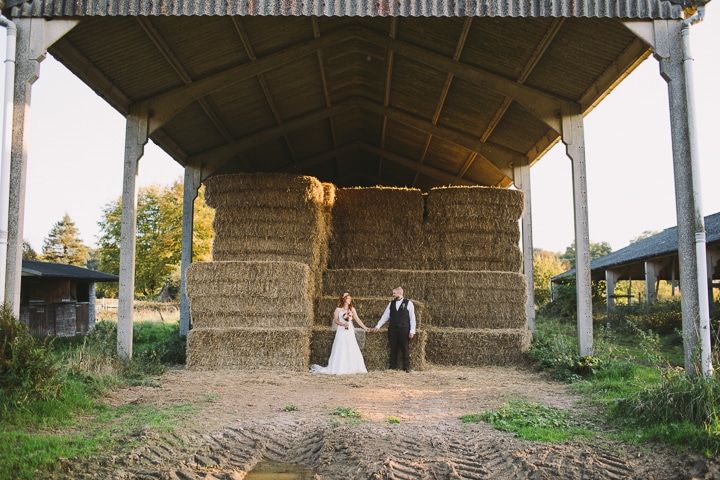 Special moments 
Seeing each other for the first time! Seeing everyone's reaction to the lambs cooking (and getting to taste it). Being officially married and then being able to celebrate with everyone we love!
Advice for other couples 
Don't expect to see much of anyone – there are many people to be with its hard to spend a lot of time with any one person! Don't do things because you think you should – its your wedding so do something because you want to! Enjoy the day – everyone will tell you this, and that it will go really quickly and its true. Make sure you take some time to step back and enjoy yourself.
Biggest surprise
The best man whipping his trousers off in his speech to reveal he was wearing shorts (after he had been told he wasn't allowed to be in shorts!)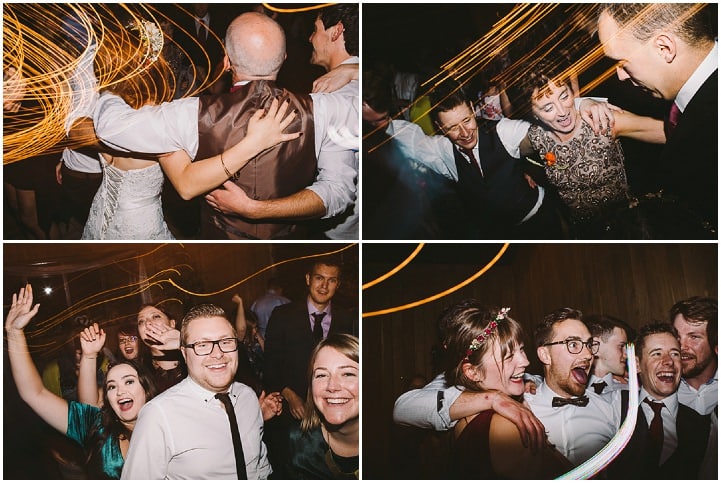 Supplier Shout Outs
For more information on Olivia's work go to
www.oliviajudah.co.uk / [email protected] / +447854402997 / FACEBOOK / INSTAGRAM
I'm a super chilled, fun and informal little photographer, shooting in and around Sussex, UK. You'll find me hidden away, snapping and documenting your wedding day as it all unfolds –  but fear not, I may be sneaky but totally approachable! I love getting to know you and your friends and family – lots of my couples have admired how much I blend into the party, and make best friends with the kids. I absolutely love what I do, from capturing all those little moments you didn't see happen to climbing onto the venue roof for the everyone-group-photo