Today I am taking you off to a very sunny Worcestershire for the gorgeous colourful and flower filled wedding of Caroline and Adam. They wanted to have as many of their friends and family around them  so they decided to hold the reception in Adam's parent's garden. Their tipi reception was perfect for the laid back day that they planned, filled with bright colours, pastel detailing and so many homemade, DIY details. All of their friends and family chipped in and helped with the wedding planning, all pulling together to create this homespun DIY celebartion, making it super personal and super cute. Jessica Raphael Photography was on hand with her camera to capture the day.
A fun, relaxed day, personal to us and with lots of added touches. Filled with food, booze, dancing, laughter and love shared between all our friends and family.
Caroline and Adam were married on 29th July 2017, the ceremony was held at The Pear Tree Inn, Smite, Worcestershire with a Tipi reception at  Adam's Parents House. 'It was important to me to get legally married in front of everyone on the day. Adam wasn't too bothered about this and his pick would have been to have a blessing with a friend leading it at Libbery Farm however this wasn't something I was willing to budge on. We therefore needed somewhere licensed, that had a room big enough for our 160 guests! Once we had decided we were having the reception at Adams parents house the Pear Tree Inn just seemed to work as it had a nice room big enough, was available, and was only a 10 minute drive from Adams Parents. We had 160 day guests & 50ish extra evening guests. We made a decision early on that one of the most important things to us was being able to have who we wanted there so we didn't limit our guest list to a specific number we just invited everyone we wanted. In total it took about 10 months to plan.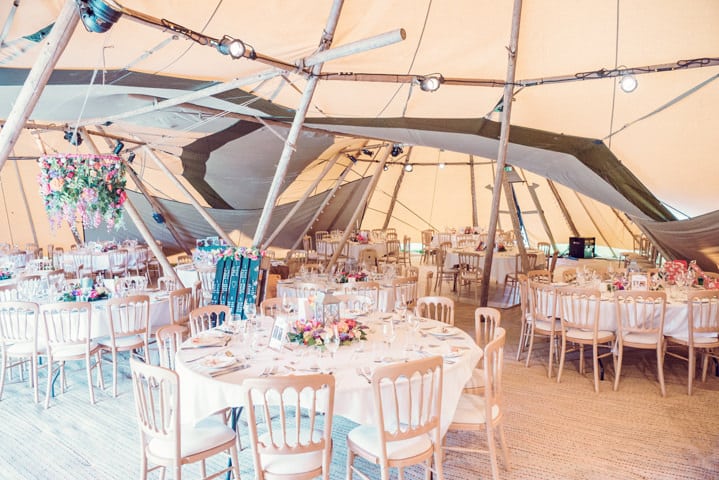 How they met 
We met playing a mixed sex sport called Korfball (google it!) in Birmingham. I had joined the club after playing at Uni and Adam joined when he came home from uni as his older brother played. It wasn't love at first sight and we had known each other for about 6 months before anything further developed. We had been together for 3 years when we got engaged and just over 4 years when we got married.
The proposal 
Adam proposed in Cannon Hill Park with an afternoon tea picnic and a handmade engagement ring.  Cannon Hill Park is somewhere we had been to together quite a bit early in our relationship. Adam came to pick me up with flowers which is not like him. He had prepared an afternoon tea picnic which we took over to cannon hill park. Unfortunately it was raining but luckily we managed to take refuge in the bandstand and it also meant that there was no one else around. Adam had separated the food into different boxes and written in the lids of the boxes will you marry me, with the ring being in the end box. The ring was a bit of a surprise to me as being handmade it wasn't like anything I'd ever considered. It was made by Magnus and Bella and it turns out that combined with Adam they know me better than I know myself and I couldn't have asked for a more perfect ring.
How did you allocate your budget? 
We were lucky that we both had generous parents that contributed significantly to our budget. We never set a strict top budget just agreed that we would try to spend carefully to get what we wanted. Our tipis were our biggest expense.  Following that we always knew that catering for a sit down meal for 160 would add up and providing booze for the whole day was important to us. I gave myself a healthy budget for my dress but much to Adams delight didn't end up spending anywhere near it.
Where did you splurge and where did you save?
Splurge – Tipis & Booze
Save –  Most other things! A lot of our wedding was DIY/ done by family members to keep costs down. My mum made our wedding cake and all 10 bridesmaid dresses. Adams Mum and Sister made all the desserts for the meal. We used artificial flowers and myself with my mum and numerous bridesmaids arranged the flowers for tables and the flower chandelier we had. A family friend did all the bouquets and flower pins which were amazing. I made all the place names, seating plan board and all the favours were put together by myself and friends. We got most of our furniture for our chill out tent on free cycle. Adam made pallet furniture for outside the tipis and also made our dance floor out of click laminate flooring. We picked the most reasonable band we could find and they kept the dance floor packed all night which was high on my wish list. I paid £600 (way under my budget) for my dress which made Adam very happy. We approached the local pub to see if they would be interested in doing our catering and they agreed which was great as not only did it give our wedding a local feel they were much more reasonable than standard catering prices.  Basically if we could see a way to do it ourselves or try to reduce the cost we did!
How did you pick your photographer 
We looked at lots of photographers and sent lots of emails to different people. The photos were really important to me so I thought I would find choosing really difficult. Jessica popped up on facebook. We arranged to meet and from then on we couldn't have imagined having anyone else do it. As we were having a big wedding we had Rob her finance as our second shooter which we would definitely recommend for a larger wedding. They were amazing on the day, no job was beyond them, even helping me peel the labels off the bottom of my wedding shoes. The photos are amazing and so many of our friends and family have commented on how great they were on the day.
The dress  
My dress was by Donna Lee. I wanted a dress that was fun and had always wanted a big dress, when else in your life can you do it. I tried on lots of dresses but I knew the first time I saw this dress in the flesh it was the one. I did change for our first dance into a white flowery dress I bought from Dorothy Perkins so I could move properly. I couldn't wait to get my dress back on after although it did allow for an easy loo break.
The suit and bridesmaids
Adam and his grooms men wore light blue suits which we bought from Zara. We found actually buying the suits was not much more expensive than hiring them so thought people might as-well have a new suit. They had flowery ties from next in keeping with the colourful theme. My mum and godmother made the bridesmaid dresses. I had 10 bridesmaids so this was no mean feat.  They had done the same for my sister who had 8 bridesmaids so they had a good warm up.  They all looked amazing and kept the theme of colour going nicely throughout the day. I also had 3 flower girls, we bought their dresses from Matalan and John Lewis.
Theme or colour scheme 
We just wanted things to be colourful and flowery!!
Flowers  
I love flowers and wanted to have lots of colourful flowers at the wedding. We used artificial flowers and did the flowers ourselves to try and save on costs. We bought most of the flowers from Country Baskets but also picked some up randomly from shops like Poundland and Home Bargains. We had flower centre pieces on each table, a flower chandelier in the tipi and a few large vases of flowers which moved around throughout the day. We also used flowers to decorate our seating plan and as a backdrop to where we got married. A family friend arranged all our bouquets and flower pins and they were beautiful.
Decoration  
Apart from the flowers we had lots of fairy lights around and also Adam made a large wooden C and A in lights for the tipi. We picked up lots of little bits from places like Home Bargains over the year like a love light, C and A cushions etc which just made things that bit more personal. We used an old canoe Adam had at home, filled with ice, to store the beer in too. We were also lucky that we were able to borrow some handmade chalk boards form a family friend who makes some lovely wooden pieces f furniture.
Food 
We had crostini as canapes, sharing platter starters with Camembert, olives, breads and cured meats etc, steak and ale pie with mash for mains. Dessert was made by Adams Mum and Sister who made a vanilla cheesecake, chocolate cake and raspberry polenta cake for every table ( 45 desserts)!! Adams Grandparents provided the wine for the day and drove back 144 bottles from a vineyard they have used for many years in Italy which was also another lovely personalised touch.
Wedding cake 
My mum made our wedding cake. What decoration to have was actually one of the toughest decisions we made. Me and Adam both met playing Korfball and one day I suggested a Korfball themed cake which we instantly both loved the idea of – something unique to us. We had 3 cakes (fruit, chocolate, sponge) on separate tiers, a playing court, a ball and the hoop you shoot into as the top with some flower decorations.  
Entertainment
We had an acoustic singer for the ceremony and drinks reception. We then had a band for the evening Thunderbirds who were a 3 piece, booked through entertainment nation and they were amazing. Our meal and speeches massively overran and the band were so great about not being able to set up till later with a shorter break to try and buy us some time back. They kept the dance floor packed all night, with everyone having a great time which was really important to us.
Who supplied the stationery? 
Us!! Our save the dates were postcards from Vista Print which had a picture of me and Adam. We made our own invites again printing the main part from Vista Print and printing the other information ourselves. I made all our name places using pegs to write peoples names on and our table plan was written on a pallet I had painted chalkboard paint on and decorated with lights and flowers! Our table numbers were photos of me and Adam at the age of the number of the table.
Personal touches 
Anything you could do yourselves we did. Between ourselves, family and friends we made the bridesmaid dresses, all the flowers and decorations, seating plan, name places, favours, wedding cake, wedding desserts, wooden boards for starters,  the dance floor and pallet patio furniture. Adam had my engagement ring handmade. We also made our own wedding rings in a day workshop with Magnus and Bella. We used a canoe Adams parents had as a chill box for drinks and got all the furniture for the chill out area from Free Cycle. My sister and her husband made us a cocktail station which had around 5 different cocktails with chalkboard jam jar glasses so people could decorate them with their names!
Special moments of the day  
Adam says seeing me walk in (I think he has to say that). Walking out from the wedding ceremony together was pretty cool. We both loved doing our first dance and continuing the dancing throughout the night. Speeches, Adam sang his speech to Rita Ora and Little Mix. Our car journey back from the wedding was the first time we properly spent alone in probably about a week so that was really nice.
Advice for other couples 
It's your day so do what you want, not what you think you should or think other people think you should. Decide one thing that is important to you and don't compromise on that. Don't stress about the small things – you won't care about them after (or probably on the day). Enjoy every single minute of it from the engagement to the last dance of the night. It's a unique time in your life and you will shed some tears over something at some point but that's all part and parcel of it and it's definitely all worth it in the end. All that really matters at the end of the day is you get to marry the person you love – everything else is just decoration!!!
Biggest surprise 
Our biggest surprise was that the rain in the evening probably made the whole day better! We had imagined our guests sprawling out across the field to enjoy the evening and make use of the fire pits, hay bales and pallet furniture. As the heavens opened at the end of the meal this was not possible so instead everyone was gathered in the tipis. This meant the dance floor was packed and the space took on a really festive and positive energy with everyone together. Had we been sprawled out I'm sure the dance floor would have been used but not half as much and the vibe would have been different.
Supplier Shout Outs
For more information on Jessica Raphael Photography go to
www.jessicaraphaelphotography.com / www.jessicaraphaelphotography.com/blog / FACEBOOK / INSTAGRAM / PINTEREST / TWITTER