Happy Tuesday everyone, I hope you are enjoying your week so far? Today I am taking you to Pretoria in South Africa for the gorgeous wedding of Rozánne and Ruan. Our lovely couple decided on an intimate wedding of 37 guests and with this really went to town on the food and decoration. With a gorgeous colour scheme of black, gold, green and white, this wedding is all about the Boho chic, elegant touches mixed with rustic detailing. All captured perfectly by L'Afrique Photography.
It was a truly magnificent and memorable day. We felt like a king and queen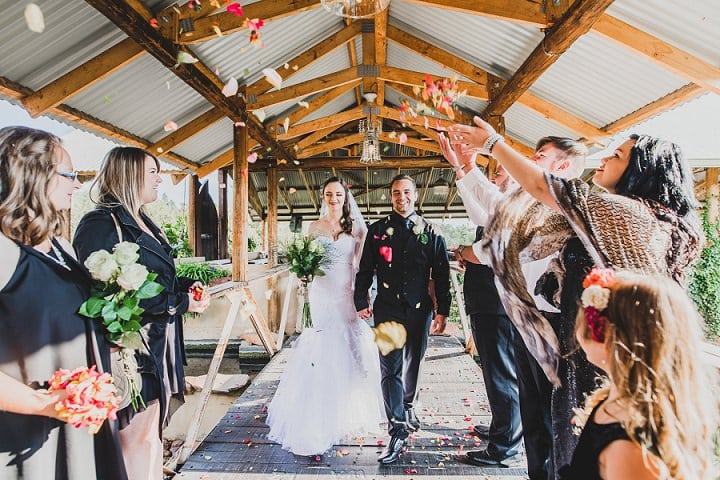 Rozánne and Ruan were married on 2nd May 2018 at Cradle Valley Guest house & wedding Venue. 'We were looking for a venue outside our home-town of Pretoria, in South Africa, somewhere where you can get lost in beautiful nature, where magnificent memories can be captured and a place where you can just enjoy the view, a relaxing atmosphere with friends and family and also be treated as royalty. A place where there is absolute interest in detail and perfection, a small intimate wedding yet good quality. To top it off, the venue and 5* service and delicious gourmet food fit into our budget. All above mentioned is exactly what we got at Cradle valley guest house and venue. We had 37 guests and it took 7-8 month to plan.' 
How they met 
Me and Ruan's cousin went to school together and we met at one of our get togethers. We have been together for 6 and a half years.
The proposal
It was on a game farm, we went for a game drive with a UTV, just the 2 of us. I (Ruan) know the farm quite well so I took us to a hill with a nice view, I told Rozánne that we will get an even better view from the back of the UTV. We got lost in the beautiful view and in each others arms. After Ruan told me how much I mean to him and how much he loves me he got down on one knee, took out a small box from his trouser pocket. Many tears flowed and my heart was pounding,I saw the beautiful engagement ring and with a big smile I said YES!
How did you allocate your budget?
The budget was one of the hardest parts of our wedding. As we paid the wedding ourselves and didn't have much to work with. Getting married isn't something you do everyday so how are you to know what costs what? We just started phoning around getting a feel for prices, after a few months we had more or less an idea what reasonable prices were. So it looked more or less like this:
50% of our budget for the venue, food and drinks. 19% to the photographer. 15% to the wedding dress. 8% for suit and wedding band. 4% to décor and flowers. 4% to other.(Perfumes,shoes etc.)
Where did you splurge and where did you save?
We spent more on the memorable, so most on food, photographer, dress. We saved on the venue hire itself by getting married a certain time of the year, decor and flowers, perfumes and other accessories.
How did you choose your photographer?
When we first started going to wedding expo's we met our photographer. He immediately made me feel comfortable and we loved his work. We looked at some other photographers but no-one came close to his style,quality and professionalism, on top of him having great prices, that's when we decided to use L'Afrique photography. We loved that he went the extra mile for us and focused on us having a personal relationship with him,not just making us feel like clients. Our photographer is indeed very talented, has a great eye for spectacular photos, very attentive to detail and has great ideas. Our photographer is someone whom you can  feel comfortable with at all times.
The dress 
Dress was by: Bridal House, Pretoria, Accessories: Lovisa, Forever New, Shoes: China Mall, Centurion
The suit and bridesmaids
The suit I put together piece by piece, I saw certain items that I liked and got them. The bridesmaids we asked to get their own dresses, ones that they would be able to wear again as they saw fit, so we gave them a colour to stick by and the rest they could choose themselves.
Theme or colour scheme
We had a colour scheme for our decor. Black, gold, green and white
Flowers 
White roses, virbinium, white sprays, gip and ivy's
Decoration
Square flower arrangements, crystal candlesticks with white candles, fairy lights, ivy leaves, balsamic vinegar and rosemary olive oil (gifts to guests), wooden table numbers, Mr&Mrs sign.
Food 
Canapé: Phyllo filled with goats cheese and cherry coulées, Mini beer and mini burgers, Mac and cheese wrapped in bacon.
Starter: Spiced butternut and vanilla soup
Main Course: Whisky infused scotch fillet, chicken wellington, potato wrapped in bacon with gourmet styled carrots and green beans.
Dessert: Peppermint crisp tart
Wedding cake
A very moist and nutty carrot cake.
Entertainment
We had a DJ that entertained us through out the evening
Personal touches
We did most of the décor ourselves, we made the guests gifts ourselves, I did the bouquet myself.
Special moments 
Ruan: The most special moment for me was seeing my stunning bride come walking down the isle, one of the highlights for me was our dance and the amazing service we got from the venue staff.
Rozánne: For me, walking down the isle. Then walking out of the chapel with my groom after the ceremony being congratulated by family and friends. The speeches, I couldn't hold my tears back. The following morning, a very unique touch from the venue, making every bride and groom feel like family was burning of our initials into a wooden deck on the venue.
Advice for other couples
For your wedding day: It can be small, affordable and still be good quality making it spectacular. Just remember one thing, it's your wedding day, do the things you want and the way that you want it.
For the Marriage: Not to go into a marriage with any expectations from the other person, expectations gives room for doubt and creates an unfair environment for both parties. Marriage is not a 50/50 relationship it's 100% from both individuals. Do not expect that your needs are always going to be met, rather attend to all the needs of your partner and your partner must do the same  for you. Marriage is selflessness not selfishness.
Biggest surprise 
That everything went smoothly on the day, even though we had a light rain for 5 minutes while we were busy with the photo session. The venue and staff were prepared with umbrellas which also made awesome photos!
Supplier Shout Outs
For more information on L'Afrique Photography go to
www.lafriquephotography.co.za / [email protected] / +27 (0) 798355129 / FACEBOOK / INSTAGRAM / TWITTER
I am Daniel L Meyer we are extremely proud to have seen places and captured so many memories over the years. Being able to capture fairy tales and ending it all off in stunning Works of art. Makes our hearts warm every time. We capture everything from the brides first tears the- I do's right through to the dance floor. Our unique style pf photography and passion we were nominated as one of the World elite photographers by WEP and part of the grand international society of professional wedding photographers (ISPWP).