Today we are heading overseas for this stunning South African Wedding from Desmond and Antonia at DNA Photographers. It's a totally beautiful day, that is elegant yet informal and natural. Adéle and Hermann decided on an intimate number of 50 for their wedding and chose the most stunning venue. With an outdoor ceremony that was simple yet packed with emotion and the most gorgeous reception area this wedding is brimming with elegant touches and a relaxed vibe.
'A beautiful, yet fleeting, moment of magic – a true celebration of our love and companionship. We wanted something simple and elegant that would reflect our relationship'
Hermann and Adéle were married on 4th April 2015 at Babylonstoren, Western Cape in South Africa.  'We got married here because it is the most beautiful place in the world! We had a total of 50 guests. Wow, we were both extremely busy at the time, so we didn't spend a lot of time on the planning. We also wanted to keep things simple and the planning itself was relatively quick.'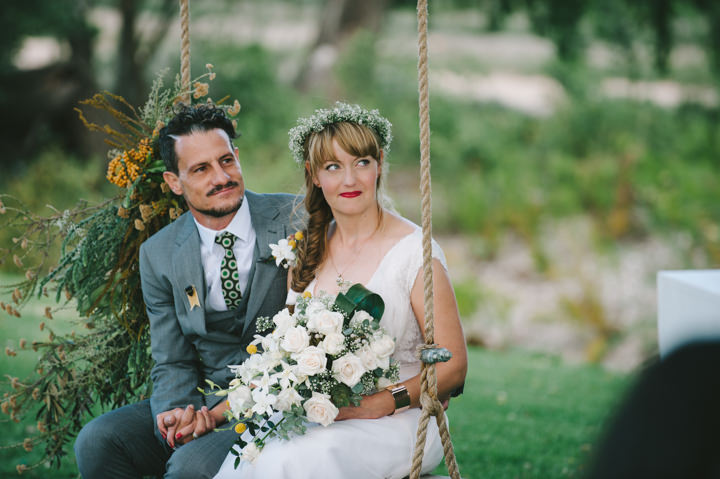 How they met
We first met while we were studying about 15 years ago, but then went our separate ways and tried to make something of this life. We met up, by chance, about 5 years ago and just couldn't resist each other. The only problem was that I was living and working in South Africa and Hermann in Dubai. Despite this we endured these very difficult circumstances that goes along with a long-distance relationship and, instead, viewed it as an opportunity to travel and have as many adventures together as possible. After about 2 years, the distance just grew too far and the lapses in-between unbearable. Hermann decided to return to South Africa and the rest is history, so to speak
The Proposal
The proposal was entirely unexpected. Hermann is a film producer and, true to himself, applied his craft to ask his very important question. The night was as normal as any other…we had dinner, had a shower and got into our pj's to watch our favourite TV show at the time, Hannibal. As it started I noticed something was a little strange as one of the characters (not seen until now) had an uncanny resemblance to Hermann… Here is the link as it explains it best!
How did you allocate your budget
Most of our budget went to our glorious venue, exceptional food and lots of bubbles! And, of course, our excellent photographers whom captured our magical day in a glorious fashion!
Where did you splurge and where did you save
As mentioned, the venue, food and drink and photography was our biggest expense. We saved by doing our hair and make-up ourselves, producing our own stationary and combining our wedding favours with the dessert spread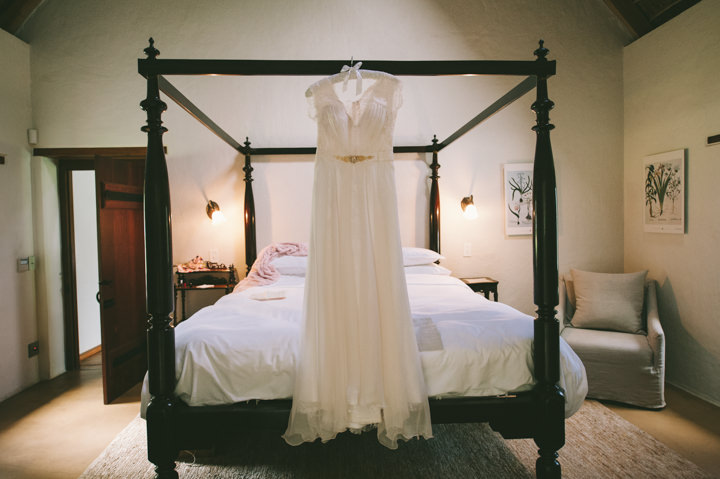 How did you choose your photographer
Firstly, because we've met them previously through close friends and they just struck us as amazing people that we would love to make part of our special day and, secondly, because their beautifully staged, documentary-style approach was exactly what we wanted in order to remember all the exquisite details of our big day.
The Dress
Catherine Collection, Country Road, Dune
The Suit and Bridesmaids
Suit from Country Road. The bridesmaid were free to choose her own dress which she bought from Young Designers Emporium and the flower girls were dressed in white linen dresses from Country Road.
Theme or Colour Scheme
The colour scheme was basically inspired by the choice of flowers and my dress: Crespedias (yellow little balls), Vendela Roses (Cream with a tinge of rose pink) and Pennygum leaves (duck egg blue/green leaves). My dress was blush pink. The colour palette served as touches of colour to a very informal, natural and elegant setting.
Flowers
The flowers were done in a very informal manner. Various vases and laboratory beakers were used to showcase the simple elegance of the flowers, brushes and twigs collected on the farm alongside the Crespedias, Vendela Roses and Pennygum leaves. The bride's bouquet comprised Vendela Roses, Dendrobium Orchids and Crespedias
Decoration
The flowers and natural material collected were used as understated, elegant décor.
Food
Babylonstoren is known for its impressive organic garden. All the fresh produce served on the evening was taken from the garden and presented in a simple, fresh and colourful manner. The meal was presented as a farmstyle, festive table and all the guests passed the beautifully laid-out platters filled with farm-fresh, homemade vegetable and salad dishes around the table
Wedding Cake
The wedding cake was a rich carrot cake provided by Babylonstoren
Entertainment
We just enjoyed the company of our loved ones and friends in the most beautiful setting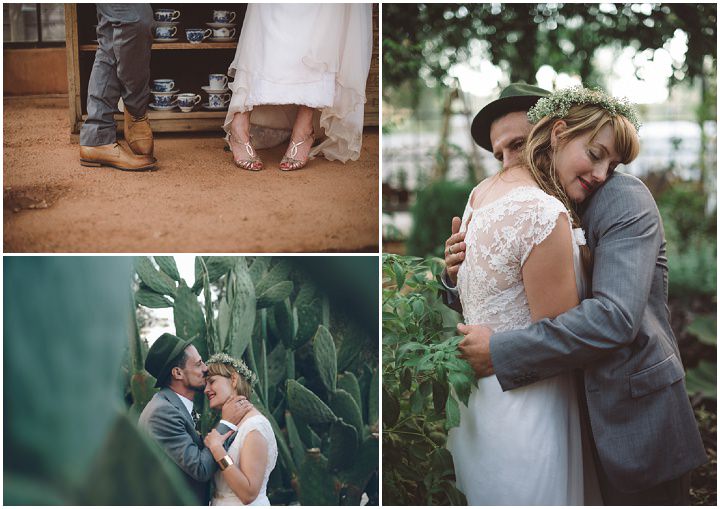 The Stationery
I am an artist and I illustrated and designed the stationery myself
Personal or Handmade Touches
I tried to do most things myself or get help from significant people in our lives as this adds to the festivity and the celebration – as mentioned I produced the stationery and my talented mom did the bride and bridesmaid's bouquet as well as the boutonnières
Special Moments
Wow, absolutely all of it! If I have to single out one, it would be the moment when I say my attractive hubby waiting at the altar from my window. I was so excited to marry him at that moment!
Advice to other couples
My advise would be to enjoy every single moment from the planning to the execution. Do this together as a couple – we had so much fun! Keep it simple and remember what the main focus of the day it – the fact that you are celebrating the beginning of a lifetime with your special person.
Biggest surprise
The dessert was served in a room kept away from the guests as a surprise. Upon opening the doors the white studio (white floors, walls and roof) was filled with white deserts all dusted with icing sugar. Although this was a surprise for the guests, I was elated to see a short film of all our travels that my husband produced projected on the wall. It was a very special moment
Supplier Shout Outs
For more information on DNA's work please go to:
www.dnaphotographers.com / www.dnaphotographers.com/category/blog / [email protected] / +27 71 495 1103 / FACEBOOK / @desmondlouw / @antoniaheil / I: desmondlouw / I: antoniaheil
We are based in Cape Town, South Africa (September – May) and in Berlin, Germany (May-September), while traveling inbetween to the USA, Asia and other destinations
– depending on where our clients want us to shoot. Our style is full on documentary. No cheese, real real photography!