Today I am taking you off for the most gorgeous destination wedding in rural Spain, via Russia. Anton and Irina chose this gorgeous rustic Spanish location as they happened to share it as a holiday location as children, long before they met each other. They wanted a villa wedding to make it totally private for their intimate number of 30 guests. This they did and held both the ceremony and the reception in their beautiful villa. They filled their day with the most gorgeous flowers and decor, all thanks to their amazing wedding planner Teresa Cantos. I just love Irina's sparkly Theia Couture, the amazing location, the flowers and the beautiful foliage. Take me to spain now please!
It was truly a dream wedding: with a little pink princess's palace in the background, amidst a tropical setting, with wonderful summer weather and closest friends around. With only 30 guests it was very intimate and we had enough time to dedicate to each of the guests attending.
Anton and Irina were married on 19th July 2017 at Villa Ficus de Girona, Alicante, Spain. 'Both of us were born in Russia and we met in Canada in our adulthood. After a few years of dating we found out that we happened to be in Spain as kids at the same time and the same location vacationing with our parents. We haven't met each other then, but we thought it was an intriguing coincidence. We had 30 guests and it took a year and a half to plan.'
How they met
We met through a common friend at an exhibition at the Vancouver Art Gallery back in 2009. It was a feminist exhibition and Anton and his friends left pretty impressed. After that we were friends for a few years before we started dating.
The proposal.
We love travelling and quite often we book last minute trips to some fun destinations. That's why I wasn't surprised when Anton suddenly booked a trip to New York. I've been to New York once before but only for a few days and always wanted to come back to visit the big apple. I wasn't expecting a proposal at all, I was too busy running around the city, doing my best to absorb its beauty and hopefully run into one of my favorite YouTube bloggers, or two… It was a beautiful warm sunny day, we got to Pier 25 in Tribeca to enjoy the view over the city of Hoboken, New Jersey. Anton asked a couple of passing by girls take a photo of us. While I was posing for a photo, he dropped on one knee and popped the question! I was in awe and shock, and I think all I could pronounce was: "For real? For real?" But since he didn't warn the girls either, the one who was holding the camera almost had a heart attack too. Then I, of course, said "Yes!".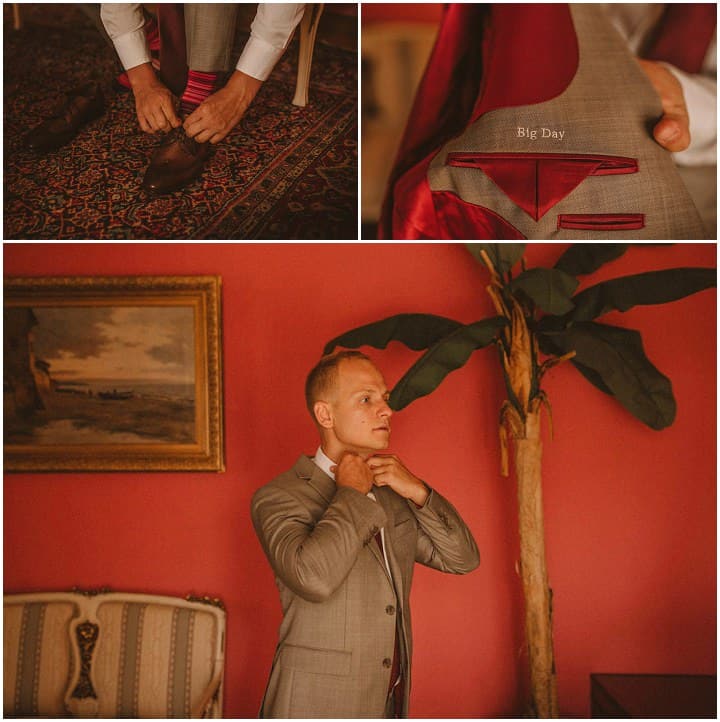 How did you allocate your budget?
I wanted to make sure I was smart about using our budget and wanted to get most value for each dollar spent. Our dream was to have a cosy ceremony at a villa in Spain, but most of the villas were 20,000 euros and up, which was unreasonable compared to our overall budget. After scouting through thousands and thousands of listings and websites, we found the villa of our dreams on Airbnb at a much more reasonable price. Villa took the biggest portion, followed by food, music, and travel expenses.
Where did you splurge and where did you save?
I think I saved everywhere, but I did prioritize the things that I thought were crucial for hosting the best party for our guests – location, food, music, and photo/video to keep the memories.
How did you choose your photographer
Instagram! I judged by the work he has already done, plus it fits right in the style and setting of our wedding, and, looking back, it was the best decision ever. Oscar was extremely professional, courteous, friendly, creative, and a great guest too! He also sent me 10 edited photos to post on social media the next day, which was a nice touch and well thought out, we had a lot of curious friends and family members abroad waiting for the photos.
The dress
Dress by Theia Couture, Shoes by Prada
Theme or colour scheme
Rural European villa setting. Pastel, nude, and neutral colour scheme for everything.
Flowers
A lot of greenery, field and exotic flowers mixed together. My bridal bouquet was an absolute masterpiece!
Decoration
We wanted to build on the fact that the wedding was hosted at a Spanish villa and we incorporated as many cultural details as we could. We had small wooden fans for girls, straw hats for guys, old style handkerchiefs, rustic style furniture and much more, which blend very well with the rural European villa setting.
Food
We incorporated local cuisine into the menu as well. In addition to the usual choices, we offered high quality meats, full jamon leg at the cocktail reception, iberico steak at dinner, paired up with fresh local vegetables, fruit, and the best Spanish wines.
Wedding cake
The wedding cake was designed by my maid of honor, who is also a chef. Very elegant, red velvet cake with a creamy frosting, decorated with figs and other fruit which represent local Spanish region. The cake was prepared by Deleites, they suggested to give the cream the flavour of figs, which was also a nice touch.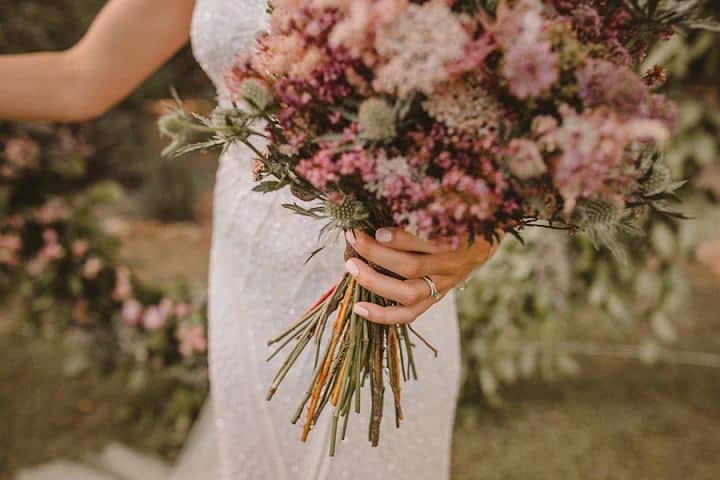 Entertainment
As a gift from my family, we had an awesome rock band from Valencia! We danced, sweated, danced some more, and then the owner of the villa had to shut the electricity down because we got to loud and he threatened to call the police. We obviously didn't want it to be that way, but no good Russian party ends differently haha. We behaved and moved the party indoors and some of the guests moved to the swimming pool area to continue the party, drink cocktails and jump into the water in their fancy outfits.
We were also lucky to have a duet of flamenco dancers; they were extremely passionate and didn't leave a single soul untouched.
Personal touches
I wish, but I didn't do it myself, I had help from Michelle Kwee, a local calligraphy artist in Vancouver, who helped me sign favours for my guests. Inspired by Pinterest, we gifted each guest a set of castanets with their name scribed on them, castanets served as a seat card, a souvenir and a musical instrument – three-in-one. Needless to say, our guests loved them!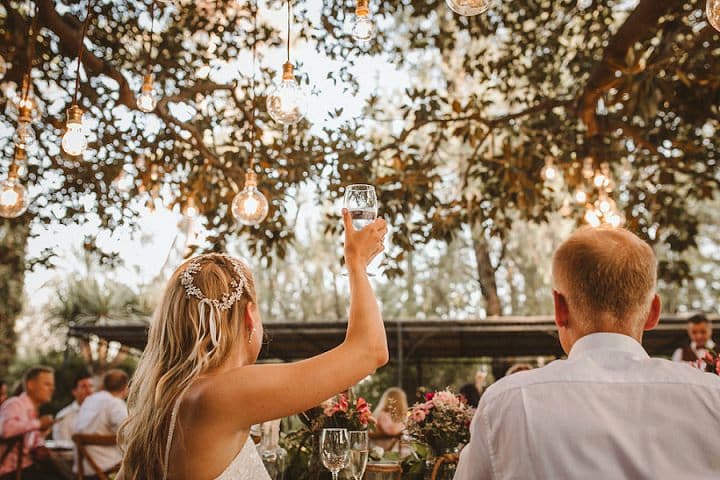 Advice for other couples 
Know what's most important for you before you start planning a wedding. And make sure to allocate enough time to planning, but once the wedding day comes – let it go. There will for sure be some things that will not go as intended, but prepare not to let them get under your skin. The most important thing is you, your partner, and that you and your guests enjoy the day to the fullest!
Supplier Shout Outs