Today I have another gorgeous Swedish wedding for you. I seem to be getting lots of beautiful submissions from Sweden at the moment which is fabulous, as the weddings there are just amazing.. This one, sent in by Jana Julian ,is no exception. Ida and Morten really wanted to hold their wedding ceremony outside and struggled for some time to find the perfect venue, until they came across Klevens loge, Uppgränna. The venue allowed them to have the outdoor ceremony they wanted with their reception held inside in the most gorgeous rustic barn. They filled it with handmade decoration, lots of lighting and draped fabric and the results are stunning!
The most beautiful day of our lives. The best party ever.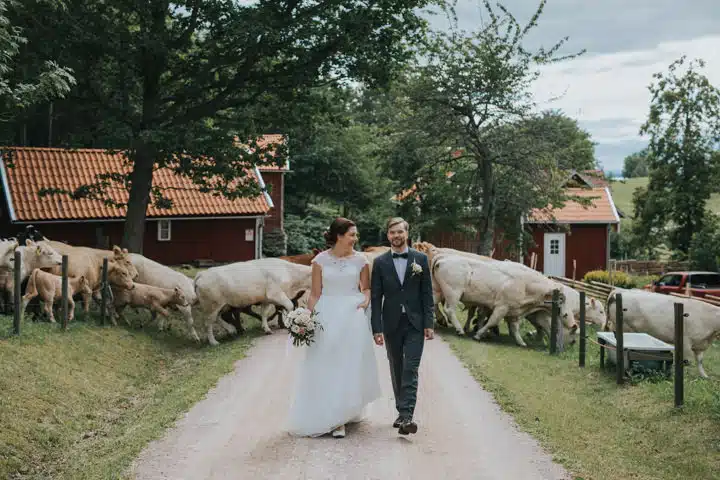 Ida and Morten were married on 1st July 2017. 'Both ceremony and reception took place at "Klevens loge" in the outskirts of Gränna, Sweden where I (Morten) grew up. We had an outdoor ceremony with the lake "Vättern" in the background. The reception was held inside the barn. We had searched for the right place for quite some time. It was important to us that we could have an outdoors ceremony and to get that bohemian feeling so we were on the lookout for a barn. Luckily in the end we found the perfect location. The place had the most amazing view and a great barn that we could decorate as we wanted from scratch. We had 70 guests and it took almost a year.'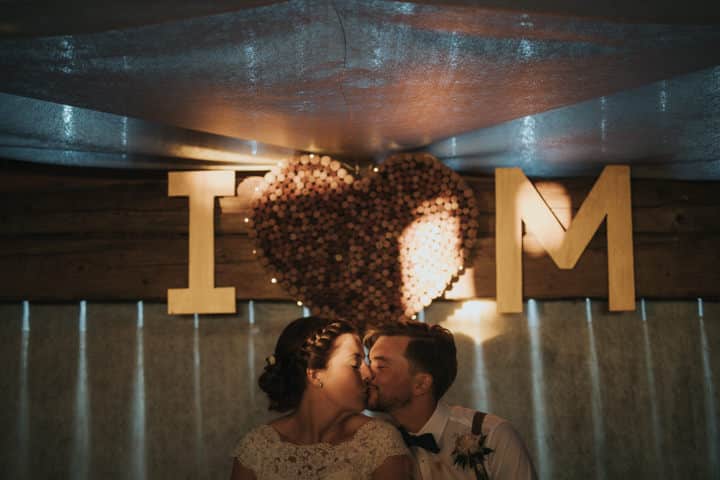 How they met 
A classic high school love story. We both liked each other and we both kept our mouths shut about it. But on Ida's graduation day I told her about my feelings and we have been together ever since. It's almost been nine years now. 
The proposal
It was during a train journey through Europe in a small village in Italia called Vernazza. On a pier with a beautiful sunset I asked Ida to marry me.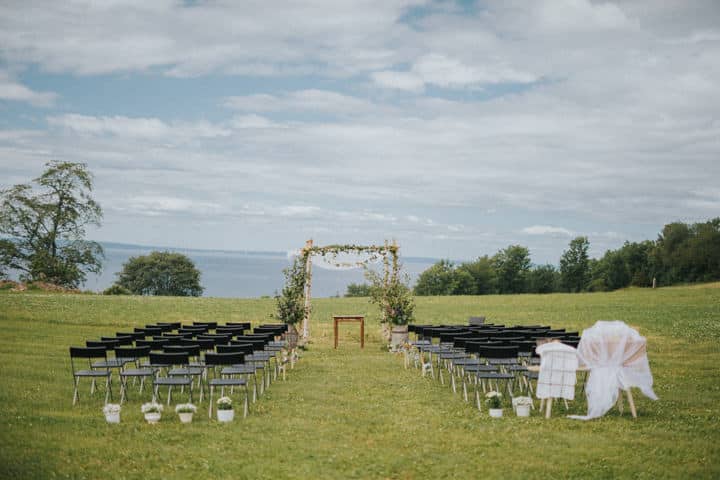 How did you allocate your budget?
We sat down and made a list of the things we thought were of most importance and the less important things. When new things came up we simply added them to the list. The list was important to us because from it we could decide how much money we would spend on each category.
Where did you splurge and where did you save?
We splurged on the photographer because we feel that the memories we get form pictures is of great importance. We saved a lot on the decorations because we made most of it by ourselves during the year. We also had a lot of help from our friends and family.
How did you choose your photographer?
After many hours spent on Instagram and Pinterest Ida saw that several of the pictures we liked were taken by the same photographer and some of the pictures were taken in Sweden. We loved the lighting and the dramatic scenes she captured and with a lot of focus on the nature. We didn't want any crazy manipulated photos but simply pure ones where we could become one with the setting. Ida found a mail address and decided to give it a shot not knowing if she actually was based in Sweden or not. Lo and behold she was from Sweden. But not only that. She lives in the city where the wedding will take place!
The dress 
The dress was designed by the bride herself and a seamstress at "Matilda Brud & Fest" made it. Earrings and bracelet was from "Lily by rose" and the shoes where "Tiger of Sweden".
The suit and bridesmaids
The suit was from "Tiger of Sweden" and the shoes where "Dahlin". The bridesmaids had dresses by different brands from ASOS but they had the same colour.
Theme or colour scheme
We had a rustic barn wedding theme with a summery touch. We mainly used softer colours of white, green, pink and gold.
Flowers 
The bridal bouquet contained: antique rose, white and pink astillbe, bridal veil and some green leaves. The floral decoration contained different swedish wild summer flowers. 
Decoration 
We had lots of flowers and ivy. We also had great focus on the lighting with long light chains hanging in the ceiling and different light decorations all over the place. We used long pieces of fabric that we hung up in the ceiling. We bought a lot of our decorations from the flea market for example old coloured glass bottles and jars.
Food 
We wanted a more relaxed approach to our reception and dinner. So as opposed to have a more formal three course dinner we decided to have all our food on a buffet. The food was a mix of finger foods inspired by summer and a little bit from the Italian kitchen. We had different salads, pies, cheeses and charcuteries. The important thing was to have a lot of food.
Wedding cake
We had no wedding cake because we wanted to highlight my Norwegian side where it is popular with big cake parties. So instead we ourselves and our families baked a lot of different pastries for a grand buffet. We counted up to 35 different kinds. But as a surprise my mother did get us a wedding cake anyway.
Entertainment
We had a wedding bingo during the mingling after the ceremony. We had a station where you could put on fake tattoos. We did let the guests write down greetings to put in three sealed bottles for our first, fifth and tenth anniversary. We also had our dedicated cameraman who got to mingle around with a video camera and urge people to record greetings to us. It was also fun to watch afterwards just to see what happened all around you because it was impossible to be at all places at the same time.
Who supplied the stationery?
We designed it ourselves with help from my father. We spent a lot of time and energy on the stationery used at the dinner. It had a segment where every guest was described in a few sentences with a humorous touch and how they were connected to the bride and groom.
Personal touches
We did a lot ourselves. Everything from picking the flowers, making all the signs and decorations. The year before the wedding we gathered wine corks with different tints of red wine and glued them together in a heart shape. You can probably get a glimpse of it in some of the pictures. Of course we also got a lot of help from friends and family with the preparations.
Special moments 
The first was when Ida's father came too pic up her and the bridesmaids and bring them to the ceremony. He started to cry when he saw his beautiful daughter.
The second has to be the first time we saw each other on the day of the wedding. It was at the ceremony as Ida was walking down the aisle and I burst into tears.
Another great highlight for us was the shooting of our wedding pictures. It was so relaxing to get away from it all for a little while and just stand there the two of us in front of the camera and let it all sink in.
Last but not least when the dinner was over we and all the guests went outside to watch the sunset. And it was THE most beautiful and dramatic sunset we could have wished for.
What advice would you give other couples?
Go easy with the inspirations. It is so easy to sink deep into Pinterest or Instagram and dream away for hours until the point when you forget what it is that YOU want.
Another important tip is to have someone that knows you well and can keep track of everything before and during the wedding. It's very important that you can let go of the responsibilities on your wedding day so you can relax and enjoy this beautiful moment.
All I can say is that you'll be fine. It is the best day of your lives.
What was your biggest surprise of the day?
The weather. The report all week said that it would be rain and strong winds. On the day before it poured down with temperatures around 10°C. On the day of the wedding we woke up to sunshine and 20°C with just a few clouds in the sky. I can't explain how lucky we were.
Another surprise was all the emotions throughout the day. The fact that all people attending are there for YOUR sake and you know them all. They are your friends and they are there to celebrate your love to each other. That feeling is beyond awesome.
Ida thinks that a big surprise to her was the fact that my speech to her was a song that I wrote. I sang and played it for her on guitar.
Supplier Shout Outs
 For more information on 

Jana's work go to
www.janajulian.com / [email protected] / www.janajulian.com/blog / INSTAGRAM 
I am a swedish photographer based in Gränna, Sweden. I am a constant traveler who's allways up for international assignments. I'd describe my style as genuine, documentary and earthy.