Happy Friday everyone, I do hope you have had a great week and that you are now looking forward to the weekend ahead of us? As you may know, I don't work on Fridays, so I am spending the day with Dexter and visiting some of my old Uni friends. I am on my way to Matlock in Derbyshire for a day visiting Matlock Baths, going to the park, eating fish and chips and hopefully enjoying some sunshine! Tomorrow we are off to Chester for the weekend to visit my very good friend Becky and her family, which I am really looking forward to. On with today's wedding and I have a real cracker to end the week with. It's the wedding of Katie and Kiron who chose a gorgeous Essex barn for their rustic celebration. Filled with handmade details, this wedding is a huge celebration of bright colours and amazing decor. Complete with Indian dhol drummers, a live 5 piece acoustic roaming band and a silent disco, this wedding really does bring all the fun. Big thanks to Bart from Miracle Moments for the beautiful images.
It was everything we could have dreamed and more! A day filled with love, food, flowers, friends, family, laughter, tears and dancing!
Katie and Kiron were married on 22nd July 2017 at Coggeshall Grange Barn, in Essex 'We found the venue by chance. I read an article where a woman got married at a National Trust site so I looked at the website and sent them an email. The Barn was available, could fit up our numbers and didn't charge corkage! We fell in love with it as soon as we visited and that was that! We had 112 guests on the day and it took roughly 11 months to plan in total. We picked off the main things within a few months; venue, food, band and photographer. Then we did nothing for quite a while and things picked up again around the 6 month count down.
How they met
We have been together 5 years and 1 day as I write this! We met in what is now our local pub. We both had alternative arrangements that evening but due to a series of unfortunate (or so they seemed) events we both ended up there. Our eyes met across the room and after a few cheesy pick up lines we exchanged numbers
The proposal
Kiron took me to Iceland for our 3 year anniversary. We had a wonderful weekend filled with lots of delicious food and amazing sights. On the final day we had a snowball fight. One moment I was running around giggling and laughing like a child and the next Kiron was in front of me with an engagement ring. It was an unforgettable moment.
How did you allocate your budget?
With difficulty! I wanted great photos and beautiful flowers. Kiron wanted a great band and plenty of booze! Everything else we cut corners where we could.
Where did you splurge and where did you save?
We saved a great deal with the alcohol. We bought our own to the venue and didn't charge corkage which was an unbelievable save.
How did you choose your photographer?
We found Bart after endless hours of hunting on the internet. We had actually been let down by another photographer who double booked our date. Thankfully Bart was available and we were overwhelmed by his beautiful photos. We knew he was the right person as soon as we met him. He was so flexible and enthusiastic, we immediately felt comfortable and confident in him. He was incredible on the day and we had multiple guests comment on how friendly but discreet he was.
The dress
I got the dress in a little shop called Ozone in Brighton. My shoes were very cheap flats from H&M, I tried on so many pairs and in the end just wanted something really simple and comfortable. I was really lucky with my accessories as my amazing little sister is the manager of a gorgeous antique jewellery shop so she sorted me out with some stunning pearls and diamond earrings. She also found a Victorian sixpence for me to wear in my shoe.
The suit and bridesmaids
I had four bridesmaids, they finally agreed on a navy blue backless dress from Asos. They had beautiful pearl necklaces and earrings handmade by my talented and generous little sister. Kiron didn't wear a traditional suit. He had trousers, a shirt, waistcoat and jacket which he put together, with the help of his family, from various high street shops. He looked very handsome.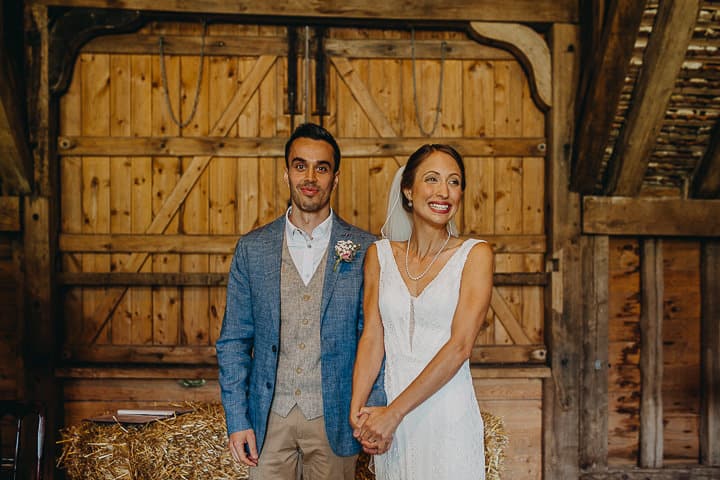 Theme or colour scheme
Bright and colourful really! We wanted something that matched the venue and time of year. Very summery and rustic.
Flowers 
We had an amazing florist called Sapphire aka The Flower Arranger. I told her I wanted something natural and unkept, like I'd been out to collect wild flowers that morning. She did an incredible job and I couldn't have been happier.
Decoration
Very simple really. The Barn being National Trust was stunning as it was. A few fairy lights and some bunting. The flowers were the main event really. My mum collected hundreds of gorgeous jars for them to go in and they were everywhere. She also pressed thousands of flowers for the place settings and other little touches which was stunning.
Food
Kiron's family are from Indian so we had the most delicious Indian canapés organised by his mum. We had a BBQ for our main meal with plenty of meat and accompaniments which was finished off with ice cream for dessert from an ice cream van we had hired from a great company called 'Roll out The Bunting'. In the evening, a charcuterie style buffet with lots of meats as well as cheese, breads, grapes, dips and so on. All this was organised through 'Buntings' who are the only caterers the Barn allow; two great, down to earth guys who run the local butchers in the village.
Wedding cake
We had 5 incredible cakes of various flavours. Four were made by Sponge and Cream in Brixton Village, an excellent choice for any gluten or diary free option. The person originally making our cake had a death in their family and pulled out just 4 days before the wedding. Sponge and Cream were absolutely fantastic and came to our rescue whipping up the cakes with fondant icing in 48 hours! The 5th cake was a traditional fruit cake made by my grandmother.
Entertainment
We had Indian dhol drummers, a live 5 piece acoustic roaming band and ended the night with a silent disco. A real hit with everyone and it made the day truly unforgettable.
Who supplied the stationery?
My amazing mum and sisters helped me create all the invitations, place settings as well as the orders of service and all the other little touches. I used a mix of print and handwritten and we decorated them with my mum's pressed flowers.
Personal touches
We did pretty much everything ourselves, partly due to budget and partly because I really enjoy it! It made it feel like it was really our day and our wedding.
Special moments
Watching Kiron's 92 year old grandad dancing to the drummers outside in the sunshine was a real highlight. Our first dance to the silent disco was pretty memorable and watching all our friends and family dancing was really hilarious. The silent disco found itself outside the Barn as the sun was setting. An amazing moment and such fun!
Advice for other couples 
Plan, plan, plan and delegate everything for the day, then you can reap the benefits of your hard work and have the best day of your lives! Don't worry about the little things too much.
Biggest surprise 
Kiron's speech blew me away. Honestly the biggest surprise was how much I enjoyed it! I was so worried about standing in front of people and being watched but, as cheesy as it sounds, that all melted away when I saw Kiron standing there. Marrying the person you love is the most incredible but natural thing in the world.
For more information on Bart's work got to
www.miracle-moments.co.uk /   www.miracle-moments.co.uk/blog / [email protected] / 07414827227 / FACEBOOK / INSTAGRAM / TWITTER
Hi, I am Bartek but everyone calls me Bart, I've got a beard, I love spicy food and I shoot photos at weddings. I live in London and I love the city, but will work internationally. I am looking for real emotions, action, tears, laughter and celebration. Weddings for me are an experience, vibe, atmosphere. Lovely and beautiful details are additional but a crying groom seeing his future wife for the first time is unforgettable.